We are back from Chicago! Sadly. Unfortunately. Waaa. We had a blast and kind of might have considered moving there a few times (might still be, as a matter of fact). We packed a lot in (in the course of the weekend and in our suitcases) in the short time we were there, which basically means we ate a lot. We really did. This post doesn't even include any of the Cupcake Crawl; which will be posted very soon!
When we arrived in Chicago, Sues's sister and fiance were working, so we decided to wander around Michigan Ave. (their apartment is dangerously close t
o it) a
n
d noticed Gino's East. Sues remembered hearing it was a must-try for Chicago pizza, so we
wand
e
red
in. It was super busy for a Friday afternoon and there was graffiti everywhere. We're talking on the walls, on the floor, on the tables, on the chairs. Legit, the whole restaurant was prett
y much covered. We understood the appeal, but it was kind of dirty and gross. Anyway, though neither of us are huge deep dish pizza fans, we figured we had to order it being in Chicago and all.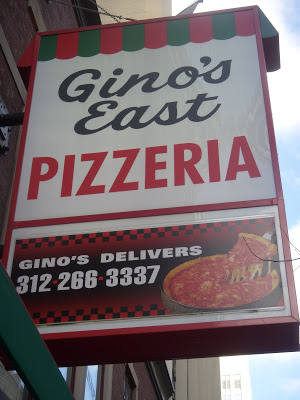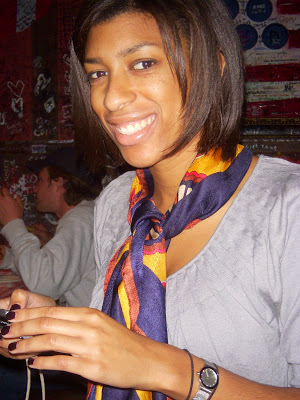 The deep dish pizza was good, but we weren't overly impressed by it. We both thought there was way too much crust involved and overall prefer thinner crust
.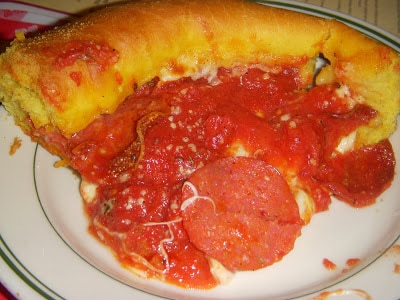 Later that day, Sues's sister said she wished we had called her because she would have suggested we go to Giordano's for pizza. Next time.
We had dinner on Friday night at South Coast. Sues had pre
vi
ously been to Coast and had a fabulous experience and really wanted to go back. Since South Coast w
as recently opened by the Coast people and close to Beth and Adam's apartment,
we went there i
nstead. The service wasn't amazing, but the food was soooo, soooo good. One of
the best things about Coast is that it is BYOB. South Coast has a "full" bar and if you want to bring y
our own wine, it's a $20 cork fee per bottle (yes, per bottle!). So, we ord
ered from the b
ar, though they were lacking certain key alcohols like vanilla vodka and other essentials.
However, the beef and asparagus appetizer we ordered was de
licious
.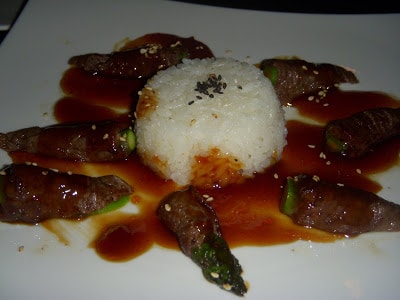 And the sushi? It was definitely better than much of the sushi we've had in Boston. We highly recommend Coast or South Coast for their sushi.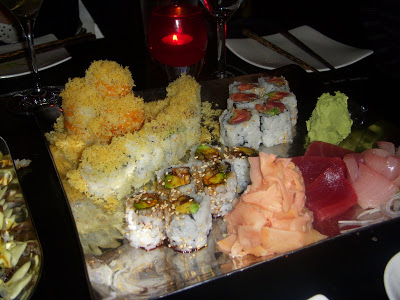 Sisters reunited! So many people told Sues and Beth they look alike this weekend not even realizing they're sisters. That doesn't usually happen!
1700 S. Michigan Ave.
Chicago, IL 60616
312-662-1700
Hancock Center
After our sushi dinner, we went to the Signature Room, located
on the 95th floor of the Hancock Center. The views were absolutely beautiful (especi
ally from the women's bathroom!). We ordered a couple drinks- some sort of alcoholic hot chocolate, which was absolutely perfect for the chilly weather.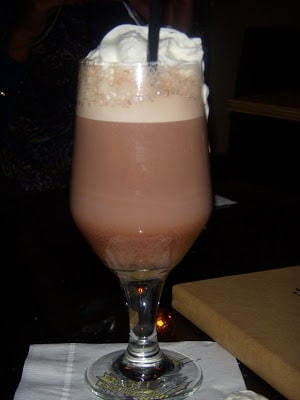 We also couldn't resist the s'mores dessert. YUM.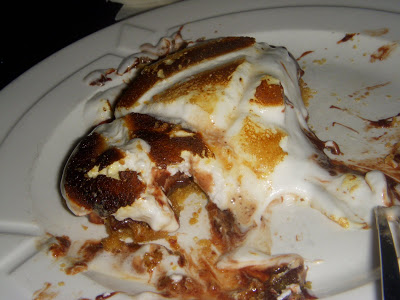 Signature Room
875 N. Michigan Ave.

Chicago, IL 60611

312.787.9596
Bijan's Bistro and Bar

We stopped in here for a late breakfast and had really good, inexpensive food that made us not want to eat cupcakes for at least a couple hours.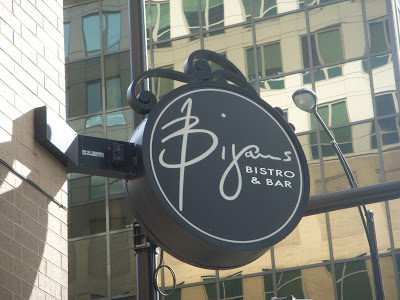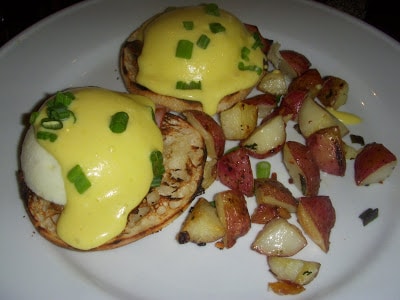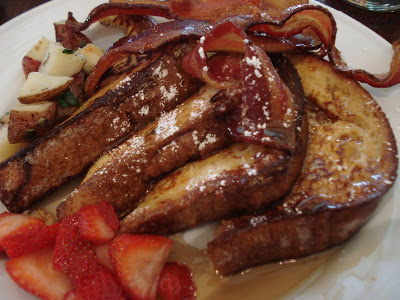 Bijan's Bistro

633 North State Street

ChicagoIL 60610

312.202.1904
Navy Pier is one of those tourist attractions you just have to g
o
to if
you're visiting Chicago. We had fun wandering around, watching the creepy carnival that was taking place and checking out the dogs there for

Howl

oween.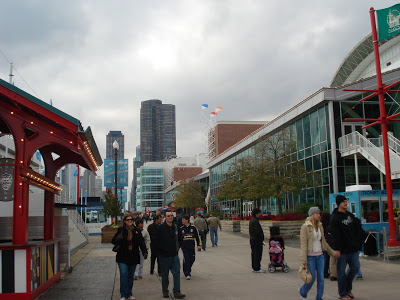 Beth and Adam as ghosts!
Navy Pier
600 East Grand Avenue
Chicago, IL 60611
(312) 595-PIER
Another one of the best things about Chicago? It's the home of Jessi. Taking full advantage of the fact that Jessi's brother lives in Boston and Sues's sister lives in Chicago, our little meet-ups occur quite often. We split up, Sues met up with Jessi and Laurel at Vintage Wine Bar, while Chels went to Lou Malnati's (below) where we hung out, chatted, and sipped some wine. Jessi also made it out for part of the cupcake crawl.
Vintage Wine Bar
1942 Division Street
Chicago, IL
773.772.3400

Lou Malnati's
Chels met up with the mister friend for dinner and had heard lots of great things about Lou's. Now this is how deep dish pizza probably looks and tastes in Heaven. The actual crust is really thin and buttery which is what Chels prefers. We ordered a medium cheese, pepperoni, sausage, and spinach pizza along with a Caeser salad which was fantastic. A lot of pizza places miss the salad boat by just tossing any old thing together, but Lou's was on par. With 28 locations throughout Chicago and the suburbs, there really isn't any excuse to live in or visit Chicago without stopping by Lou's.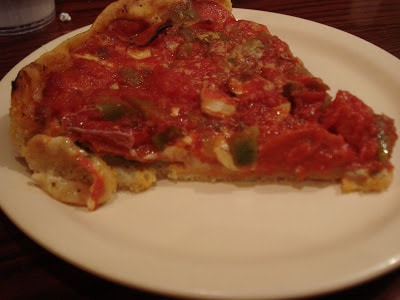 Lou Malnati's Pizzeria (various locations throughout Chicago and Suburbs) http://www.loumalnatis.com/

CornterStone Cafe
The CornerStone Cafe is Beth and Adam's favorite breakfast spot and it's pretty obvious why. The husband and wife owner are super friendly and remember most people who dine at their restaurant. Oh, and the food is pretty much amazing and incredibly inexpensive.
Millennium Park
http://www.millenniumpark.org/
-------

If you think that was a lot of food, get ready. Because you haven't even seen the cupcake consumption yet. Basically, we all gained 20 pounds this weekend. We were so sad to leave, but we have a feeling we'll be back. There's so much more to do (and more places to eat!)

Other spots we hit up:
Cru Cafe & Wine Bar: This place was awesome and our waitress was super fabulous. Then again, any place that serves cheese platters is OK with me. Plus, Adam got two dinners!

Cubby Bear: We went to Cubby Bear in the Wrigley Park area for a night out and to see Mike and Joe, a really great cover band that Beth and Adam love. Cubby Bear was lots of fun and made us realize that the guys in Chicago are cuter, taller, and nicer than guys in Boston.
Carmine's: Not the most fantastic service, but the restaurant has a great atmoshphere and the food was deliciously rich and amazing.

Kit Kat Lounge: Typed words can't do this lounge justice. Just plain fun! And we got to hang out with Adam's fabulous brother, Jason!
Thank you to everyone who helped make the trip a success... from the airport pick-ups, to the wonderful hospitality, breakfasts, lunches, and dinners. We appreciate it all! And, Beth and Adam, since you showed us so much fun, we'll probably be back soon. Just warning you!
[Sues and Chels]