I went to the grocery store on Friday, bought all of the ingredients for the chicken chili in Martha Stewart Living's October issue, and was ready to go! Except when I left the grocery store I realized I'd be categorized as a crazy person for making chili in 80 degree weather. So, I held off and told myself I'd wait for the perfect weather for that nice bowl of soul-soothing chili. I have a reputation to withhold 😉 When I woke up this morning and saw the raw weather, rain, and felt the coolness in the air, I knew chili would be had. And homemade cornbread would obviously be made. Because you can't have one without the other!
For the buttermilk cornbread, here's what you need: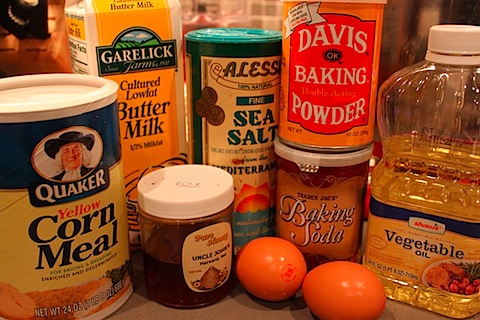 • 2 tablespoons vegetable oil
• 2 ½ cups cornmeal
• 1 teaspoon salt
• 1 teaspoon baking powder
• ½ teaspoon baking soda
• 2 cups buttermilk
• 2 large eggs, lightly beaten
• 2 tablespoons honey
Here's what you do:
• Preheat oven to 400 degrees. Grease an 8-inch-square baking pan with ½ tablespoon of oil.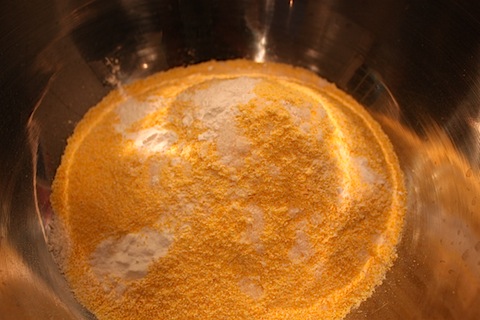 • In a bowl, whisk cornmeal, salt, baking powder, and baking soda.
• In another bowl, whisk buttermilk with eggs, honey and the remaining 2 tablespoons of oil.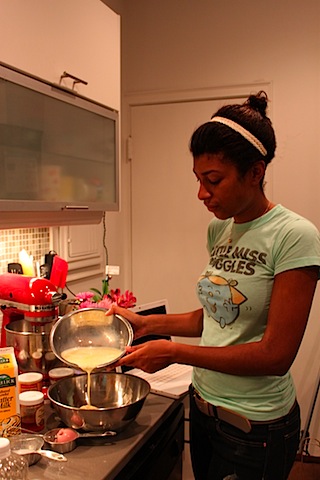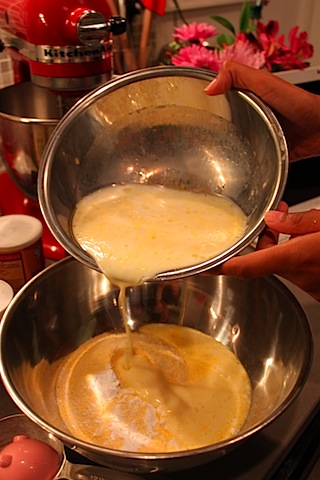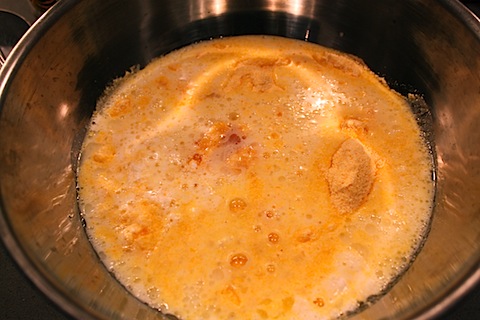 • Stir the buttermilk mixture into the dry ingredients until just blended.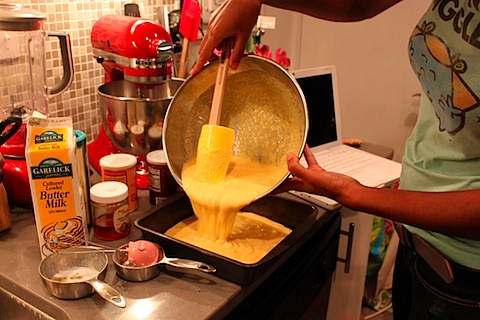 • Pour the batter into the prepared pan and bake until the cornbread is golden brown, about 20 minutes.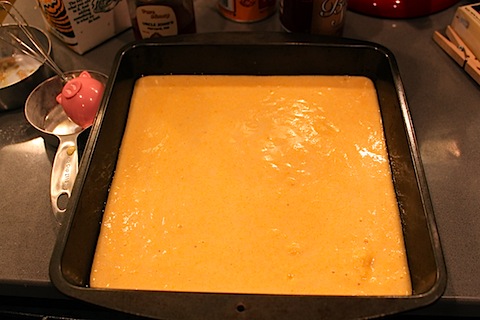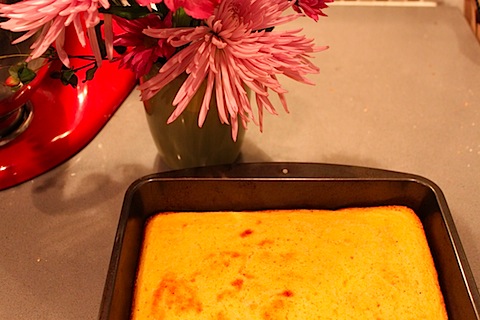 Now, for the chicken chili!
Here's what you need (serves 4-6):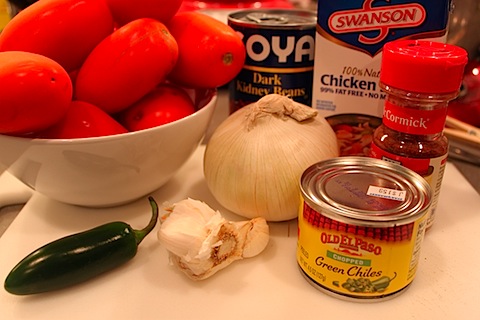 • 10 plum tomatoes, halved lengthwise
• 1 jalapeno chile, halved (seeded if you'd like)
• 1 white onion, peeled and halved
• 4 garlic cloves, peeled
• 2 tablespoons extra-virgin olive oil
• 2 pounds boneless, skinless chicken thighs, cut into ½ inch cubes
• ¼ cup chili powder
• salt
• 2 canned chipotle chiles in adobo sauce, finely chopped. I ended up using chopped green chiles since that's all I could find.
• 1 can (15 ounces) kidney beans, drained
Here's what you do:
• Preheat the broiler, with the rack a few inches from the heat source.
• Arrange tomatoes, jalapeno, onion, and garlic, cut sides down, on a rimmed baking sheet. Broil until everything is slightly charred, about 5 minutes.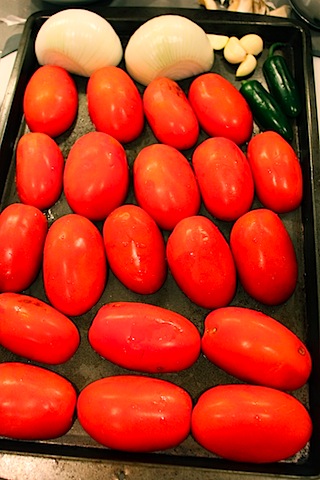 • Pulse the tomatoes and jaapeno in a blender or food processor until chunky.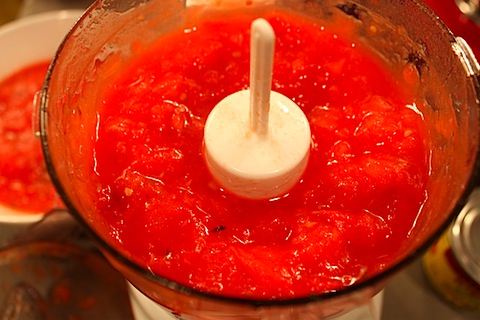 • Chop onion and mince the garlic.
• Heat a large skillet over medium-high heat. Add oil. Brown the chicken in a single layer, stir, 5-6 minutes. Transfer to a plate. (I'd never made chili in just a skillet before, I've only made it in a large pot or a crock pot, so this was a first!)
• Reduce the heat to medium. Add onion and garlic to skillet. Cook until golden and a bit soft, about 8 minutes. Add chili powder and 2 teaspoons of salt. Cook, stirring, about 1 minute.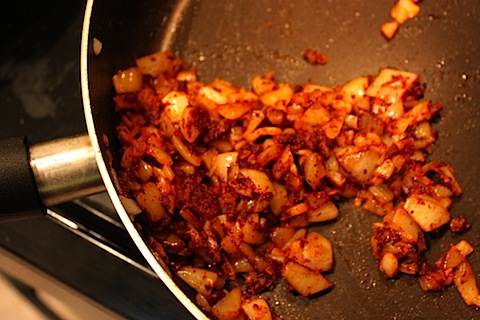 • Stir in chipotles, and add chicken. Raise heat to high.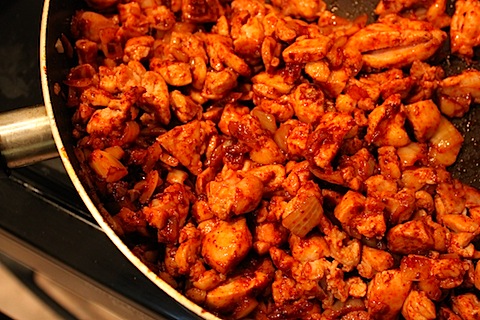 • Add tomato-jalapeno mixture. Cook, making sure to scrape up the brown bits, about 5 minutes. Stir in stock and let everything simmer for about 20 minutes. Add beans and simmer for an additional 10 minutes.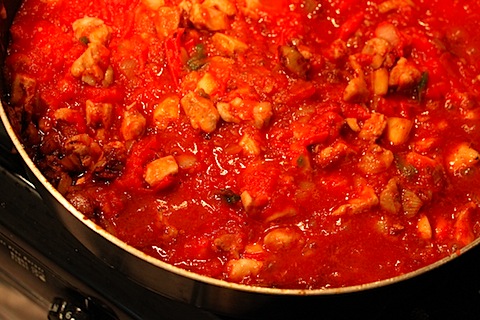 Serve with any topping your little heart desires. My chili always has rice on the bottom and cheese on the top. And a side of warm cornbread that will always mingle with a bit of butter 🙂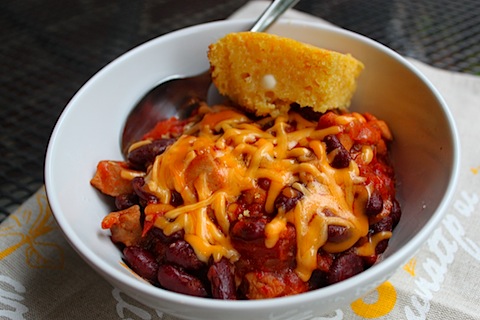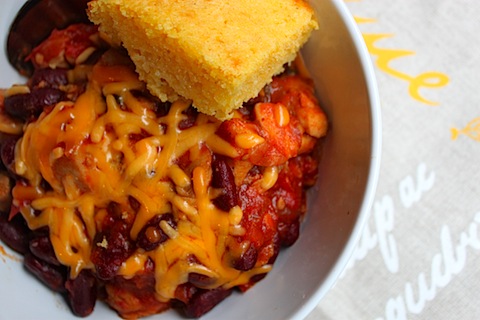 Overall deliciousness. Its meals like this, the ones you eat wearing sweats or wrapped up in a blanket on the couch, that sort of make nasty weather feel alright. 🙂
What's your favorite comfort food?
[Chels]