Want to make your pup homemade dog treats with fresh ingredients? These Chicken Dog Treats are easy to make with whole ingredients. Your dog will love them!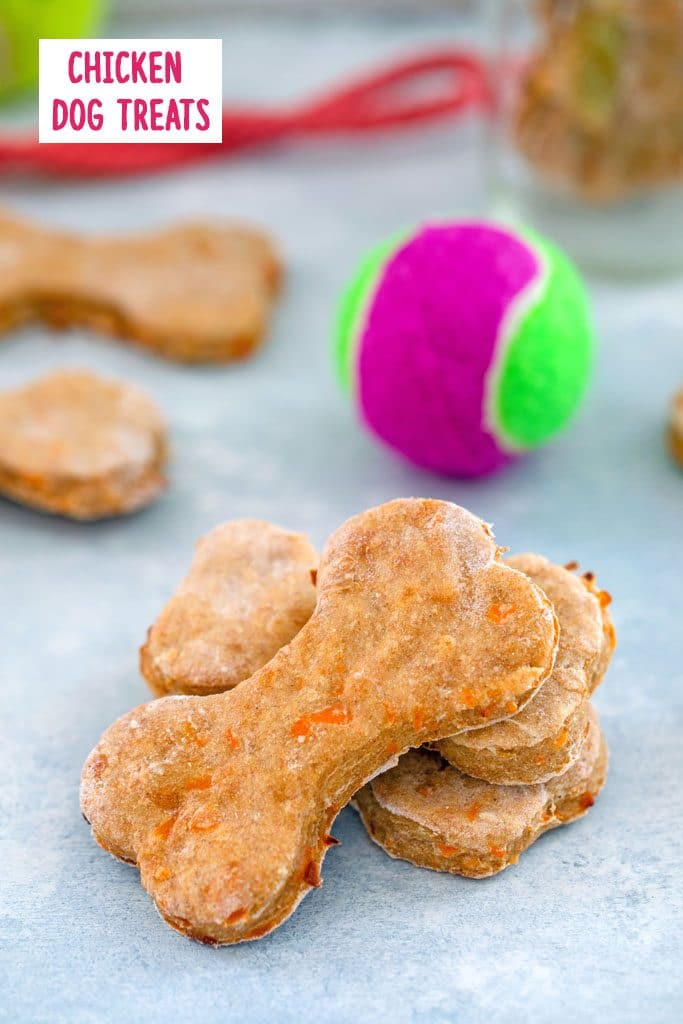 (This recipe for Chicken Dog Treats was originally posted in July 2011, but has been updated with new photos and content in 2018).
I first made these chicken treats way back in 2011, long before I knew how obsessed I would be with my someday dog. I made them for my aunt's dog Mitzi and rather than eat them, she basically went around and buried them throughout the house.
I wasn't super offended though because Mitzi is a one treat kinda girl and doesn't really believe that variety is the spice of life.
My dog Winnie, however, is a whole other story. She's picky to the extreme, but has several favorite treats in her arsenal and is always looking to expand her options. To say she's treat motivated is the understatement of the year and yes, I am a ridiculous enabler and spoil her to no end.
So, I decided to remake these chicken treats for her to see if she'd be a fan. Fingers crossed.
Verdict: Oh yes. She is very much a fan. If you make them, I hope your dog is, too! And if you want to try an even more unique chicken treat, try this Chicken Jello for Dogs!
Chicken Dog Treats Recipe
I should start by saying that though this recipe is not for human consumption, the ingredients in it are all totally edible and these dog treats actually smell kind of incredible fresh out of the oven.
So, if you're looking for a savory cookie, go for it. You might just want to cut them in a shape other than dog bones. Or not. Whatever floats your boat. No judgement here.
These homemade treats are great because they're made with all real ingredients that you can feel good about feeding your dog. That said, every dog is different, so if you have any questions, be sure to check with your vet.
Some dogs can't tolerate dairy well and should avoid it, while some have no problem... My dog would drink milk out of a bowl like a cat if I let her.
I used a mix of whole wheat flour and all-purpose flour, but you can certainly use all whole wheat if you prefer (Winnie is much more likely to enjoy treats if they're not 100% whole wheat).
Other than that, there's a little bit of dry evaporated milk powder, an egg, delicious shredded chicken (I cooked a chicken breast, let it cool, and shredded it, but you could also use a rotisserie chicken), carrots, sodium-free chicken broth, and a little bit of parmesan cheese.
If your dog can't do lactose, you can definitely leave the cheese out. I've also had readers tell me they've left the evaporated milk powder out with no problem.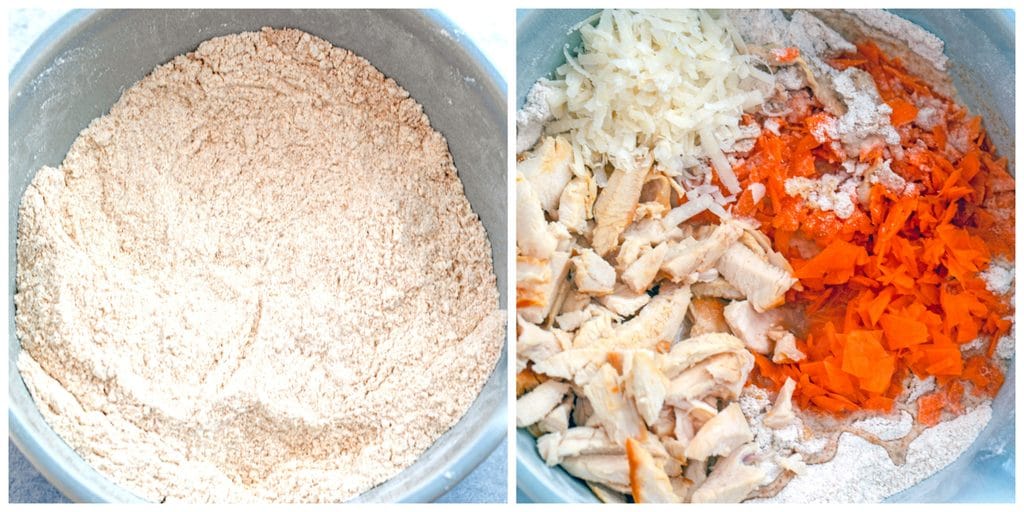 Also, feel free to sub the carrots for a veggie your pup enjoys more. Winnie used to love carrots, but now she won't eat them plain... However, she loves them in these chicken dog treats!
On that note, one of my very favorite Winnie memories is what happened the first time we left her alone with a carrot for a bit.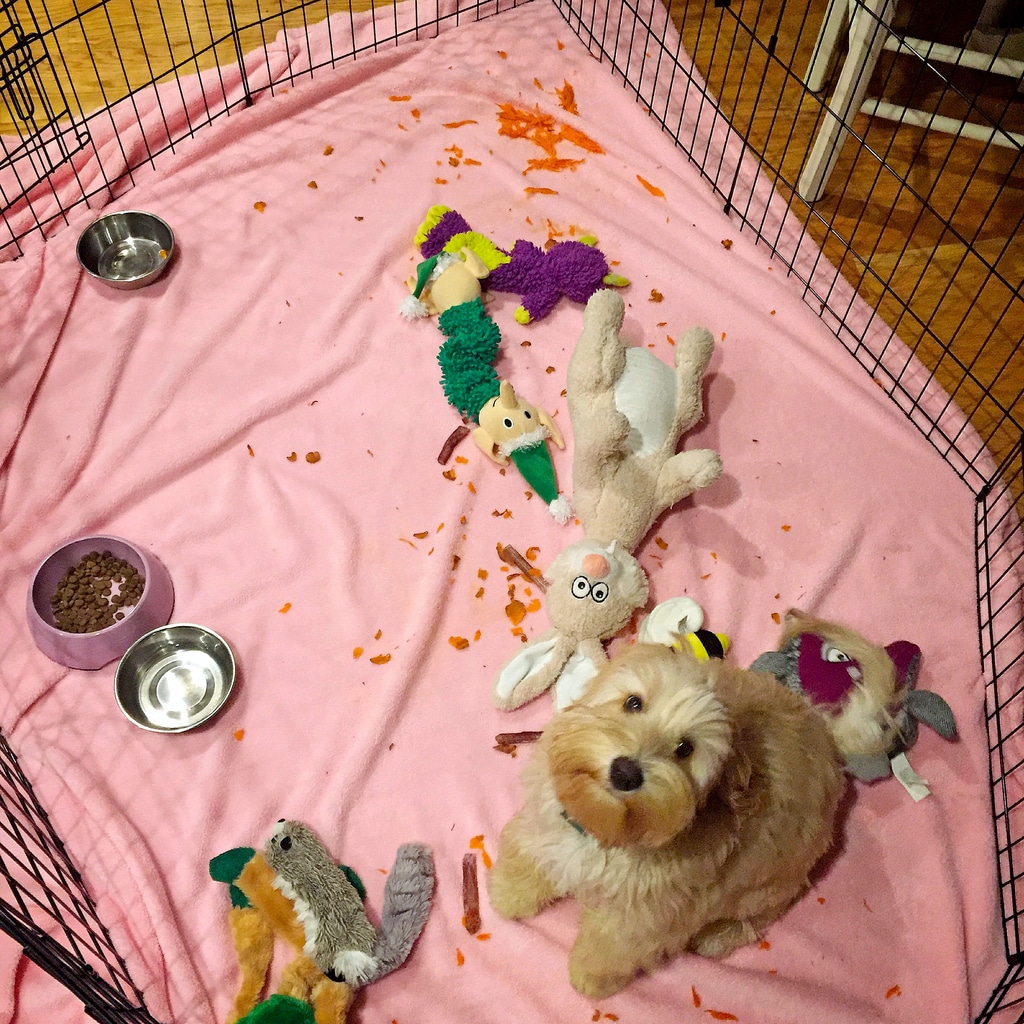 Anyway, back to the treats! Your dough should be pretty firm, but you can definitely add a little more chicken broth into it if needed. Then you'll want to roll the dough out to about ¼-inch thick on a lightly floured surface.
And cut out your shapes. I did a couple different sizes of dog bones, but feel free to cut the cookies into any shape you want. Something tells me your dog won't really care whether he or she is eating a bone or a simple circle.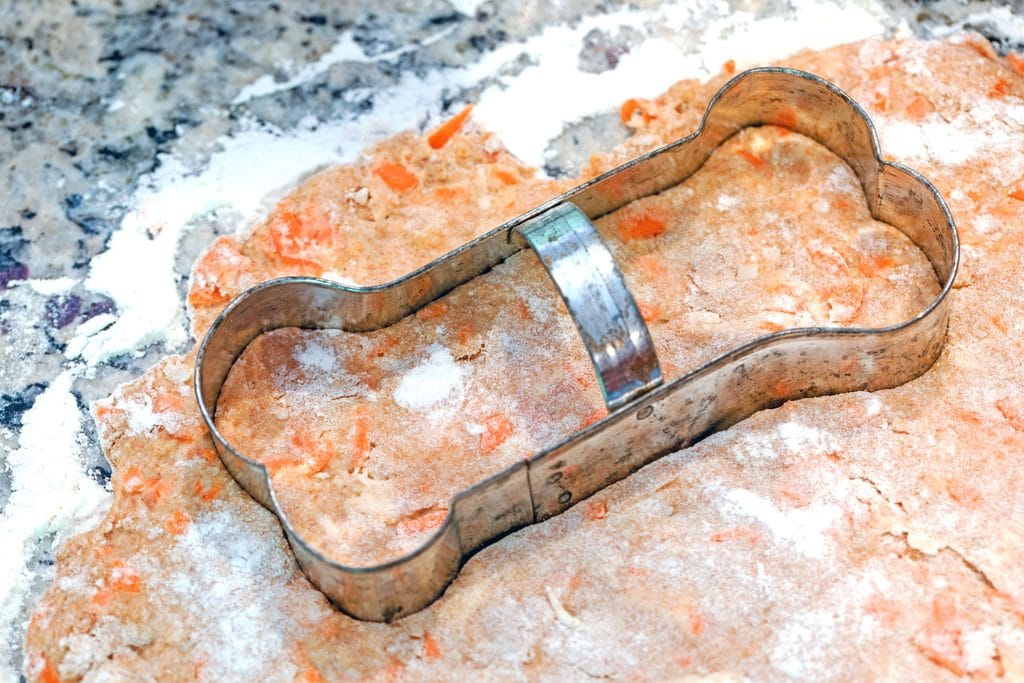 Place the biscuits on a parchment paper-lined baking sheet and bake at 350 degrees until they're nice and golden.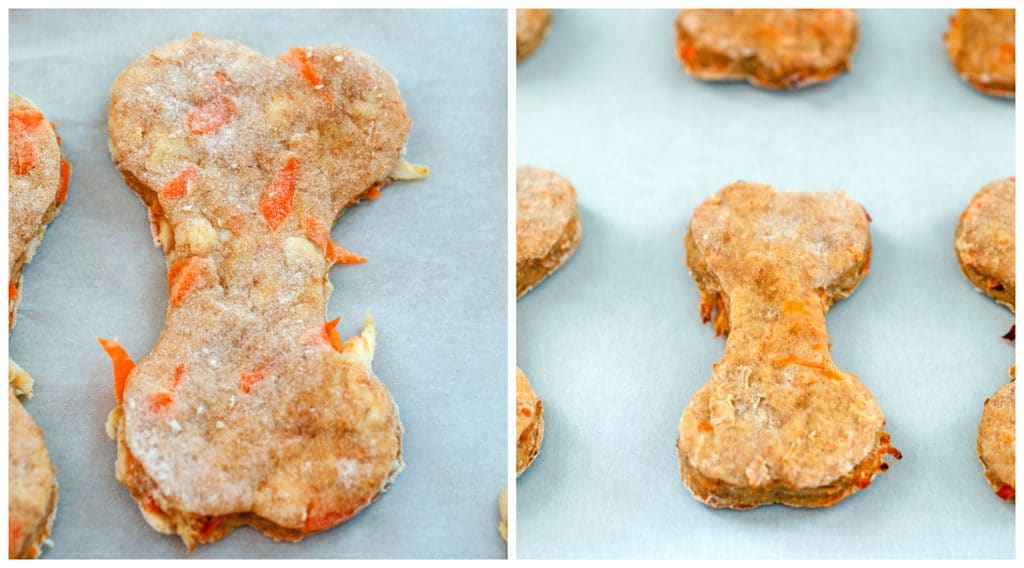 And you have fresh-baked dog treats! Or savory human cookies if you decide to go that route. I'm not kidding when I say these smell really good.
Make sure you let the biscuits cool completely before you feed them to your dog.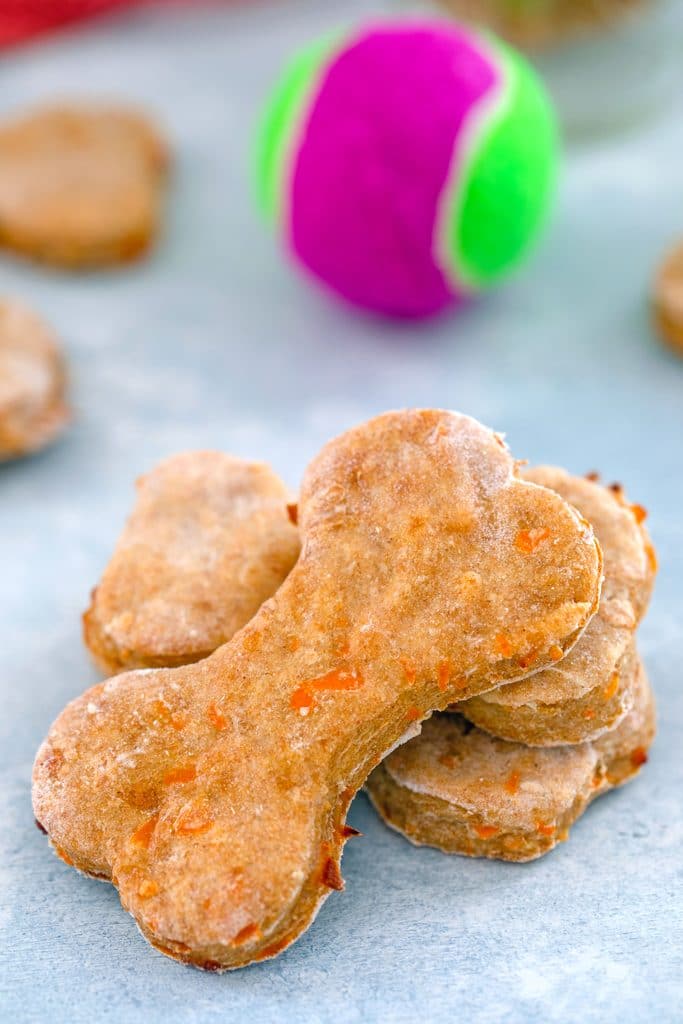 Unlike when I fed these to Mitzi (who hid them behind the couch pillows and then hid them behind the bed pillows), Winnie wanted to dig in right away.
She had been eyeing them since she saw me cooking the chicken and watched my every move in the kitchen.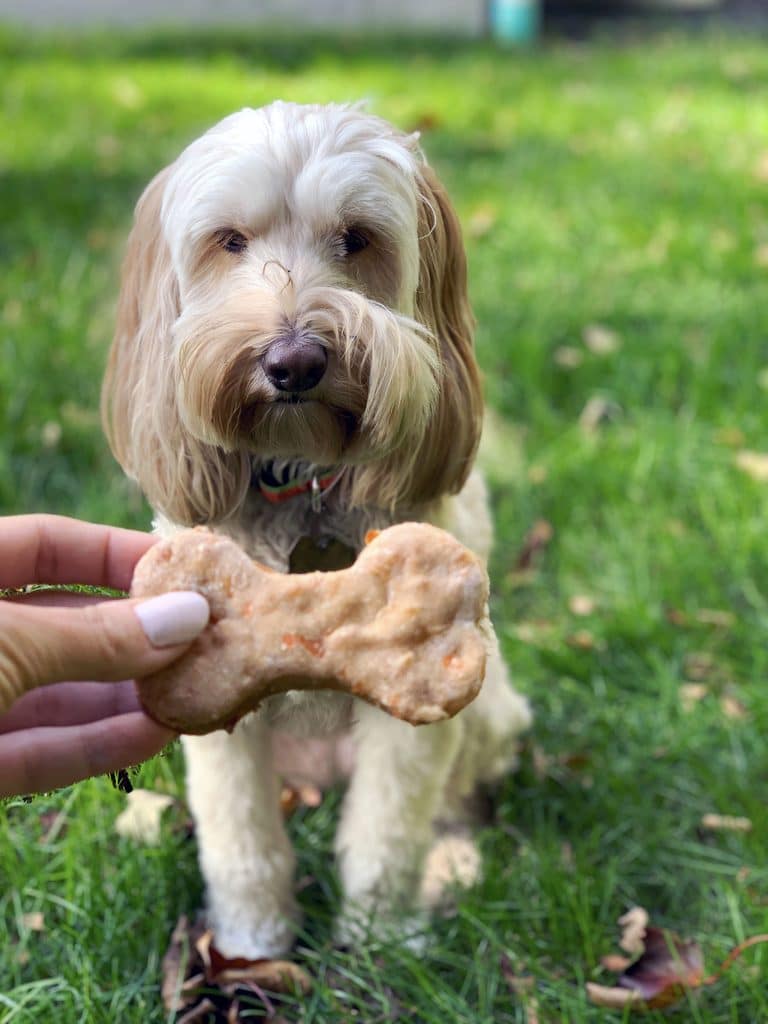 I'm pretty sure she would have eaten every single one of these chicken dog treats if I let her. We're really working on teaching her to wait and stay until we say otherwise and she's doing such a good job.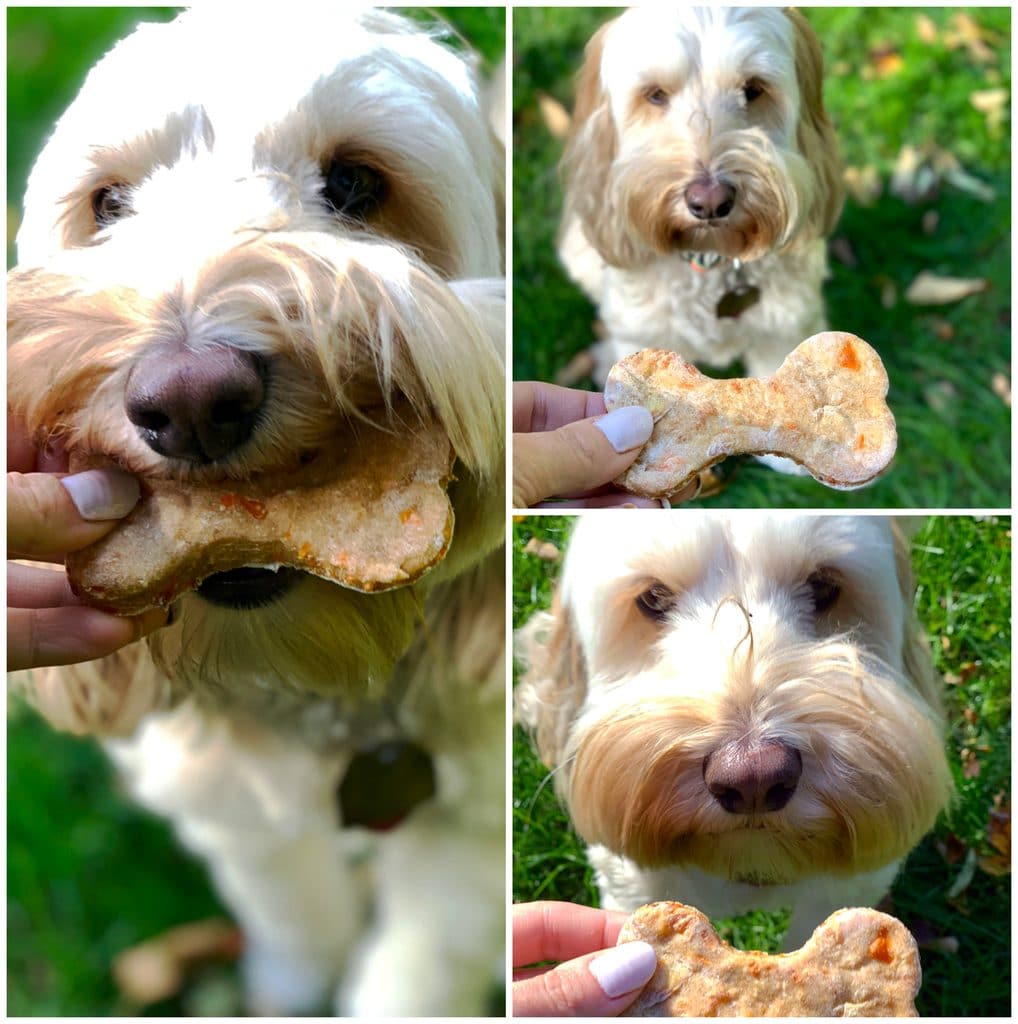 I tried hard to show some restraint and cut her off after two treats, though if I had it my way, I'd let her eat treats to her little heart's content. But something tells me she would never stop.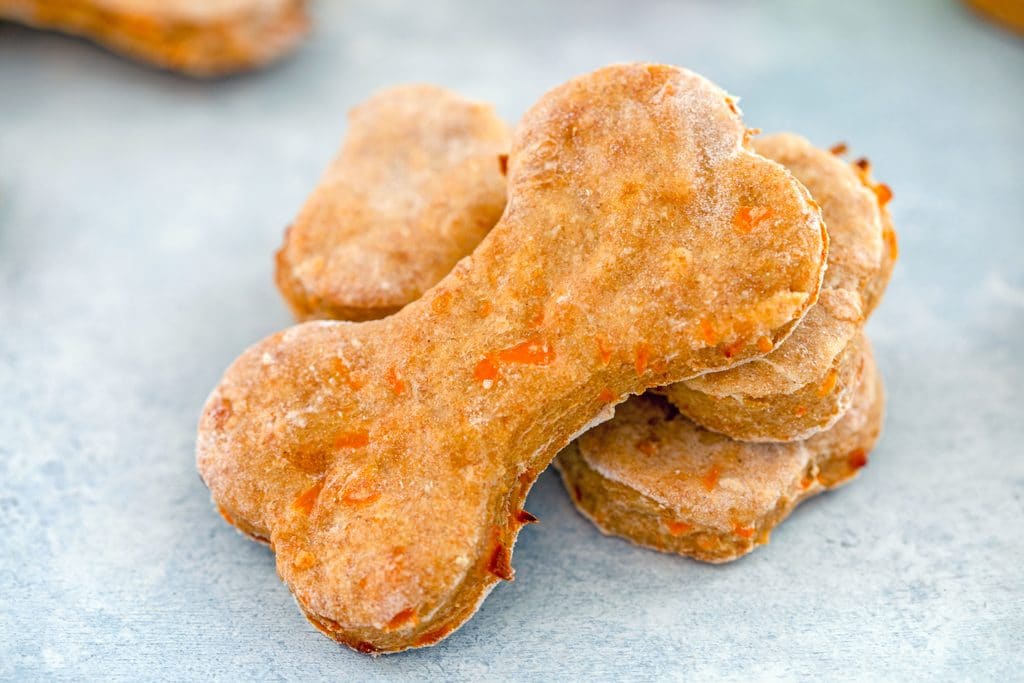 Luckily, I do feel pretty good about feeding her these chicken dog treats as I know exactly what's in them and that there are no added preservatives. I also like that she's getting plenty of protein and veggies with each one!
I love this dog cookie base and can think of so many different variations that could be made to it to suit your dog's tastes. Let me know if you have any requests or homemade treats you want me to try!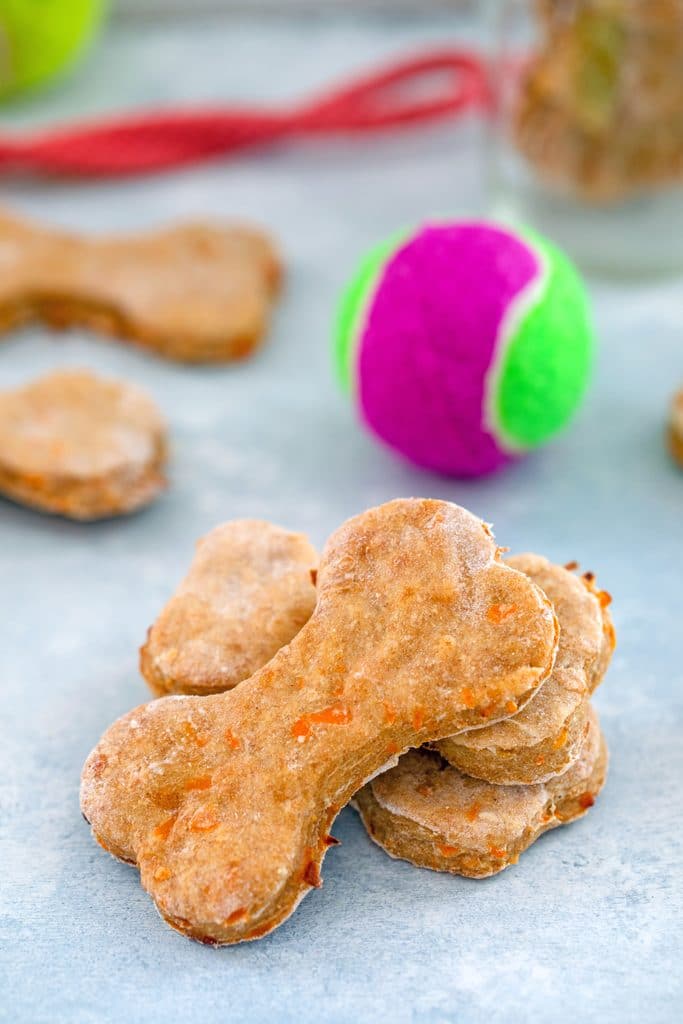 I'm sure it sounds silly, but it makes me so happy to bake something for my pup that she's literally begging me for. Yes, she's a beggar to the ultimate degree. And I know I caused it. But I'm OK with it because I'm pretty sure that if I were a dog, I'd be begging for these chicken treats, too!
If you have a pet, is he or she a picky eater?
If you're looking for other delicious homemade dog treats, check out my Chicken Jello, Peanut Butter Banana Pupcakes or Banana Doughnuts for Dogs. I also can't wait to make these Frozen Watermelon Dog Treats from For the Love of Cooking soon!
📖 Recipe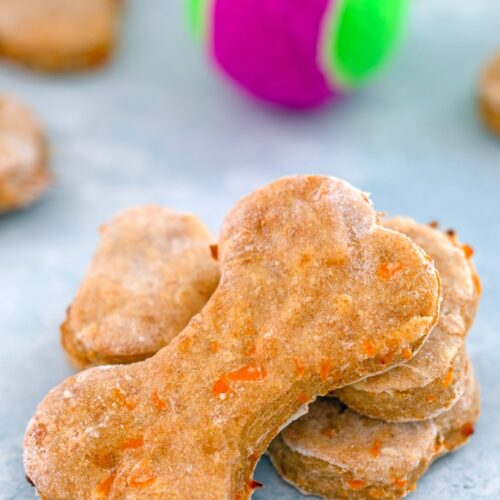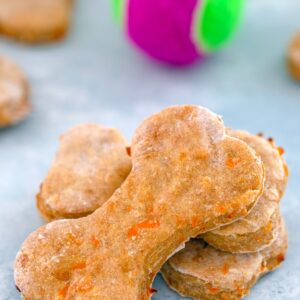 Chicken Dog Treats
Want to make your pup homemade dog treats with fresh ingredients? These Chicken Dog Treats are easy to make with whole ingredients. Your dog will love them!
Print
Pin
Rate
Makes:
24
treats (but dependent on size of cookie cutters)
Ingredients
1 ½

cups

whole wheat flour

1

cup

all-purpose flour

½

cup

nonfat dry milk powder

1

egg,

lightly beaten

1

cup

cooked and shredded chicken

(from about 1 breast)

½

cup

shredded carrots

¼

cup

grated parmesan cheese,

optional

¾

cup- 1 cup

sodium-free chicken broth
Instructions
Pre-heat oven to 350 degrees.

In a medium bowl, whisk together flours and powdered milk.

Add beaten egg, chicken, carrots, parmesan cheese (if using), and ¾ cup chicken broth and mix together until just combined. The dough should be firm, but malleable. If it's too dry, add remaining ¼ cup chicken broth 1 Tbsp at a time.

On a lightly floured surface, knead dough a few times. Roll dough out to a ¼-inch thick round. Cut out cookies using cookie cutter of any shape.

Place cookies on parchment paper-lined baking sheet and bake for about 25-30 minutes, until treats are turning golden around edges.

Let cookies rest in in pan for about 5 minutes before moving to wire racks to cool completely.

Store chicken dog treats in airtight container in the fridge.
Notes
The treats should keep for about 4-5 days in an airtight container in the fridge.
Share a Photo of Your Finished Recipe!
Mention @wearenotmartha and share a photo if you've made the recipe!
View Web Story for this recipe.