I mean, the name alone was enough to draw me into this recipe. When I spotted it in Bon Appetit, I immediately knew I had to make that week. And then I learned the recipe is actually from Chef Ana Sortun of Cambridge's Oleana. Oleana is one of those restaurants that's always been on my list of restaurants to check out, but that I never have. So basically, I decided to bring Oleana to Brookline instead. More specifically to my own Brookline kitchen.
And I'm so happy I did! Don't get me wrong; I'm sure Ana Sortun's dish is ten times better than mine. But this recipe really did have it all and it really does take me a lot to get excited about chicken (borrrring). But I am now officially excited about chicken. DO NOT be frightened by the 4 different sections of ingredients here. Yes, it seems overwhelming, but most of the steps just say "mix everything together." I was totally shocked by how ridiculously quickly this came together. If you can mix ingredients and turn on a broiler, you're good.
I always thought it was my dad who coined the phrase "It takes a tough man to make a tender chicken" because he said it so much when I was growing up. But it turns out it was Frank Perdue. Huh. Who knew? I'm still giving all credit to my dad. But um, I guess I'd have to go with "It takes a tough woman to make a tender chicken." And with a little assistance from Ana Sortun, I'm feeling pretty tough right now.
I'll break it down by section. Start with the Baharat seasoning. But you should be warned that the chicken needs to marinate for 1-2 hours before it can be cooked, so you might want to get on that early on in the game. But first you do have to make the seasoning.
Baharat Seasoning (makes about ¼ C):
Adapted from Bon Appetit
Print this recipe!
• 1 ½ T mint
• 1 T dried oregano
• 1 ½ t ground cinnamon
• 1 ½ t ground coriander
• 1 ½ t ground cumin
• 1 ½ t ground nutmeg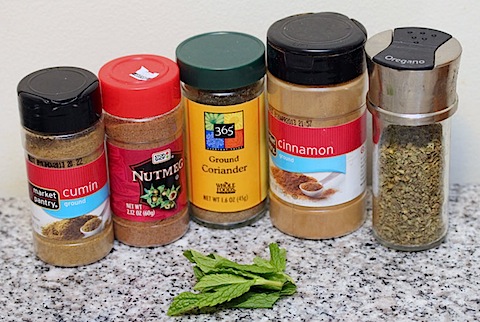 All you need to do is mash all the spices together in a small bowl. The original recipe said to use dried mint, but I used fresh and all was fine. See? That was EASY. You can make this a week ahead of time as long as you cover and chill.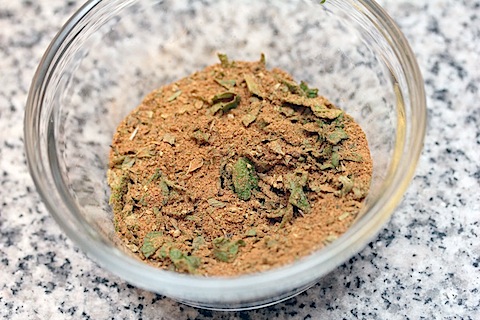 Now, for the first of the dish's accompaniments.
Pomegranate Relish:
Adapted from Bon Appetit
Print this recipe!
• 1 ¼ C pomegranate seeds
• ⅔ C unsalted shelled pistachios, coarsely chopped
• ⅓ C fresh parsley, coarsely chopped
• 2 ½ T olive oil
• 2 ½ t fresh lemon juice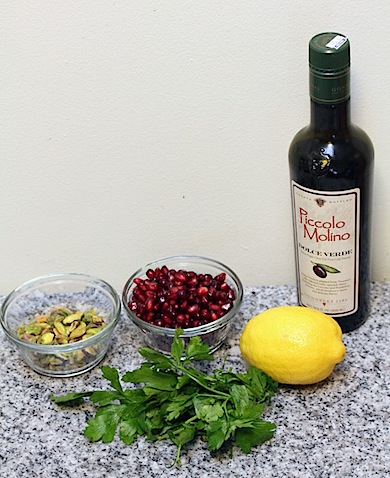 Mix all the ingredients in a medium bowl and season to taste with salt and freshly ground pepper. You can make this up to 2 hours in advance if you want... Serve it at room temperature! Again, EASY!
Next!
Tahini Yogurt:
Adapted from Bon Appetit
Print this recipe!
• 3 ½ T fresh lemon juice
• 1 T Baharat seasoning(see recipe)
• 1 large garlic clove, pressed
• ½ C plain whole milk Greek yogurt
• ¼ C tahini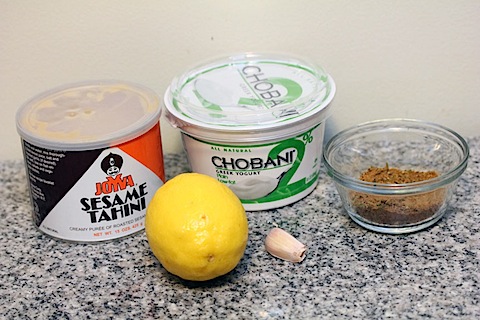 Combine lemon juice, Baharat seasoning, and garlic in a medium bowl and stir to combine. Let stand for about 5 minutes and then whisk in yogurt and tahini. Season with salt to taste. If you want, you can make this 2 hours ahead of time... Serve it at room temperature! Yup, EASY 🙂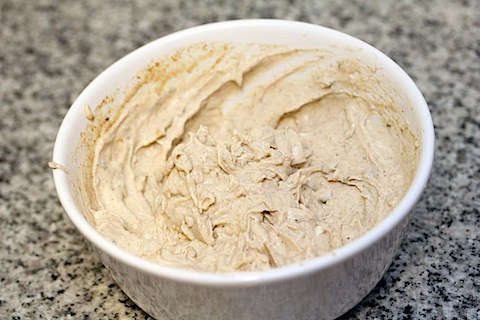 Now for the bulk of the meal. But I swear, it's still ridiculously easy.
Chicken Kebabs (Serves 4):
Adapted from Bon Appetit
Print this recipe!
• ½ C coarsely grated onion
• 2 T fresh lemon juice
• 2 T olive oil
• 2 t Baharat seasoning (see recipe)
• 4 skinless boneless chicken breasts, halved lengthwise and cut crosswise into 3 pieces
• Warm pita bread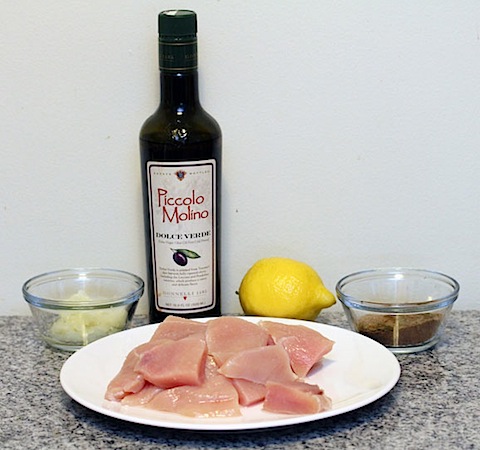 Whisk the onion, lemon juice, olive oil, and Baharat seasoning in a bowl. Add the chicken. Sprinkle with salt and pepper and marinate for 1-2 hours. The recipe said to marinate at room temperature, but I'm majorly sketched out by leaving chicken at room temp. for 1-2 hours, so I stuck it back in the fridge. Am I crazy? Letting raw chicken sit on the counter for 2 hours does not seem OK to me.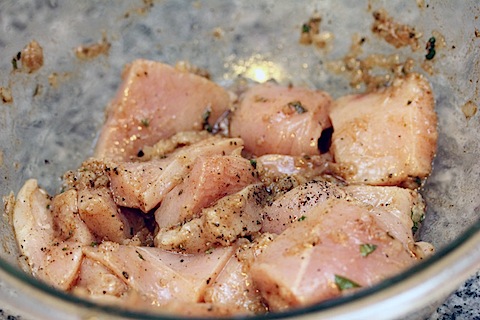 Pre-heat your broiler. Put 6 pieces of chicken on each skewer, place on a rimmed baking sheet, and sprinkle with salt and pepper.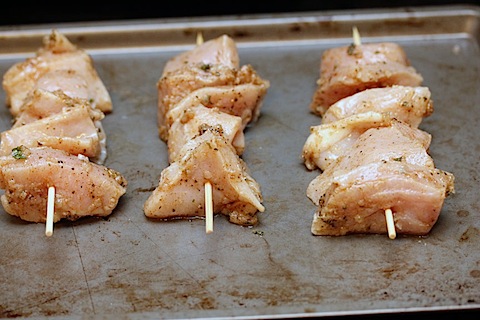 Broil the chicken until cooked through, about 5-6 minutes per side.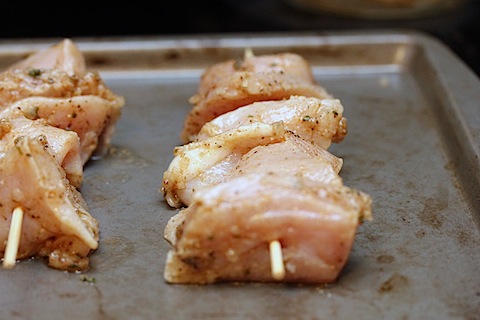 Serve chicken kabobs over a warm pita topped with pomegranate relish and tahini yogurt.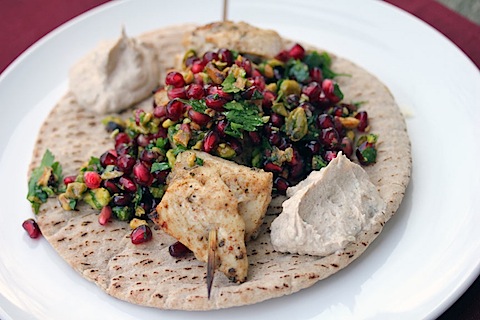 Maybe you don't believe me when I say this was the easiest thing to make, ever; but really. The hardest part was um, probably finding pomegranates in my local stores. In case you're wondering Trader Joe's always has the pom seeds... And it's kinda super convenient not to have to open the pom yourself!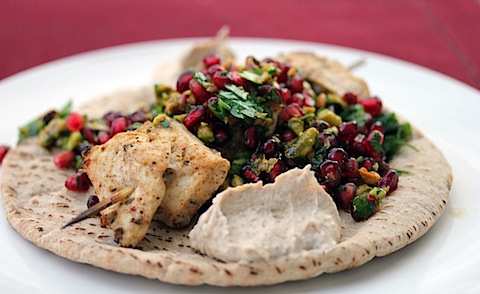 Not only was this chicken incredibly tender (told ya, tough woman!), it was perfectly spiced. I loved how the tanginess of the yogurt and the sweetness of the pomegranate relish balanced the spice of the chicken.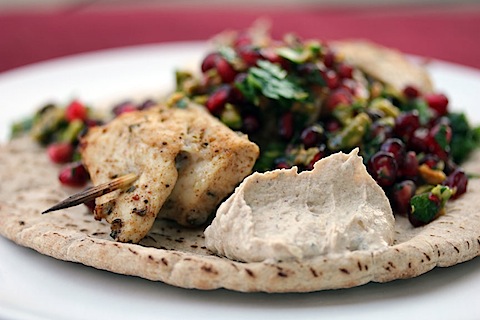 I need to give a huge shoutout to Oleana's Ana Sortun for creating an incredibly impressive recipe that's also so simple I could easily make it on a busy weeknight. Whoo hoo!
Have you ever cooked a dish from a restaurant that wowed you? Of course, I've never had Oleana's Turkish-spiced chicken kebabs with pomegranate relish and tahini yogurt, but now I almost kinda feel like I've been to the restaurant. Though my craving to eat at Oleana is even bigger now!
Hope you're having a great week! I asked a few of my girlfriends to be in my wedding over dinner tonight. And they said yes! Yay! 🙂 This thing is actually happening and I couldn't be more excited. So much to plan!! Oh, and HAPPY BIRTHDAY to Katie!! 🙂
[Sues]