The other night Sues and I decided to get together and make dinner. We had an abundance of products shipped to us to sample within the past couple of months and decided to work with what we had. We chose to make Chicken Piccata with Egg Linguine from the al dente pasta company. We chose to go with a recipe we found on foodnetwork.com since it was simple enough where we could modify as we chose.
Here's what you'll need:
2 skinless and boneless chicken breasts, butterflied and then cut in half (we chose to use the boneless, skinless thin chicken breasts, that way we didn't have to butterfly them or cut them in half)
Sea salt and freshly ground black pepper
All-purpose flour, for dredging
6 tablespoons unsalted butter (this is where we modified... we added butter as needed. The original recipe called for A LOT!)
5 tablespoons extra-virgin olive oil
⅓ cup fresh lemon juice
½ cup chicken stock (we ended up using Progresso Chicken Broth since we had it on hand)
¼ cup brined capers, rinsed
⅓ cup fresh parsley, chopped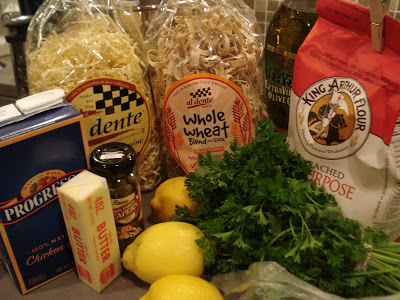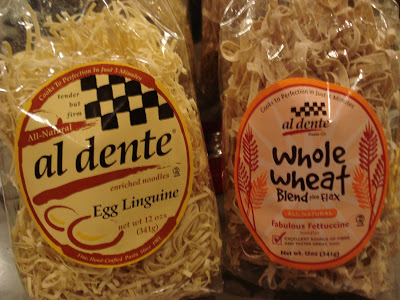 Pastas provided by Al Dente Pasta Company. Not only do they taste great, but they only take 3 minutes to cook!
Here's what you do:
Season chicken with salt and pepper and dredge chicken in flour, shake off any extra.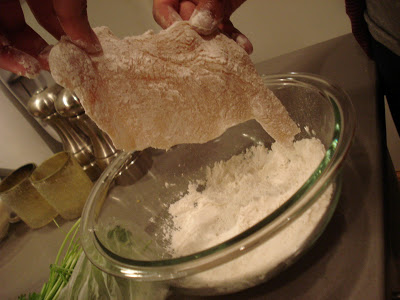 In a large skillet (over medium heat) melt roughly 2 tablespoons of butter, with 3 tablespoons of olive oil. When the butter and oil start to sizzle add 2 pieces of chicken and cook for 3 minutes on each side. Remove from skillet and transfer to a plate.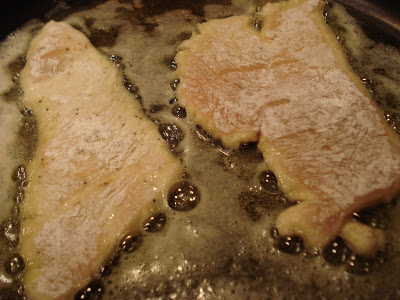 Repeat the previous steps until all of the chicken has been cooked. Remove the skillet from heat.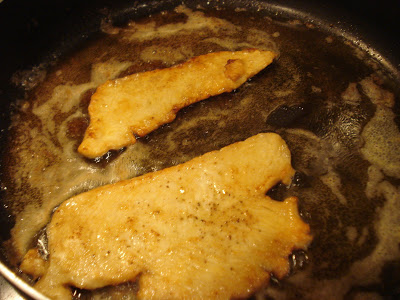 In the same skillet, add lemon juice, chicken stock (or
Progresso chicken broth
which is what we used), and capers. Return the skillet to the stove and bring to a boil, making sure to scrape up any and all brown bits for an added kick of flavor - the best part!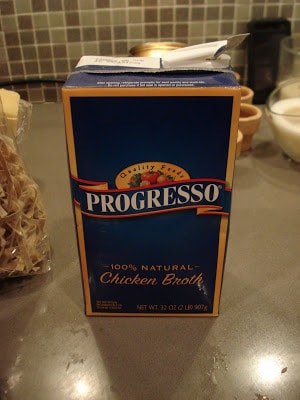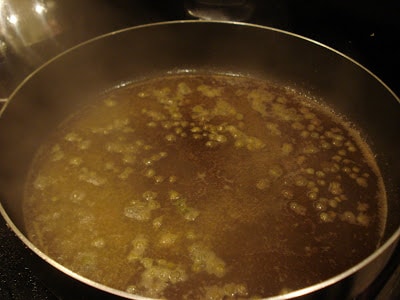 Return chicken to the skillet and simmer for about 5 minutes.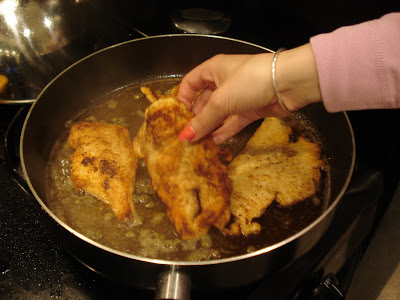 Remove chicken from skillet and transfer to individual plates atop of a bed of pasta. Add roughly 2 tablespoons of butter to the skillet, whisk vigorously, and pour sauce over each individual plate and serve.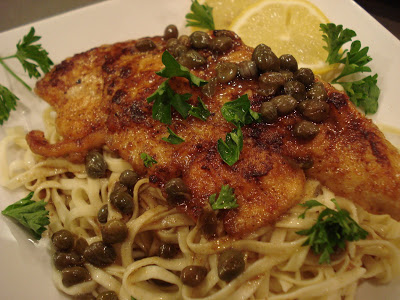 We were both pretty amazed after making this! Not only did the chicken piccata taste like a really great meal you would be served at a restaurant, but it's a very quick meal to make if you want to impress some of your favorite guests 😉
[Chels and Sues]