Recent phone conversation with my dad:
My Dad: What are you up to?
Me: Just roasting a chicken.
My Dad: Ohhhh, who's coming over?
Me: Um… myself?
My Dad: You're roasting an entire chicken for yourself???
Me: Well, I'll have leftovers for days and I can make so many different dishes from it. Read: I'm not eating it all in one sitting.
My Dad: Ohhh, you're so smart! I've raised a genius of a daughter, which is why you're my favorite child!
OBVIOUSLY kidding about the last sentence 😉
So yes, I roasted a chicken and, shockingly, it was my first time (gasp!). I knew I would have leftovers for the entire week which I added to salads, sandwiches, and even made a chicken salad out of it (more on that below). I've been all over the place lately, running in and out of my apartment and bouncing around for my different jobs, all while trying to maintain a social life and see my friends and family as much as possible. So I've been trying to have some decent food options waiting for me when I get home. Because if I don't, I'm 100% okay with eating ice cream and or potato chips or popcorn for dinner even though I know it's not 100% okay to do 😉
First up, let's chat about the roast chicken.
The flavors were inspired by this Honey-and-Lemon-Glazed Roast Chicken recipe from Food and Wine. The original recipe called for three 3-pound chickens, but I ended up using about a 5(ish) pounder.
Honey-and-Lemon-Glazed Roast Chicken
Adapted from Food and Wine
Print this recipe!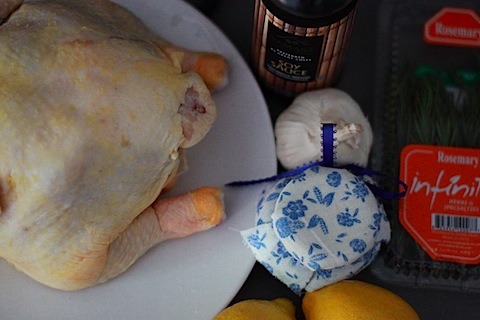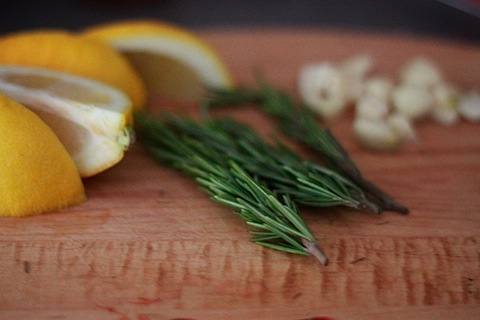 • 1/4 cup honey
• 2 tablespoons fresh lemon juice
• 2 tablespoons soy sauce
• salt
• 4 rosemary sprigs
• 6 garlic cloves, quartered
• 1 lemon, cut quartered
Preheat your oven to 450 degrees.
In a small bowl, combine the honey, lemon juice, and soy sauce and set aside.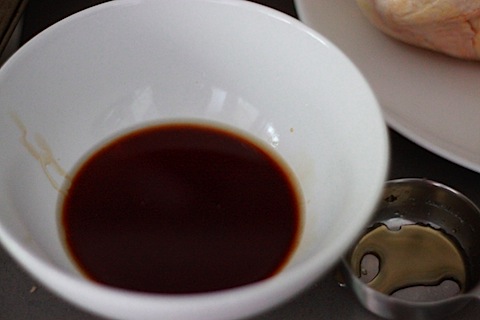 Place the chicken on a large rimmed baking sheet and tuck the wing tips underneath. Season the cavity of the chicken with salt and stuff with the rosemary, quartered garlic cloves, and lemon wedges.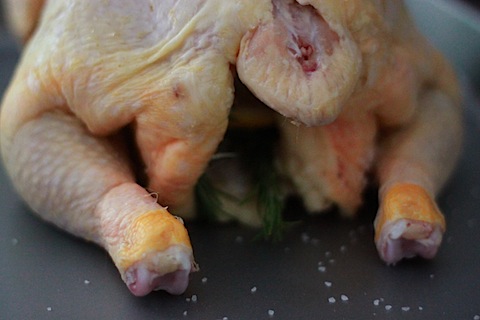 Brush about two-thirds of the glaze over the chicken and season with salt. Roast in the middle of the oven for about 30 minutes.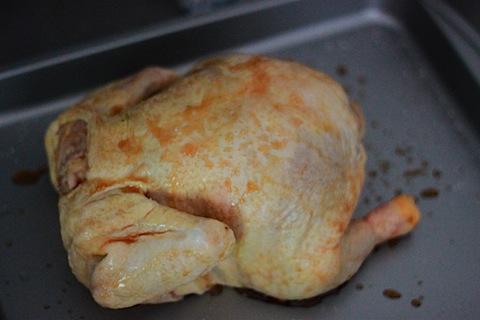 Reduce the temperature to 325 degrees and rotate the chicken in the pan while brushing the rest of the glaze over. Roast for an additional 45 minutes until the juices run clear when the thighs are pierced.
Transfer to a carving board to allow the chicken to cool and settle before carving.
The soy sauce definitely crisps the skin (at first glance, I was afraid a bit too much!) but it actually turned out wonderfully. The meat was perfectly cooked and moist with refreshing and light hints of lemon and rosemary. Perfecto!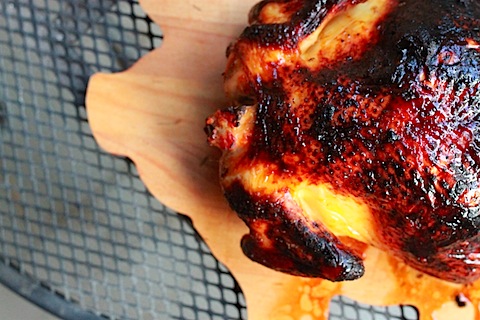 Now, once you've completed cooking the chicken, you can either enjoy it as is, which I did the first night, or create a multitude of dishes using the leftovers. The following day, once the leftovers had sat in the fridge overnight, I decided to make a chicken salad. You could easily use a store-bought rotisserie chicken for this if you don't want to roast your own. But I don't see why you wouldn't because it doesn't take too much time. But then again, I'm single without any children, so I guess my calendar looks a little different than some people's 😉
Chicken Salad with Cucumber and Red Pepper
Adapted from Food and Wine
Print this recipe!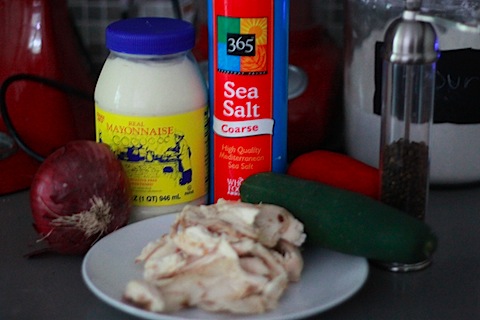 • 1 cucumber, diced
• 1 red pepper, diced
• 1/2 cup chopped red onion (more or less depending on your own tastes)
• about 2 cups of chicken, diced
• 1 teaspoon garlic salt
• 1 teaspoon ground mustard
• 2 tablespoons of mayonnaise
• Salt and pepper to taste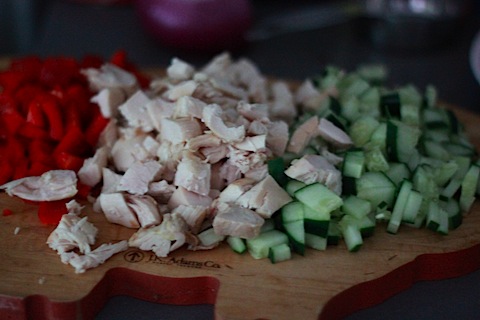 This chicken salad recipe is so, so simple and can be tossed together in a matter of minutes. It's also a great dish to quickly make and pair with crackers if you have last-minute summer guests coming over and need something to nibble on.
First, start by combining the cucumbers, red pepper, diced chicken, and onion into a small mixing bowl.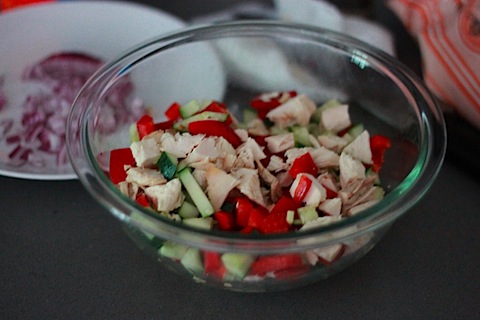 Add in the mayo,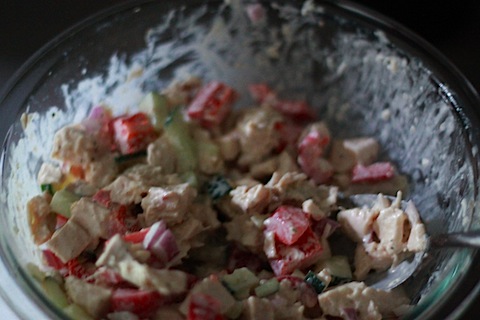 followed by the ground mustard and garlic salt. Then, using a fork, gently blend all of the ingredients together.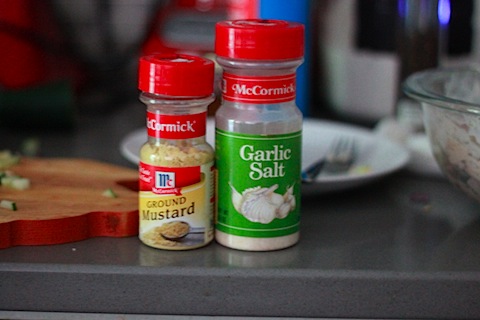 Let chill in the refrigerator for a couple hours before serving.
This chicken salad can be enjoyed in a number of ways including on a sandwich or in a salad. I even ate it alone, to be honest, at some points.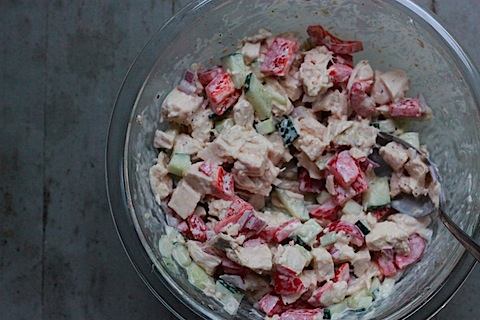 What are some staples or quick recipes you like to have on-hand when life gets busy?
—————————————————————————————————————————-
Speaking of quick recipes, check out my Beef, Shiitake, and Snow Pea Stir-Fry recipe featured on The Mushroom Channel's blog last week! What the YUM!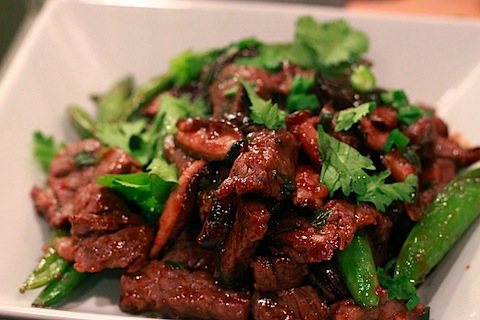 [Chels]