Just as I thought I was starting to decrease my magazine subscriptions, I added another to the list! Ooof. But at least this one was for a good cause. I got a phone call a handful of weeks ago from a representative of the Special Olympics selling magazine subscriptions at discounted prices, where the proceeds would benefit the charity. I'm really not in a position to spend money all willy nilly but it was the beginning of the new year and donating just makes me feel good. I just remember growing up listening to my parents answering phone calls from charities and they would patiently listen to whatever the other person on the other line was saying and thinking I'd do the same thing when I was an adult 😉 So after the kind sir on the other line from the Special Olympics read off a list of magazines, I decided I could use a bit more Real Simple in my life. I used to take my mom's old copies from time to time and thought it would be nice to just get them delivered to my door 😉 A lot of the content in the magazine really doesn't even apply to my life but I do love their household tips and simple recipes! There's something to be said about a publication that can so perfectly simplify all of the confusion and chaos of every day life.
In the magazine's March issue there's a recipe for Chickpeas with Chard and Pan-roasted Tomatoes that caught my attention immediately. I'm a chickpea hoarder and I love a leafy green so I was pumped to make this for dinner the other night. It was under the Weeknight Meals section of the issue so I knew it would be a pretty speedy dish to make, too!
Here's what you need (serves 4... and makes outstanding leftovers for lunch!):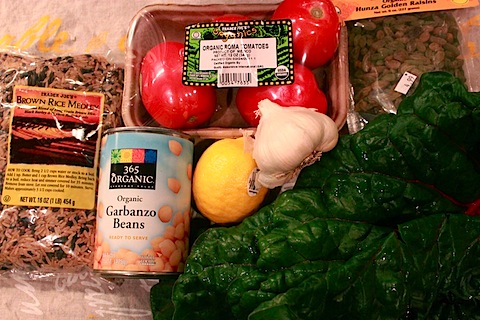 • 1 cup brown rice (I used the Brown Rice Medley from Trader Joes... it's a must!)
• 1 tablespoon olive oil
• 4 small plum tomatoes, halved lengthwise
• 1 small bunch of Swiss chard, tear leaves and remove thicker stems and ribs. (about 8 cups)
• ⅓ cup golden raisins (this makes the dish, so don't skip!)
• 2 cloves garlic, sliced thinly
• salt and black pepper
• 1 15-ounce can chickpeas, rinsed
• 2 tablespoons fresh lemon juice
Here's what you do:
• Cook rice according to package directions.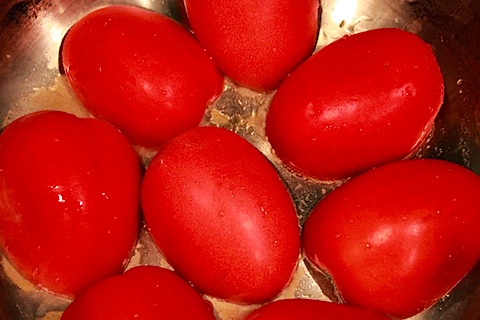 • When the rice is almost done, heat olive oil in a large skillet over medium-high heat and add halved tomatoes, cut side down. Brown the tomatoes nicely until they start to soften, about 3-5 minutes. Briefly brown on the opposite side for about a minute. Remove tomatoes from pan and transfer to a plate.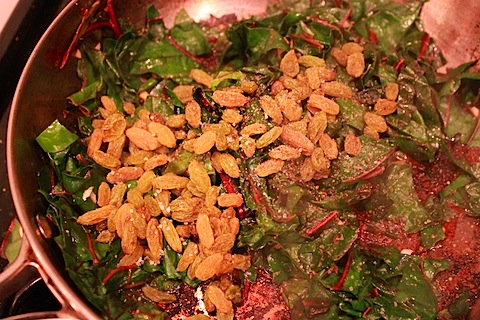 • In the same skillet, add the chard, raisins, garlic, 2 tablespoons of water, salt and pepper to taste. Cook until the chard begins to wilt, about 3-5 minutes.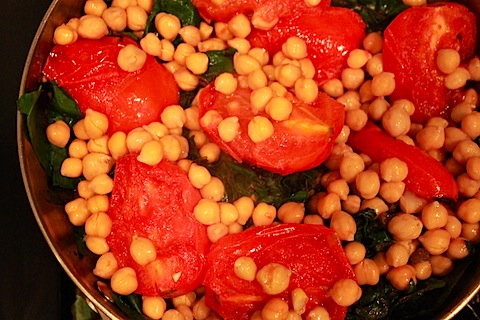 • Return tomatoes to the skillet and add the chickpeas and fresh lemon juice. Toss until everything is heated through. Serve over a bed of rice.
Yes. That's it!
This is one of those dishes that leaves you perfectly satisfied. And for not having any meat at all, that's a pretty big statement coming from me since I am a huge meat eater as you all probably know by now 😉 The bites of chewy raisins actually made me smile a little while I was eating this. They add the perfect amount of sweet and they're a pleasant and special surprise! My other favorite thing? It's the perfect pantry meal. I always have chickpeas and brown rice in my kitchen so it was just a matter of buying a few dollars worth of fresh produce to pull it all together. Oh, and a new bottle of red vino at Trader Joes 😉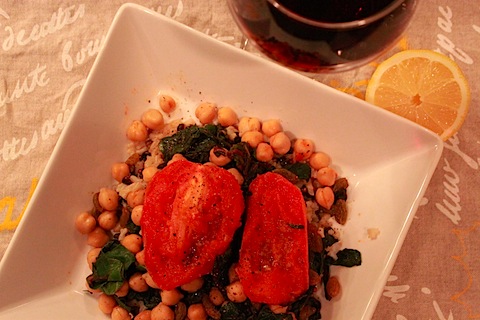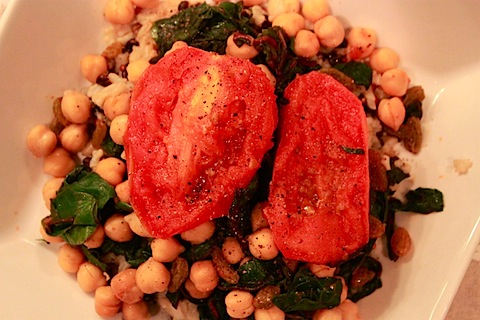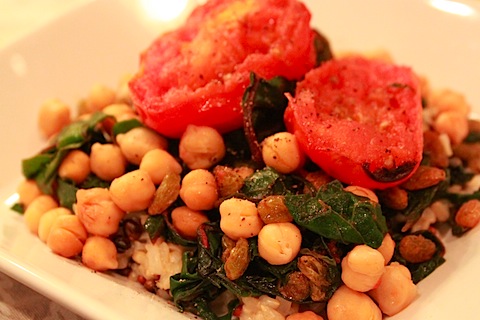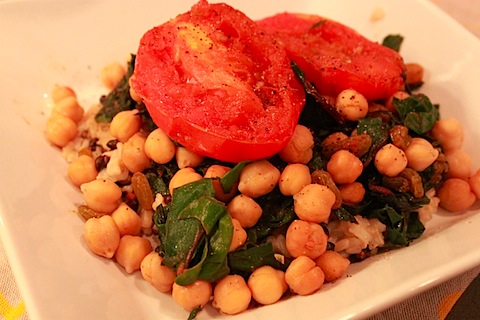 And once all of these flavors get to know each other overnight in the fridge, it's a happy marriage of tastiness at lunch the next day. I set aside some of the leftovers in a tupperware container for my roommate to take to work today and got a text from her that said "My lunch was so good!!!!!" which makes me think I'll be making this dish a whole lot more!
What's your favorite go-to easy but healthy dinner to make after work?
[Chels]
----------------------------------------
Doughnut Cookbook Winner:
The winner of last week's cookbook Doughnuts, Simple and Delicious Recipes to Make at Home is Simply Life! Congratulations! Keep an eye out for an email from us so we can get your contact information. Lots of doughnuts will be baked in your kitchen soon 😉