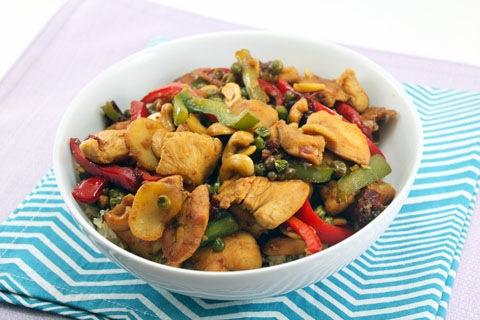 This dish is deceptively easy. You might look at the ingredient list and photo and think "oh heck, no. It's Thursday evening, I've had a long week, and I do not have time for these shenanigans." But you'd be missing out big time. Because these so-called shenanigans are some of the easiest shenanigans I've been up to in a long time. I mean, if you really look at the ingredient list, most of the ingredients are spices or sauces or oil or butter. I almost always have every single ingredient on this list in either my pantry, fridge, or freezer. You only need 2 pots to make this Chipotle Cashew Chicken and that means you only have 2 pots to wash when you're done eating it. Really, you have absolutely nothing to complain about. But you probably could complain. Because whoever you serve this to will be incredibly impressed. And you can pull the old, "I've been on my feet all day and in the kitchen slaving over a hot stove to cook this for you… It's SO your turn to do the dishes." Unfortunately, like I said, there are only 2 pots to dirty when making this. So,  you might actually want to save that complaining for another night.
I've been wanting to make a cashew chicken for a while and I stumbled across Rachael Ray's version with chipotle on the Food Network's website. Any opportunity I have to add chipotle to a meal, I take; so this was a no-brainer for me. Oddly enough, the Food Network's photo of this dish looked less than appetizing. Almost so much that I didn't want to make it. My photos certainly won't be winning any awards, but man, I'd much rather eat my version. But this just goes to show, don't judge a recipe by its photos. You really need to just imagine all of the ingredients on the list together. In harmony. It's tough with this recipe's eclectic ingredient list, so you should probably just take my word for it.
Chipotle Cashew Chicken (serves about 6):
Adapted from Food Network
Print this recipe!
1 T extra-virgin olive oil, plus 2 T
2 T butter
1 large onion, chopped
2 C brown rice
4 C chicken stock
2 lb. chicken breasts
1 T cayenne
1 T dried oregano
3 T soy sauce
4 cloves garlic, chopped
1 red bell pepper, seeded and sliced thinly
1 green pepper, seeded and sliced thinly
1/4 C whole water chestnuts
1 C frozen peas
4 chipotle peppers, chopped (use fewer if you don't like spicy)
2 T adobo sauce (from peppers)
1 T cumin
3 T honey
1/3 C maple syrup
2 T chopped parsley
1 C raw cashews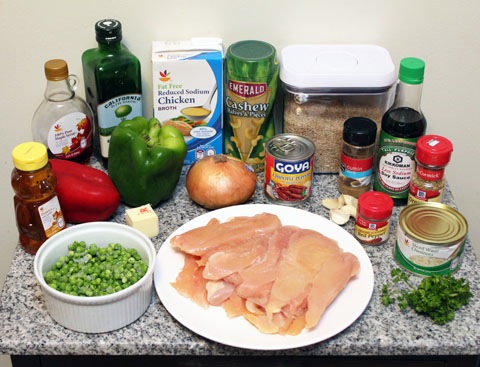 Start by combining 1 T olive oil and butter in a medium pot over medium heat. When the butter melts, add the onion to the pot.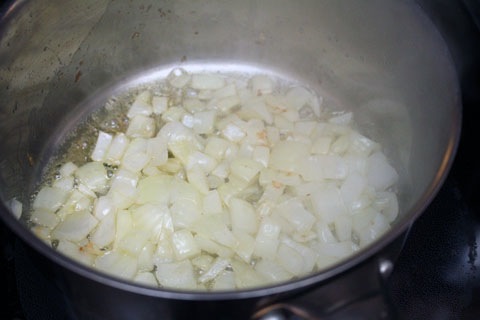 Cook for 2 minutes, add the rice, and cook for another 3 minutes.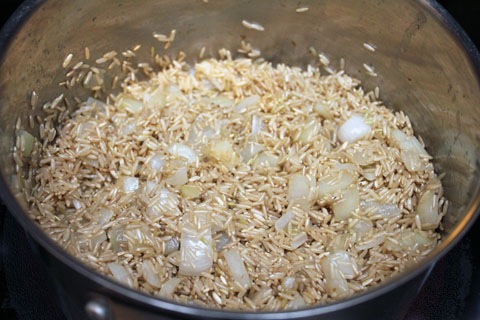 Now, add the chicken stock to the rice and bring to a boil. Stir, lower heat to simmer and cover pot. Cook for 15-18 minutes, stirring occasionally.
Now for the chicken. Add 2 T olive oil to a large skillet, over medium high heat. Put the chicken in the pan and season it with cayenne and oregano.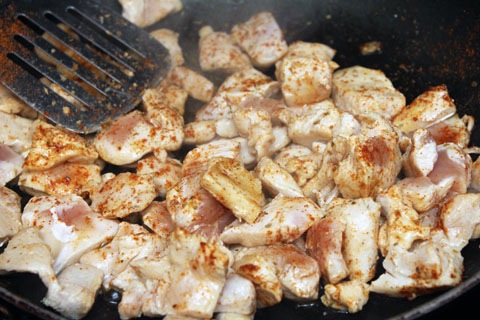 When the chicken is browned on both sides, toss the soy sauce in with it.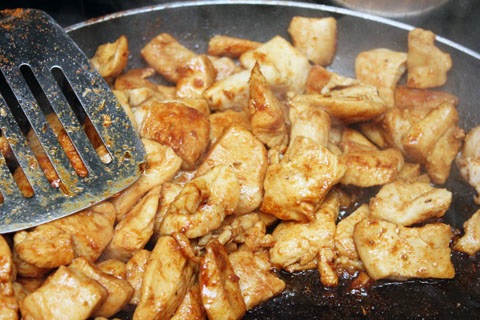 Move the chicken to the side of the pan (as much as you can) and on the other side, add garlic and peppers.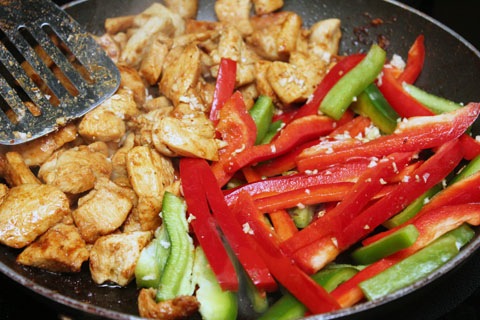 Cook for a couple minutes before adding water chestnuts and peas to the mix. Combine with the chicken.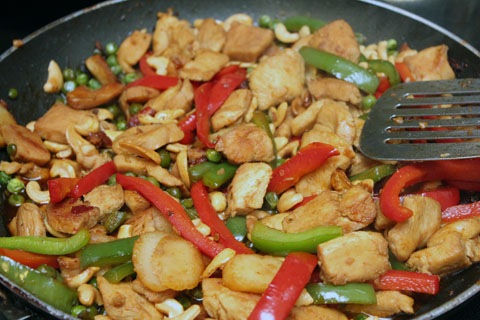 Add in chipotles, sauce, and cumin; toss everything together.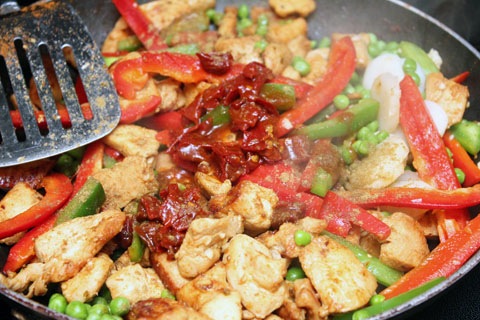 Glaze with honey and maple syrup and remove from heat.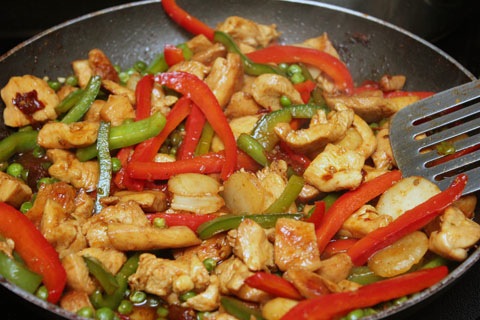 Stir in parsley and cashews and serve over rice.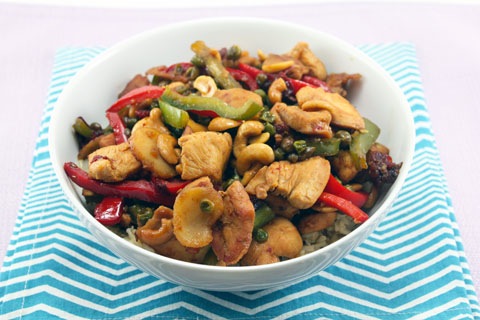 See? That's a lot of ingredients in one bowl, but a pretty super simple process.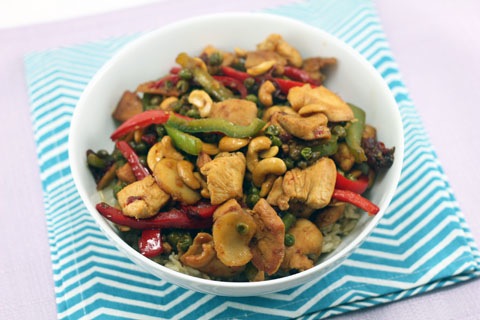 With some pretty fabulous results. You end up with a dish chock full of veggies, protein, and absolutely delicious flavors. Plus, a fantastic leftover-maker.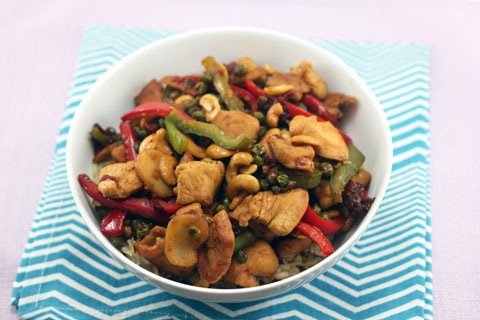 Admittedly, the flavor combinations do seem a bit strange if you're simply looking at the ingredient list. Is it Asian? Is it Mexican? What the heck is this dish? Think of it as the most delicious fusion ever. It's taking some of the best elements of culinary genres and combining them for an unlikely bowl of awesome.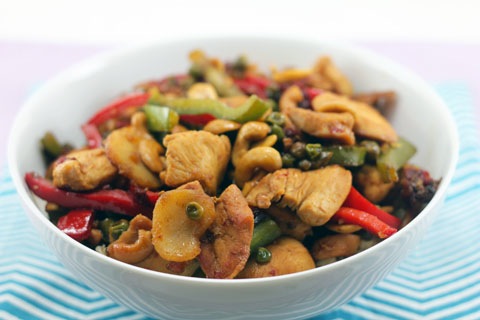 This is definitely going on my must-make again list; for nights when I'm tired, but still want to eat a hearty meal that will also provide me with lunch the next day.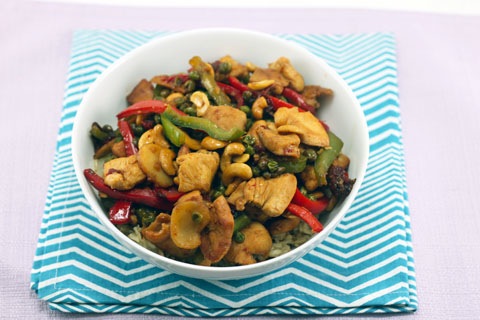 I love complicated-looking easy.
I'm super excited to announce that I'll be heading to BlogHer in NYC next week, partly for work and partly for play! Let me know if you're headed there, too! My plans were a bit last minute and I've been following all the Twitter hashtag fun, but am surprised I don't know more people going. I guess most of my current blogging friends attend BlogHer Food over regular BlogHer and I've only really attended food focuses blog conferences in the past. But I've heard so much about BlogHer over the years, I'm excited to see what it's all about!
Have you ever attended BlogHer? Got any advice for me?
[Sues]