This layered bar has a chocolate brownie base, a layer of sweet coconut, a white chocolate topping, and plenty of Peeps and sprinkles. Whether you're making them for Easter or just a spring celebration, these Peeps brownie bars are sure to delight!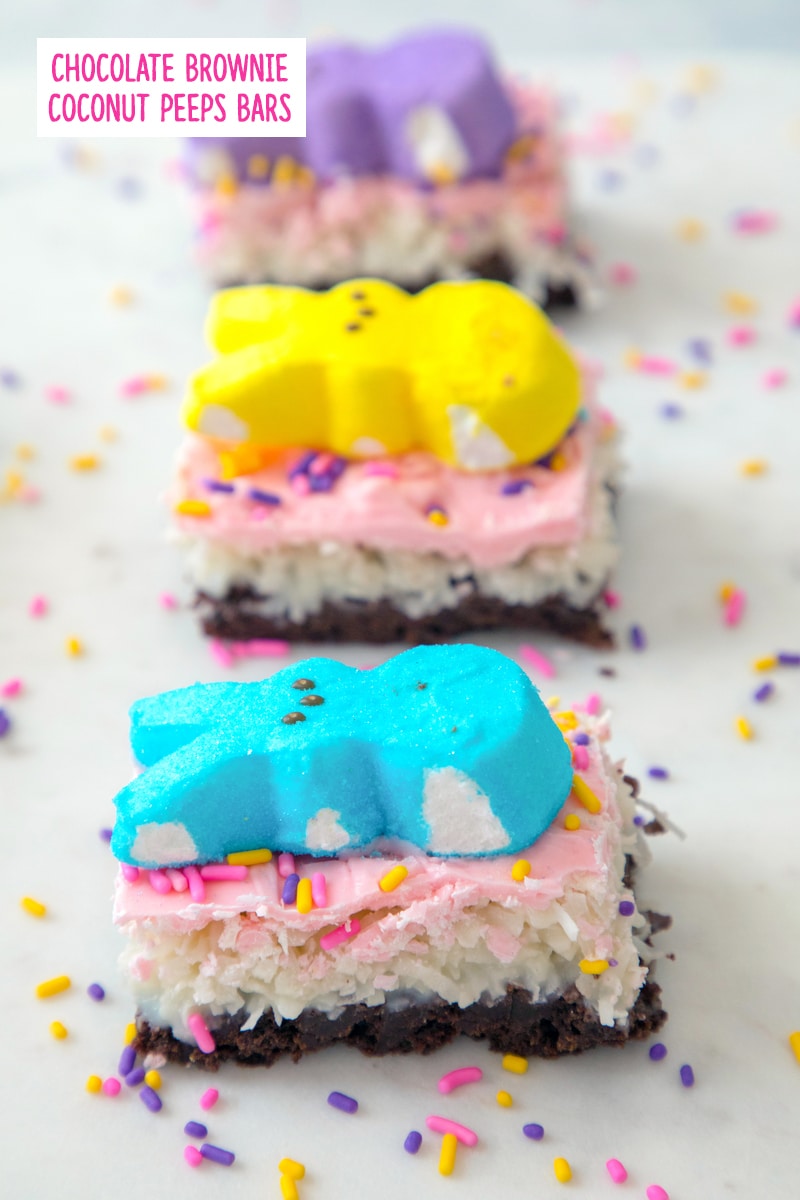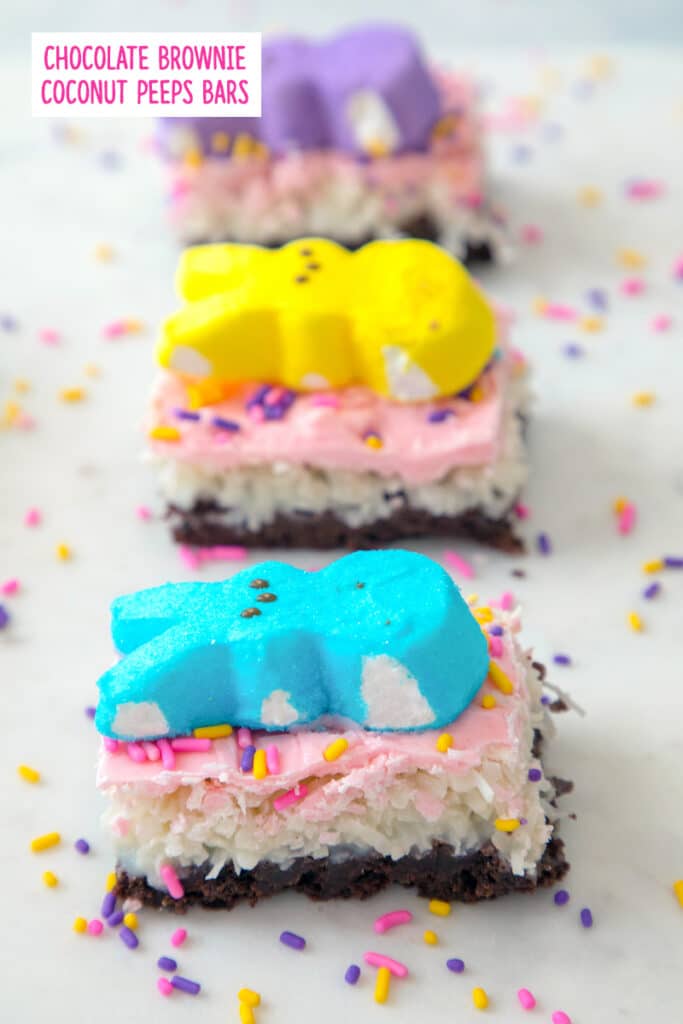 Is this the time of year where we have our annual discussion about why Peeps hatred is entirely unwarranted? Because I am SO READY FOR YOU. Bring it on. All your Peeps vitriol, I want it now. Give it your best shot; your most rehearsed arguments.
Because... Come on, people. Peeps are literally marshmallows covered in sugar. How is it possible to have so much hatred toward them??? Unless you have a problem with marshmallows (which, fine, but I think we need to have a whole other discussion), I just don't understand how you can be so hateful toward Peeps.
They're fun and they're happy (aside from the fact that they don't have mouths... hmmm would they be cuter or creepier with smiles??) and they come in all kinds of colors these days. To be honest, it's actually difficult to create recipes using Peeps because they are so delicious and perfect on their own.
And I hate to melt them down or smoosh them between graham crackers or anything that would be considered cruel treatment to Peeps (can we get PETP up in here?). But when placed gently on top of chocolate brownie coconut bars, they give the perfect added Easter/spring touch.
Side note: Can we talk about the time I literally melted Peeps in a saucepan and made syrup for my ice cream? Those poor Peeps.
Yeah, if you're a Peeps hater, you can easily make these brownie coconut bars without adding the adorable little bunny on top. But first, I'm gonna need you to explain your Peeps hostility to me. Maybe this can be the year we make amends and all just get along? #PeepsOnEarth, y'all.
CHOCOLATE BROWNIE COCONUT PEEPS BARS RECIPE
These Peeps brownie bars involve three layers, but all are SUPER easy to make. The first is just a basic chocolate brownie that gets baked in the oven as brownies do. The second is simply shredded coconut mixed with condensed milk and layered over the brownie. It needs to chill in the fridge for a bit.
And then the third is melted white chocolate tinted with a little food coloring if you'd like. Once you pour the melted chocolate on, you pop on the Peeps and sprinkle on the sprinkles and let the chocolate harden.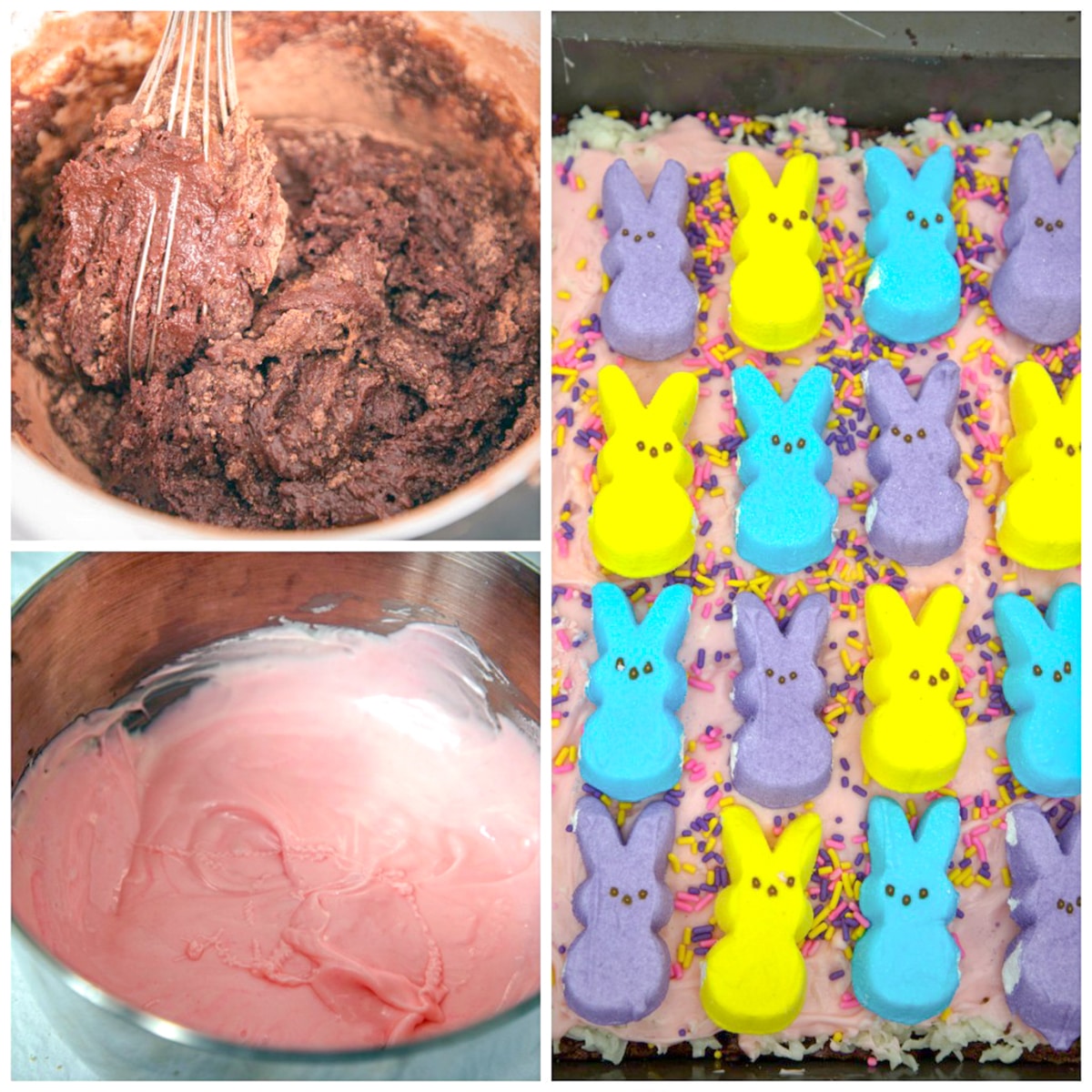 Then you slice the bars up, using the Peeps as guidelines and dig in. This is the perfect size layered bar for me... It's substantial, but not so huge that it's difficult to eat. I mean, aside from the added height from the Peep.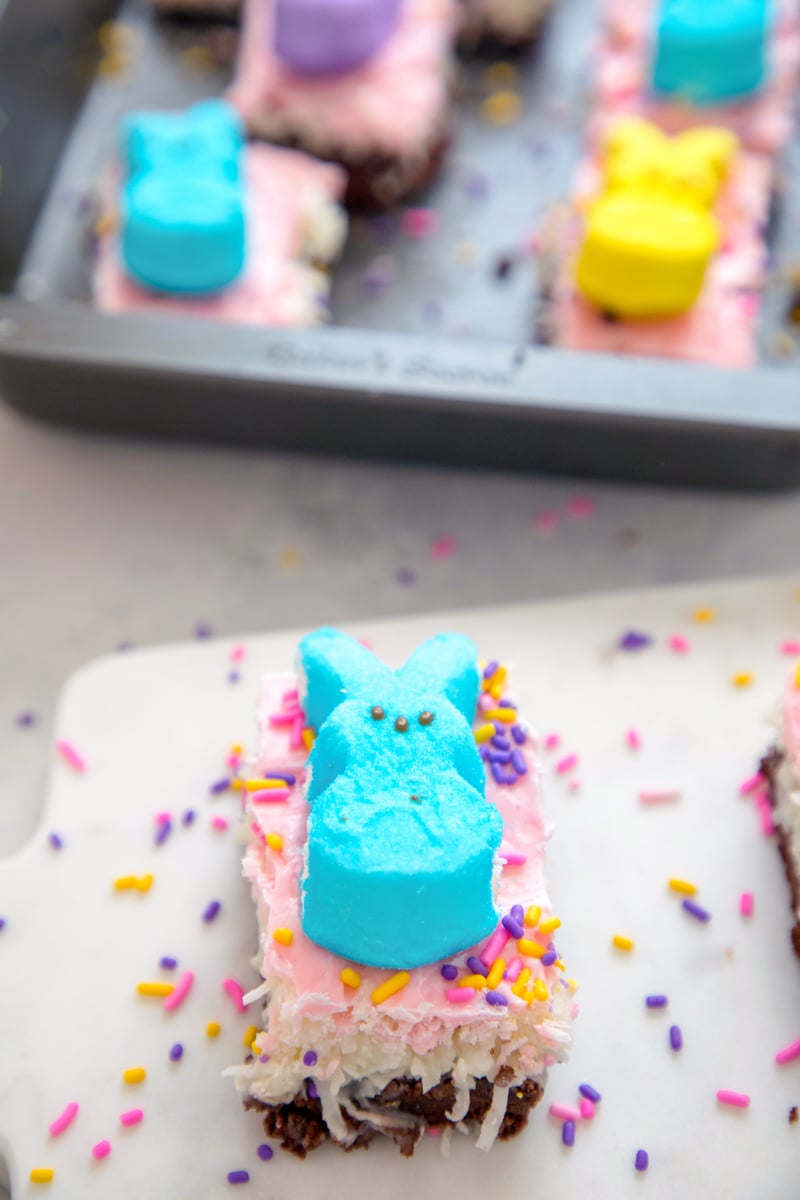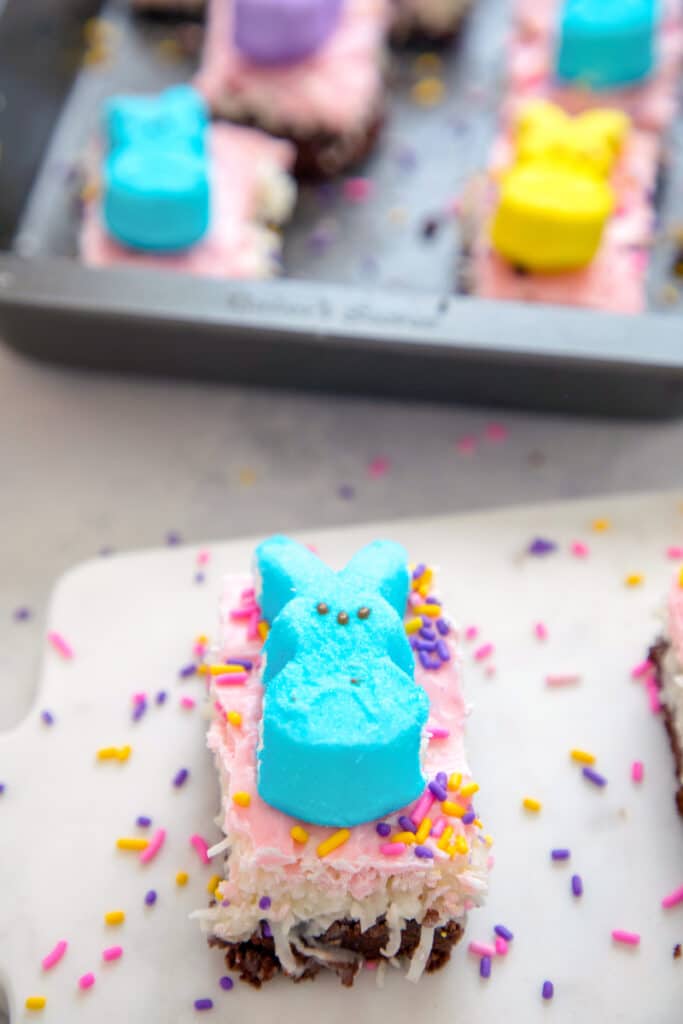 I'm a huge coconut fan and believe we've discussed my love for Mounds bars in the past. These Peeps Brownies remind me a little bit of a Mounds bar, but even better since there's brownie involved.
I guess I'd have to compare them more to an almond joy... Except with a Peep instead of an almond. Can Peeps Joy be a thing? If not as a dessert, then certainly as an emotion.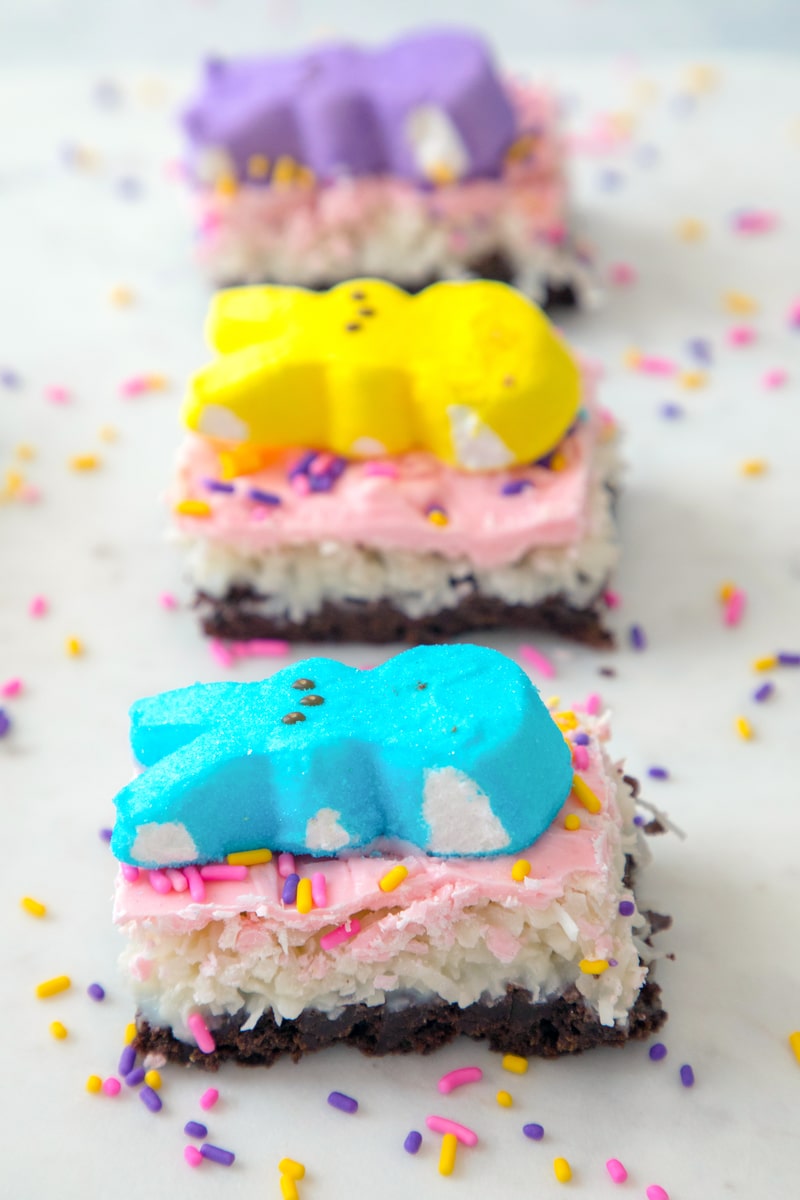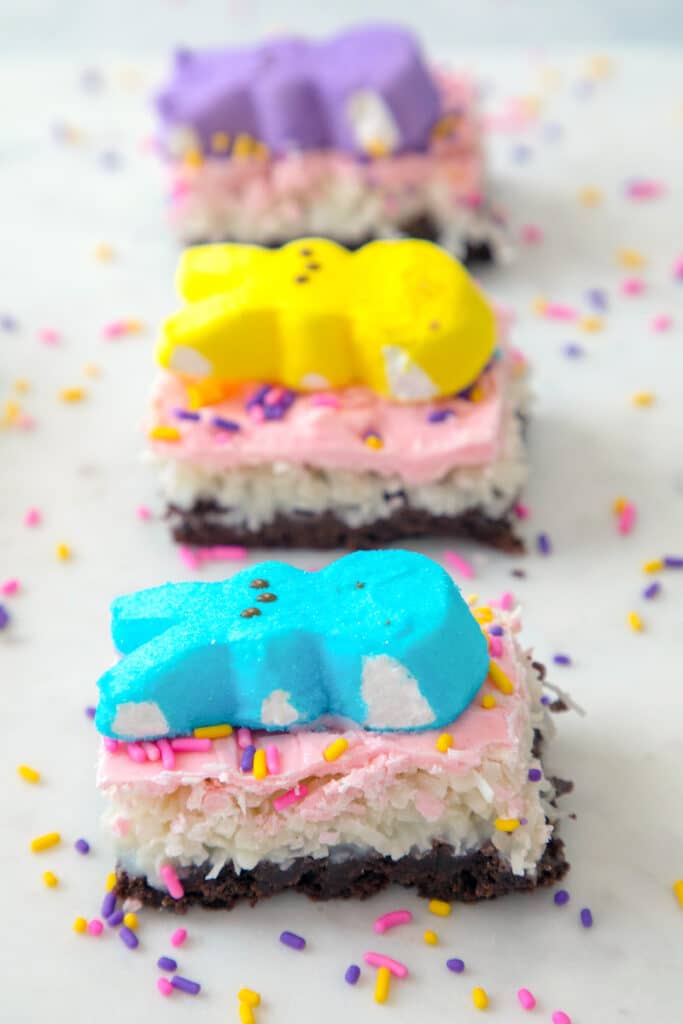 In addition to making Peeps Joy a thing, I'm also going to make the hashtag #PeepsOnEarth a thing. Please help me. I feel like this is very important. At least to the future of my happiness.
Coconut is also super spring-y to me and now that we're in April, I think we can all mostly breathe a sigh of relief that we made it through winter. Congrats, everyone!! That is reason enough to celebrate with these delightful little Peeps brownie bars. Or just a package full of Peeps if that's more your speed (I vote for both).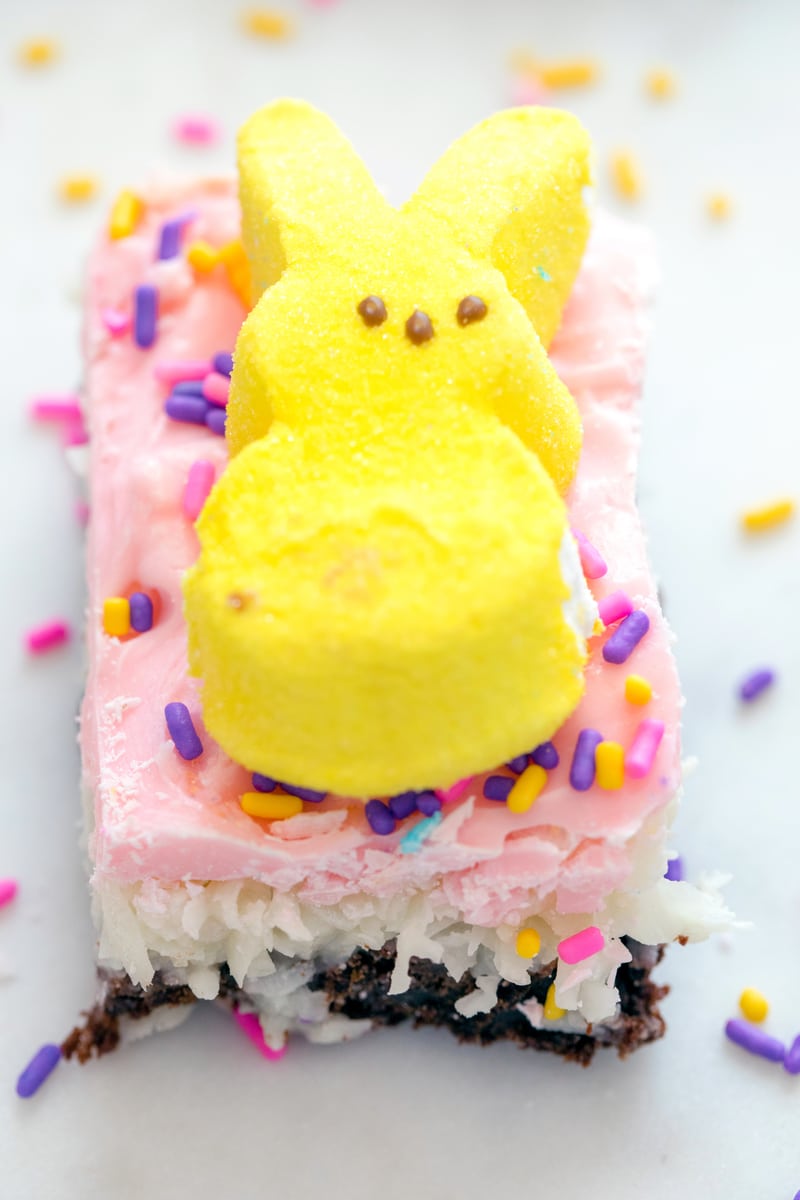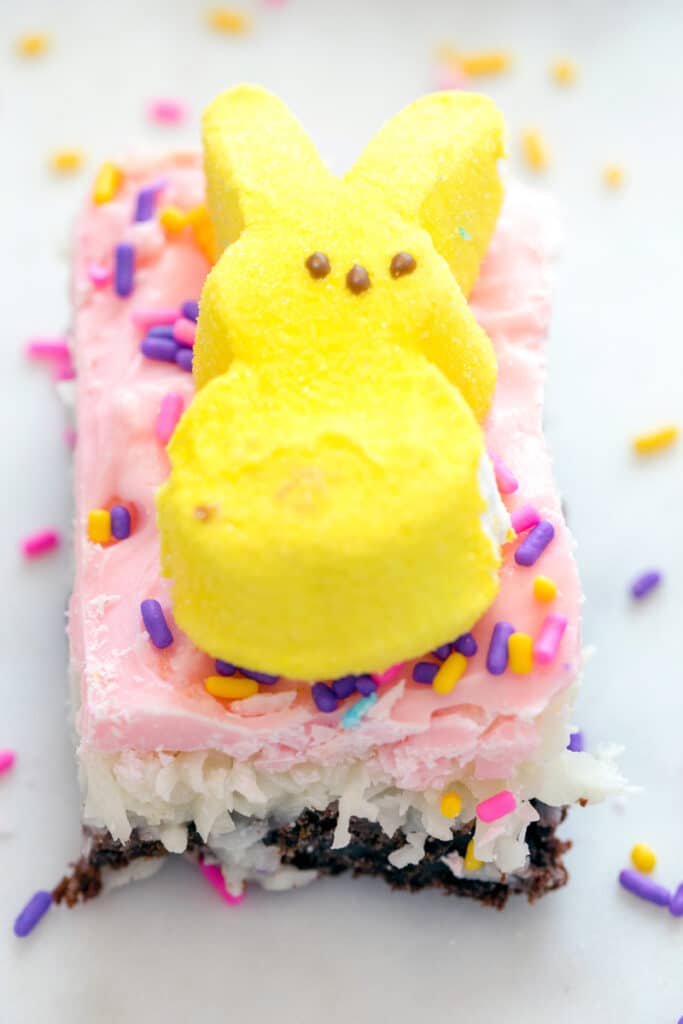 Happy spring and happy April and happy season of the Peeps! Please enjoy it while it lasts. Though I know, I know... there are pretty much Peeps for every holiday now. Even I admit that's overkill and I prefer to save my Peeps Joy for this time of year. Though I probably wouldn't ever turn one down if offered.
If you hate Peeps, please tell me why!! If you love them, please help me spread some #PeepsOnEarth!
Also, if you hate Peeps, you might still be able to enjoy them with these Peeps Sandwich Cookies I made a couple years ago! No actual Peeps involved, but all the cuteness is still there. Personally, I can't wait to make these Monster Peep Cookies from Southern Fatty!
📖 Recipe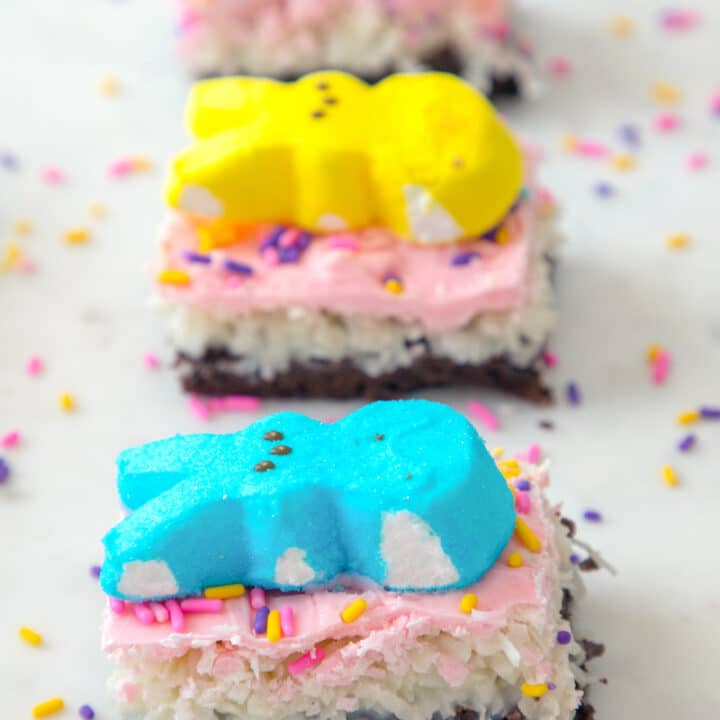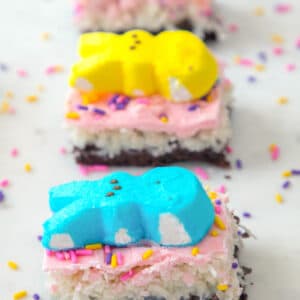 Chocolate Brownie Coconut Peeps Bars
This layered bar has a chocolate brownie base, a layer of sweet coconut, a white chocolate topping, and plenty of Peeps and sprinkles. Whether you're making them for Easter or just a spring celebration, these Peeps bars are sure to delight!
Print
Pin
Rate
Ingredients
Chocolate Brownie Base
¾

cup (1 ½ sticks)

unsalted butter,

melted

2

cups

granulated sugar

3

large eggs

2

tsp

vanilla

1 ¼

cups

all-purpose flour

1

cup

cocoa powder

½

tsp

salt
Coconut Layer
3

cups

shredded coconut

1

14.5-oz.

can condensed milk
White Chocolate Topping
12

oz.

white chocolate chips

2

drops pink food coloring

16

Marshmallow Peeps

Sprinkles
Instructions
Chocolate Brownie Base
Butter or spray with cooking oil a 9x13 dish and pre-heat oven to 350 degrees.

In a large bowl, mix together melted butter and granulated sugar until well blended.

Stir in eggs and vanilla.

Add in flour, cocoa powder, and salt and mix until just combined, taking care not to over-mix.

Pour batter into prepared pan and bake for 24-27 minutes, until a toothpick inserted into brownies comes out clean.

Place pan on wired rack and let cool to room temperature.
Coconut Layer
In a large bowl, mix together shredded coconut and condensed milk until well combined

Pour mixture over over cooled brownie layer and place pan in fridge for at least 2 hours to chill coconut layer.
White Chocolate Topping
Add white chocolate chips to the top pan of a double broiler or to a heat-proof bowl set over a saucepan of simmering water.

Stir chocolate with wooden spoon until it's fully melted.

Remove from heat and stir in food coloring. Pour chocolate mixture over coconut layer.

Working quickly, place Peeps on top of white chocolate in four rows of four. Gently press down to secure Peeps. Add sprinkles over chocolate for extra decoration.

Let chocolate harden, slice and enjoy!
Share a Photo of Your Finished Recipe!
Mention @wearenotmartha and share a photo if you've made the recipe!