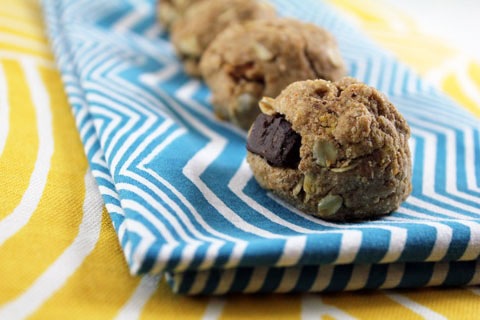 When the going gets tough, the tough make cookies. Seriously, though. This has been a week. And that's all I'll say about that. And despite the fact that I have had zero time to do absolutely anything this week (like, you know, go to the grocery store or unpack my suitcase from this weekend or even take my nail polish off, for goodness sake), I found myself in the kitchen whisking flour and whipping up batter late tonight. I knew I shouldn't. I had hours of work to do and about a zillion phone calls to make and emails to respond to. But I needed the quiet alone time. And being in the kitchen calms me. It clears my head and keeps me grounded and makes me feel like me. And I needed that tonight. Blogging has the same affect. Thank goodness for this little place in the universe; I just can't imagine my life without it.
Anyway, on to the cookies. I spotted Chili Spiced Mangos in Trader Joe's, I knew they would make the perfect cookies. I wanted to try something on the healthy side, so I used whole wheat flour and rolled oats. And obviously added chocolate chips. Because what's a cookie without them?
Chocolate Chili Mango Oatmeal Cookies (makes about 2 dozen):
Print this recipe!
1 C whole wheat flour
1 t baking powder
1/4 t salt
1/3 C canola oil
2/3 C brown sugar
3 large eggs
1 T vanilla
1/2 C rolled oats
1/2 C chili spiced mangos, chopped
1/4 C chocolate chunks (or chips)
(pre-heat oven to 350 degrees)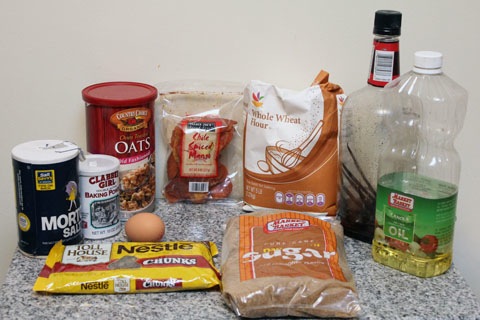 Chili Spiced Mango may seem like a weird cook add-in, but I love a little bit of spice and thought these could make a potentially bland healthy cookie super fun and flavorful.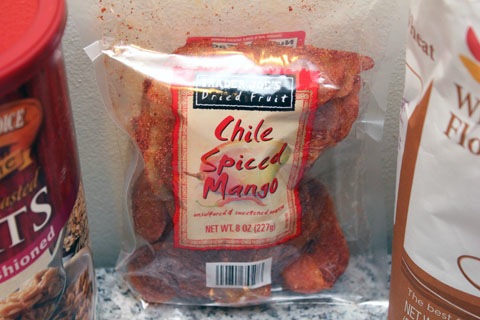 Don't they look delicious? Basically dried mangos with cayenne pepper. Heavenly.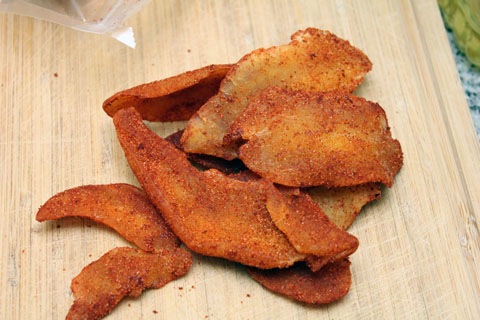 I chopped up about 1/2 C of the mango.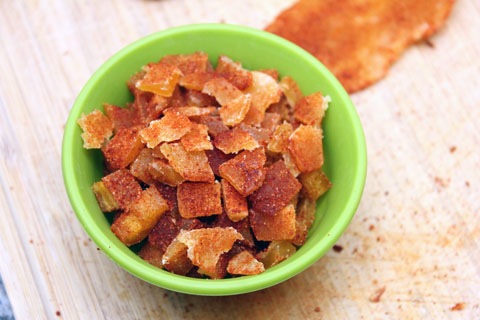 Whisk together the flour, baking powder, and salt in a bowl.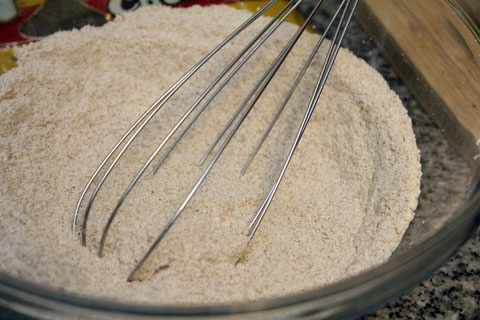 In a separate large bowl, whisk together the canola oil, brown sugar, eggs, and vanilla. I started with 2 eggs, but after some of the cookies turned out slightly dry, I decided to add a third and they were much more moist.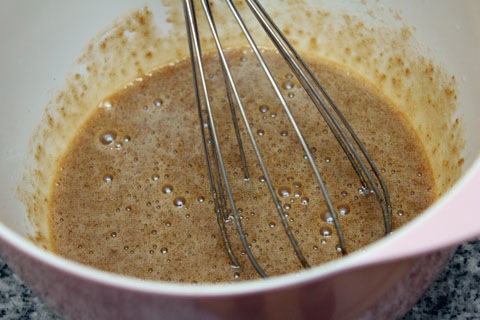 Stir the dry ingredients in to the wet ingredients until just combined and then stir in mango and chocolate chunks.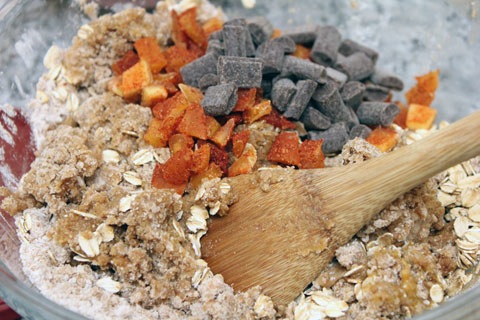 Chocolate chips are good, but aren't chocolate chunks so much better? Or maybe that's just me.
Roll 1-2 tablespoons of dough into a ball and place on parchment or Silpat-covered baking sheet.
Bake cookies at 350 degrees for 10-12 minutes, until just browned.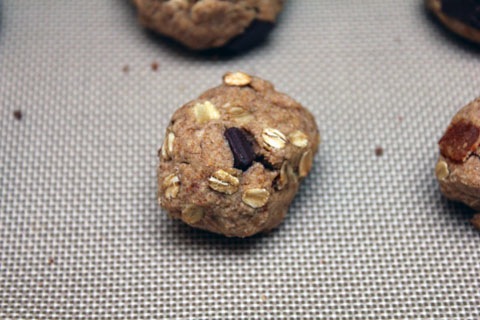 And enjoy! The flavors in these cookies were fabulous, though to be honest, the chili wasn't quote overwhelming enough for me. Next time I might mix some cayenne into the cookies for a little more kick.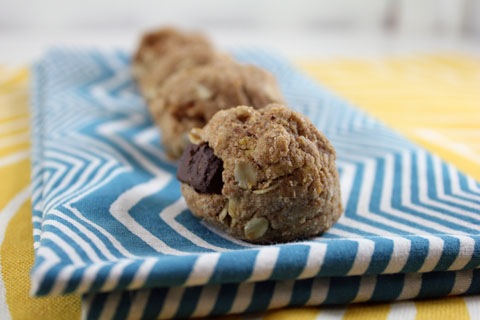 But these may just become my new go-to cookie. They're pretty healthy and, to be honest, you can tell in the taste. I did, after all, make them 100% with whole wheat flour. You can mix with all-purpose if you want. But I loved the healthy taste of these and the way the chocolate and spicy mango offset it.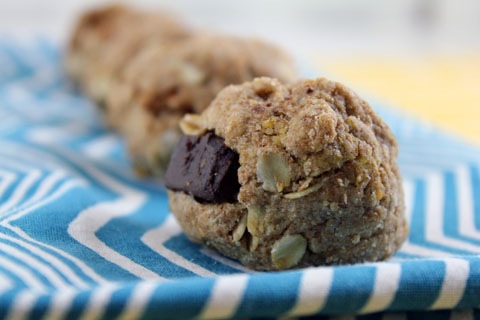 Cookies I don't have to feel guilty about eating. Which is a very good thing since all I want to do this week is stuff my face with cookies. Now, if only that Ben and Jerry's Half Baked ice cream I face planted into last night was healthy. Oops.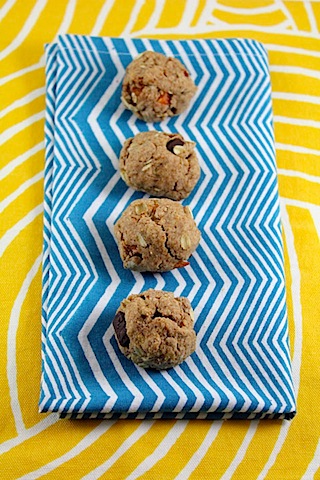 Maybe if I eat a batch of these, it will offset all my other poor food choices this weekend… One can hope. And at least I'll have fun doing it.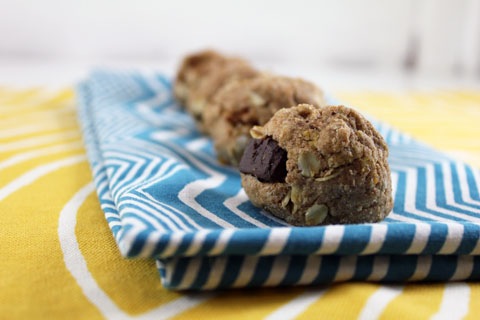 OK, back to work for me! The good news is, tomorrow is Cocktail Friday! I'll be working most of the weekend and baking 100 cupcakes for High and Mighty's Don Cornelius launch party (details to come!), but at least I'll be home. Hopefully with a cocktail (or 20) in hand. Phew. And if baking a couple dozen cookies made me feel better, imagine what baking 100 cupcakes will do??
And HAPPY BIRTHDAY to my wonderful dad! I can't wait to celebrate with him next weekend! 🙂
Does being in the kitchen calm you?
[Sues]
Pin It