You won't be able to decide if this Chocolate Coconut M&M Cookie Cake more cookie, cake, or brownie. But either way, it's incredibly decadent and perfect for celebrating Valentine's Day.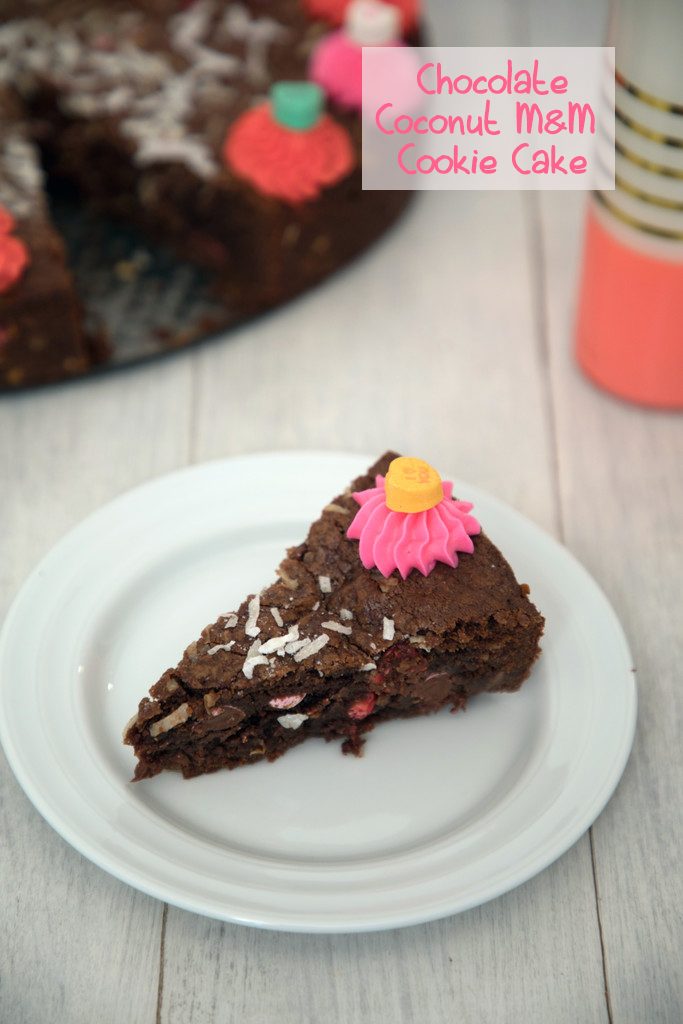 How about that game last night?? The Super Bowl is always fun, but it's so much more exciting when your hometown team is involved. Of course, as Patriots fans, we went into the game optimistic, but felt our hope diminishing as the game went on. By the fourth quarter, I was just focused on the food and snuggling with my dog. I made spicy shredded pork tostadas, taco dip, guacamole, sesame wings... And Mexican chocolate ice cream cake. All was good in my little world and I started working on editing these photos and tuning out the game (FYI they always play better when I'm not paying attention) and then all of the sudden, the Patriots won!! So then, of course, I preceded to stay up for 14 more hours watching all of the celebrations and high-fiving with my husband (because you know, I put soooo much effort into helping the Patriots win that game that I totally deserved some high-fives) and conveniently forgot that the next day was Monday. Monday of what will prove to be a particularly long and draining week. Which means no napping at my desk.... Just kidding; I can say with 100% confidence that I have never fallen asleep at work. In fact, while I never get enough sleep and am soooo tired when my alarm goes off in the morning, I generally don't feel tired during the day... Until I get on the train to go home when I pretty much always pass out. I think as long as I'm moving and busy, I can power through!
I do have to say that my sweets craving gets a little bit worse when I'm seriously lacking in sleep. Which means it was at an all-time high today. Good thing Valentine's Day is just a week away and the grocery store and pharmacy shelves are fully stocked with all kinds of pink and red candy (to be fair... they've been stocked since Christmas. And they're also now stocked with Easter candy and Cadbury Eggs. Hold me.). So, obviously I've been in the kitchen whipping up some Valentine's Day treats. First up... a Chocolate Coconut M&M Cookie Cake. Mostly because I've never made a chocolate cookie cake before and haven't even made chocolate cookies in what seems like years. Plus, the chocolate coconut combination is one of my very favorites. They need to start making heart-shaped Mounds bars and that will be all the Valentine's Day candy I need in my life.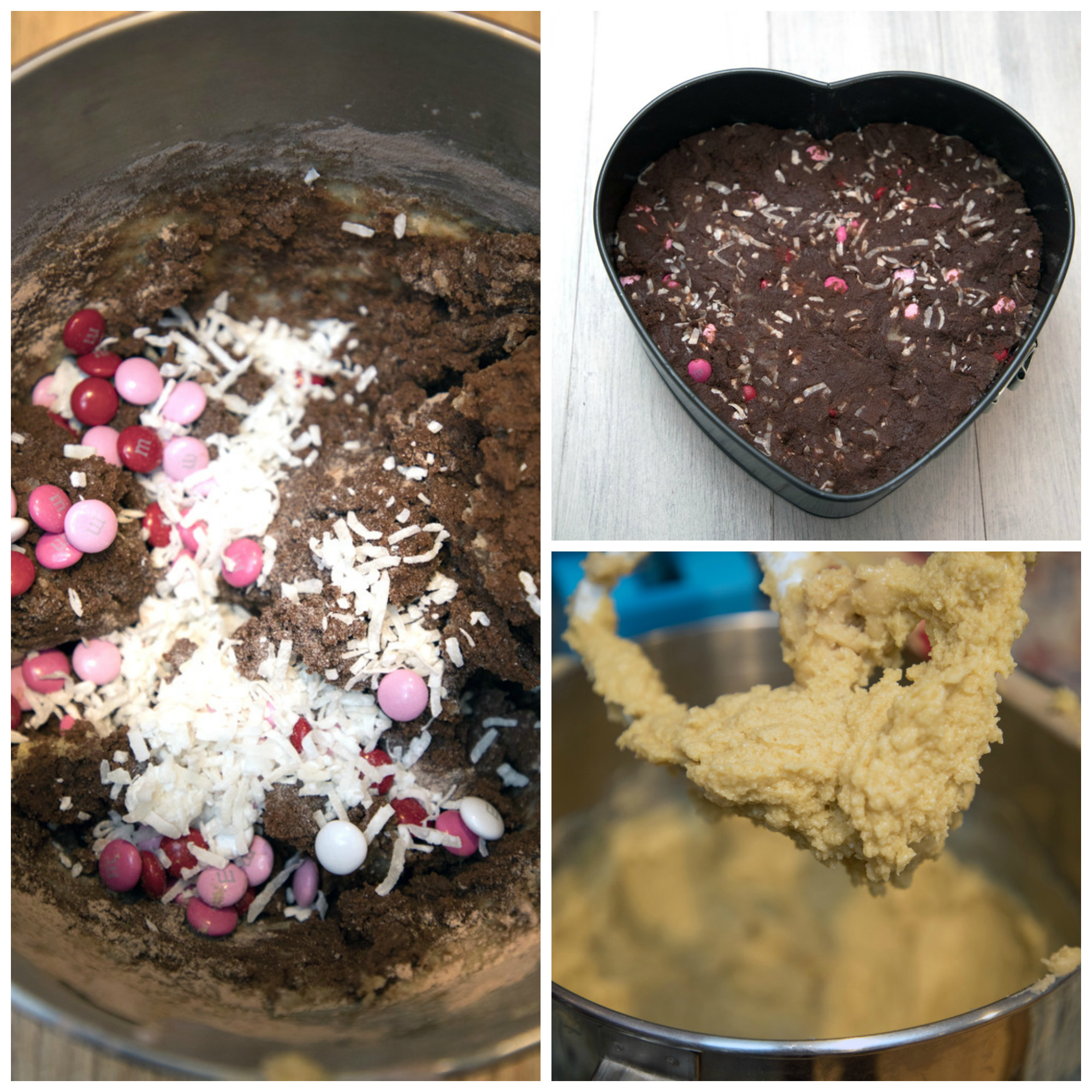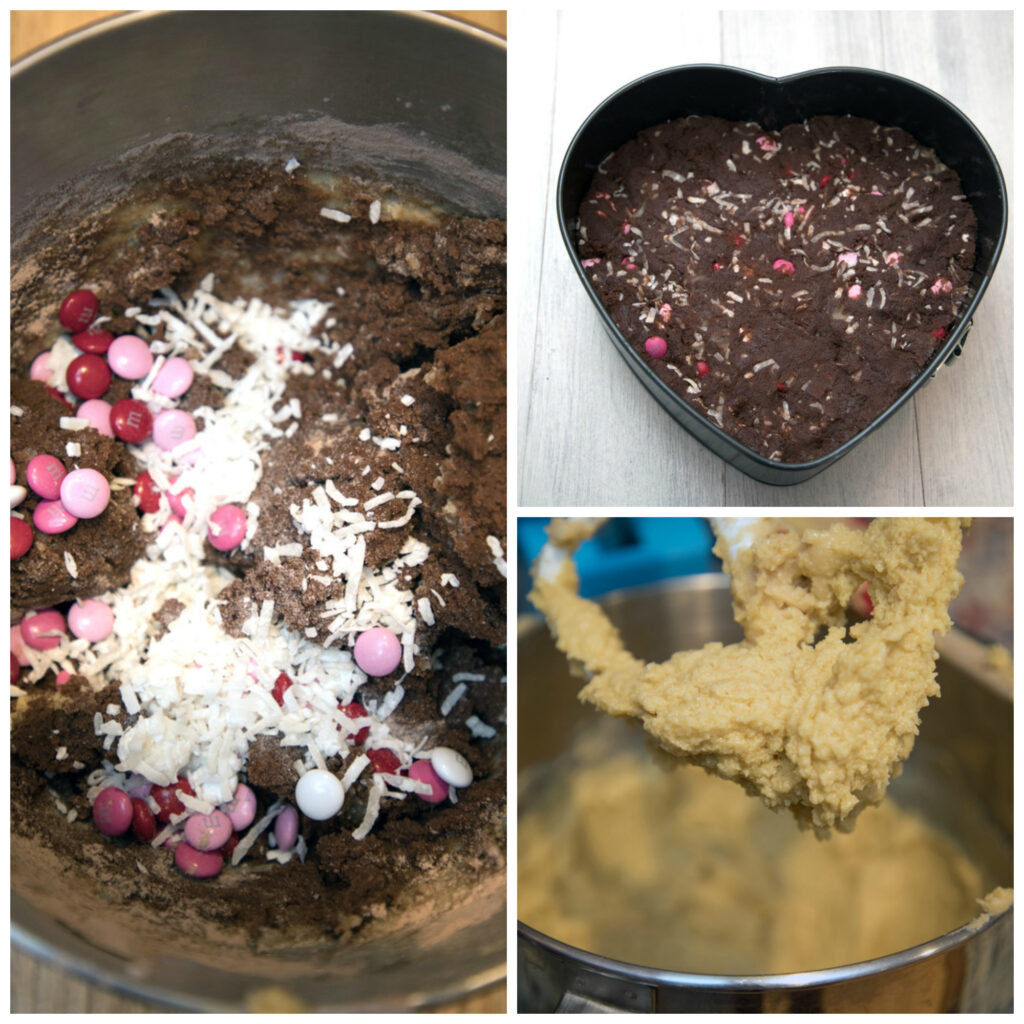 This was basically a crazy combination of cookie slash cake slash brownie; with each bite I was changing my mind about what it most resembled. Which also kind of meant I was getting three desserts in one. Also, it's an M&M cookie cake, which makes it all the better!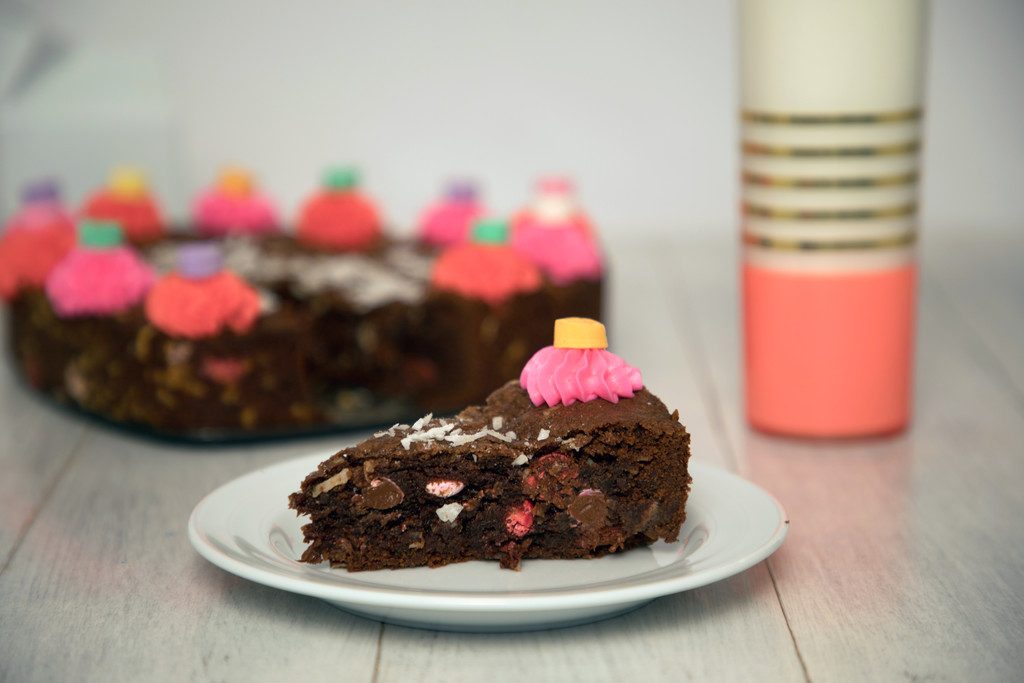 Obviously I decorated the cookie cake with pink buttercream frosting and conversation hearts. I have such a strong love/hate relationship with conversation hearts. I never want to actually eat them... But I adore the way they look and absolutely love decorating treats with them.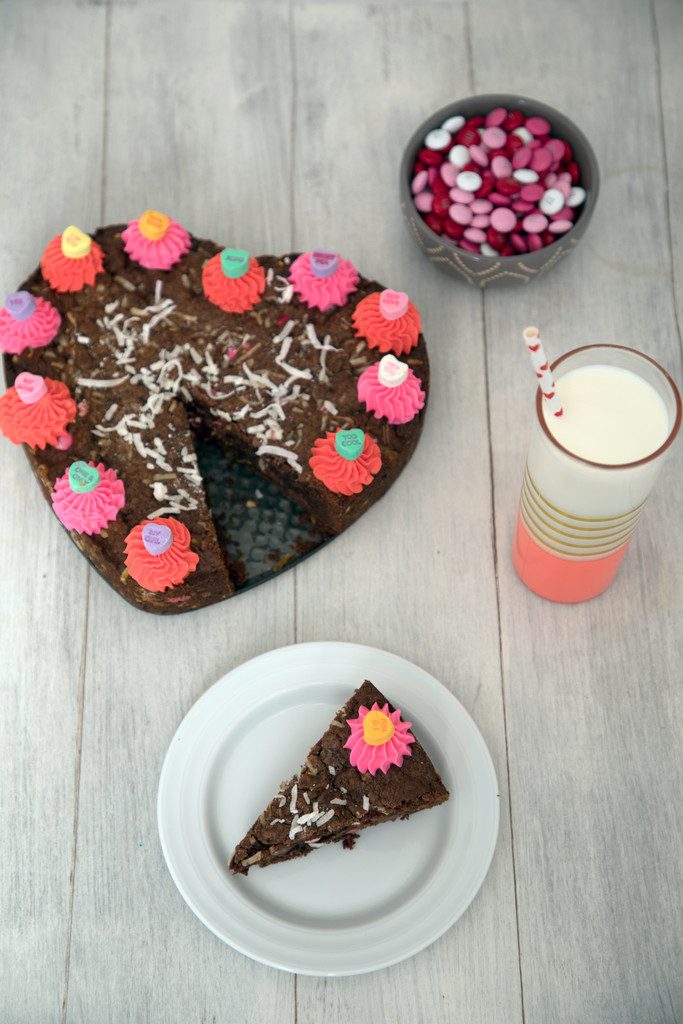 But I also get all kinds of annoyed because two out of three conversation hearts are an absolute travesty. Meaning the font is blurry and smudged and not even readable. I sifted through a whole lot of conversation hearts in order to find the legible ones for use on this cookie cake. I just want to know where quality control is on these things! Maybe my next career move will be acting as quality control for conversation hearts. I'd be really good at it. And while I was at it, I'd try really hard to make them taste less like chalk.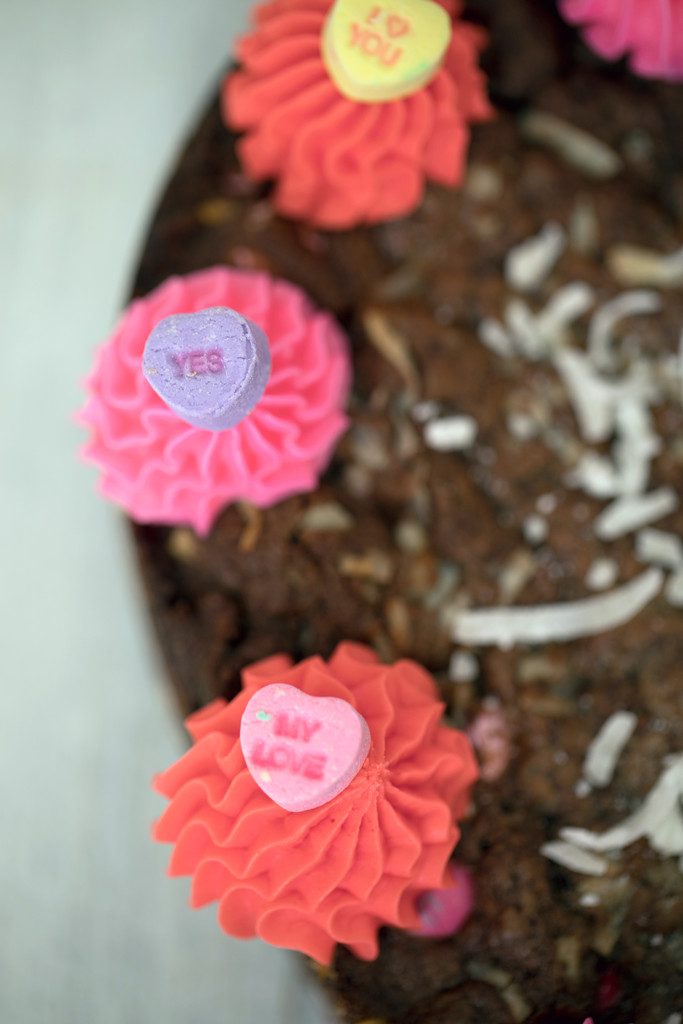 How many people who buy conversation hearts do you think actually eat them versus using them for baking decoration and decor? I'd much rather have someone gift me with a slice of chocolate cookie cake than a bag full of conversation hearts. M&M Cookie cake says "I love you" so much more than candy hearts with those words on them.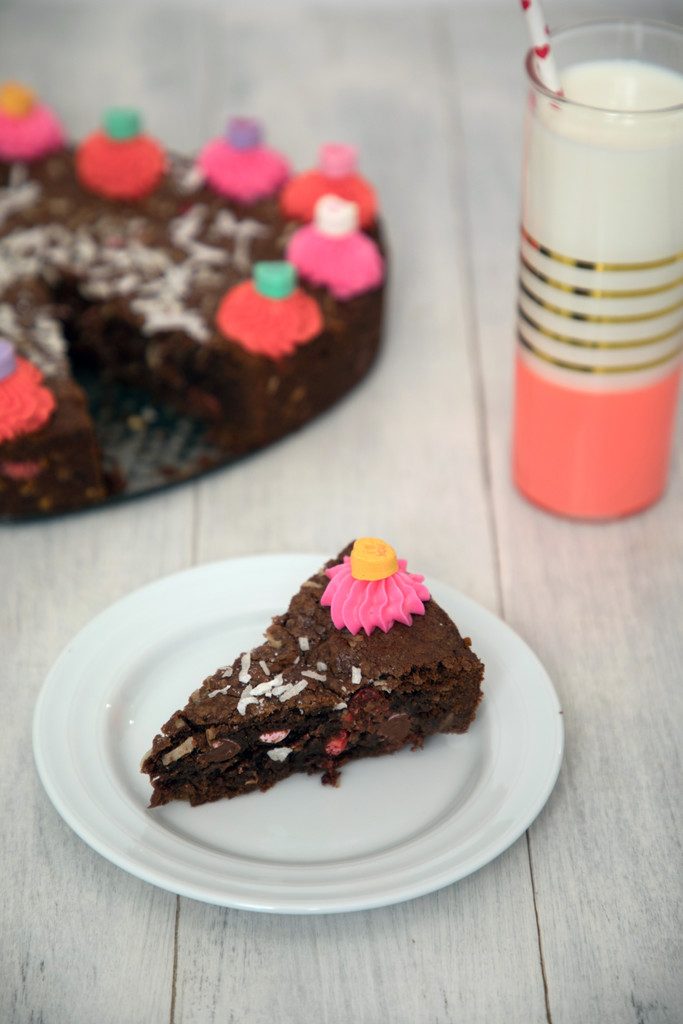 You should know that this cake is rich and chocolatey and fudgy and basically everything you could want in a cookie or a cake. I know I call it a chocolate coconut M&M cookie cake, but feel free to leave the coconut out if you're not a fan (you crazy people do exist?!). But don't leave the Valentine's Day M&Ms out. That little crunch and added bit of chocolate (because you needed more!!) really balances out the cookie cake and will leave you fully satisfied.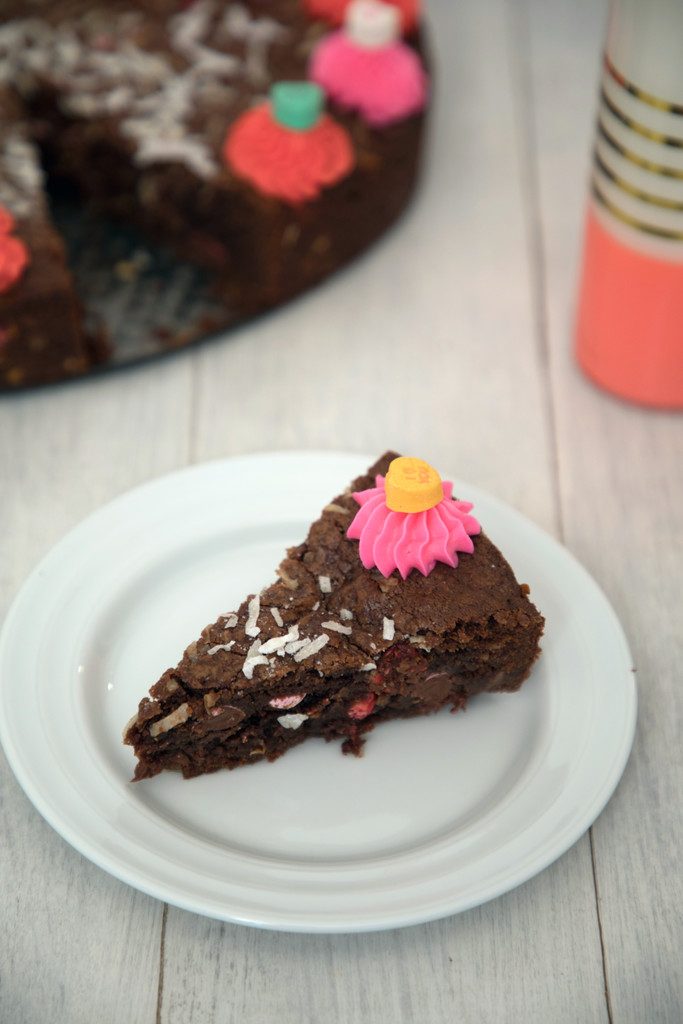 I don't necessarily recommend sleeping too little and then indulging in lots of sugar in the afternoons... But if you happen to stay up too late cheering on your favorite football team, or reading a good book, or writing a blog post (can you tell I'm speaking from experience here?) and need a little sugar boost to power you through the afternoon, you may as well make it a cookie cake. Or maybe just a slice.
Whatever you do, stay away from eating an entire bag of conversation hearts. I promise you they're not worth it.
Do you allow yourself sugar to get over an afternoon slump or are you stronger than I am?
📖 Recipe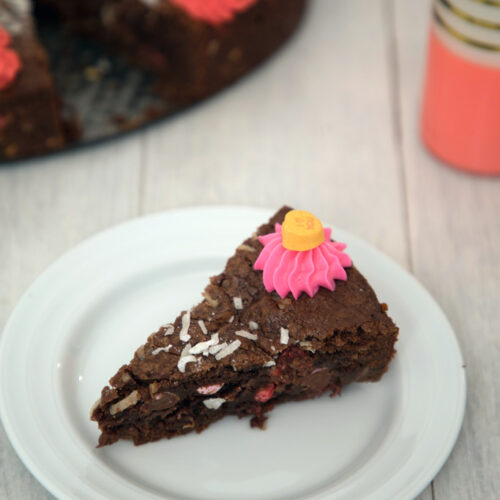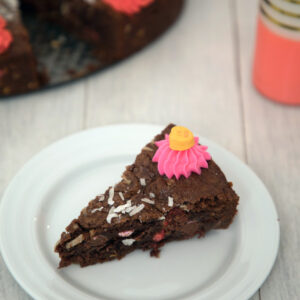 Chocolate Coconut M&M Cookie Cake
You won't be able to decide if this Chocolate Coconut M&M Cookie Cake more cookie, cake, or brownie. But either way, it's incredibly decadent and perfect for celebrating Valentine's Day.
Print
Pin
Rate
Ingredients
2½

cups

all-purpose flour

¾

cup

cocoa powder

2

tsp

baking powder

¼

tsp

salt

1

cup

(2 sticks) unsalted butter, room temperature

1

cup

packed light brown sugar

½

cup

granulated sugar

2

large eggs

2

tsp

vanilla

½

cup

shredded coconut

¾

cup

M&Ms

Conversation hearts,

optional
Buttercream Frosting
½

cup

1 stick unsalted butter, room temperature

2½

cups

powdered sugar

1-2

Tbsp

milk

Pink food coloring
Instructions
Pre-heat oven to 350 degrees. Line a 9-inch springform pan (heart-shaped if you want!) with parchment paper.

In a medium bowl, whisk together flour, cocoa powder, baking powder, and salt.

In the bowl of a stand mixer or in a large bowl with a hand mixer, cream together butter and both sugars until light and fluffy, 2-3 minutes.

Add eggs and vanilla and mix to combine.

Add the flour mixture to the wet ingredients and mix until just combined.

Fold in coconut and M&Ms to combine.

Press cookie dough into the bottom of the prepared pan as evenly as possible.

Bake at 350 degrees for 22-25 minutes, until edges are starting to crisp, but cookie is still gooey in the middle.

Remove from oven and set on a wire rack to cool. Once cooled, use a knife to loosen edges of cookie and turn out onto a cake plate or platter.

Put buttercream frosting in a pastry bag and pipe along the edges to decorate. Add conversation hearts on top of buttercream if desired.
Buttercream Frosting:
In the bowl of a stand mixer or in a large bowl with a hand mixer, beat butter until light and fluffy, occasionally scraping sides of bowl with spatula, about 2-3 minutes.

Mix in powdered sugar one cup at a time, until well-blended.

Mix in milk, 1 tablespoon at a time, only adding in second tablespoon if necessary.

Mix in a couple drops of pink food coloring to get desired color.
Share a Photo of Your Finished Recipe!
Mention @wearenotmartha and share a photo if you've made the recipe!