I don't usually post on Sundays, but this felt like a Sunday sort of post. Because Sunday is the best time for quiet time; that finally unwind from the craziness of the weekend and try to recharge for the upcoming week so you can get it off to a semi-good start. And you know that chocolate always makes these quiet moments better. A little chocolate before bed means Monday is going to be that much better. It's science or something.
Speaking of science, can we pause for a minute to talk about how ridiculously happy I am dark chocolate is finally getting the attention it deserves? And that I'm constantly hearing that in moderation, it's actually quite good for me? I'm 8402 times more likely to choose dark chocolate over milk anyway and especially now that I know I'm getting some extra health benefits (kind of like how I'm psyched I like red wine so much more than white). When I decided to take part in the DailyBuzz Food Ghirardelli campaign and all this beautiful Intense Dark chocolate came to my doorstep, I took one look at it and thought, "man, I am going to be healthy."
Like really, really healthy.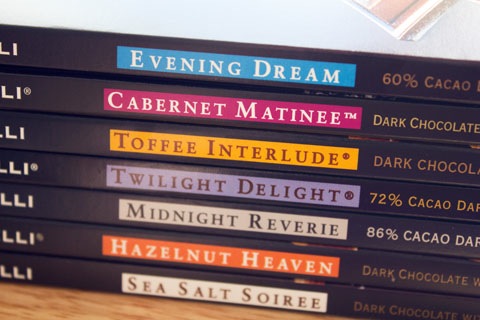 Not only was it a lot of dark chocolate, but it was a lot of dark chocolate in amazingly unique varieties.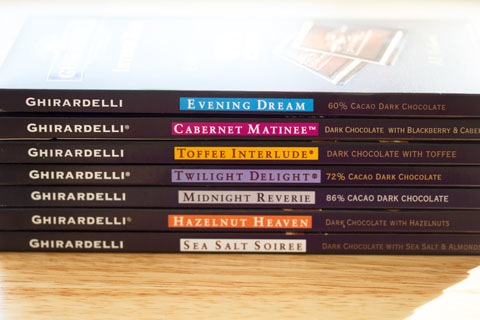 I mean, Toffee Interlude? Sea Salt Soiree? "Cabernet Matinee?" Talk about making dark chocolate even better. Something I didn't really think was possible.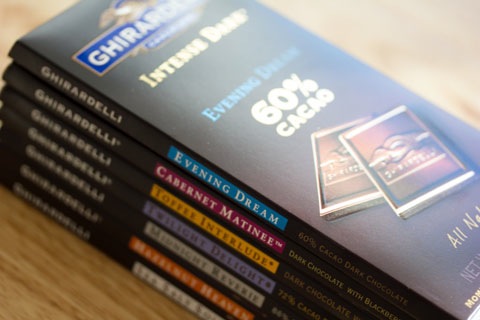 Ghirardelli wanted me to determine my favorite chocolate pairings for my quiet moments alone and I jumped right on it. Basically, I feel like good chocolate can be paired with absolutely anything and it will be delicious. Or good chocolate can be eaten completely by itself, bar after bar, sitting on the couch alone and it's heavenly. But sometimes pairing can bring out new flavors in the chocolate and intensify the taste.
In case you haven't noticed from reading this little blog for the past several years, I'm pretty much a coffee fanatic. I drink it black, but sometimes like to buy various flavors to mix things up a little bit.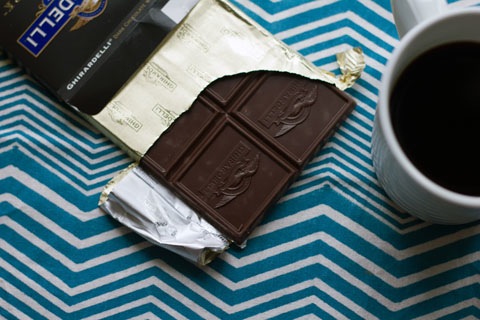 And sometimes you don't even need to buy a flavored coffee if you have chocolate by your side.
I decided to pair the Ghirardelli Hazelnut Heaven chocolate with my coffee since everybody knows hazelnut coffee is one of the best flavors. And drinking coffee in the morning is one of my favorite quiet moments. I'm the kind of person who feels the need to get up super early before work because I hate rushing around and need to take the time to sip my coffee and read my Twitter feeds.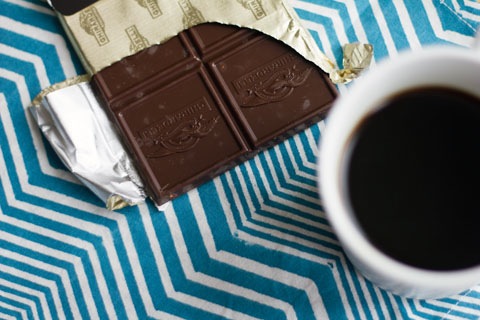 This chocolate was the perfect balance of creamy, with a little crunch from the hazelnuts.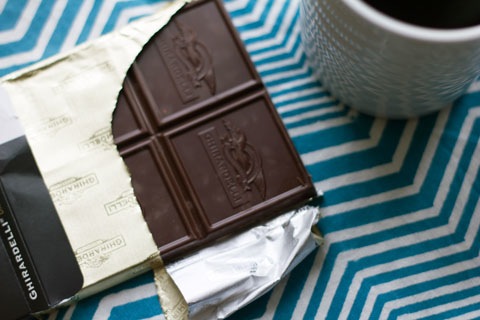 I may or may not have dipped a square in my morning coffee.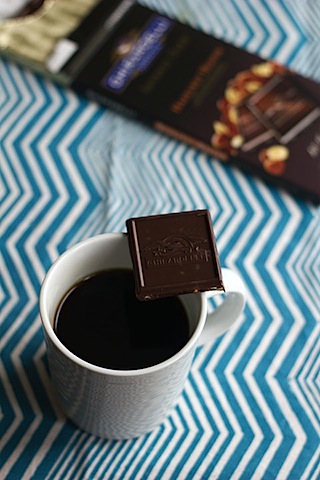 OK, you caught me; I totally did. But really, it's never too early for chocolate…. Especially on a Monday.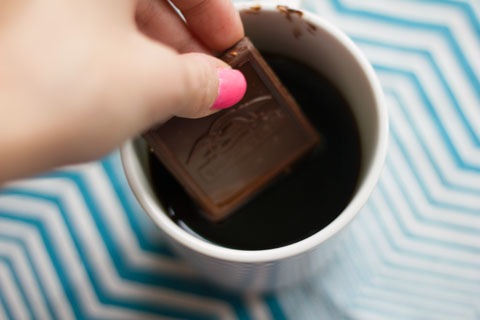 Or tequila? OK, I promise I waited until later in the day for this pairing.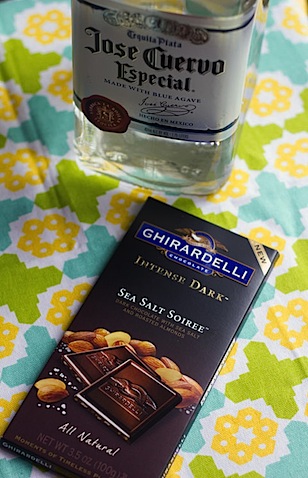 But I started thinking… What goes with tequila?
Salt. And the Sea Salt Soiree Intense Dark bar was just dying to be paired with tequila. I know because it told me so.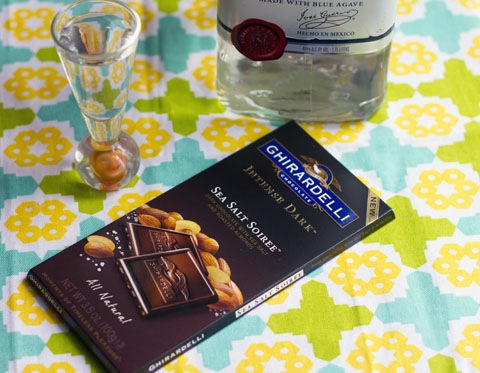 If you'd rim a glass of tequila with sea salt, why not rim a glass of tequila with Sea Salt Soiree chocolate?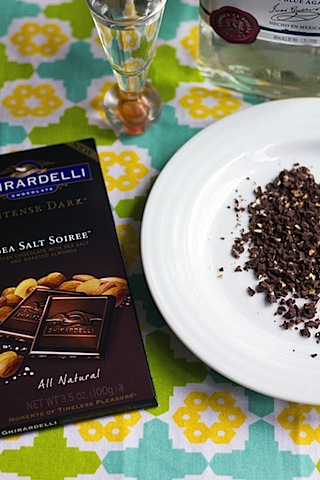 That's what I asked myself. And nobody in my general vicinity had a good answer, so I went for it.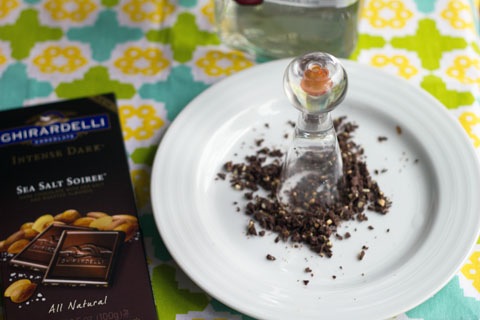 It's prettier than just simple salt, right?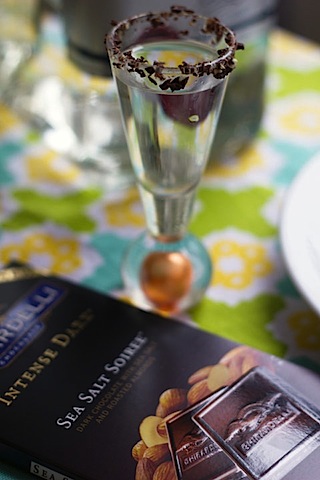 And obviously tastier, too.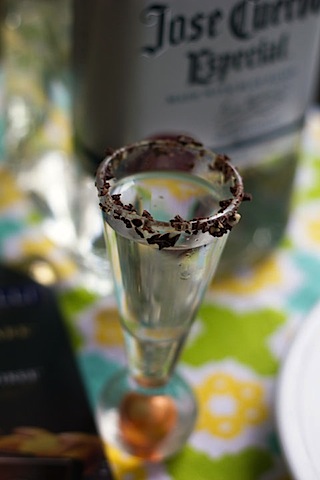 Instead of washing that tequila down with a wedge of lime, I recommend popping another square of Intense Dark chocolate.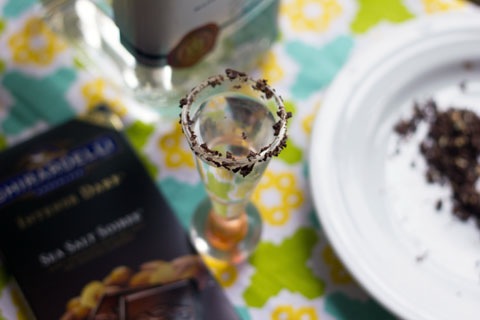 You probably shouldn't start your day like this, but I find nothing wrong with walking in the door from work and cheers-ing yourself to another day complete with a little tequila and chocolate.
On to my final pairing and you have to promise not to laugh or think I'm a total weirdo.
There are two foods in the world that people will actually say "What doesn't ___ go with?!" And those foods are cheese. And chocolate. So, if cheese and chocolate go so well with everything, why not together?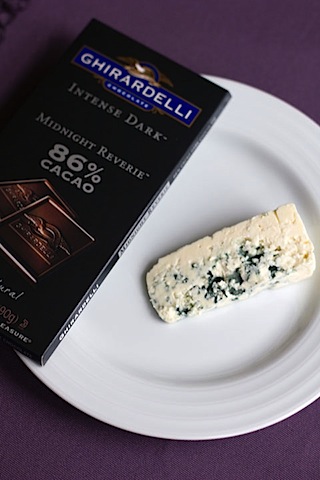 I took the most intense dark Ghirardelli sent me… the 86% Midnight Reverie and paired it with a nice pungent blue cheese.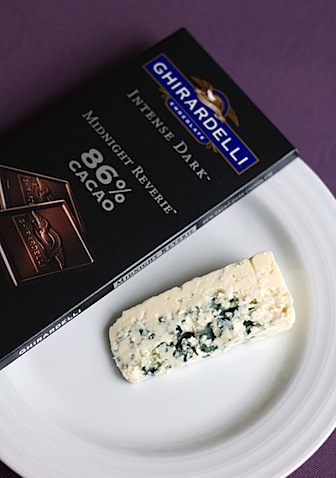 A little chocolate. A little cheese. A lot of heaven.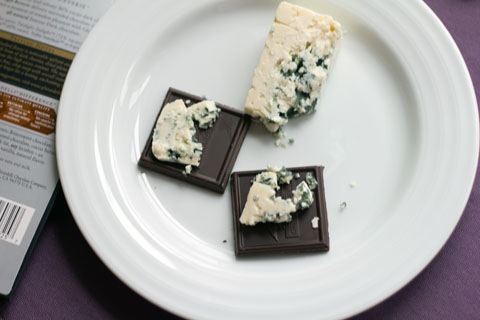 Seriously, don't knock this one until you try it. It's one of the best things I've had in a long time.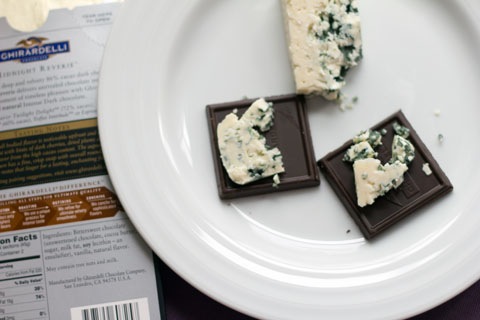 And it's the perfect match made in heaven. Smooth. So, so smooth.
You only need a square or two to satisfy you as the richness is out of control (but in the most excellent way).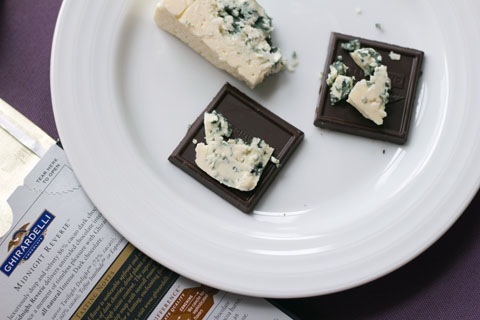 After I eat dinner, I often crave a little sweetness, but I'm also totally jealous of the French who eat cheese plates after their meals. I want to live in the best of both worlds, so I like to end my meal and my day with this pairing.
What do you like to pair chocolate with? And how dark do you like your chocolate?
[Sues]
This post is brought to you by Ghirardelli Intense Dark™ Chocolate.