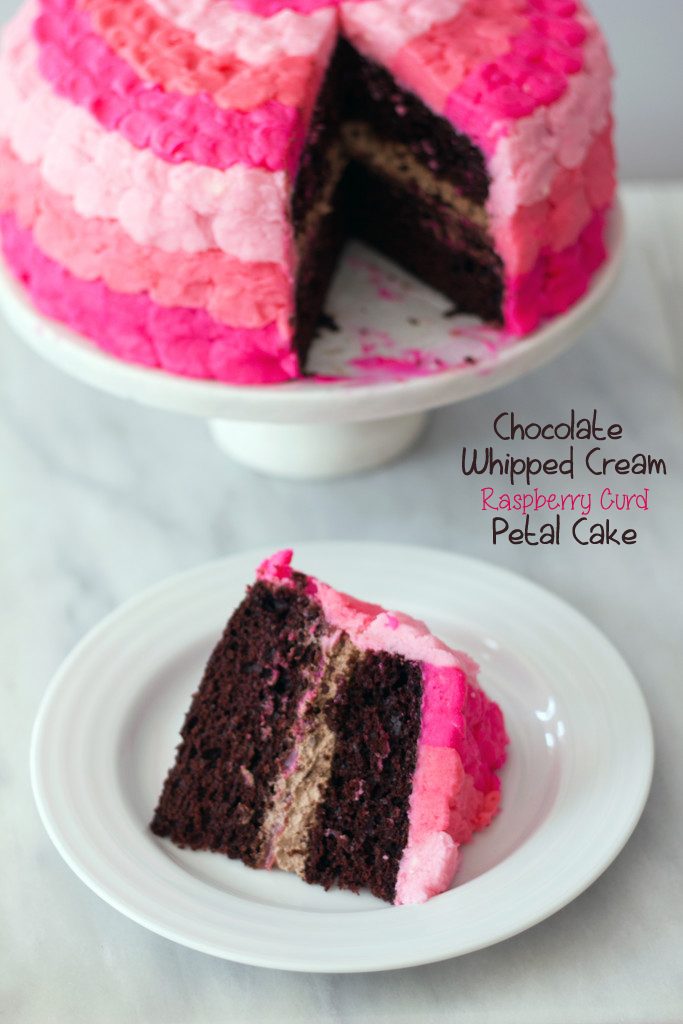 This year is a very special Mother's Day for my family. Not only are we celebrating our mom (who just happens to be the BEST mom), but we're also celebrating my sister's very first Mother's Day! She's actually been a mom for almost a year now, but since her little boys were born in June, this is her first Mother's Day.
I feel so incredibly lucky to be able to call both my mom and my sister my best friends.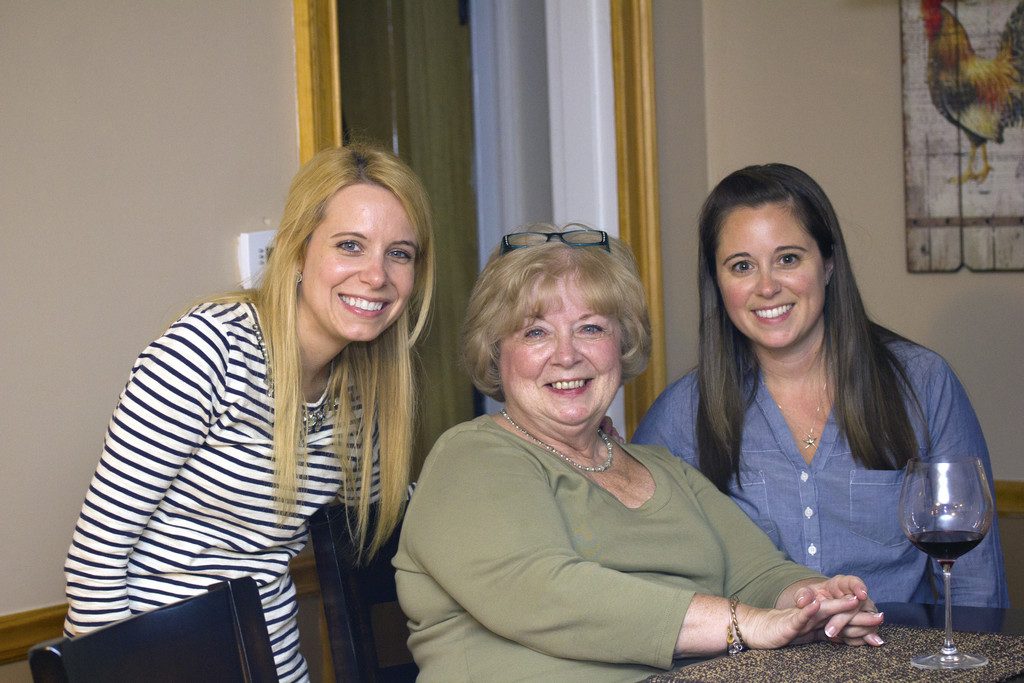 Not only do we love hanging out together, but they're always up for eating my crazy baking concoctions. Even those that may not look so beautiful (I swear they usually taste good… They just don't always look great!). They're also always incredibly encouraging to me and help me gain the confidence I need to be better in the kitchen.
While I obviously need to thank my mom for raising me and my sister in such a loving family (and for teaching us SO much about cooking and baking), I also want to thank my sister for bringing these two love bugs into the world: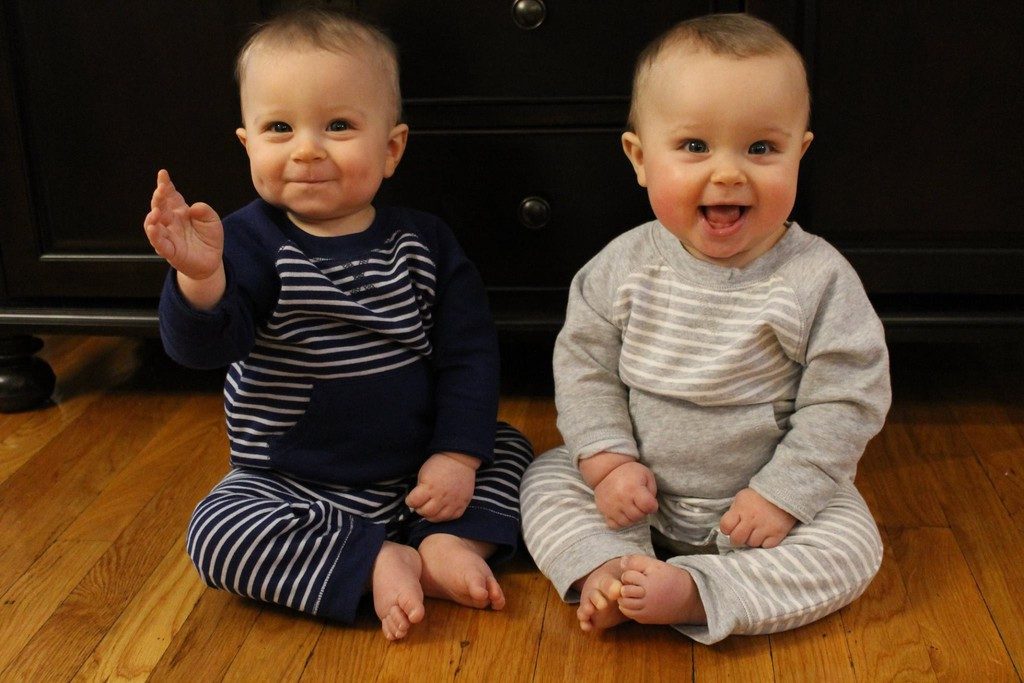 Life has been about a billion times better since they came into our family. I mean, they're also quite a bit of work, but I'm the lucky aunt who mostly gets to deal with the fun stuff! My sister puts in a whole lot of effort every single day (but I mean, look at those faces... totally worth it, right??).
Both my mom and my sister deserve to have the BEST Mother's Day ever and to kick things off for them, I made them a cake! It's chocolate because in my family, chocolate always wins. But there's chocolate on the inside, too… In the form of chocolate whipped cream. Along with just a touch of raspberry curd and, of course, plenty of buttercream frosting.
I didn't realize how extensive the ingredient list was or how many steps there were until I was writing the recipe out. It is quite a bit, but it can be done in steps. Also, aren't moms worth it??
Let's start with the cake! I used a chocolate cake recipe from Bon Appétit and it was pretty much fabulous! I'm not going to walk you through step by step (full recipe can be found below!), but will share a few highlights.
This batter is the stuff dreams are made of: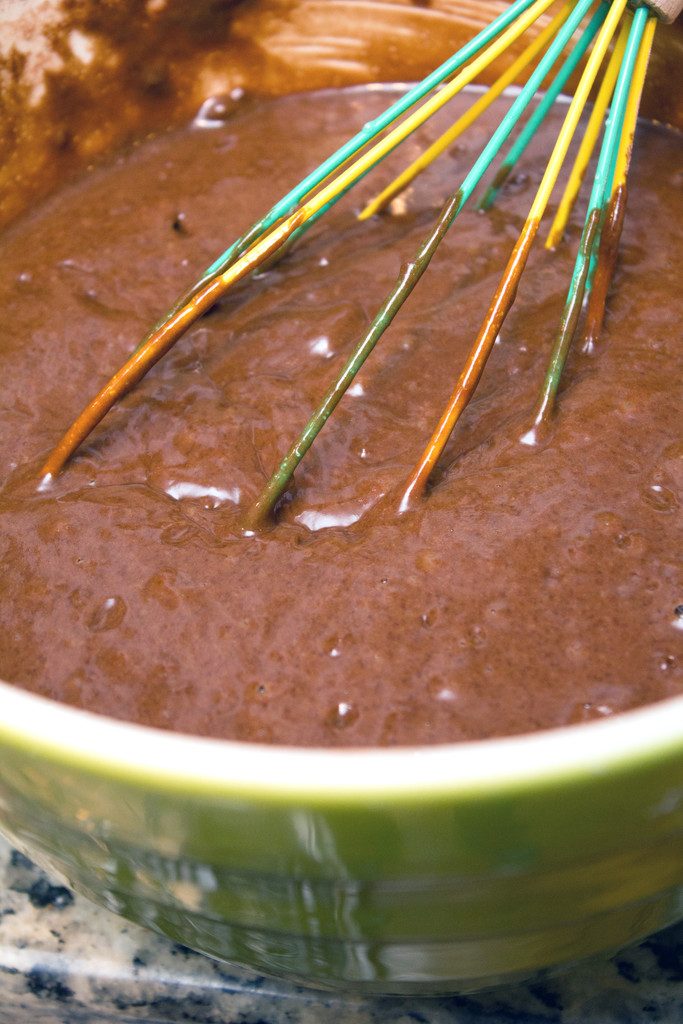 Do you own Wilton's Bake Even Strips? Also the stuff dreams are made of. Cake baking dreams, obviously. But seriously, they ensure an evenly baked cake.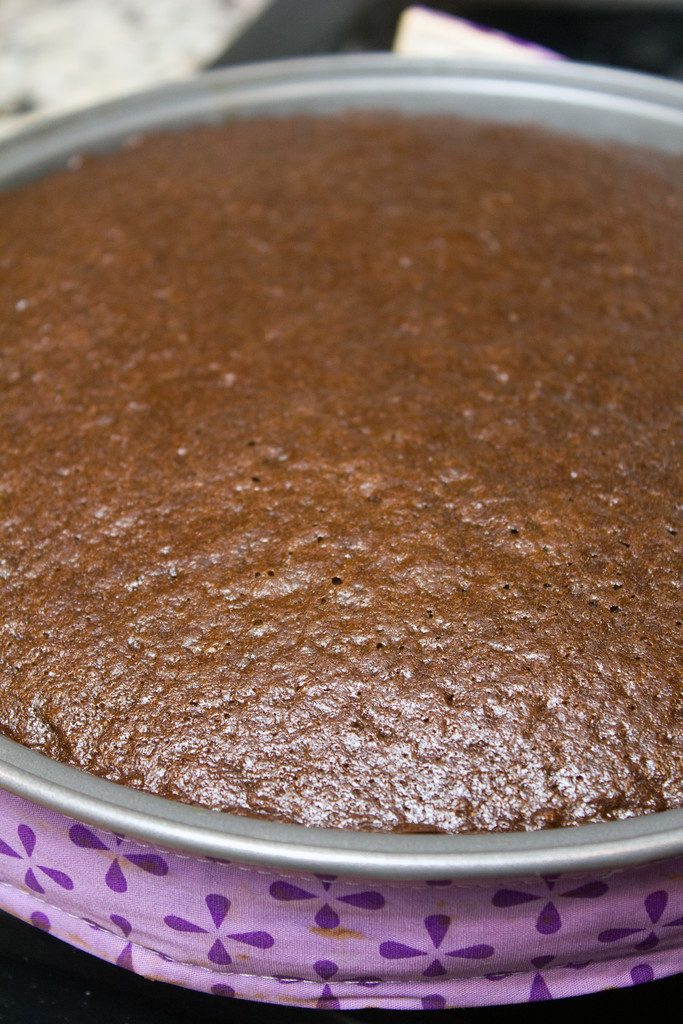 Ever since I made that lemon meringue pie for Easter, I am obsessed with all things meringue and curd. This was my first raspberry curd and I pretty much just winged it. I used frozen raspberries.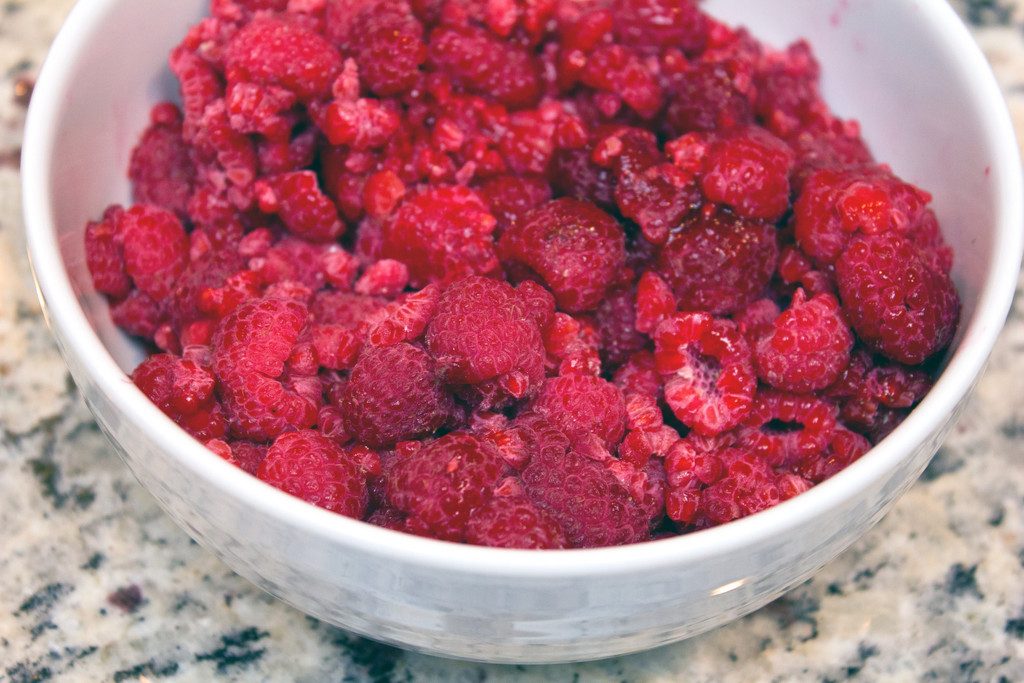 Puréed them up and got rid of the seeds.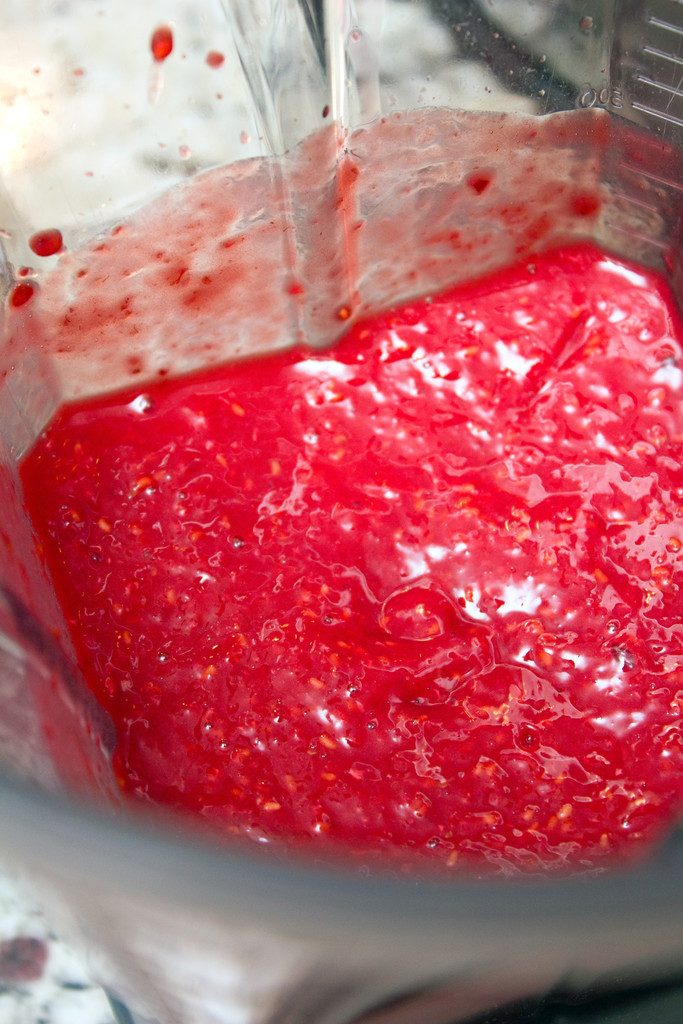 Beat together plenty of egg yolks.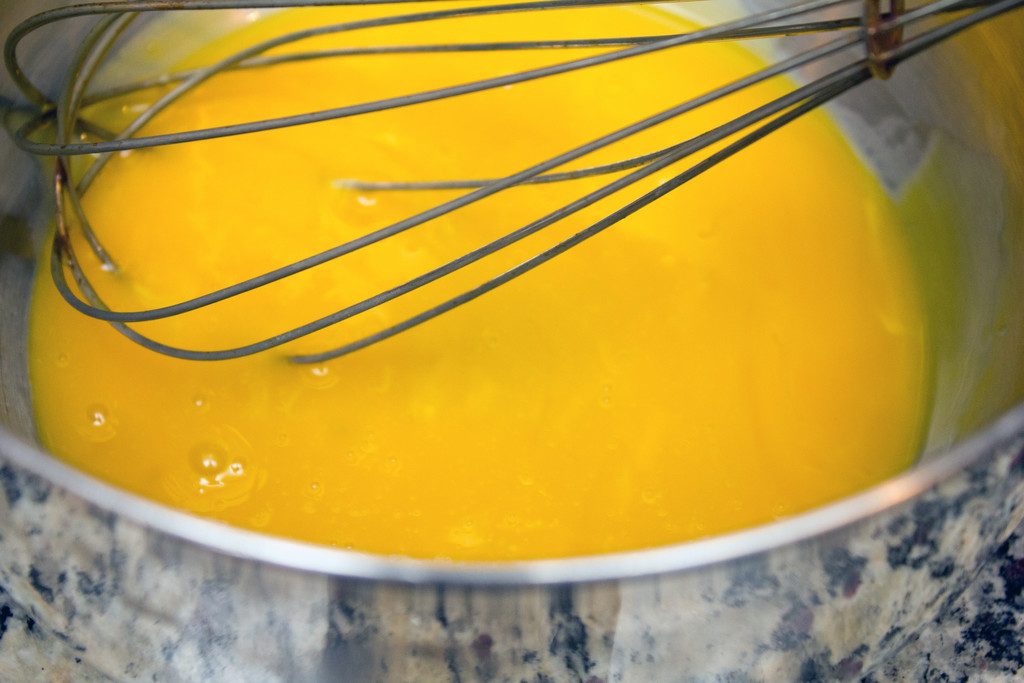 And boiled them into a delicious curd.
The other cake filling I made was chocolate whipped cream. How have I never made this stuff before?? How have I never even thought to make it?? I found this recipe on Food52 and it's basically my new favorite thing in the whole entire world.
The ingredient list is the simplest thing in the world. Start with some good dark chocolate: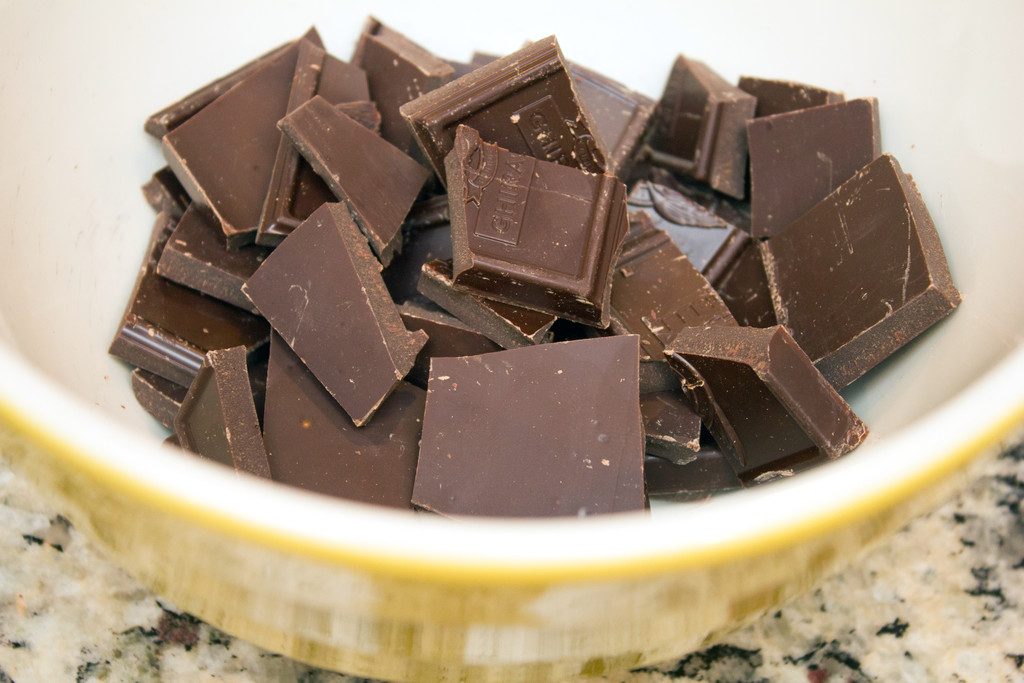 Pour boiling cream over it. And stir well.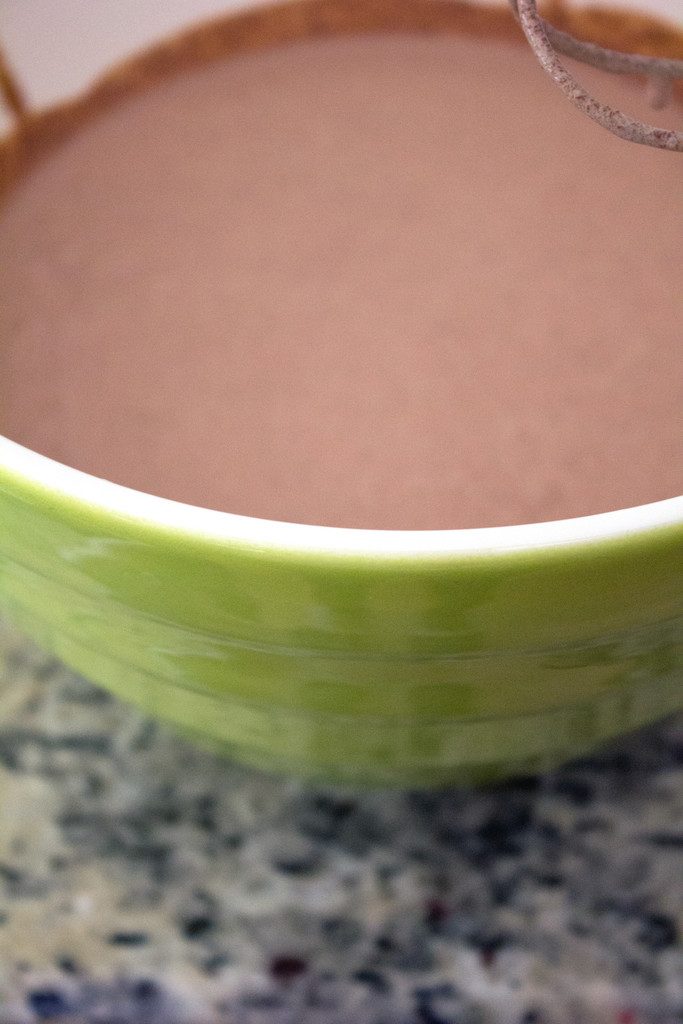 Chill. And then whip accordingly.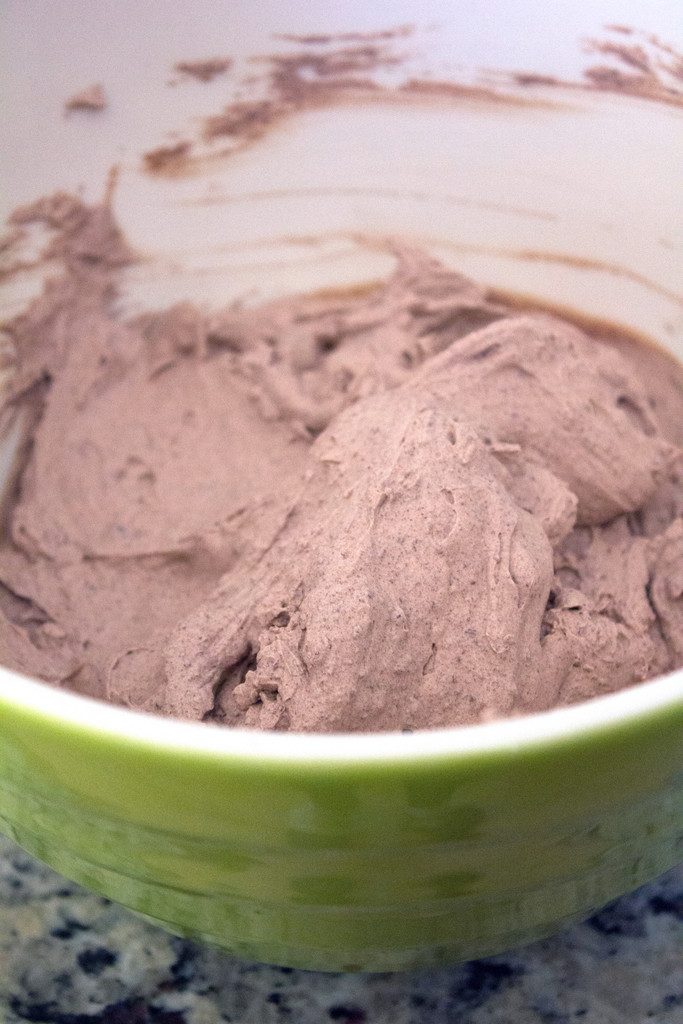 I'm honestly not even really a fan of whipped cream and omg I could eat this with a spoon.
This is obviously not my first rodeo with buttercream frosting. There's not much in life I love more.
I keep it simple and basically just beat together butter, powdered sugar, vanilla, and a little bit of milk.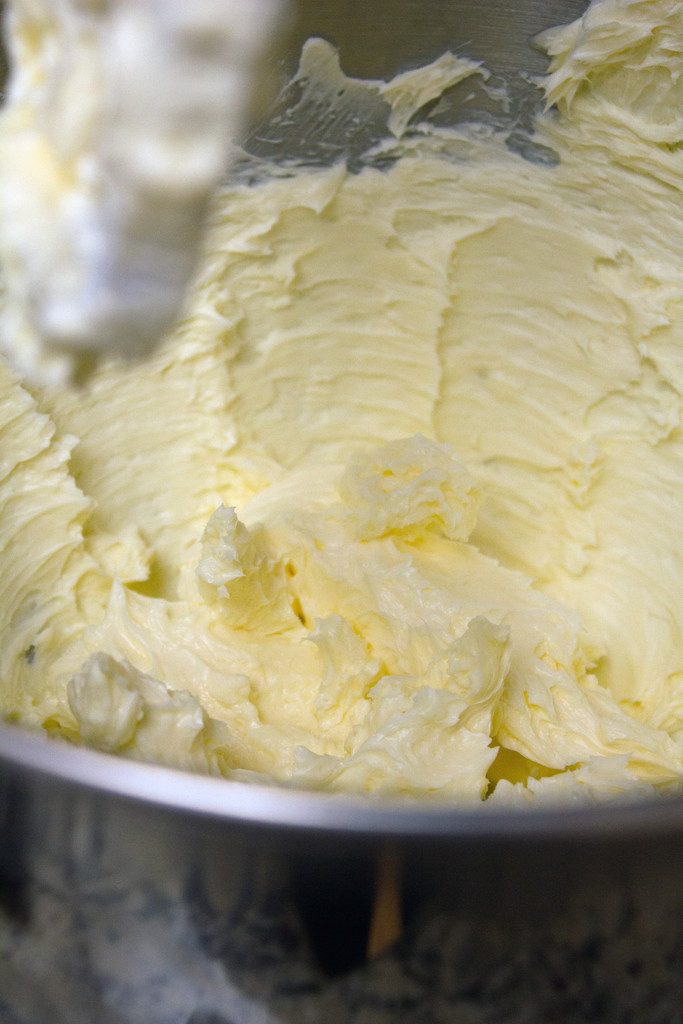 I was so psyched to use Wilton's new Color Right system. These food colorings let you create pretty much ANY color in the world and get it right every single time.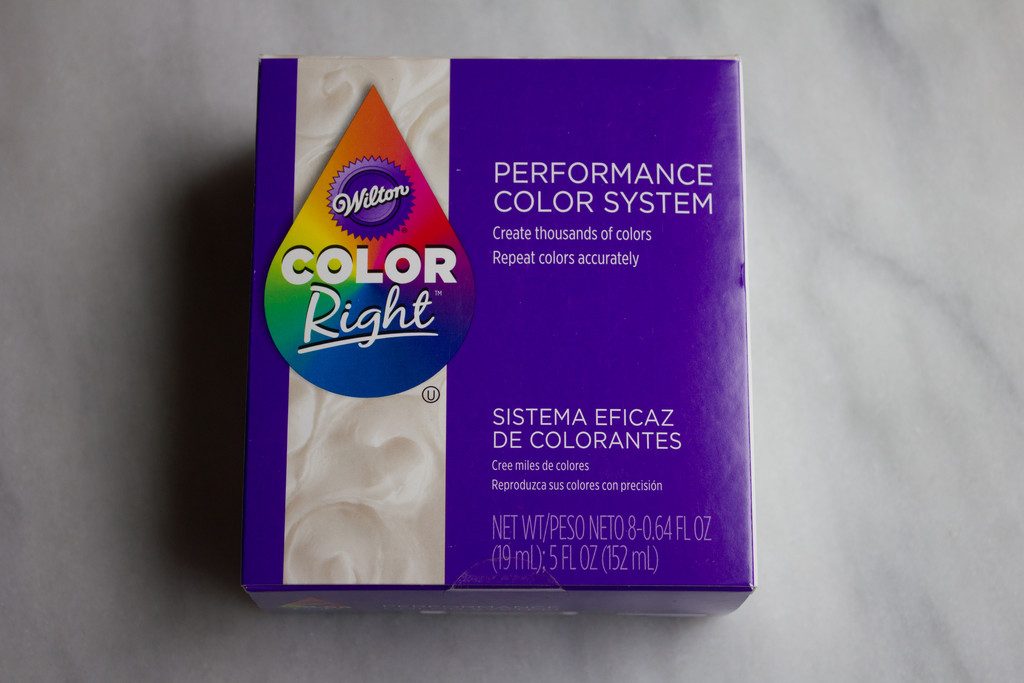 The handy dandy guide instructs you on how many drops to use of each color to get the perfect shade every time.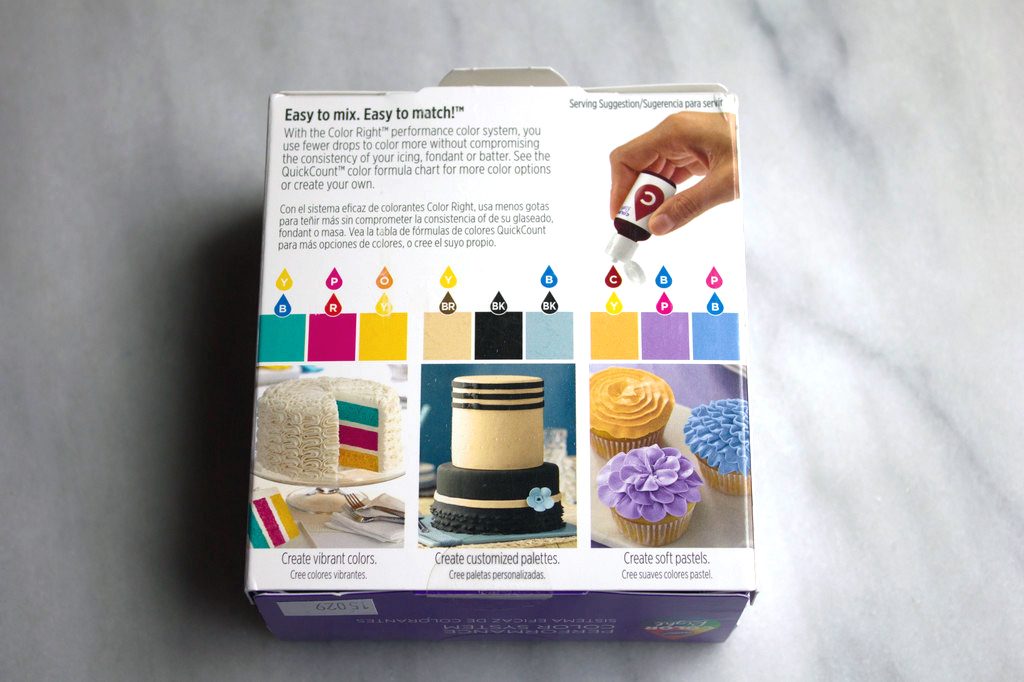 I went with three different shades of pink. Of course. I divided the frosting into three portions and dyed each a different shade.
This was totally a Wilton baking experience. I even got to use my Tilt N Turn Ultra Cake Turntable.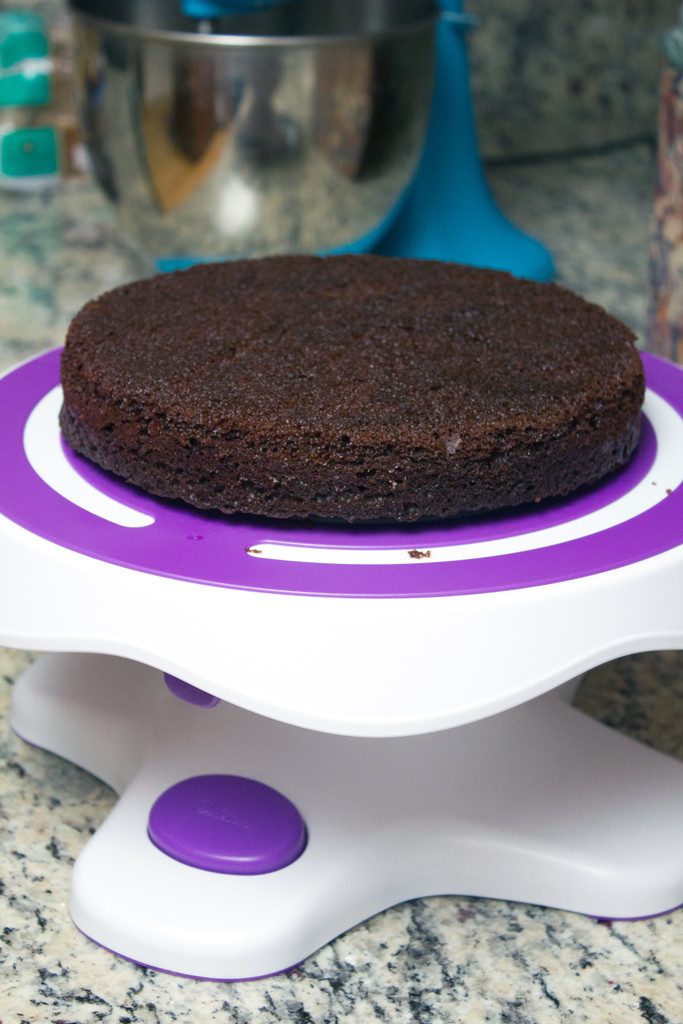 I put my first layer of cake down and spread raspberry curd and chocolate whipped cream over the top.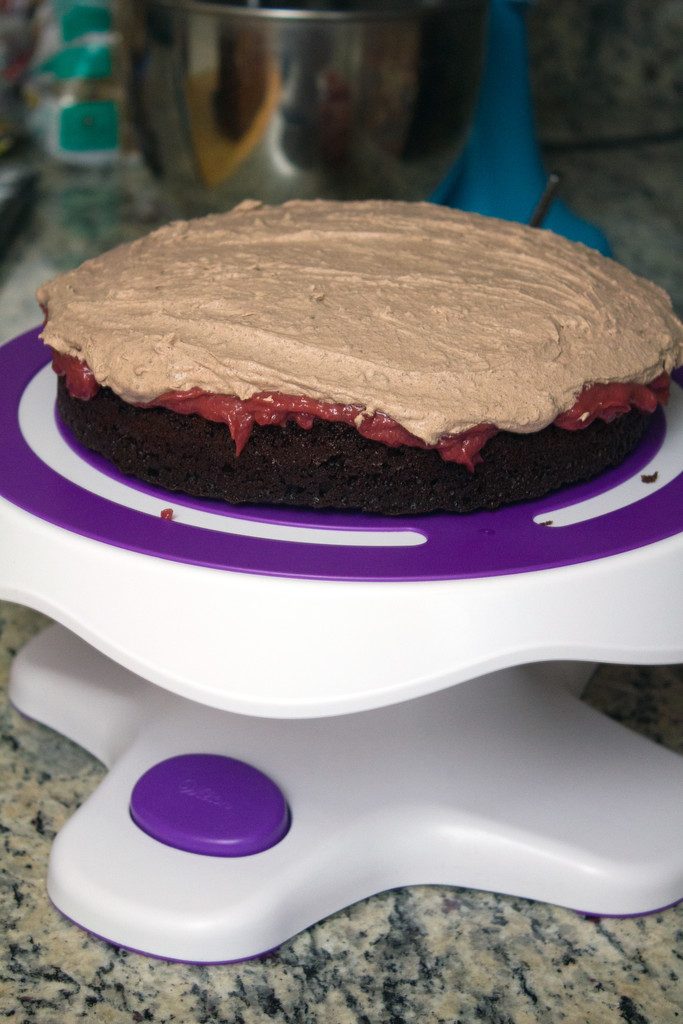 Then I topped it with the other layer cake.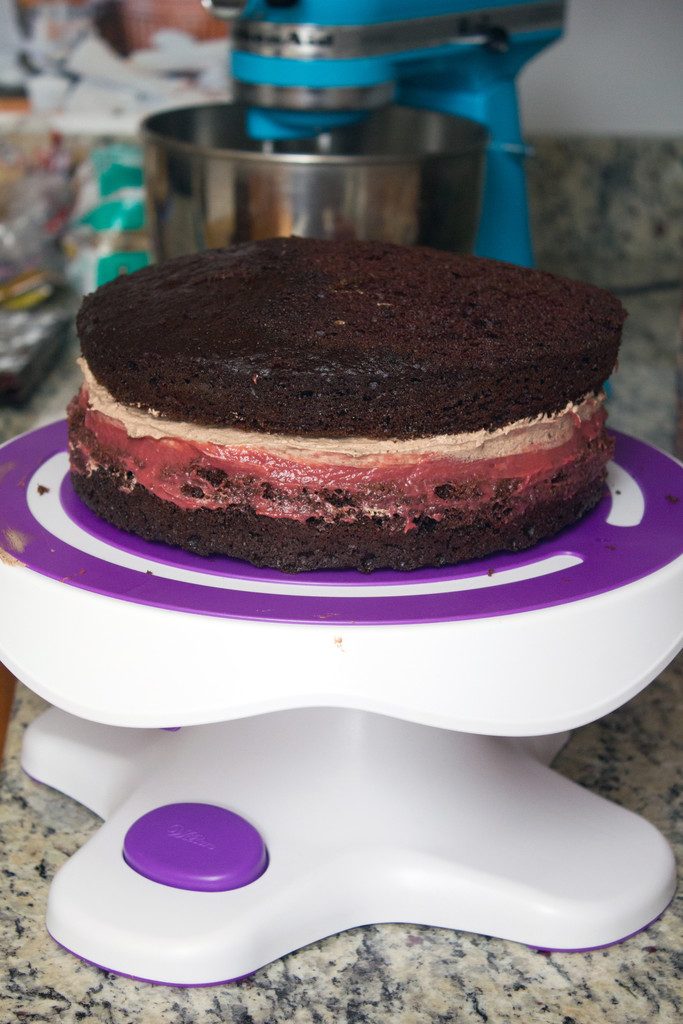 I spread a super thin layer of the medium color frosting over the cake and got going on the petal design. As I began, I quickly realized I didn't have the right size angled spatula… Mine was about 13" and I needed a 9" one. Because of this, I had to use a butter knife instead.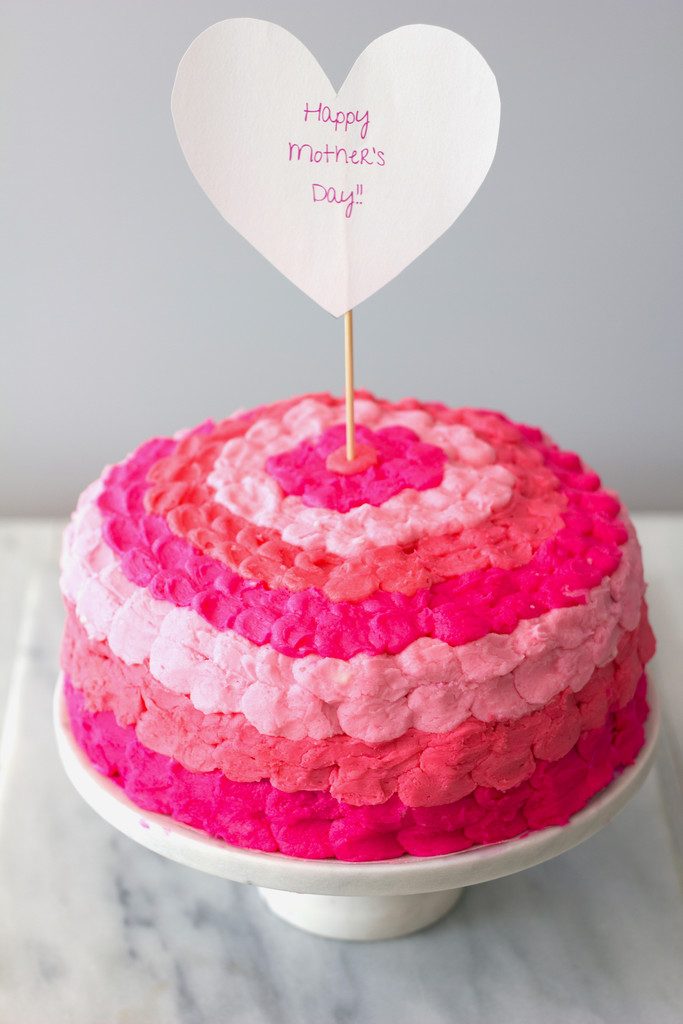 So, my petals didn't come out quite the way I envisioned and are a bit more smooshed than they should be. I've since obtained a 9" angled spatula, which means I'll be making another one of these petal cakes soon! Here is the Wilton tutorial I used to get the petal frosting look.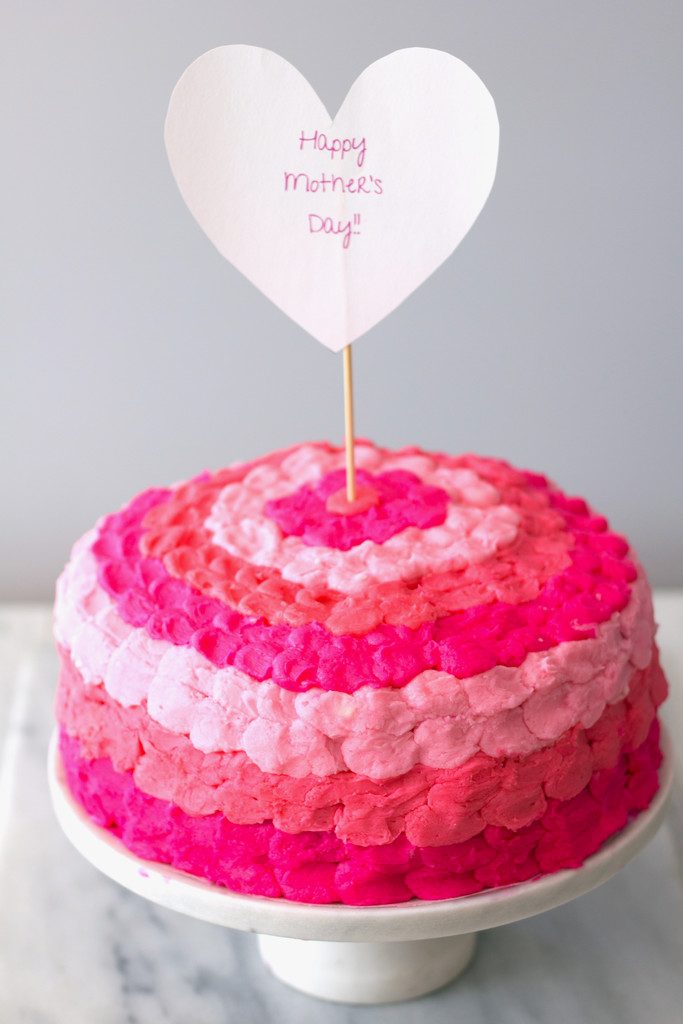 While the petal cake design isn't 100% perfect, I still think my mom and sister will love it because it was made with love (and let's face it, they know I'm not even close to perfect!).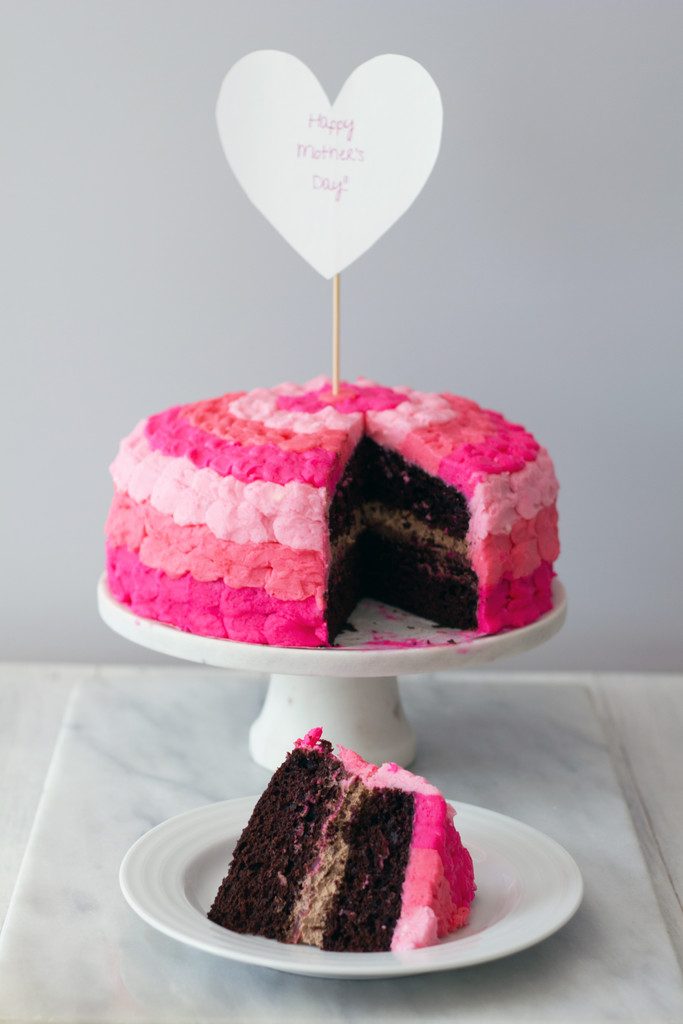 Plus, the flavors were pretty much spot-on.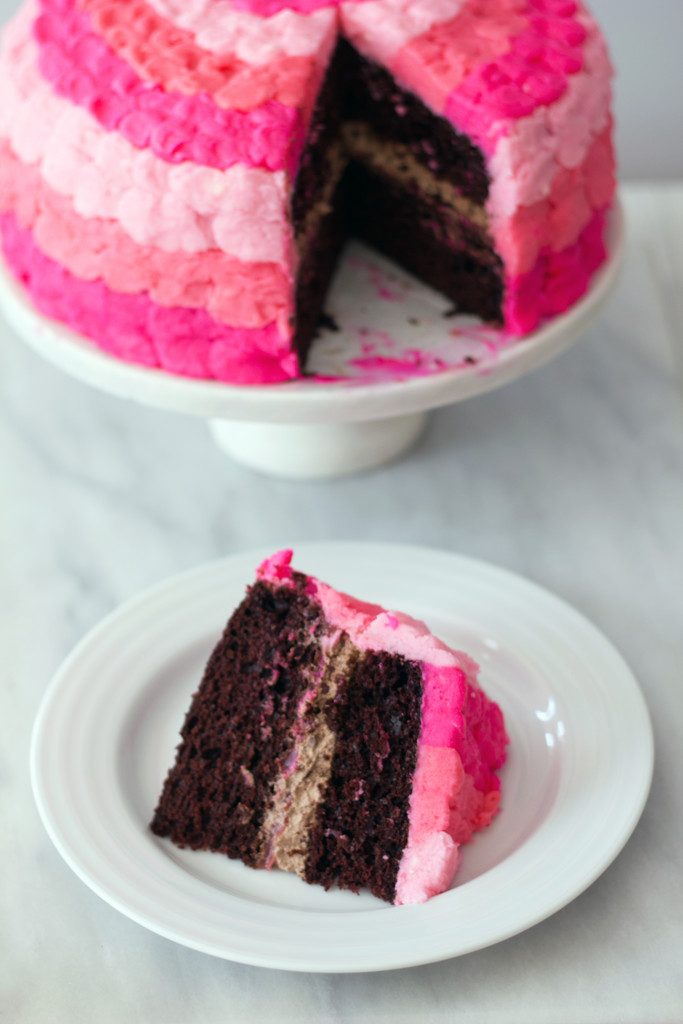 A LOT of chocolate and a little bit of raspberry. Does life get any better than that?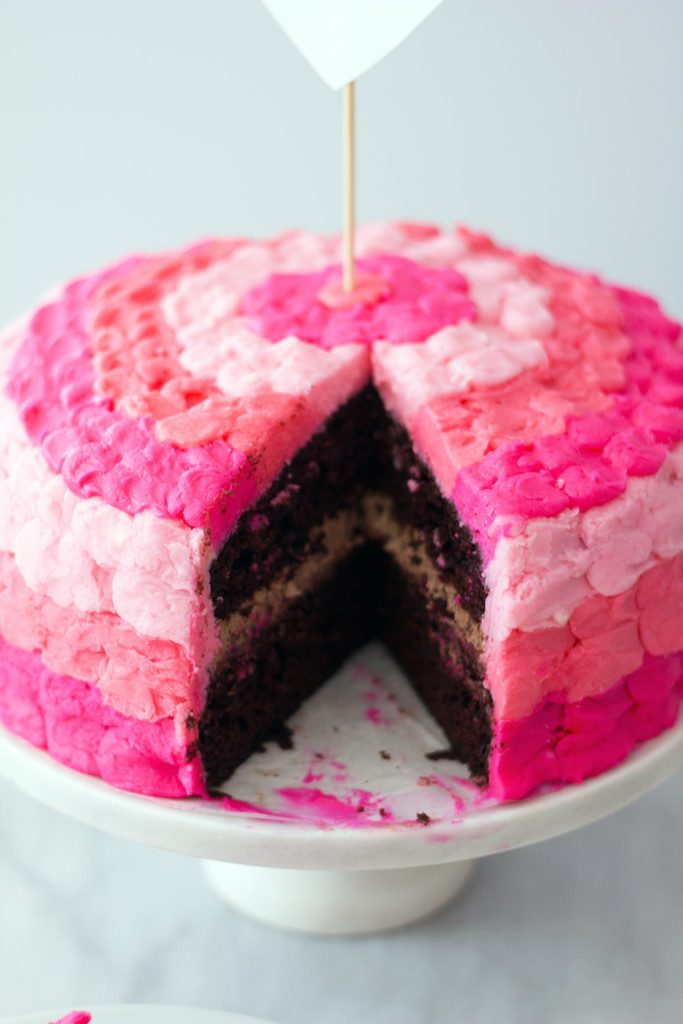 The cake was superbly moist and no, I don't care if you don't like that word. Because nobody has invented another word that adequately describes a moist cake, so I can't be bothered to care. Come up with a word and I'll gladly start using it.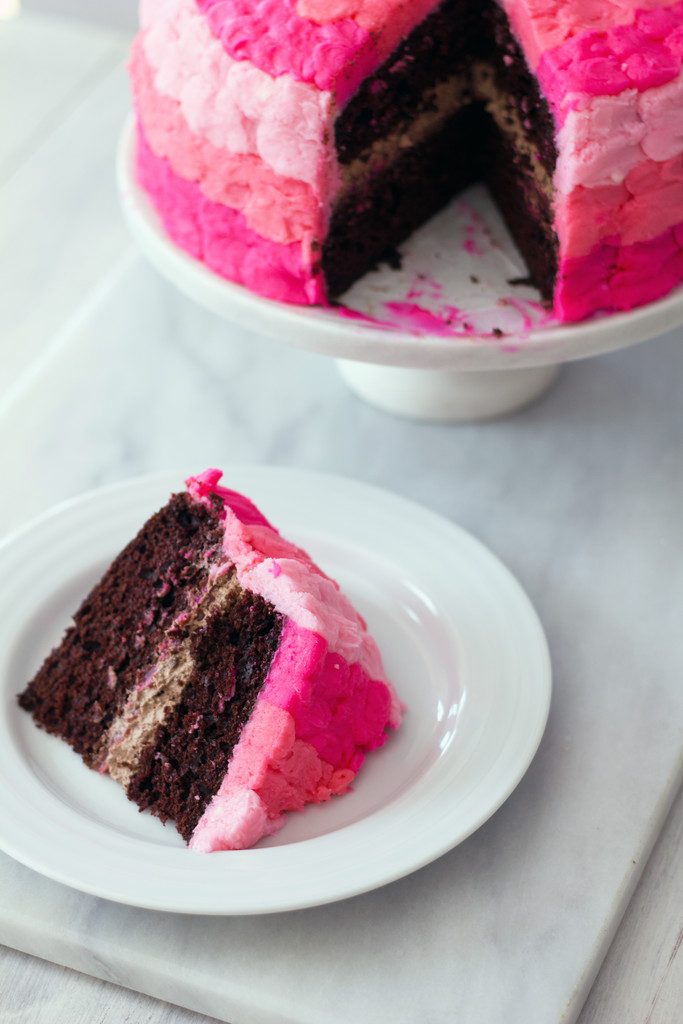 I LOVED the colors of this petal cake and am really, really excited about the Color Right system. Literally, all I want to do is be in my kitchen, baking treats up in awesome colors. I have so many visions for this stuff!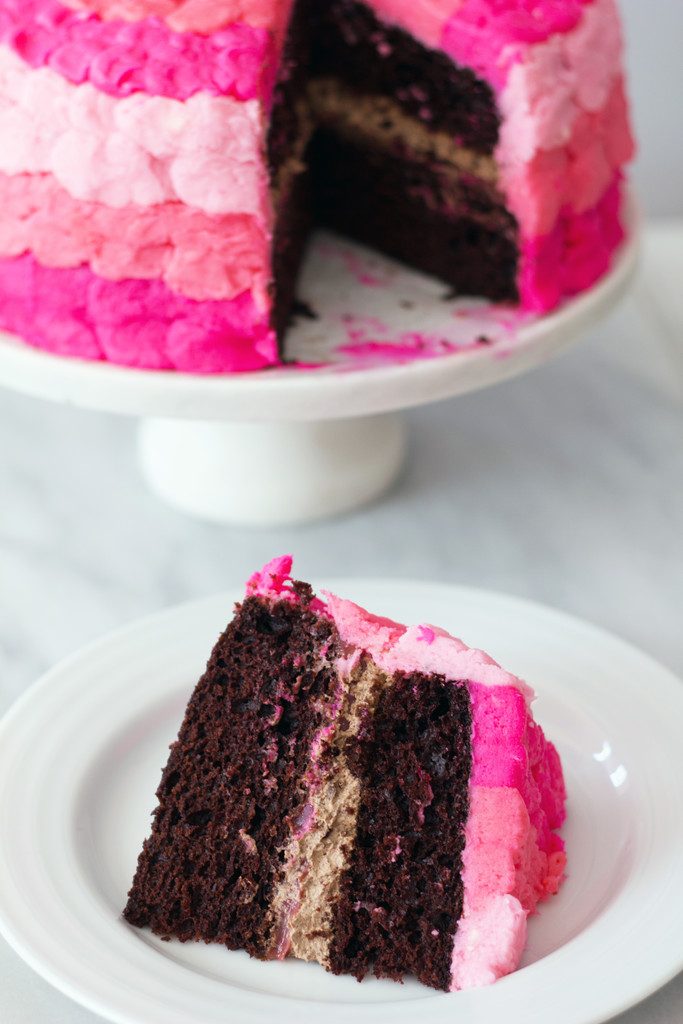 My mom and sister are probably reading this post right now wondering why they didn't actually get a slice of this cake. I've been just a little bit busy lately and baked the cake on one of my few free afternoons. Since the moms in my life weren't around to share it with me, I allowed Chris a slice and then I wrapped it tightly and froze it.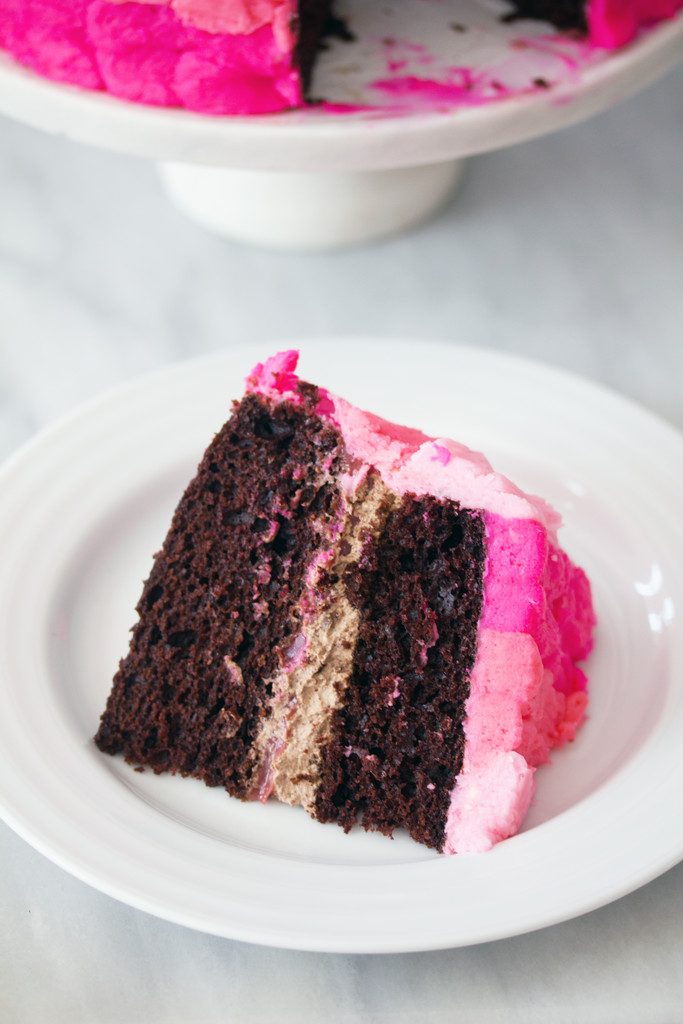 I'm hoping it's still delicious when I have everyone over for Mother's Day this weekend.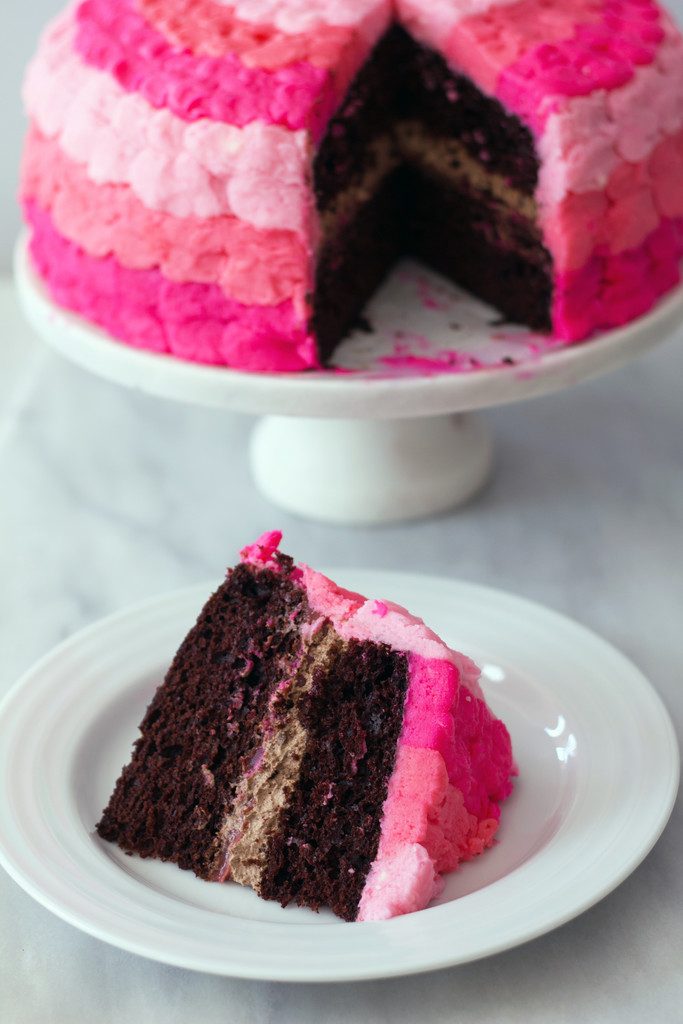 Happy Mother's Day to the world's best moms! I hope this year brings lots of cake and lots more love from family.
What are you doing to celebrate Mother's Day?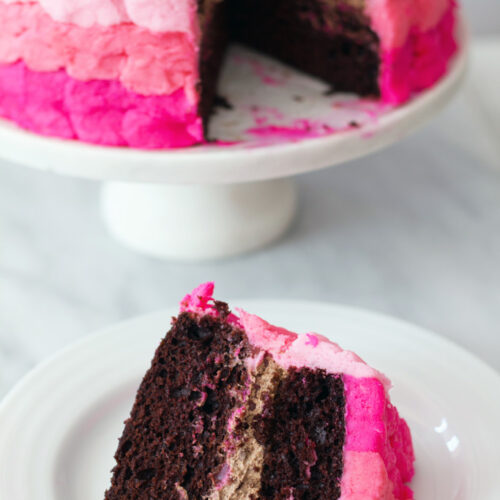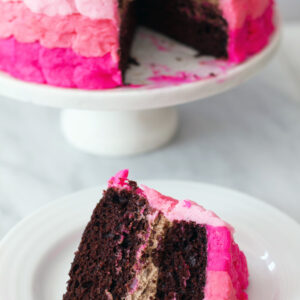 Chocolate Whipped Cream Raspberry Curd Ombre Petal Cake
A decadent chocolate cake with a layer of chocolate whipped cream and touch of raspberry curd, finished off with ombre buttercream in a petal pattern.
Print
Pin
Rate
Ingredients
Chocolate Cake (from Bon Appétit):
2

C

unbleached all purpose flour

1 ¾

C

sugar

¾

C

unsweetened cocoa powder

2

t

baking soda

¼

t

salt

1

C

water

¾

C

buttermilk

¾

C

vegetable oil

3

large eggs
Raspberry Curd:
12

oz.

fresh or frozen raspberries

½

C

granulated sugar

2

T

lemon juice

2

T

corn starch

¼

C

water

4

egg yolks

2

T

butter
Chocolate Whipped Cream (from Food52):
4

oz

bittersweet chocolate

60% cacao

¾

C

heavy cream

Pinch

salt
Vanilla Buttercream Frosting:
3

sticks unsalted butter

room temperature

5

C

powdered sugar

1 ½

t

vanilla

2-3

T

milk
Instructions
Chocolate Cake (from Bon Appétit):
Pre-heat oven to 350 degrees.

Coat two 9-inch round cake pans with nonstick spray or

Wilton's Bake Easy

. Line the bottoms of pans with parchment paper rounds and spray them, as well.

In a large bowl, whisk together flour, sugar, cocoa powder, baking soda, and salt. Form a well in the center.

In a separate medium-sized bowl, whisk together water, buttermilk, oil, and eggs.

Pour wet ingredients into the well created in dry ingredients and whisk until just combined.

Divide cake batter between two prepared pans.

Bake cakes at 350 degrees for about 30 minutes, until tester or toothpick inserted into cake's center comes out clean.

Cool cakes completely in pans on cooling racks.
Raspberry Curd:
Place raspberries in a blender or food processor and process until liquid is formed.

Put mixture in a sieve placed over a bowl and press with the back of a wooden spoon to push raspberry juice into a bowl. The seeds will be left behind.

In a medium-sized saucepan add puréed raspberries, sugar, lemon juice, cornstarch, and water and whisk until well combined. Bring to a boil and continue stirring to thicken the mixture.

Lightly beat egg yolks in a separate medium-sized bowl. Slowly pour about half of the raspberry mixture into the egg yolks and whisk to combine. Then, transfer the whole mixture back into the saucepan.

Return to a boil and continue to cook for 1-2 minutes until mixture thickens and coats the back of a wooden spoon.

Remove saucepan from heat and whisk in butter.

Pour into a bowl or mason jar and refrigerate until chilled.
Chocolate Whipped Cream (from Food52):
Place chocolate in a medium-sized bowl.

In a large heavy saucepan, bring cream to a gentle boil and pour over the chocolate.

Let mixture stand for about 30 seconds, before stirring well.

Let mixture stand for about 15 minutes so that all chocolate is melted and then stir until the mixture is well combined.

Let cool and add pinch of salt.

Cover bowl and refrigerate for at least 4 hours, or until completely chilled.

When mixture is cooled and you're ready to use, whip the cream in a stand mixer or in a bowl with a hand mixer, until it lightens up and can hold a shape.

Refrigerate until ready to use.
Vanilla Buttercream Frosting:
In the bowl of a stand mixer or in a large bowl with a hand mixer, cream butter until pale in color.

With the mixer remaining on low speed, add about a third of the powdered sugar and mix until incorporated.

Continue with remaining sugar, about a cup at a time, mixing to incorporate each time.

Add vanilla. Mix in milk 1 T at a time, until desired consistency is reached.

Divide frosting into three bowls and color each a different shade of pink (or whatever color you choose). Make a little extra of the medium shade for the cake's base frosting layer.

Assembly:

Place first layer on cake stand on cardboard round for easy lifting.

Smooth a layer of raspberry curd over the top, followed by a layer of chocolate whipped cream.

Top with second cake round.

Frost the cake with a thin, smooth layer of the medium shade frosting.

Starting at the bottom of the cake, using the darkest shade, pipe two dots slightly larger than the width of a 9 inch angled spatula. With the tip of the spatula, press down firmly into one of the dots and smear the frosting to the right. Repeat with the second dot.

Pipe two more dots at the end of the first smears and smear these dots as well.

Continue, all the way around the cake. When you get to the last dot in a row, smear it as far as possible without disturbing the next dot. Pull the spatula away from the cake and, using the tip, manipulate the frosting into any spaces around original dot.

Once the first rows are completed, repeat with the medium pink color, followed by the darkest pink color. Continue all the way up the cake.

Once you get to the top of the cake, pipe and smear dots in a circle around the edge, continuing as you move into the center of the cake.
Share a Photo of Your Finished Recipe!
Mention @wearenotmartha and share a photo if you've made the recipe!
Full disclosure: This post was written as part of my partnership with Wilton, but as always all opinions are my own. I think you know by now that I am a huge Wilton fan!!