Back on Halloween Sara made some terrific Halloween Bark, with white chocolate, pretzels, oreos, candy corn, and sprinkles. The salty/sweet combo, as you may already know, is one of my all time favorites. I fell so in love with this bark that the following night we all went out to a bar and I brought my own little bag snack on… don't judge. Last weekend Sara made another version of the bark, but for Christmas, and included Christmas peppermint candy corn. Again, unbelievable. I brought a bag to the Celtics game the following evening. Ha!
So for my family Christmas this week, I decided to give this whole bark thing a try on my own. I wasn't really following a recipe, which, I think, is the cool thing about this. You can sort of toss in what you want or whatever makes sense to you and your taste buds, next time I'm experimenting with bacon. Obviously.
Here's what I used: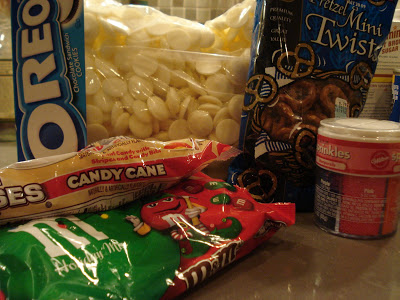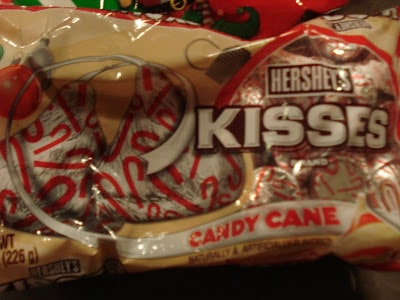 White chocolate melting wafers. After searching high and low for these bad boys (apparently they're quite popular around the holidays) I ended up calling iParty and they had a 5 pound bag they so nicely put on hold for me. From what I hear, when making bark you should use these wafers, they melt and pour a lot better than just a regular bar of chocolate. You can buy them at most craft stores or any baking type of store that sells candy. I also used pretzels, Oreos, m&ms, green and red sprinkles, and candy cane peppermint Hershey kisses.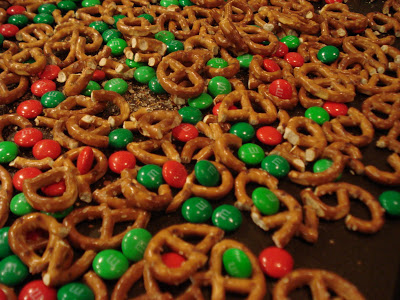 On a baking sheet I broke some pretzels up and tossed some seasonal m&ms in.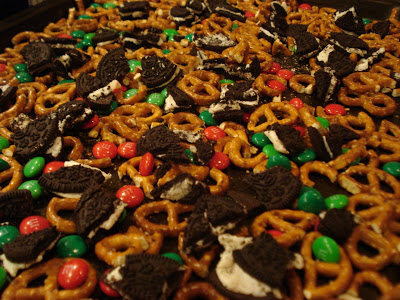 Now for the oreos.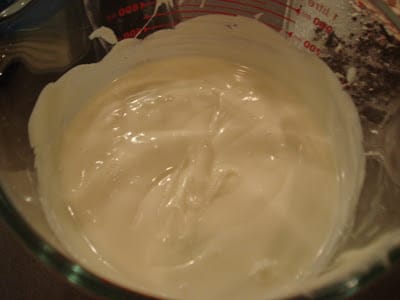 The white chocolate wafers melted. I popped them in the microwave for a minute or so and stirred until they melted nicely. I sort of eyeballed the amount, maybe a couple cups or so.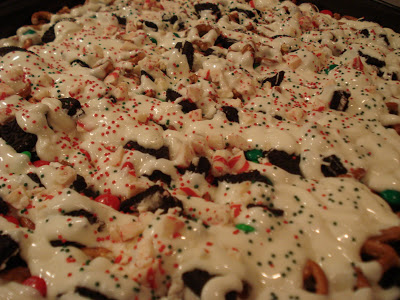 Pour the melted chocolate over the candy mixture on the baking sheet. After that I added the peppermint Hershey kisses and sprinkles, just so they would sit nicely in the chocolate. It looks like Christmas exploded on a baking sheet and I loved it!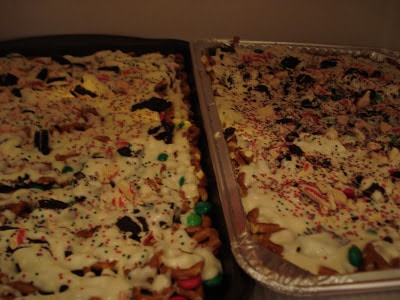 Pop the baking sheets in the fridge until hardened. I was surprised at how quickly they hardened, maybe a couple hours or so, but I left them in overnight.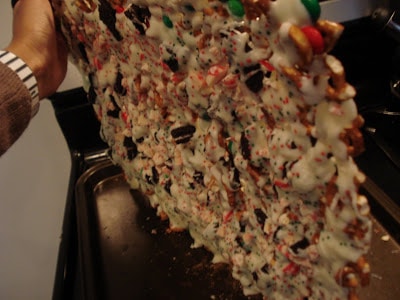 Once hardened break into small pieces.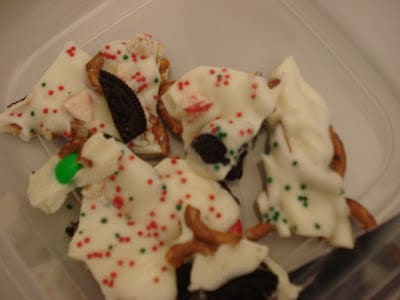 I wish every morning I could wake up to something this cool! Not only is this bark really easy and quick to make, but I love that it can be taken from season to season just by getting creative and playing around with some fun candy… or bacon 😉
I hope everyone has a very happy, safe, and blessed holiday!
[Chels]