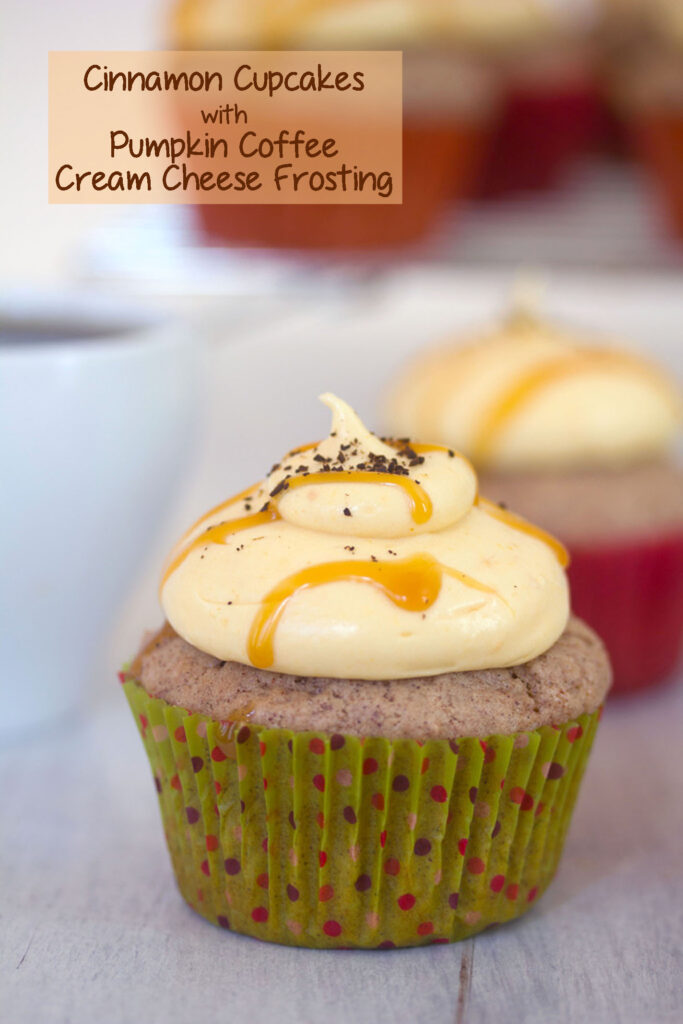 Some people are like really, really into their birthday. I'm not one of those people. Sure, it's nice to have a special dinner and get a few gifts. But otherwise, I always feel a little silly having people celebrate me for literally doing nothing but making it through another year. Everybody has a birthday and I share mine with probably at least 803584354 other people. Lucky for me, I also share my birthday with National Coffee Day. Which I've always said is some kind of fate. It's definitely not a mistake that I was born on this very special day. Although I'm pretty sure National Coffee Day was named after my birth, so in that case, it's not mistake that the food holiday Gods that be determined September 29 would make the perfect National Coffee Day. Either way.
And since there's never a bad time for cupcakes, but today felt especially right for them, I incorporated coffee (PUMPKIN COFFEE) into these bad boys. Well, really just into the frosting. The cupcakes are a simple cinnamon cupcake, which made for the perfect balance with the sweet cream cheese frosting.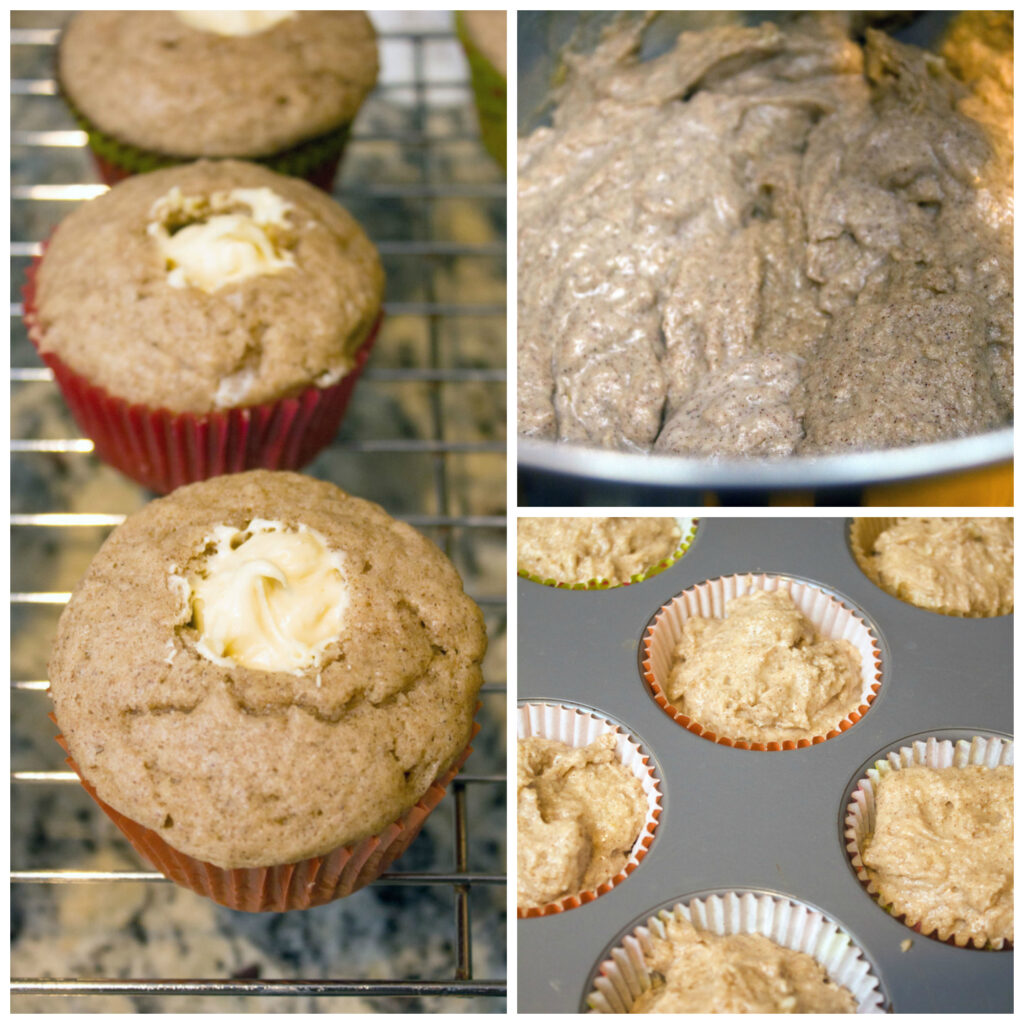 Of course, I didn't really feel like the frosting on top was enough, so I cored the cupcakes and added a little in there, too! At first, I was going to add another type of pumpkin delight in there, but then I realized the frosting was so delicious that, the more the better. Everyone knows that frosting is really the best part of a cupcake anyway… At least when it's good frosting.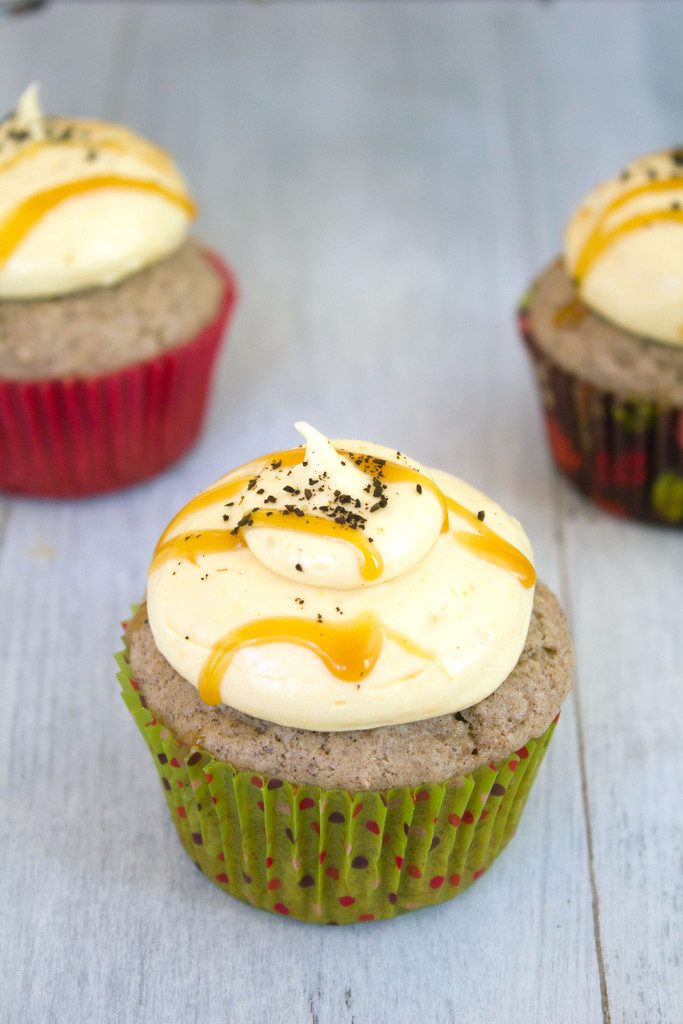 There's nothing wrong with a little caramel sauce and a tiny bit of decorative pumpkin spice coffee granules on top of a cupcake.
I obviously used pumpkin coffee for the frosting (double the pumpkin impact!), but you can use any kind you want. All that matters is that it's a nice strong brew. I love pumpkin spice coffee, but sometimes it can be too overpowering for me… Not when it's in a cream cheese frosting!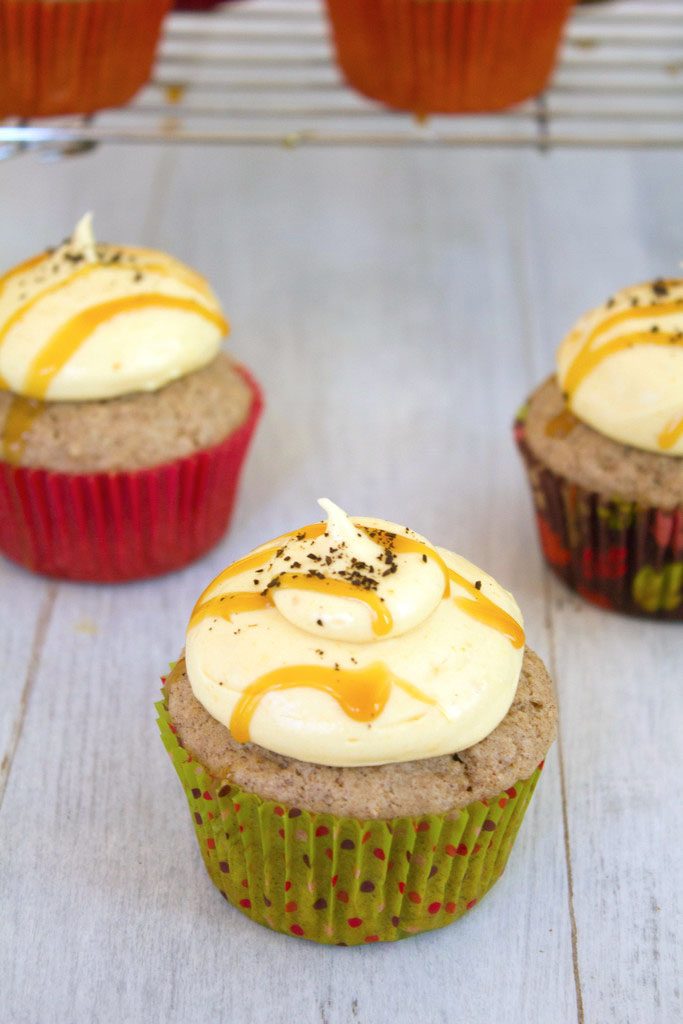 Is there anything coffee isn't good in? And is there any wonder why National Coffee Day is one of the most talked about, celebrated food holidays? Even if you're not into food holidays, you have to get behind this one. I mean, think about all the coffee does for you all year long? It deserves a little celebration! Seriously, coffee deserves this day so much more than I do. And I'm more than happy to share the attention with it.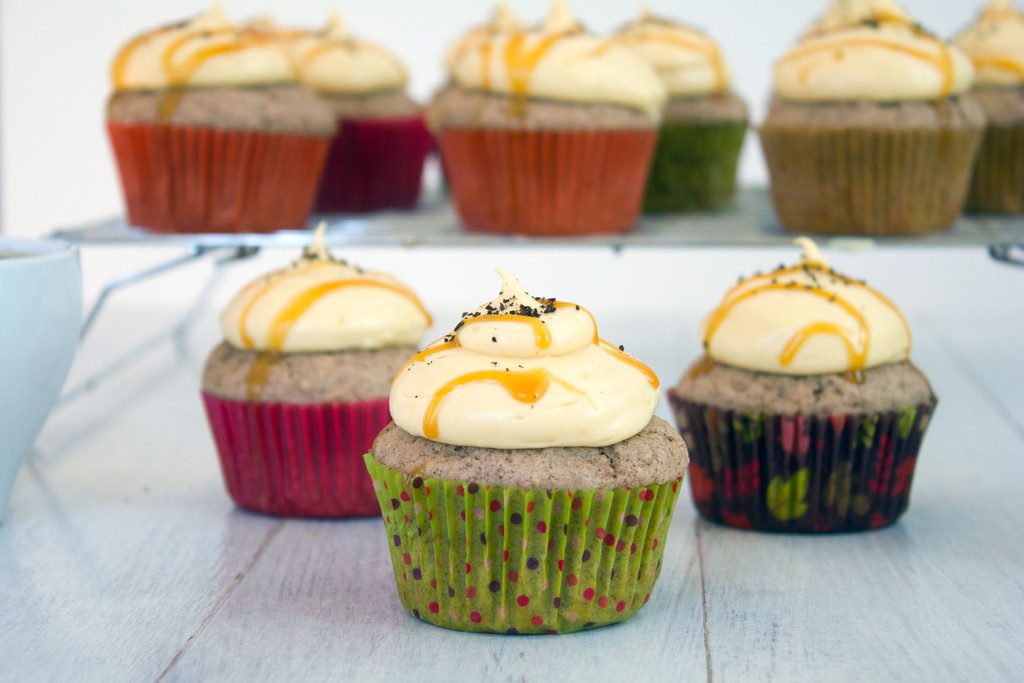 When I first started my current job (five years ago last week!), I was thrilled that nobody knew it was my birthday since I had only worked there for only one week at that point. I got through the whole day without a hitch, until suddenly, every single employee walked over to my desk singing happy birthday. Talk about new kid embarrassment. Though I guess it's not really any different than when you're in elementary school and actually bring cupcakes for your class each year. If you guys were in my class, I'd totally bring these in for you. But only if you promised not to sing.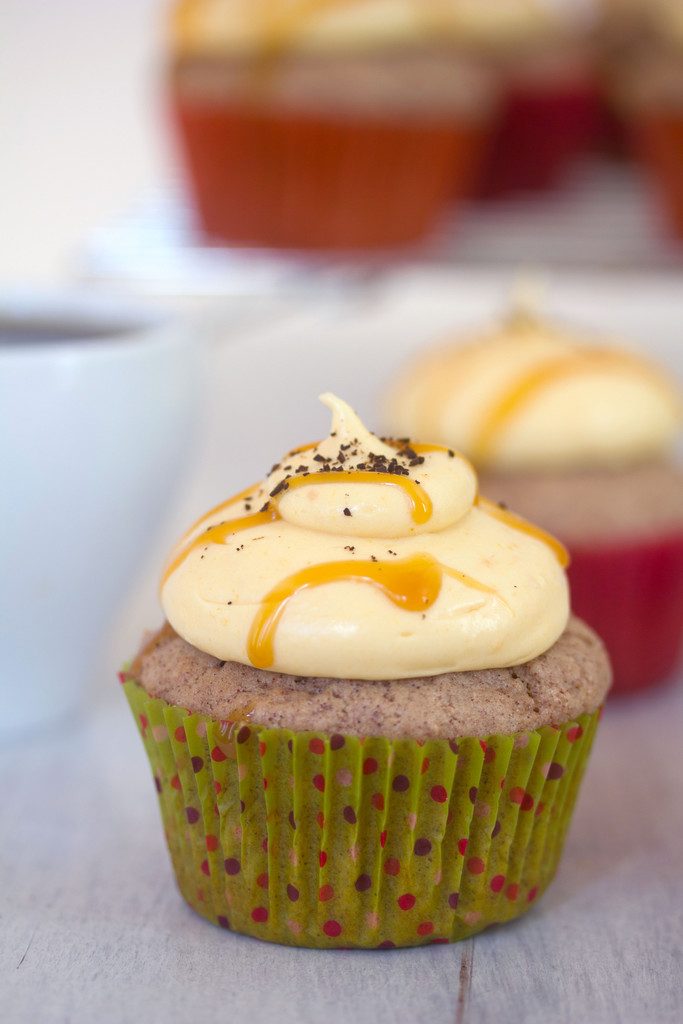 Sing instead to coffee. Sing it your praises and wish it a very happy year ahead. As a matter of fact, why don't we throw a big surprise party for coffee? Doesn't coffee seem like the sort that would appreciate a good surprise party? I'm sure it could certainly party all night. At least probably much later than I can in my old age!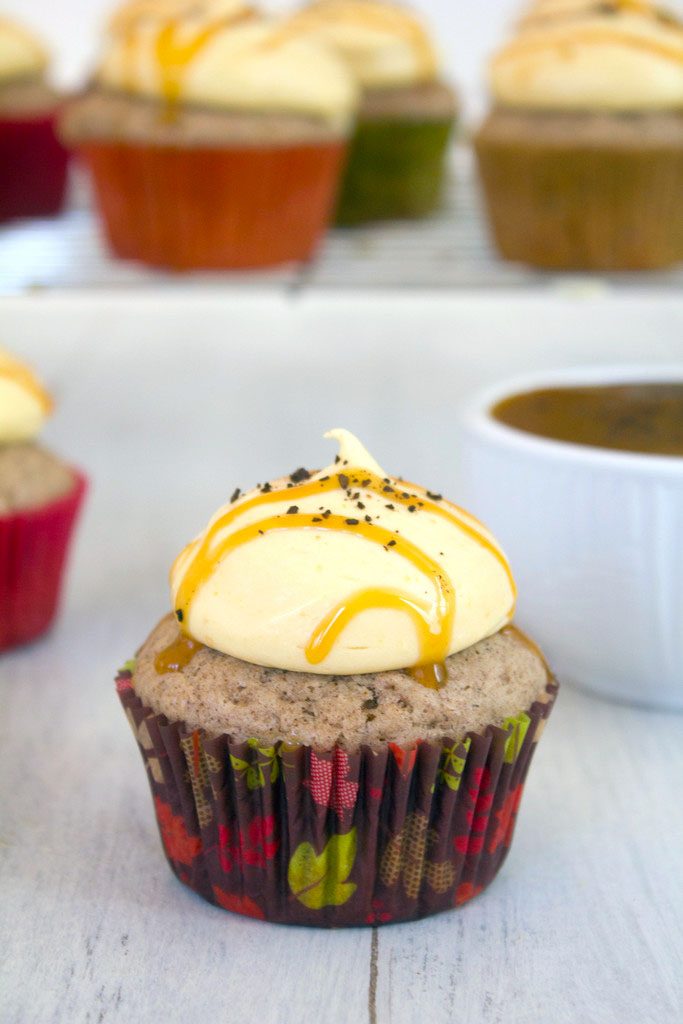 I almost can't even believe that this is already my third pumpkin recipe of the season and we're not even in October yet. I hope you are as OK with that as I am. If you're not into pumpkin, I still highly encourage you to make these cinnamon cupcakes with a coffee cream cheese frosting. You owe it to coffee on its special day!
How are you celebrating National Coffee Day?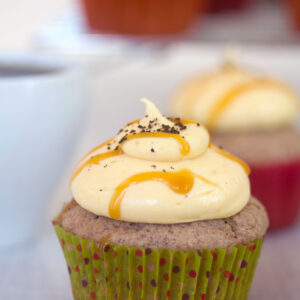 Cinnamon Cupcakes with Pumpkin Coffee Cream Cheese Frosting
Whether it's National Coffee Day or not, it's always a good time to put coffee in your frosting! These cinnamon cupcakes are filled and topped with a pumpkin coffee cream cheese frosting that will have you licking the bowl clean!
Ingredients
Cinnamon Cupcakes:
1 1/2

sticks

12 Tbsp unsalted butter, room temperature

1

C

granulated sugar

2

large eggs

1

tsp

vanilla extract

2 1/2

C

all-purpose flour

1 1/2

Tbsp

cinnamon

2

tsp

baking powder

1/2

tsp

salt

1

C

milk
Pumpkin Coffee Cream Cheese Frosting:
3/4

C

6 Tbsp unsalted butter, room temperature

8

oz.

cream cheese

2

Tbsp

pumpkin puree

4

C

powdered sugar

2

Tbsp

strongly-brewed pumpkin spice coffee
Instructions
Cinnamon Cupcakes:
Pre-heat oven to 350 degrees.

In the bowl of a stand mixer or in a large bowl with a hand mixer, cream butter and sugar together on medium-high speed until light and fluffy, about 2-4 minutes.

Add eggs to bowl one at a time, mixing well after each addition. Mix in vanilla.

In a medium bowl, whisk together flour, cinnamon, baking powder, and salt.

With mixer on low speed, mix dry ingredients into wet in 3 additions, alternating with milk. Mix in each addition until just incorporated, taking care not to over-mix.

Line cupcake tin with 12 papers and fill about ¾ of the way full with batter.

Bake cupcakes at 350 degrees for 16-19 minutes, until edges are golden and tester comes out clean.

Cool cupcakes in tins for a few minutes before moving to wire racks to cool completely.

Once cool, core cupcakes (either with a cupcake corer or by simply using a spoon to scoop a small hole in the middle of the cupcakes).

Fill center of cupcakes with about a teaspoon of pumpkin coffee frosting. And then using a Wilton 2D pastry tip (or tip of your choice), pipe frosting on top of cupcakes.

Drizzle with caramel sauce, if desired, and sprinkle pumpkin spice coffee granules over the top of decoration.
Pumpkin Coffee Cream Cheese Frosting:
In the bowl of a stand mixer or in a large bowl with a hand mixer, beat butter and cream cheese until creamy, 2-3 minutes.

Beat in pumpkin puree.

With mixer on low, slowly blend in the confectioner's sugar, cup by cup until well-combined.

Mix in pumpkin spice coffee. If buttercream is too thick, add additional additional coffee, 1 Tbsp at a time. If it's too thin, add more powdered sugar or cream cheese (if you don't want the frosting any sweeter).