Why aren't peanut butter and cinnamon combined together more often? These Cinnamon Peanut Butter Doughnuts are fried cinnamon doughnuts filled with peanut butter cream and topped with peanut butter cinnamon glaze.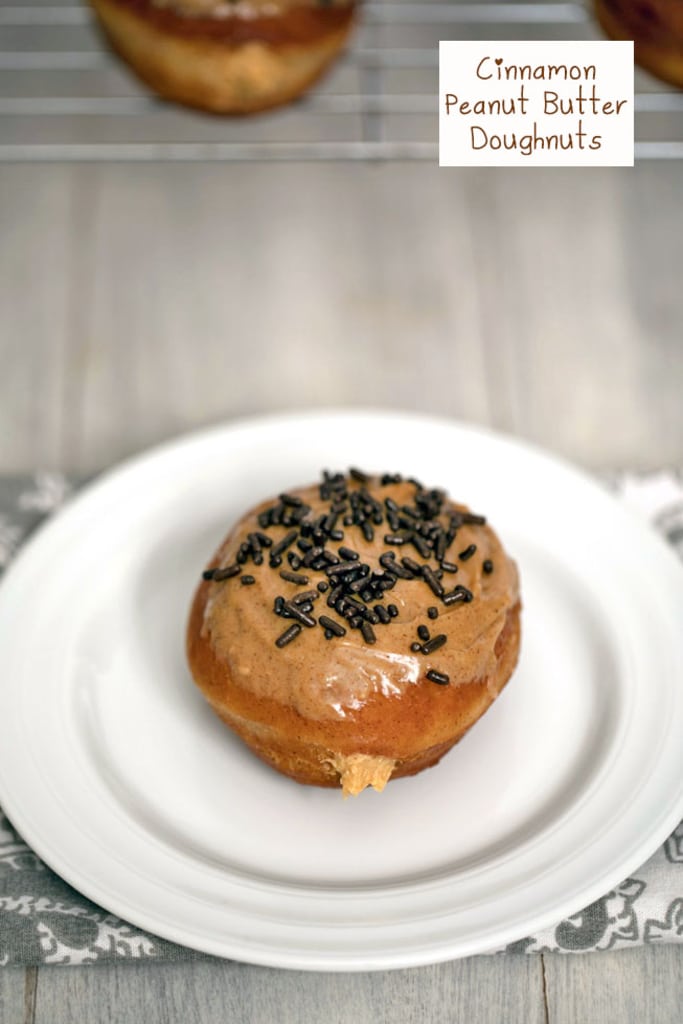 One of my resolutions for the new year is to cook dinner more often. You know, instead of coming home from work and ignoring the chicken I took out of the freezer to thaw or the salmon that will most definitely go bad if we don't eat it tonight.
What seemed so important in the morning suddenly doesn't matter at all when my mind has been going a million miles an hour all day and I haven't even planned what I'll be doing with said chicken or salmon.
I usually make this executive decision as I'm on my train ride home and I realize that I'm dangerously close to falling asleep and missing my train stop (disaster!). And I'll start thinking about what kind of takeout we should get, where we can go out for dinner, or what I have in the fridge/freezer for whipping up sandwiches or a frozen pizza.
It's not even the act of cooking dinner that's so tiring to me. It's just the fact that I know by the time I'm done cooking, eating, cleaning up, and getting lunches ready for the next day, it will be after 8:30 p.m. and I'll still have to do some blog work and start thinking about going to bed and getting up the next day to do it all again (I knoww this is probably a million times harder for those of you who have kids, but I'm just talking from my own personal reality here).
Wow, I'm really convincing myself that this resolution was a wonderful idea, huh? But the fact is, cooking dinner makes me happy. Not just the act of eating a usually healthy-ish (most of the time) and satisfying meal, but also simply being in the kitchen.
I usually set up shop with my cookbook or recipe blog, a podcast (the Happiness Project is my favorite cooking weeknight dinner podcast), a cup of coffee (I love my after work coffee!), and my dog by my side. Usually my husband will finish up his work at the kitchen island or he'll come hang out with me while I cook so we can talk about our days.
And it's just the best part of my day. I know I could probably get better about prepping meals ahead of time or doing more repeat recipes that are familiar and easy, but nothing makes me happier than making a brand new delicious meal after a long day of work. This year, I'm vowing to dig into my library of cookbooks, which it seems like I rarely cook from.
You're probably wondering why I'm telling you this in a post about doughnuts. Well, it's really just to say that my cooking dinner more often makes me feel justified in eating doughnuts more often.
My dinners aren't always the healthiest (um, tonight I'm making Smitten Kitchen's artichoke stuffed shells), but I also have plenty of vegetables on the side and I often make green smoothies (kale, spinach, pineapple, and chia seeds) to go along with our meals. Plus, I almost always have dinner leftovers that help me avoid going out to lunch at work the next day.
So therefore... When I'm done cooking dinner and am finally sitting down to get my blogging on, I'm totally allowed to have a doughnut. Or maybe two. I was seriously craving both doughnuts and peanut butter last week, so I incorporated them with this dessert. I also had cinnamon rolls on my mind and loved the idea of making a cinnamon doughnut with peanut butter filling.
CINNAMON PEANUT BUTTER DOUGHNUTS RECIPE
If you've ever made homemade doughnuts before, you probably know that it's not really a "get home from work at 7 p.m. and make" kind of thing. I recommend saving doughnut making for the weekend or your day off. You have to let the dough rise a couple of times and, of course, frying always feels like a bit of an ordeal (a fun ordeal, nonetheless!).
But doughnuts are actually quite easy to make. I find it therapeutic to cut the dough, watch the doughnuts rise, and to fry them up. It's also pretty therapeutic to eat them!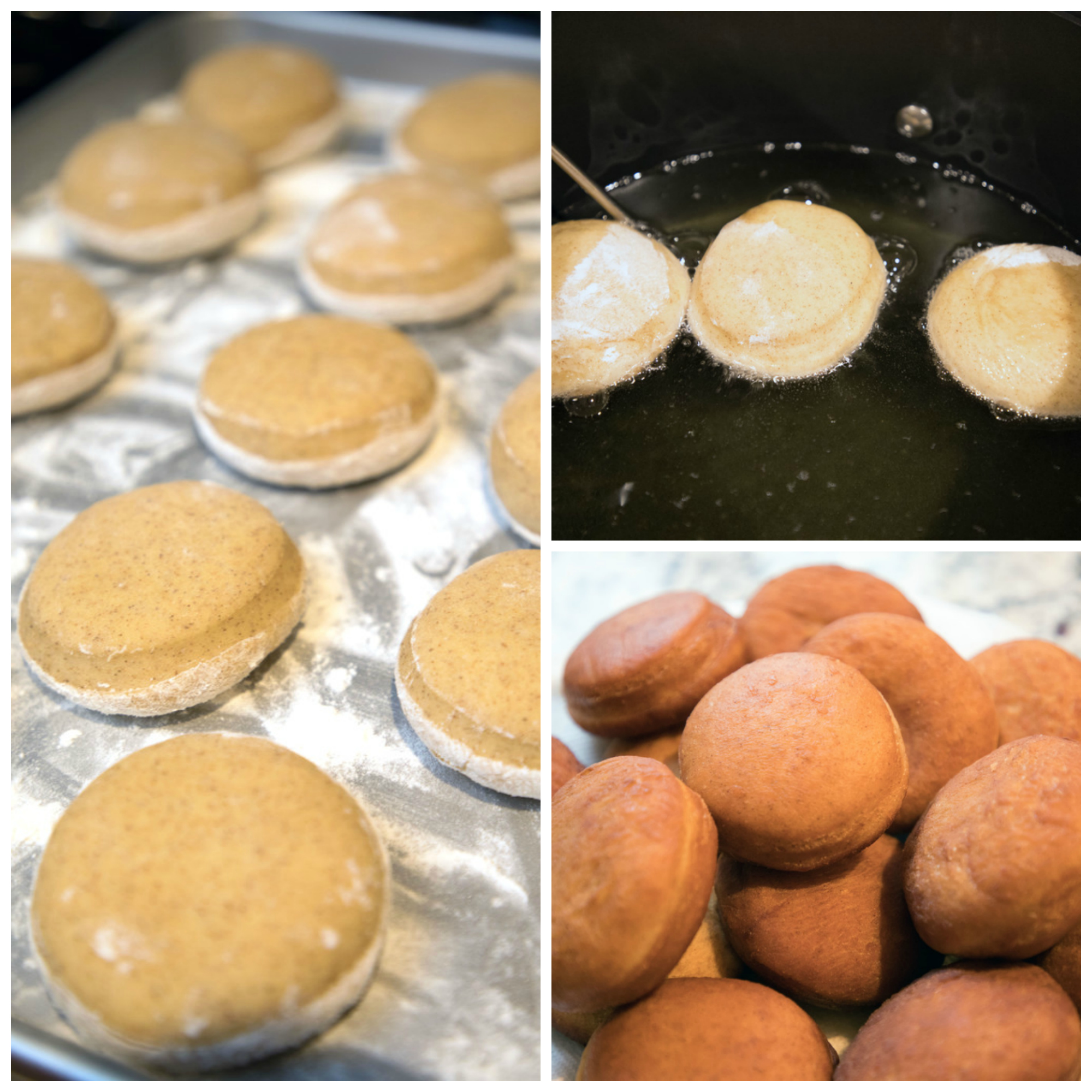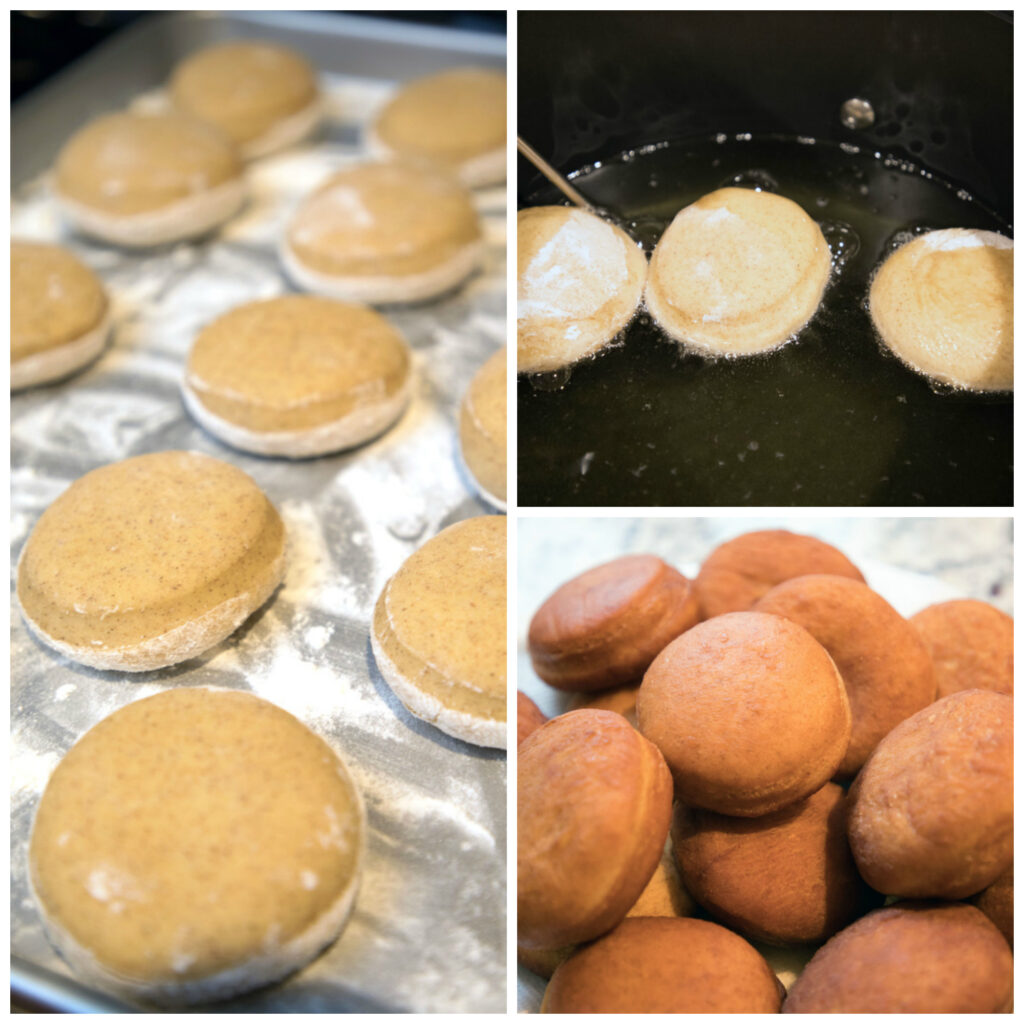 I made a sugary peanut butter filling that was just perfect, along with a glaze that combines both cinnamon and peanut butter.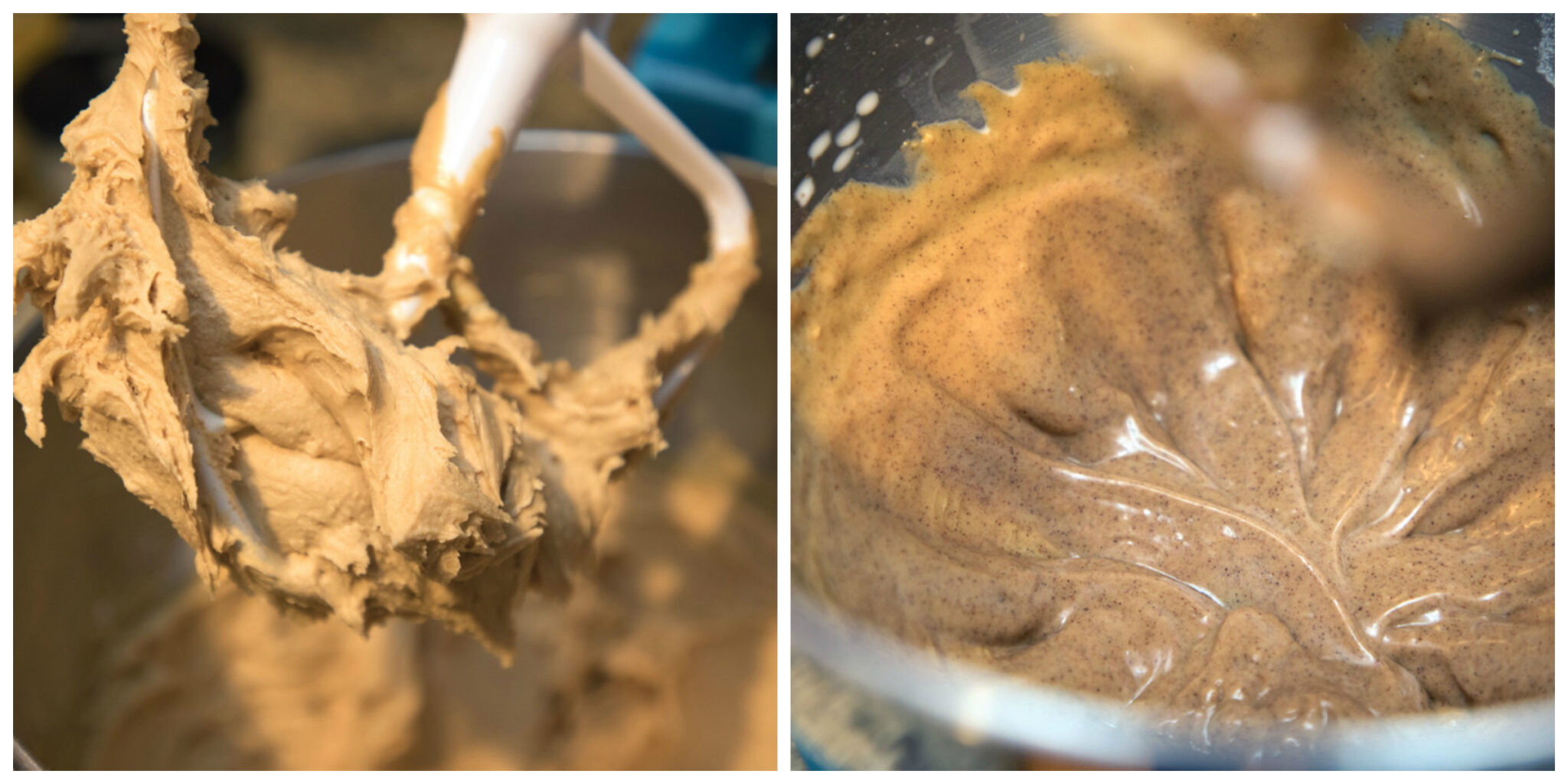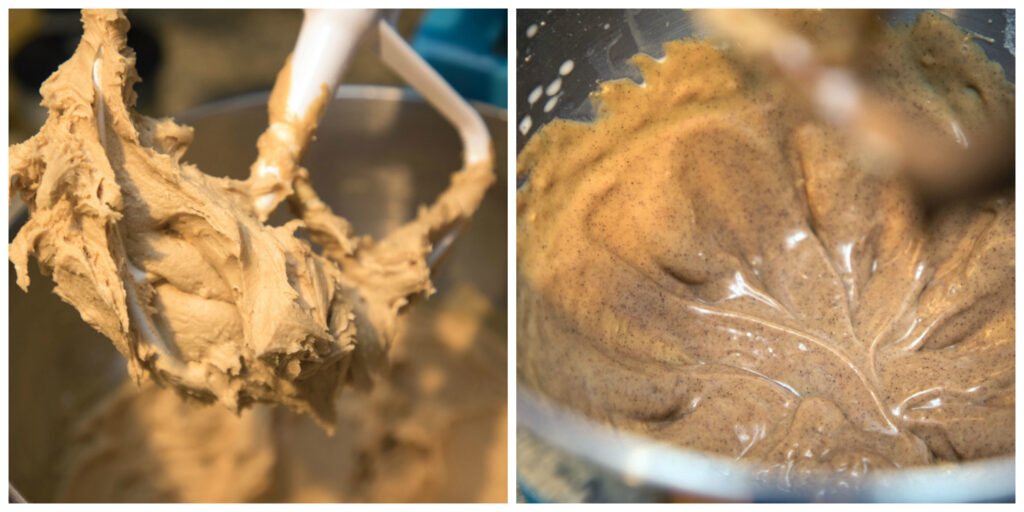 Can we talk about why the cinnamon and peanut butter combination isn't utilized more often? Chocolate and cinnamon is a definite thing (Mexican hot chocolate!), but I feel like cinnamon goes even better with peanut butter. And doughnuts... Everything goes with doughnuts!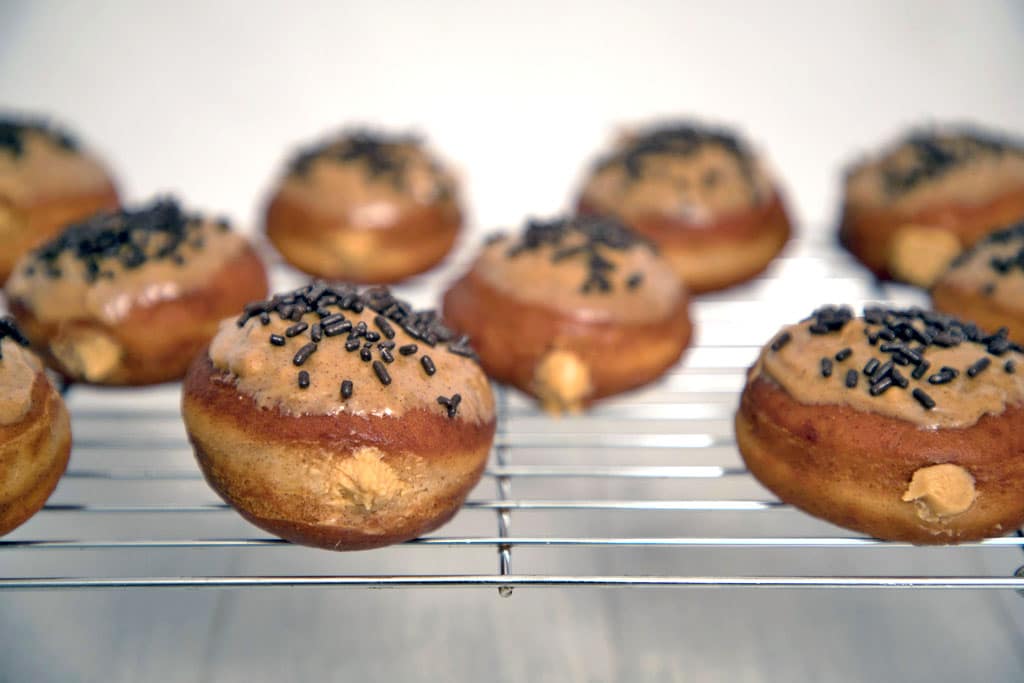 And what's better than a fried and filled doughnut? Seriously. If you told me that you'd give me one of these doughnuts every single time I cooked a homemade dinner, I'd do it without a complaint.
I might even manage to stay awake on the train, too, just thinking about these doughnuts that were waiting for me at home.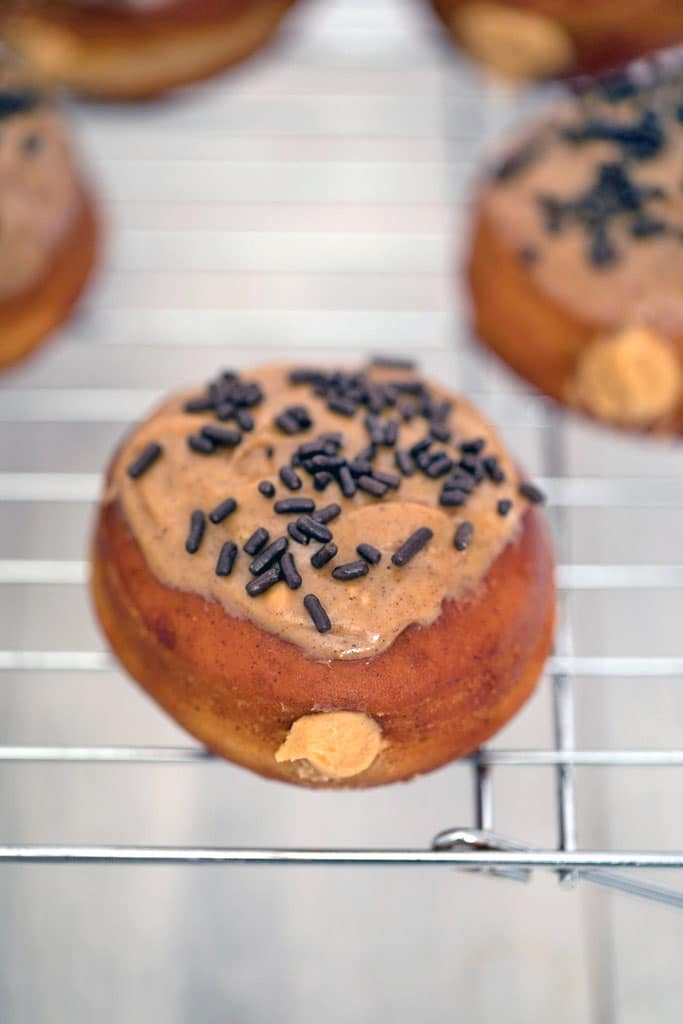 At first, I was going to take a picture and Instagram Story every single dinner I had this year. 365 days of dinners. But then I went out to dinner a couple times with friends and didn't take photos and I may or may not have had a couple questionable dinners I wasn't too proud of (ahem, Domino's, ahem).
So, I decided that instead, I'll take photos of all the dinners I make this year... And if I think they're worth sharing, I'll share them on Instagram Stories. At the end of each month, I'll share a sampling of all the dinners I made that month (annd hopefully it will be more than four). Come follow me and hold me accountable!
And then call me out when you say way more photos of these cinnamon doughnuts filled with peanut butter cream.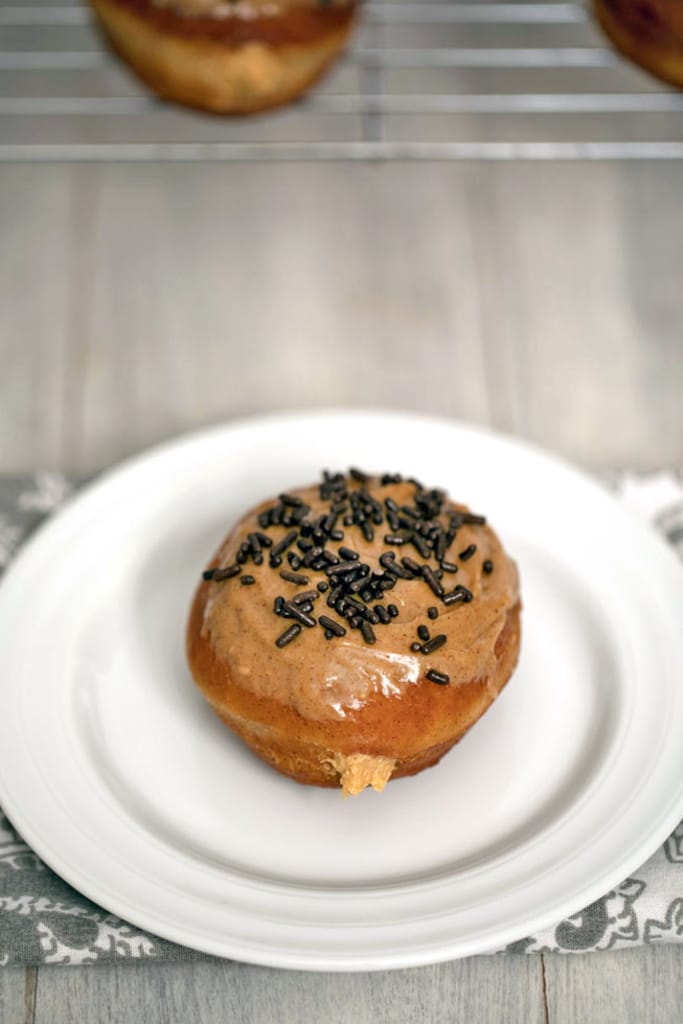 OK, now that I've left you with these doughnuts, I need to get my dinner making butt in gear. I'm on a two-day streak and not slowing down now!
Please, please share with me your favorite weeknight meals that are both healthy and flavorful and don't take 4902 hours to make. I try to keep up with my pinning so I have constant inspiration, but I'm always looking for new ideas. I need to be able to keep my doughnut excuses coming!
How many nights a week do you make homemade dinners? And more importantly, what are you making??
If you're choosing donuts over dinner, too, I have some more fun donut recipes for you to try! I love these Glazed Coffee Chocolate Frosted Donuts, but if you're looking for an even quicker donut fix, try my baked Milky Way Donuts! I'm also dreaming about making these Maple Pecan Donuts from Dot+Olive!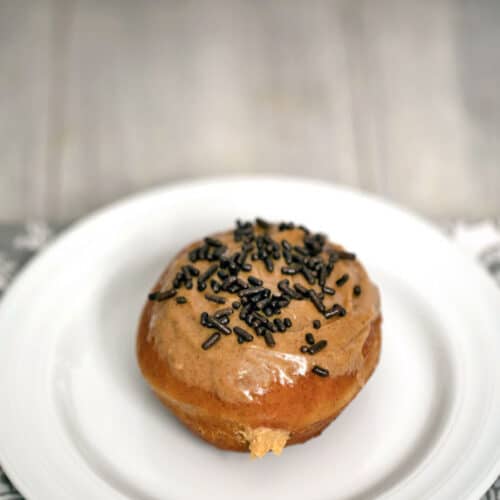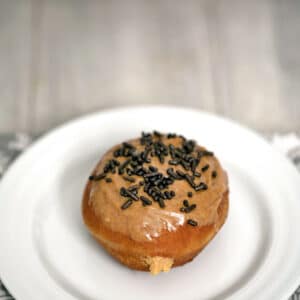 Cinnamon Peanut Butter Doughnuts
Why aren't peanut butter and cinnamon combined together more often? These Cinnamon Peanut Butter Doughnuts are fried cinnamon doughnuts filled with peanut butter cream and topped with peanut butter cinnamon glaze.
Print
Pin
Rate
Ingredients
2 ½

tsp

active yeast

(1 packet)

2

Tbsp

warm water

3 ¼

cup

all-purpose flour

1

Tbsp

cinnamon

1

t

salt

¼

cup

sugar

1

cup

whole milk

½

stick (4 Tbsp)

unsalted butter,

room temperature

3

large egg yolks

Canola oil

1

batch Peanut Butter Cream

(see below)

1

batch Peanut Butter Cinnamon Glaze

(see below)
Peanut Butter Cream:
6

Tbsp

unsalted butter,

room temperature

1

cup

creamy peanut butter

1

cup

confectioners' sugar
Peanut Butter Cinnamon Glaze:
¼

cup

peanut butter

½

cup

confectioners' sugar

3

Tbsp

milk

1

tsp

cinnamon
Instructions
In a small bowl, dissolve yeast into warm water. Stir gently and then let rest for about 5 minutes, until mixture gets frothy.

In a stand mixer (or in a big bowl with a hand mixer), whisk together flour, cinnamon, and salt. Stir in sugar.

Add milk, butter, egg yolks, and yeast mixture to the bowl and blend together using your dough hook if you have one.

Once dough forms, increase speed to medium-high and beat for about 3 minutes. If you don't have a dough hook, take dough out of bowl and once dough is formed and knead on a lightly floured surface until smooth and elastic.

Sprinkle dough with flour (place back in large bowl if you took dough out to knead), cover with a kitchen towel, and put in a warm spot to rise.

Let dough rise for about 2 hours.

Place dough on a lightly floured surface and roll into a square about ½-inch thick.

Using a biscuit cutter or the top of a drinking glass, cut out as many rounds as possible. I used a 3-inch biscuit cutter and got about 14 doughnuts. Place rounds on a lightly floured baking sheet.

Cover baking sheet with a kitchen towel, put in a warm spot, and let rise for about 45 minutes.

In a large stockpot, heat about 2.5 inches of canola oil to 350 degrees

Put 3-4 doughnuts at a time into the hot oil. Let fry for about a minute and then flip over to fry on the other side. Repeat as needed, until golden brown.

Remove fried doughnuts to paper towel covered plate to let cool.

Fill a pastry bag, fitted with a ½-inch round tip with Peanut Butter Cream. Insert the tip into the end of the cooled doughnuts and pipe about 2 teaspoons of peanut butter cream into each.

Hold doughnuts upside down and dip in Peanut Butter Cinnamon Glaze. Sprinkle with chocolate sprinkles.
Peanut Butter Cream:
In the bowl of a stand mixer or in a large bowl with hand mixer, beat together butter, peanut butter, and confectioners' sugar until well-blended.
Peanut Butter Cinnamon Glaze:
In the bowl of a stand mixer or a large bowl with hand mixer, beat peanut butter until light and fluffy, about one minute.

Beat in confectioners' sugar and add in milk and cinnamon. If glaze is too thick, add more milk 1 tsp at a time. If it's too thin, add in more confectioners' sugar ¼ cup at a time.
Share a Photo of Your Finished Recipe!
Mention @wearenotmartha and share a photo if you've made the recipe!