Rice pudding is basically the ultimate in comfort food when it comes to dessert. And I don't know what it is, but I've been craving comfort food in a major way lately (could it be the cold? the rain? the wet snow? doing taxes? endless work? hmmm. I'll stop now). I've never made rice pudding before, but I really wanted to give it a go. Really, Bostonians, where can you get good rice pudding around here? Every time I'm in NYC, I try so hard to make it to Rice to Riches, but it never seems to happen. Now that I know how to make it, and how easy it is, I might actually never need to go.
Because I'm not a big white rice person, I wanted to try a recipe with brown rice. Yes, it's healthier, but I just think brown rice tastes SO much better than white rice… I'm that way with bread too. Why would you want to eat white bread when you could have delicious grains and so much more "body" to your bread? But maybe that's just me.
Cinnamon Raisin Brown Rice Pudding (4-5 servings… 2.5 if you're me):
1 Qt. milk
1/2 C uncooked brown rice
1/4 C honey, maple syrup, agave nectar (I used 1/8 C honey and 1/8 C maple syrup)
1/4 T sea salt
1/2 C raisins
1/4 T cinnamon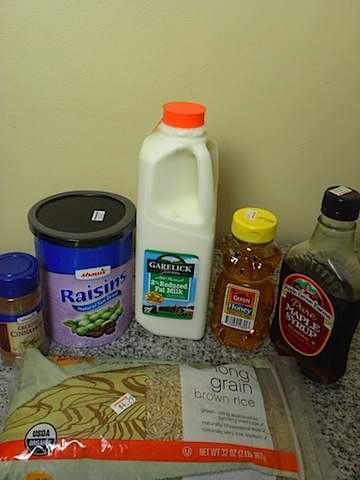 In my infinite quest to pretend I'm a lot healthier than I am, I used 2% milk instead of whole. About 1/2 way through the process, I started to think I majorly screwed up by pretending to be healthy. But I kept with it and in the end, I was soo happy I used the 2%. And I probably consumed double the amount because I figured it was a tad bit healthier. Oops.
Combine milk, rice, sweetener, and sea salt in a large saucepan. Like I said, I used half honey and half maple syrup, which I thought was delicious, but do whatever you choose.
Now, the recipe told me to bring this to a simmer and cook, partially covered on a low flame, for about an hour. I did this and my rice totally was not thickening. So I freaked out, panicked, cried a little. And then gave it another 30 minutes. So, I'd say just keep your eye on it, stir it every now and then and it's ready when it starts to thicken. And don't freak out if you see all that skin on top of your milk; just stir it and ignore (or scoop it out if you can't handle it).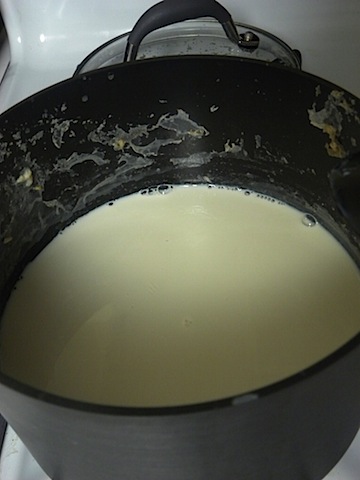 The recipe also told me to add more milk if it got too thick, but I didn't even come close to having that problem (but you may, so there you go).
Now, stir in the raisins and cinnamon. And continue to cook for another 20 minutes until it's thick and the rice is soft.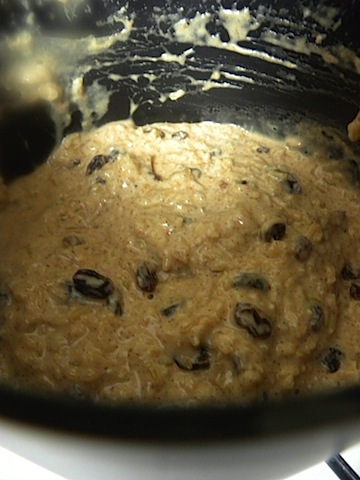 And that is all you have to do!!! Seriously, easiest recipe in the world.
I totally had a huge bowl of it because the more rice pudding I eat, the more comfortable I am, yes?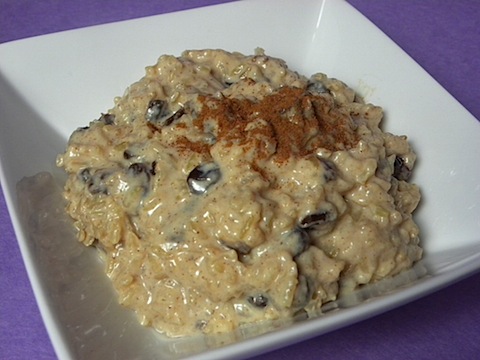 This. was. awesome. If it didn't have a quart of fattening milk in it and a ton of carbs, I would probably eat a giant bowl of this every night. is there a rice pudding diet out there?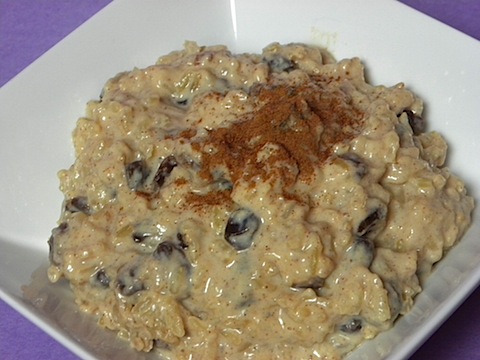 Don't like raisins? Hate cinnamon? You can pretty much do whatever you want with rice pudding. Or leave it totally plain jane if you want. I would personally like to try a peanut butter rice pudding. Or perhaps one of the s'mores variety?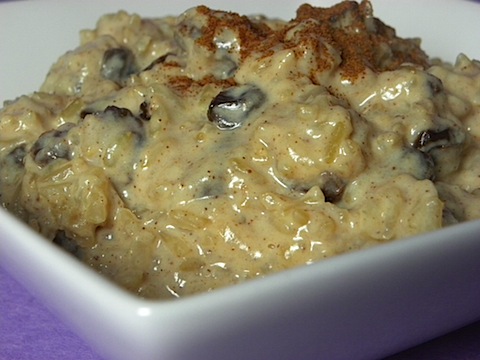 Now that I have this amazing rice pudding recipe in my hands and I know the power of it, I feel like I can conquer the world. Feeling down? I'll make you rice pudding! Need some comfort? Rice pudding! Don't live close enough to Rice to Riches? I'll make you rice pudding!
What kind of rice pudding are your dreams made of?
[Sues]