One of the many things I've learned about living in a small space in the city is trying to creatively make the best use of space in my apartment. You really have to have a good grasp on what you're working with and try to utilize every nook and cranny to the fullest.
I've really been in need of a workstation for my computer and large printer but I wasn't willing to settle on just anything. I wanted something that made great use of my bedroom space but also matched my style without feeling like a dreaded office. For months, I had my computer set up on my coffee table in the living room while my printer's home was next to one of the sofas. It was a strange and uncomfortable set up but like I said, I wasn't willing to settle!
After some searching, I finally found the Sloane Leaning desk at Crate and Barrel and with its narrow but tall structure it fit the space I was eying. My sister and her husband have the whole set in mahogany, but with a little research and the help of Bruce at the Crate and Barrel on Boylston Street, I was able to track down the desk in white! With the walls in my bedroom being a very stark white and my bedroom furniture set being black, I figured this desk would work perfectly by placing little pops of color on the shelves.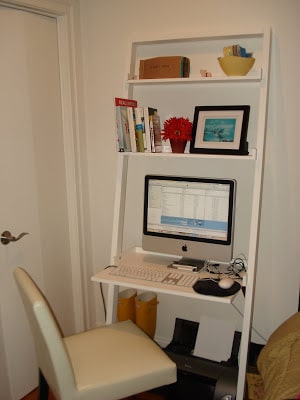 As for the chair… the last thing I want my bedroom to look like is a typical office so a basic black office chair wasn't going to cut it this time. I chose a great white leather chair (the Pullman Leather Chair @ Crate and Barrel), which I think I'm falling in love with… it's so comfortable and makes me motivated to sit at my computer doing work! Cause I love leathaaa -anyone who watched Project Runway will appreciate that 😉
Other corners of my space: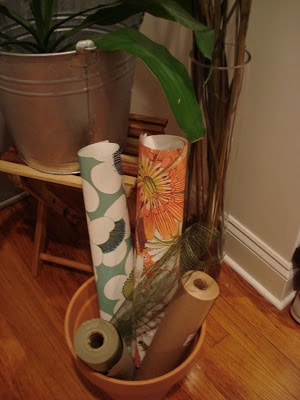 my paper garden 😛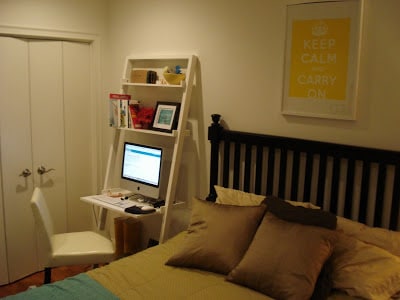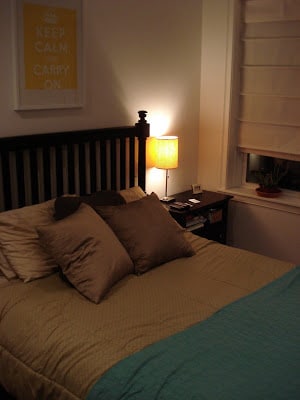 It's crazy how productive you become when you have a clean bedroom. Should have listened to my parents a longggg time ago… woops! 😛
[Chels]