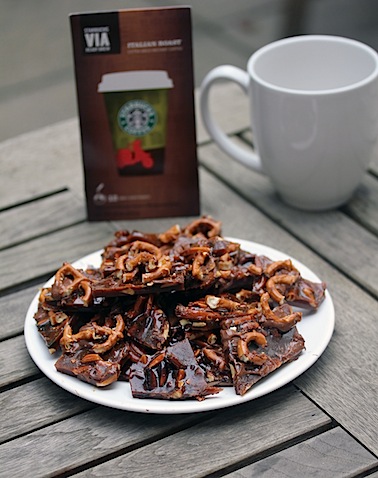 I know there are people out there who don't like coffee. And I try really hard to understand. I do. But I just can't. I get that it's an acquired taste. You have to enjoy strong, rich, and multi-dimensional foods. You can't like weak flavors. You have to crave powerful and fragrant. Like a good strong beer or a pungent cheese, coffee isn't for the weak-willed. But even if you don't crave a big strong cup of coffee, can we still agree that the essence of coffee is a beautiful thing? Coffee in desserts and marinades adds flavor that you just can't get from anywhere else.
Starbucks recently sent me a package with some samples of their VIA. Not only have I been drinking it up, but I also decided to try out one of the recipes they sent me with the package. It was for Coffee Toffee with Milk Chocolate and Pretzels and I jumped right on board with it. You should, too. I have a feeling it could change your whole outlook on coffee.
Coffee Toffee (makes a pan full of toffee… AKA a lot):
Print this recipe! 
2 C sugar
1/2 C water
1/8 C corn syrup
2 sticks (1 C) butter
1/2 t salt
1 C almond slivers
1 C pretzels, chopped
2 packets Starbucks VIA
1/2 t vanilla
1/4 C milk chocolate, chopped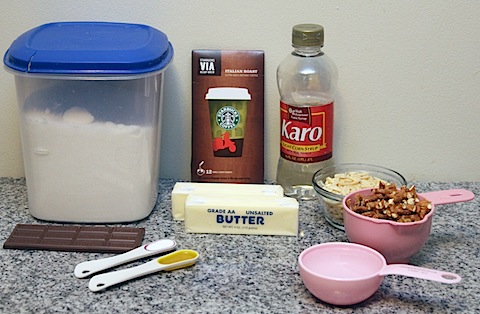 First of all, have you had VIA yet? I'm pretty sure it's saving my life. Starbucks sent me a couple boxes of it and I immediately brought it to work and stuck it in my desk drawer. I recently started a new office job and while I love it, it's definitely incredibly different from working at home (and sitting in front of the coffee pot all day). Especially when I have things to do after work, like teach a blogging class until 9 p.m., I need an afternoon pick-me-up. VIA to the rescue! All I have to do is heat up some water and pour the VIA in.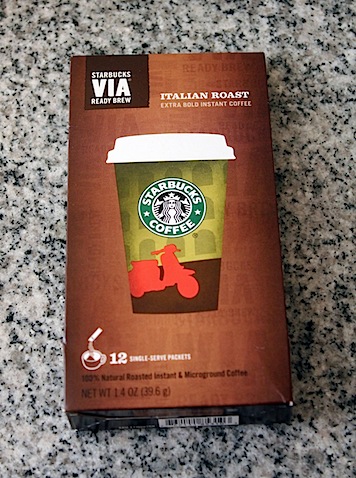 But in case you're thinking "ew, instant coffee." I swear it's not like that. Starbucks wouldn't do that to you and you know it. VIA actually tastes just like a cup of coffee you would buy at the Starbucks down the street. It's kind of amazing how they do that.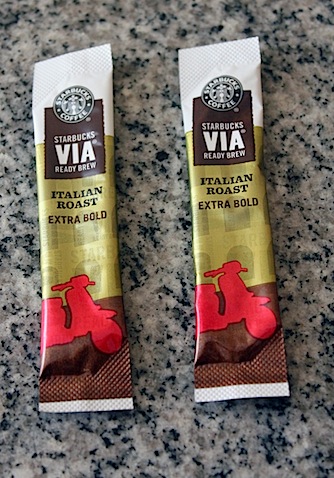 So, yes you can drink it just the way it is. But it's also perfectly ideal for mixing into any and all baked goods.
To start, sugar, water, and corn syrup to a boil. Using a candy thermometer, boil until mixture reaches 280 degrees F. I thought my thermometer was malfunctioning, so I used two. Yes, I have multiple candy thermometers.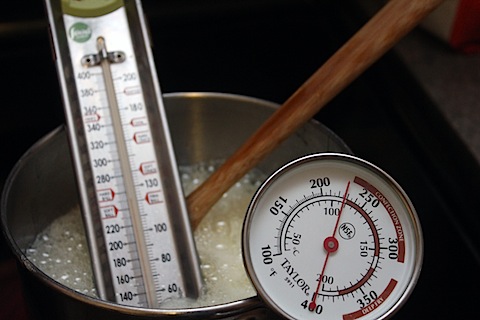 Once the mixture reaches 280 degrees, stir in the butter. Then let the mixture heat further to 315 degrees. Stir in the salt, almonds, and half the pretzels.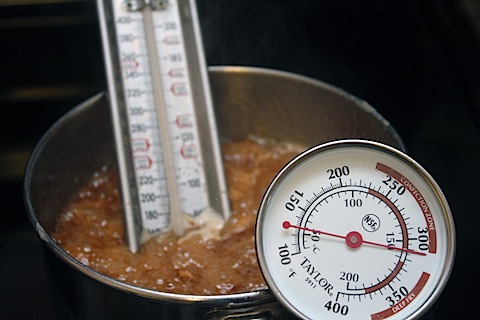 Cook until the mixture reaches 320 degrees and then remove from heat and stir in the Starbucks VIA coffee and vanilla.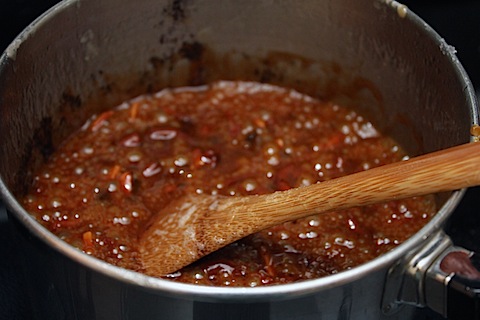 Pour the toffee into a greased 9x13x2 pan with sides. My pan was a big larger, but as you can see, it was no big deal.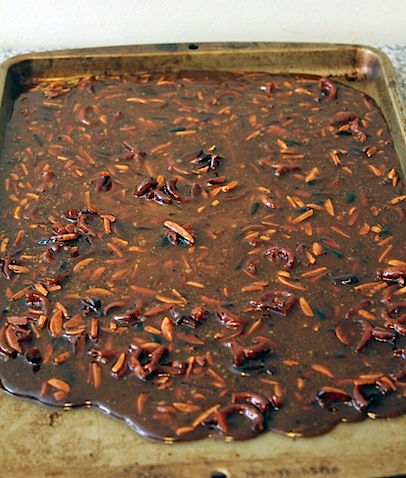 Let the toffee cool for about 15 minutes and then sprinkle on the milk chocolate to cover the surface of the toffee. The sprinkle on the rest of the pretzels and gently press into the chocolate.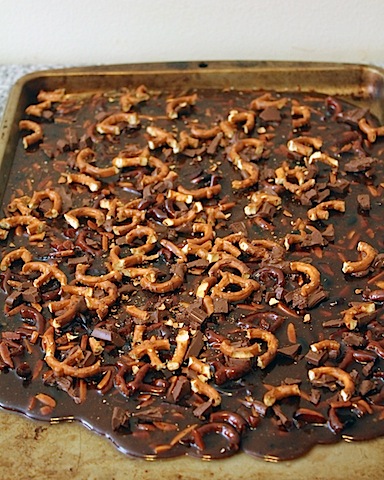 Break the toffee into pieces. You can store in an airtight container for up to 2 weeks. I put mine in the fridge so the chocolate could harden and have been enjoying it for a few days now.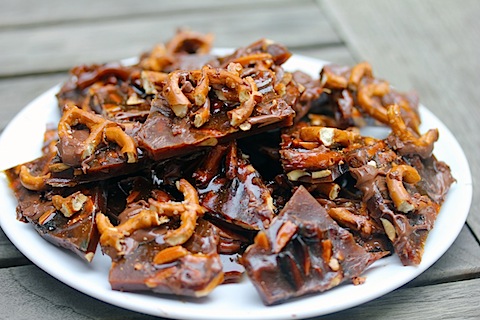 If I'm being completely honest, I have to say this toffee is absolutely amazing! It was my first time making toffee and now only did it taste just like it should, but the coffee gave it a whole new dimension! Of course, I already loved the salty/sweet contrast of the pretzels and chocolate, but the coffee added a depth and slight bitterness that made this more mature than the average coffee.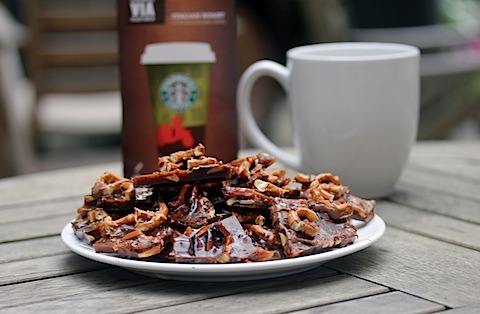 I know it's a little bit too early to be thinking about holiday presents, but this toffee nicely packaged with a pretty bow would make an amazing gift. Perhaps with a little box of Starbucks VIA attached? What, that makes me sound like a walking advertisement for Starbucks?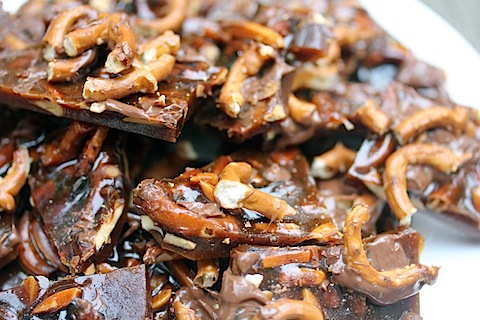 While I'm coming up with big ideas, why doesn't Starbucks start serving this toffee at their shops? I have a feeling it would be an absolutely huge seller. Coffee, chocolate, toffee, and pretzels… I'm telling you, dreams do come true!
Starbucks VIA Giveaway!
Starbucks wants to give one of our readers the same gift package they sent me! It's filled with a few packages of VIA, some pretty recipe cards, and a Starbucks spatula.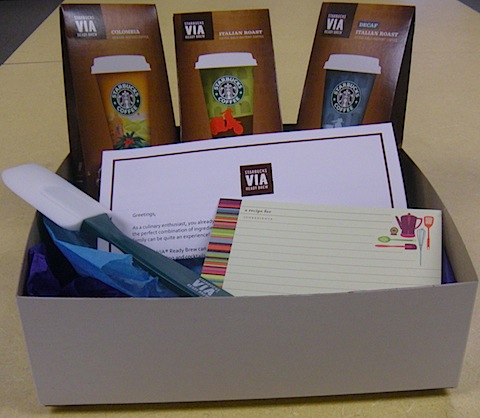 To enter the giveaway, let me know what you like adding coffee to when cooking or baking.
For additional entries:
1) Follow We are not Martha on Twitter
2) Tweet about this giveaway
3) Fan us on Facebook
Please leave a comment for each additional entry.. And also let us know if you're already following/a fan/etc. for extra entries. Enter until Sunday October 2, at 11:59 p.m. Good luck!
Edit: Did you know it's National Coffee Day on Thursday! I guess this post is just in time 🙂 I love when things fall into place like that… And National Coffee Day might be the best idea ever!
[Sues]