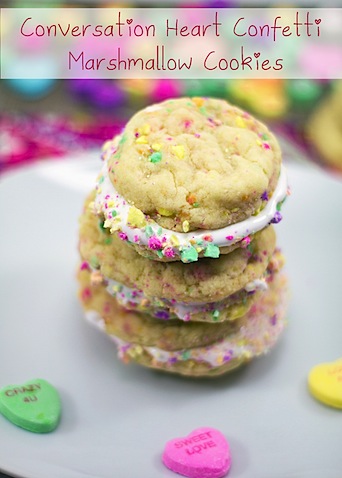 I swear conversation hearts get weirder every year. And harder to read. Or maybe that's just me getting older and having failing eyesight? But seriously, if the m&m people can so perfectly transcribe "m&m on each of those little candies, why can't the conversation heart people transcribe their witty little sayings in a legible manner? Isn't there a machine that does things like that in 2013? Or do they seriously think I find joy in spending an hour sorting through a bag of conversation hearts separating the legible ones from the "huh?!" ones? OK, maybe I do. There is something oddly calming about it, after all. Plus, I get to see all the weird sayings… Like, why are there conversation hearts that say, "no way" and "get real" and "see ya"? I thought they were supposed to be loving and sweet. I guess these really are real life conversations, yo.
In case you don't know by now, Valentine's Day season is one of my favorite parts of life. Mainly because there's so much prettiness around. And hearts and pink. It just makes me happy in this dead of winter. And conversation hearts fill my heart with joy. Sugary artificial joy. I'm actually kind of surprised they don't have a better reputation. You know, why haven't celebrities started coming out with their own lines of conversation hearts? Justin Bieber's could all be purple and say things like "baby, baby, baby, ohhh." and "never say never." I think I just came up with a whole new business plan. But for now, we'll do cookies.
Conversation Heart Confetti Marshmallow Cookies (makes about 2 dozen cookies or 1 dozen sandwiches):
Print this recipe!
3/4 C sugar
1/2 cup butter (1 stick), softened
1 egg
1/2 T vanilla extract
1 2/3 C flour
1/2 t baking soda
3/4 t cream of tartar
1/4 t salt
1/2 C marshmallow fluff (make your own here!)
1 1/4 C crushed conversation hearts
Optional: Large conversation hearts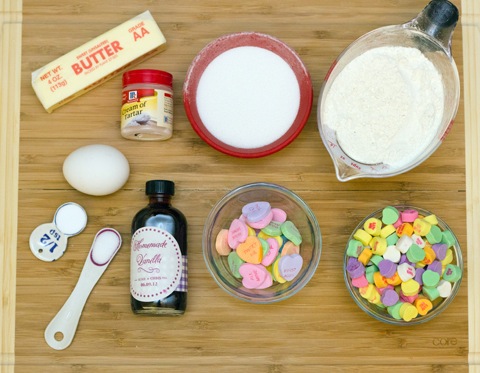 I recommend putting your candies in a sturdy plastic bag and placing a towel over and under the bag. Hello, pretty conversation heart candies (except when you get up close), you are about to be demolished.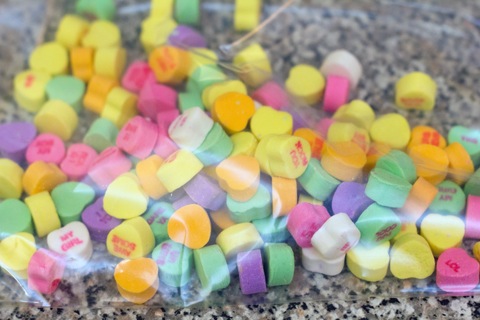 With a meat mallet. That was fun. Only not really because there's nothing I hate more than crushing candies. I'm just really bad at it. And I swear my neighbors were about to call the cops hearing all the racket coming from my apartment. Not to mention, I'm pretty sure I came close to splitting my kitchen counter into two.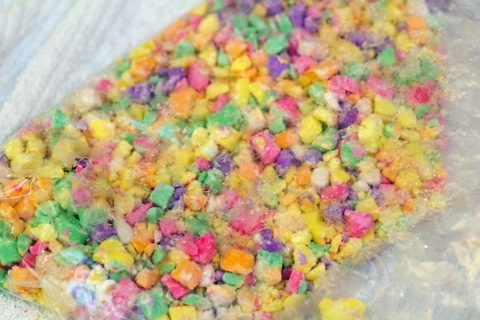 Cream sugar and butter together in a stand mixer (or a bowl with a hand mixer) until light and fluffy.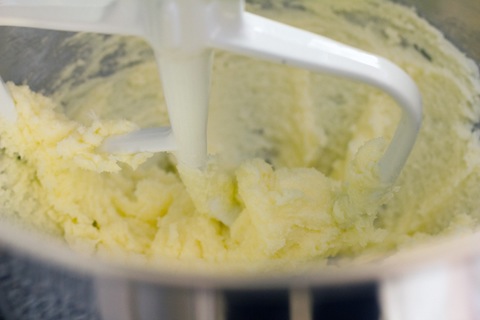 Then add egg and vanilla and mix to combine.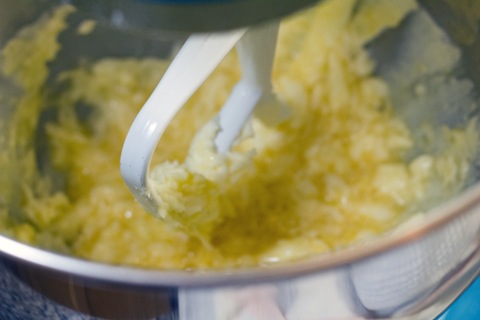 In a separate bowl, whisk together flour, baking soda, cream of tartar, and salt.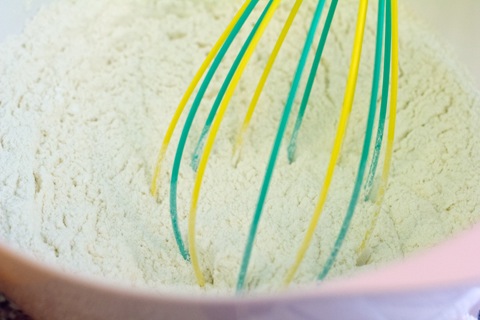 Slowly pour the flour mixture into the wet mixture, mixing on low all the time. Stop mixer when dough is just combined — you don't want to over-mix.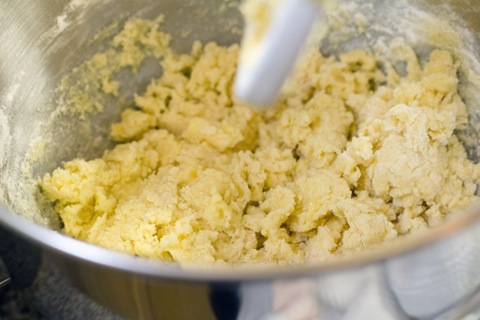 Now, here's where I wasn't sure what kind of cookies I wanted to make. So, I decided to try two options. I should have really done two full batches because both were fabulous. I separated my dough into two equal portions and in one bowl, I combined about 1/2 C crushed conversation heart candies. I put the rest of the crushed hearts into a separate bowl.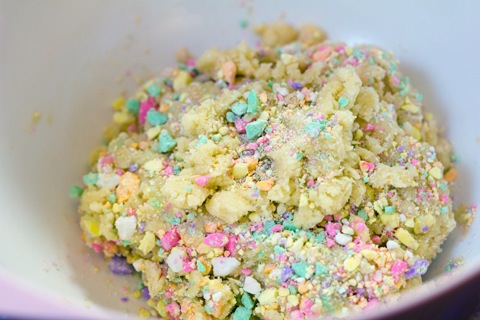 The rest of the dough, I simply left plain.
No matter which dough you make, you can lay cookie dough out the same. Using about 1 T of dough, place small balls on parchment paper-covered cookie sheet about 1 1/2 inches apart. Bake at 350 degrees for about 8-12 minutes, until edges are JUST starting to get brown.
If you're making the cookies with the large conversation hearts in the middle, take them out of the oven when they have about 5 minutes left to bake, stick the heart in the center, and return to the oven.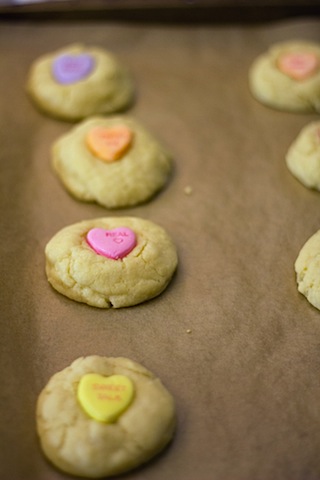 While the cookies are baking, make sure you have your marshmallow fluff prepared. You can buy it or make it using this super quick and easy recipe. If it were socially acceptable, I'd be making marshmallow fluff every day. I just enjoy doing it.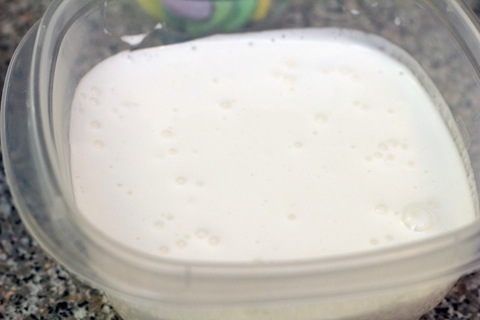 When the cookies are done, let them cool on for a couple minutes on baking sheets.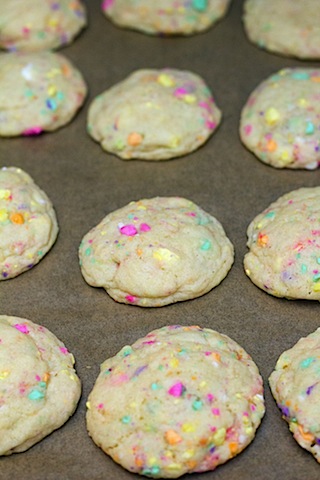 And then move to a rack and let cool completely.
And I do mean completely. You need the cookies to be 100% cool before you start spreading the fluff. Otherwise, trust me, fluff everywhere.
But once the cookies are cool, spread one with a thin layer of marshmallow fluff and then top with another cookie. Now, roll the cookie in the bowl of crushed conversation hearts.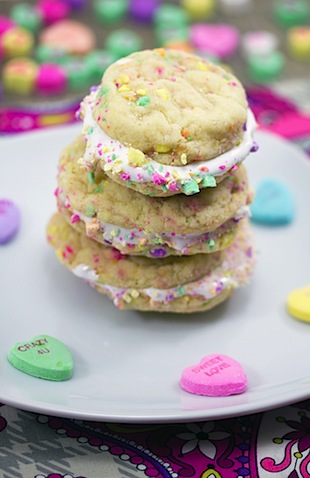 Once you build the sandwich, put the cookies on a plate and pop in the fridge. You'll find that a little fluff goes a long way in these and you don't want to overdo it or fluff will be oozing everywhere. And you want to refrigerate to cool the fluff so it's not so messy.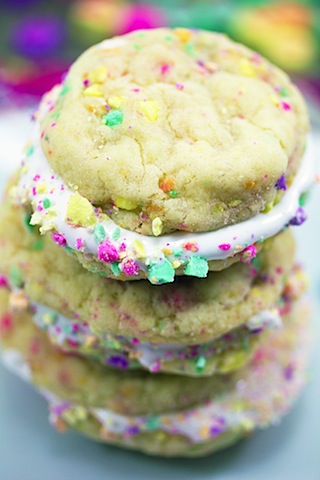 And you have yourself a conversation heart cookie sandwich! When I bought these conversation hearts, I was kind of thinking "do people actually eat these things?" But then I had a few and realized that in addition to being pretty, they're actually kind of addicting. They're basically all sugar after all. But they're especially good in a cookie because they're crushed and well-distributed and give a bit of a fruity flavor. In a good way.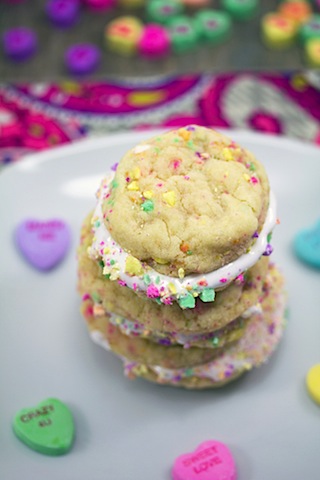 And they make for a fun funfetti-like look. I wish my spellcheck recognized the word funfetti. It's not like I don't say it enough.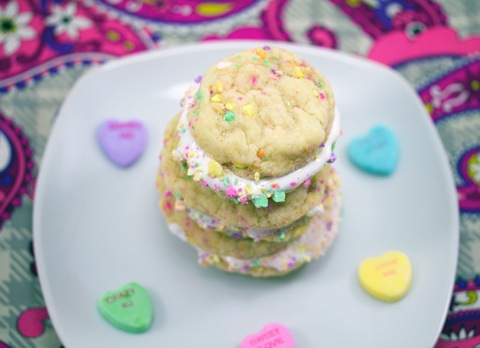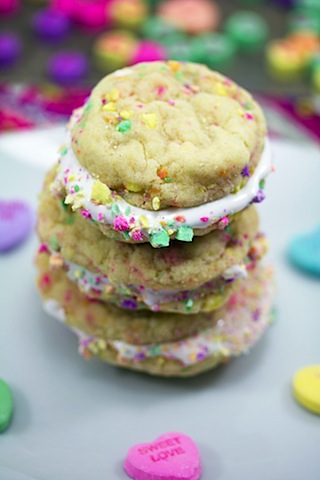 But I also loved the cookies with the one big conversation heart; perfect for actually displaying a message.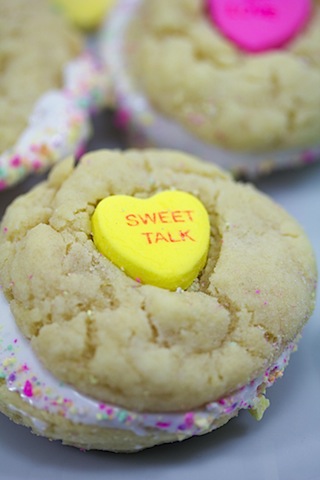 Obviously this is my favorite one. I just love modern candy. LOL. Remember when they had conversation hearts that said LOL? I didn't see any of those this year. Guess that's very 2008.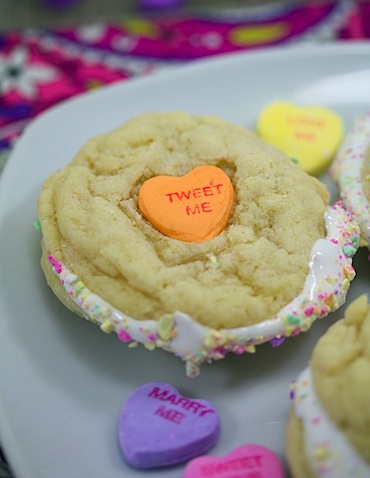 It's a conversation heart wonderland! And something to brighten everyone's dark hearts in the middle of the winter. I mean, my weather app says 3 degrees this morning. THREE. I mean, is it even safe to go outside? Will I die on my 7 minute walk to the T? If I do, I'll take comfort in the fact that these cookies were the last thing I ate.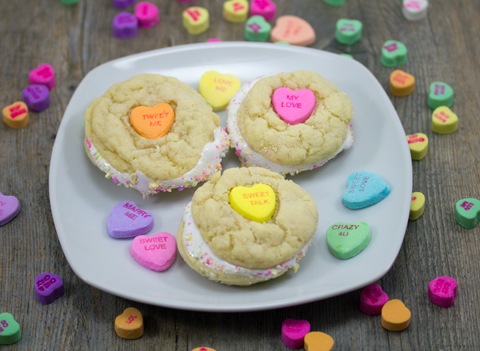 Seriously though. I should serve these with a giant mug of hot chocolate. And then stay in bed all day with a plate of cookies and my mug, keeping the shivers away. And reading mass-produced sweet sayings.
OMG. As I posted the above photo, I realized there IS a conversation heart in it that says "LOL." So, I guess that one didn't go out with 2008. Always so on top of modern trends, conversation heart people. Speaking of, do they have any that say OMG?
But seriously, what celebrity would you like to see come out with a line of conversation hearts? Or we could go for movie themes, too. I'm thinking a nice Twilight pack with the hearts all in various shades of blue and saying things like "you are my life now" and "the lion fell in love with the lamb." And wow I know way too much about Twilight to be comfortable with myself right now.
Anyway, I'm fairly certain these won't be last conversation hearts you see on WANM this Valentine's Day season. Somehow I got my butt in gear early this year and still have about 3 weeks of Valentine's love to go. Let the love-fest go on!
If you could make your own conversation heart, what would it say?
[Sues]