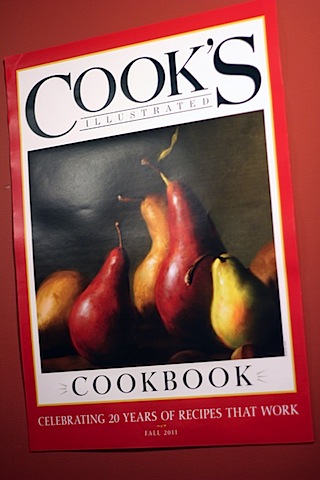 There are a few things about me you probably don't know. Like the fact that I get really infatuated with certain celebrities/persons of interest. Like, um, Donny Osmond. Ugh, I know. But that's not what we're here to talk about. If you've been reading WANM for a long time, you've probably noticed I talk about Cook's Illustrated and Chris Kimball quite a bit over the years. I actually wrote about him in one of my very first blog posts! In my eyes, Chris Kimball is a God. Ever since my dad introduced me to Cook's Illustrated and America's Test Kitchen when I was in college, I've held Chris Kimball in incredibly high regard. And when I was in grad school and contacted a random email address on the ATK website to see if I could ask an editor some questions for a paper I was writing... And Kimball himself invited me to call him; I became obsessed. Can you blame me? He gave me a fabulous interview and I got an A on the paper 🙂 Kimball is definitely on my favorite person list!
Though America's Test Kitchen is practically in my neighborhood, I've never had the opportunity to visit. Until tonight. We were invited to the launch party for their new cookbook; the one that compiles recipes from the last 20 years of Cook's Illustrated. How exciting!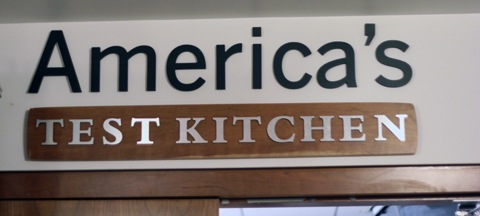 If you don't know a lot about America's Test Kitchen, I'll let you know that they publish my absolute favorite magazine, Cook's Illustrated. It's the magazine I'm most excited to get every month because, though it's pretty short, it's absolutely packed with quality material. The basic idea behind Cook's illustrated is that the cooks in the test kitchen test each recipe over and over and over until they absolutely perfect it. That can mean making a recipe once with ½ C sugar and the next time making it exactly the same way except for using ¾ C of sugar instead. They want to make every recipe as perfect as possible, while also making sure the recipes are completely accessible for home cooks. They explain everything they do exceptionally well and have a reason for everything. Plus? There are no ads!
Of course, America's Test Kitchen also has an incredibly successful PBS show, tons of cookbooks, and another magazine called Cook's Country. They get A LOT done over here in Brookline, MA!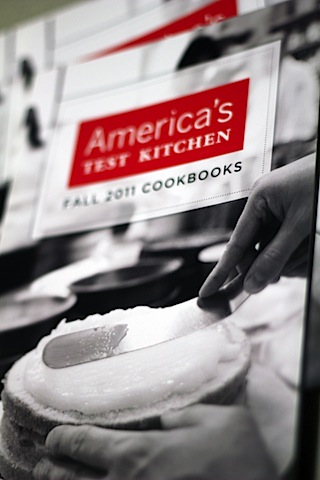 There was so much incredible food at the party (all dishes from the new cookbook!), but I failed to photograph most of it because there were too many completely fabulous people to talk to… and I do not do well talking, eating, drinking wine, AND photographing.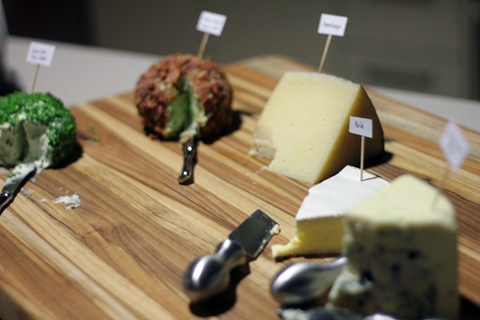 Chels and I met Steph, Social Media Manager for ATK at TechMunch over the summer. She does an amazing job with social media for the entire brand and one of my favorite things tonight was her Wall of Awesome. When a reader cooks an ATK recipe and posts a picture on Twitter, Steph often prints the photo of their dish out and puts it on the wall. This way, all of the wonderful cooks, who who busy in the kitchen, can see their own dishes that readers are recreating. I love this idea, especially since the ATK cooks don't have a lot of time to leave the kitchen and hang out on the internet. It's like a Twitter stream come to life 🙂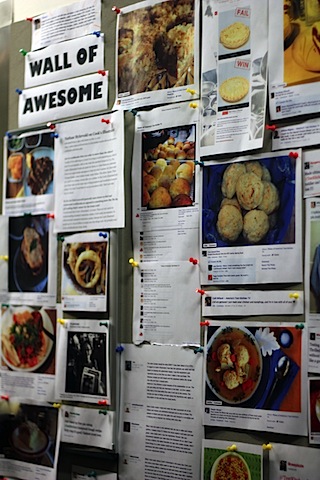 My other favorite thing? America's Test Kitchen is my All-Clad heaven! It's literally EVERYWHERE you look. I contemplated putting a piece in my purse (they'd never notice it was missing! And my purse is HUGE!), but then I realized I wanted to be invited back at some point. Plus my purse was already really heavy. So I just drooled over it, instead 🙂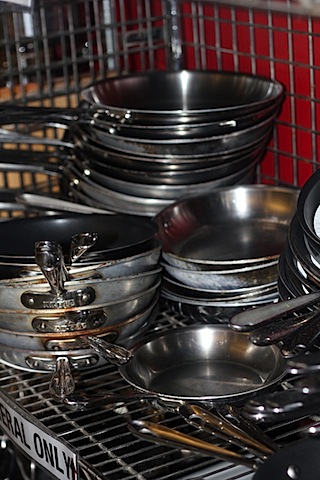 That's not even the half of it. Oh, and it's a Le Creuset heaven, too!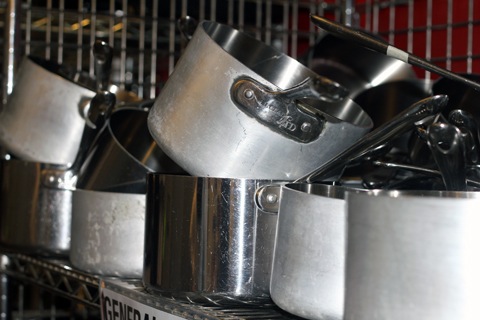 Need a whisk?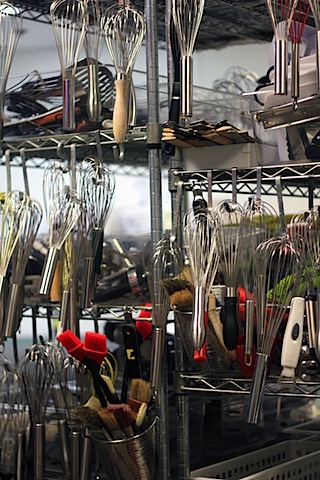 Chris gave a short but very sweet talk, welcoming us to his "home" and thanking us for celebrating their new cookbook with them. He admitted he once didn't quite get blogging and social media, but is now fully supportive of it. Yay!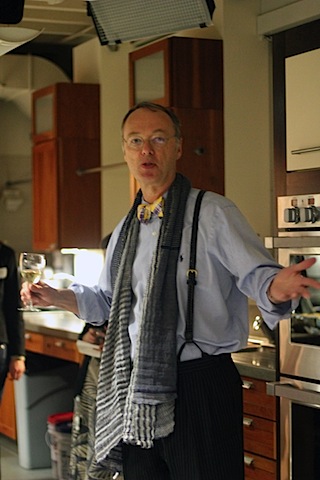 Before we left (you should know Chelsee and I are always the last people to leave every party… beware if you invite us somewhere!), we headed out into the library, another heaven.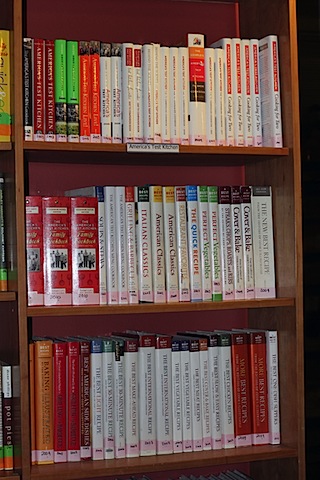 We enjoyed some pecan bars.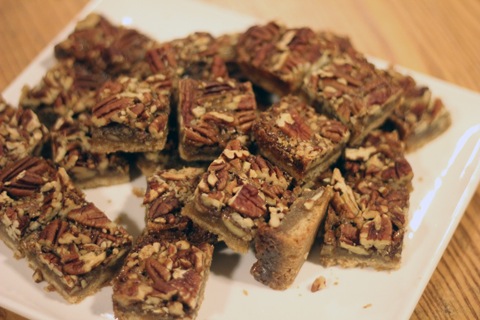 And pots de creme.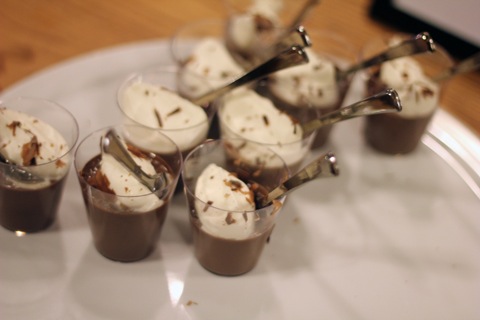 Of course, we also snapped a photo with Chris and BostonTweet! (Um, please excuse my roots. Whoa!).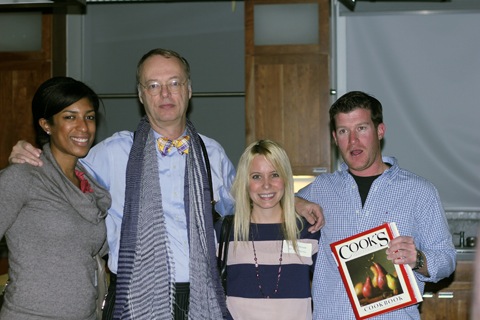 I also had the opportunity to talk to Julia Collin Davison from the America's Test Kitchen show, and she was just as nice in person as she is on television. Oh, and we also got to take home the best gift bags ever, including 2 cookbooks- the new one and the Kitchen Menu Cookbook!
Thanks for inviting us into your home, America's Test Kitchen! We already have plans to return for a full-blown tour, and probably to ask everyone in the kitchen a million questions! I might hide in the refrigerator or something this time, so I never have to leave. Just kidding. I promise...
Are you an America's Test Kitchen/Cook's Illustrated fan?
[Sues]