Couscous was the first thing I thought of when I thought about making salads for Anthenos' Feta Summer Salad Month. Does anything go better with feta than couscous? I don't think so. But instead of simply making a couscous salad topped with feta, I decided to put it in a pepper! Because aren't salads always better when they're in edible bowls? You know you'd rather have a taco salad in a tortilla shell bowl. Amiright? Also, Smitten Kitchen had this recipe on her blog and since I'll cook anything she tells me to, I made it.
Couscous and Feta-Stuffed Peppers (serves 4)
1 1/4 C fat-free chicken or vegetable broth
2/3 C couscous
4 extra-large bell peppers (any colors you like!)
2 t olive oil
1/2 C chopped onion
6 oz. zucchini, quartered lengthwise and sliced across
6 oz. yellow squash, quartered lengthwise and sliced across
1/2 t fennel seeds
1/2 t dried oregano
1/2 t salt
1 C cherry tomatoes, cut in half
15 oz. canned chickpeas, drained and rinsed
1 C crumbled Athenos feta cheese
3 T tomato paste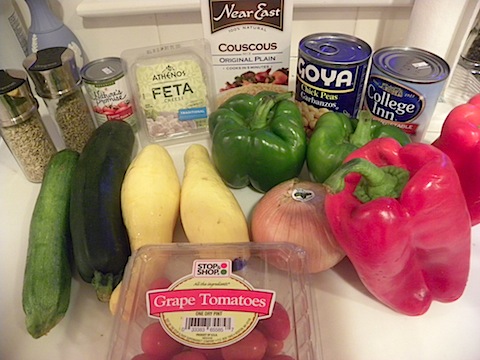 I was dogsitting for the lovely Mitzi while I made this dish and let me tell you, it's hard to cook in a kitchen you're not used to. Not only for obvious reasons, but also because I just wasn't used to the lighting and had a hard time adjusting my camera. Ugh. Let's hope I can figure things out in my new apt. kitchen pretty quickly!
Anyway. Start by preheating your oven to 350 degrees and coating a baking dish with cooking spray. Then cut the stems and top half inch of the peppers off and scoop out the seeds and membranes. And put the peppers in the baking dish. Like so: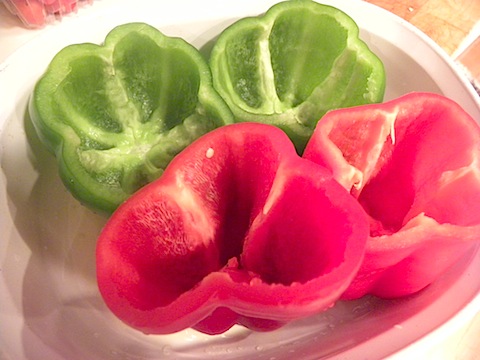 Now, boil your chicken or vegetable broth in a saucepan. Add the couscous, cover the pan, and then remove it from the heat.
Once your oven is heated, pop the baking dish with the peppers in and roast them for about 15 minutes, until they soften. Then take them out and set them aside.
Now, you can start chopping. I didn't measure out all my veggies and basically just used a small onion, zucchini, and squash.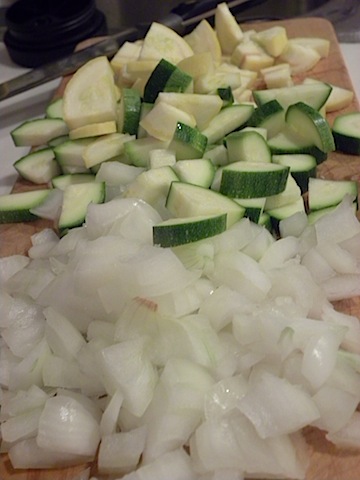 Heat the oil in a nonstick skillet and add the onion, zucchini, squash, fennel seeds, oregano, and salt. Cook, stirring frequently, for about 5 minutes until vegetables soften.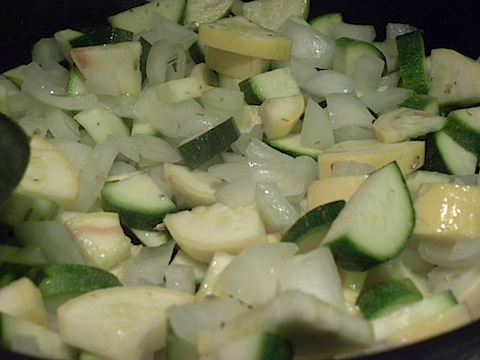 Remove the mixture from the heat and add the tomatoes, tomato paste, and chickpeas. Stir it all together.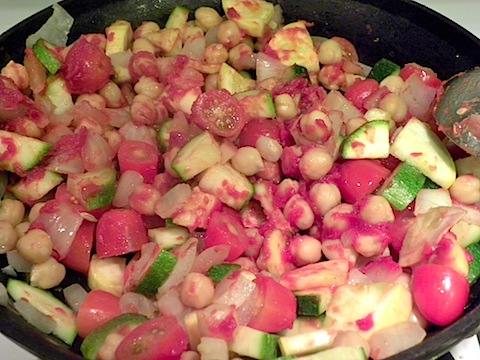 Add the couscous into the mixture, mixing it in. Stir in the Athenoa feta.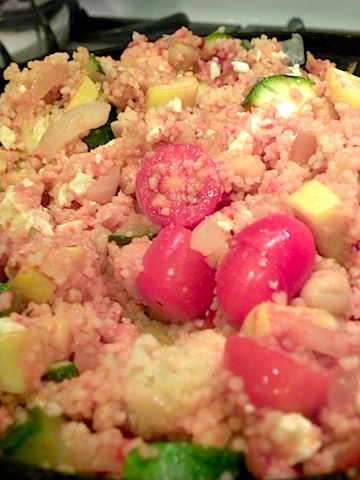 Now you're ready to fill the peppers with the couscous mixture.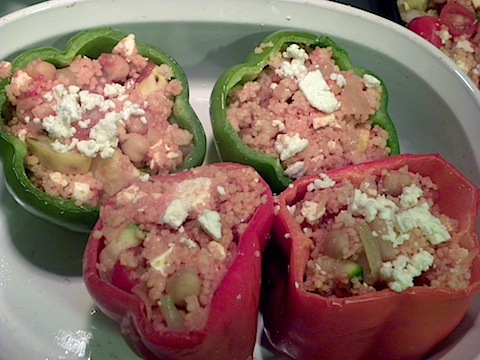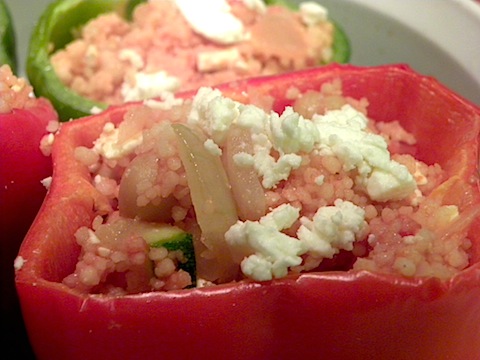 Bake the peppers for 15 minutes.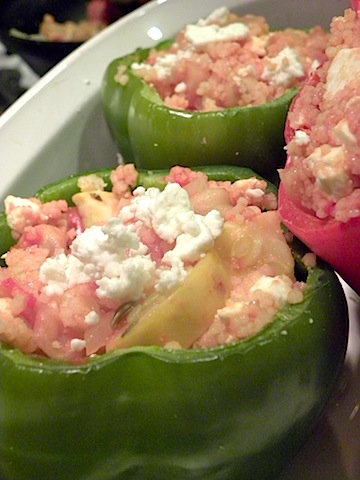 And they're ready to eat! I loved that this meal was so absolutely filling without involving any meat. I ate the peppers for dinner two nights in a row… And I actually ended up with a lot of extra filling, so I had the couscous salad with feta for some meals as well.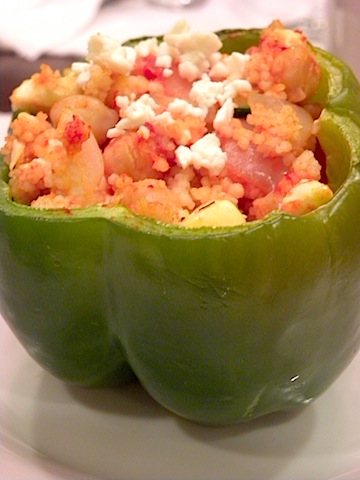 But the best part of the meal? The company that came along with it. Which involved my beautiful "cousin" Mitzi. If only everyone was lucky enough to have such an incredibly loving, happy dog in their lives. Her cheerfulness is infectious!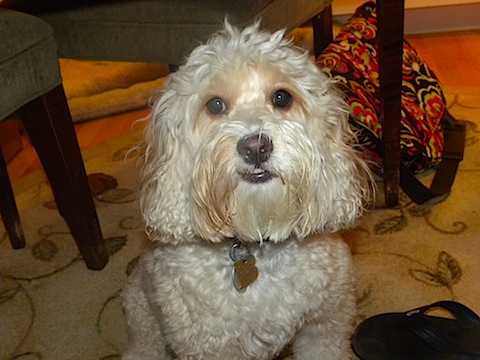 Peppers stuffed with couscous and feta and a beautiful little pup? Life is wonderful 🙂
[Sues]