I don't really consider myself much of a granola person. Earthy/crunchy I am not. I've always loathed Birkenstocks. Camping is not my thing. Never has been since I was in the Girl Scouts of America and stayed overnight in a tent that collapsed every hour on the hour. In a lightening storm. In fact, my philosophy is: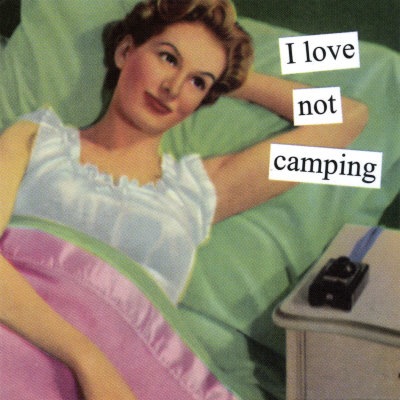 (doesn't she look comfy? via Anne Taintor)
I have a deep appreciation for nature, but just don't feel the need to spend the night in it. I know, I know. I'm just playing up the stereotype of granola and all that 🙂
But guess what? I do enjoy eating granola. From time to time, that is. I'm one of those people who will plow through half a box of cereal in a morning because it's SO good and I just can't stop. And even though this granola is still packed with nuts and sugars, and stuff like that, it just feels better. Because it's homemade. AND it has pumpkin in it. Yes, it's cranberry pumpkin granola, making it your perfect, "hey, it's November and it's getting cold and I feel the need to store food in my cheeks like a chipmunk." Just me? All I'm saying is that it's the perfect seasonal snack.
Cranberry Pumpkin Granola (makes about 6 cups):
• ¼ C unsalted butter
• ¼ C pumpkin puree
• ½ C maple syrup
• 4 C old-fashioned rolled oats
• ¼ C roasted, unsalted sunflower seeds
• 1 C dried cranberries
• ¼ C pecans, chopped
• ¼ C walnuts, chopped
• ½ C shredded coconut
• ¼ t ground cloves
• ¼ t ground nutmeg
• ½ t ground cinnamon
• ½ t fine sea salt
Set oven to: 300 degrees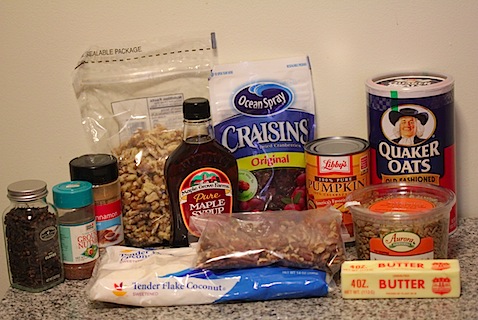 And it's super duper quick and easy, too!
Melt the butter, pumpkin, and maple syrup in a saucepan.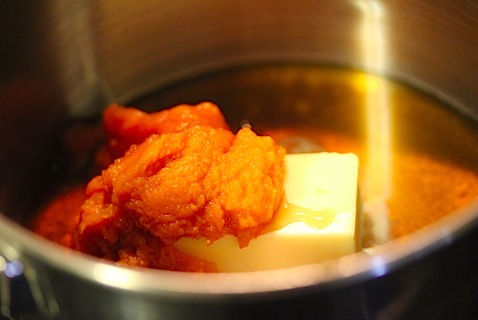 Cook on medium for about 5 minutes.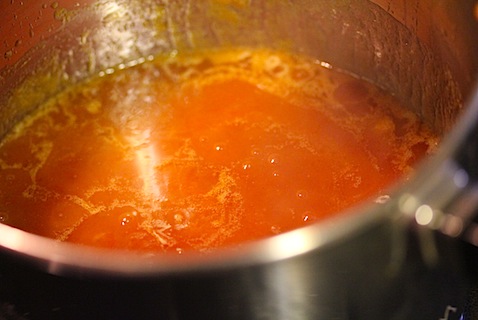 While that's cooking, get out a large bowl and combine the oats, sunflower seeds, cranberries, nuts, and coconut.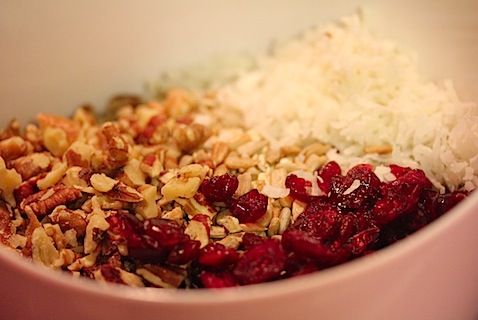 Mix it all together.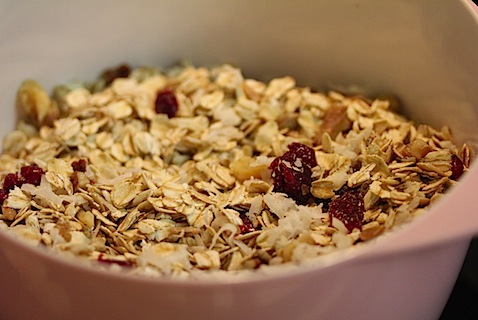 And pour the pumpkin "sauce" over the oat mixture. Add in the spices and salt and stir everything together.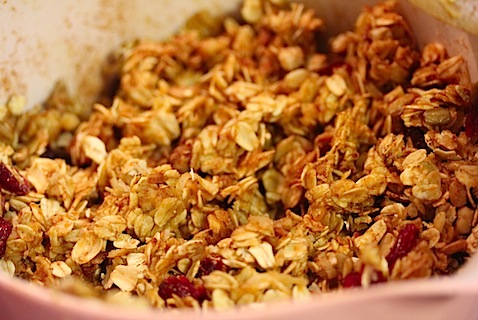 Grease 2 medium baking sheets with butter. And divide the granola on the two sheets, spreading into one layer.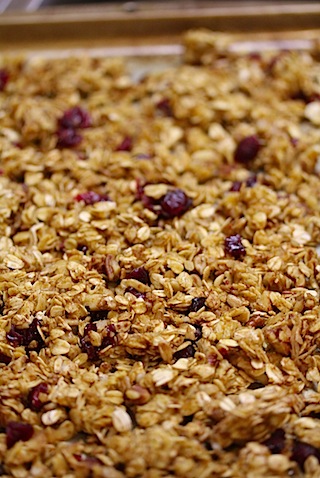 Bake for 45 minutes at 300 degrees. But for best results, make sure you stir the granola every 15 minutes or so. And rotate the pans if needed.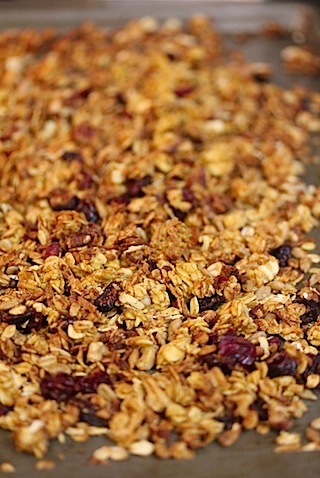 And now? You have homemade granola! Cranberry pumpkin granola at that.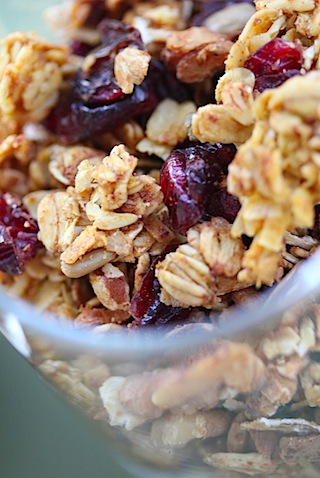 You didn't think I was really going to let the pumpkin recipes go just yet, did you? This might not necessarily be an "orange" recipe, but it does use my favorite orange ingredient!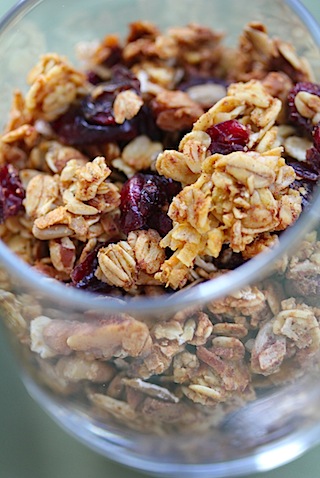 I've been thoroughly enjoying having 6 cups of granola around the house. And even though it's awesomely delicious, I haven't been pigging out on it. Maybe it's because I put my tender loving care into making it myself?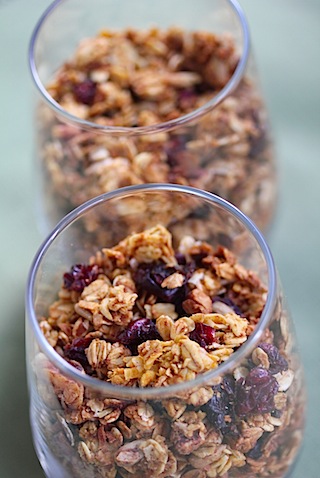 This cranberry pumpkin granola is so good, if you packed me a big bag of it, I might even go camping with it. Just kidding. (and yes, I feel the need to say I'm kidding or else Chris, my sister, and brother-in-law will have my camping bag [pink Vera Bradley duffle] packed for me before I can even get this granola in the oven. Still. Not. Happening).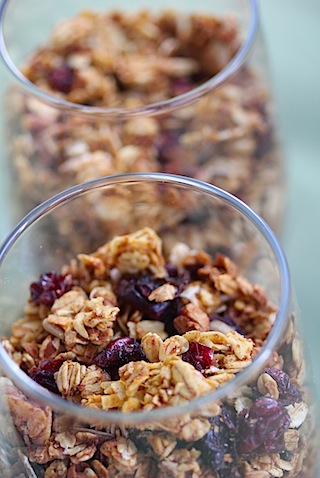 That said, this granola is pretty darn good. And I'd totally sit around a campfire and eat it or snack on it while on a hike. And then head back to my own super comfy bed for the night. And my UNH sweatpants and Ugg slippers. Wait, it's November. It's cold. I'll settle for eating this in front of the fireplace. FINE, I don't have a fireplace. The heater will do.
Are you a "granola" person?
[Sues]