I have a special place in my heart for polenta. It's actually a bit of a joke in my family. One day, my mom repeated to us about 50 times, "Hey guys, did you know that I can make polenta?" Now, whenever we hear anything about polenta, we say, "Mom, can you make polenta???" But it's true that polenta is another one of those foods with a bad reputation. People think it's soo hard to make and they'd rather buy it pre-made. But like risotto, polenta is not difficult! It takes a certain amount of care, but not much skill. And homemade is so much better than anything you can buy.
Last night was actually my first time making polenta. I saw a recipe for Creamy Polenta with Artichoke, Caramelized Onion and Olive Ragout on Health.com and because I'm obsessed with just about everything in the recipe's title, I had to make it. And now I can say, "Guess what, mom? I can make polenta, too!"
Creamy Polenta with Artichoke, Caramelized Onion and Olive Ragout (serves 4):
For the polenta:
5 C water
1 T butter
1/4 t salt
1 C yellow cornmeal (use stone-ground if possible)
1 C frozen whole-kernel corn, thawed
1/2 C (2 oz) fresh parmesan, shredded
3 T fat-free sour cream
1 T fresh basil, chopped
For the ragout:
1 C boiling water
1/2 C sun-dried tomatoes, packed without oil
2 T olive oil
3 C onion, thinly sliced
2 C chopped red bell peper
4 garlic cloves, minced
1 t paprika
1/4 t crushed red pepper
1/2 C dry white wine
1/2 C water
1 can artichoke hearts, drained and chopped
1/4 C ripe olives, sliced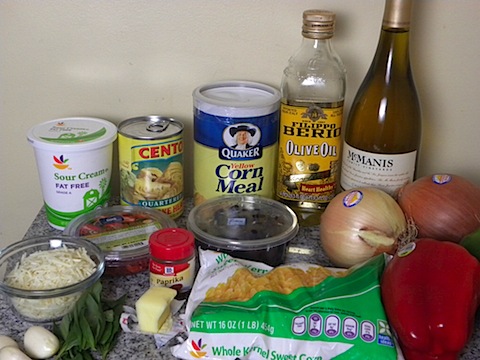 The recipe does seem like it has a lot of ingredients and that it could be a bit complicated, but really, it's not! There's a fair amount of prep work, like chopping the onion, pepper, garlic, etc. But once you get cooking, it's really quite simple.
I started with prepping my sundried tomatoes. I put them in a bowl with some boiling water to let them sit for 30 minutes.
While those were sitting, I started the polenta. Bring the 5 cups of water to a boil and stir in the butter and salt. Then add the cornmeal gradually, stirring constantly. Cook it for 5 minutes, stirring all the while. Then reduce the heat to medium and cook for 15 minutes, stirring every now and then to get rid of lumps. You might need to add some more hot water if it's getting too thick or turning solid.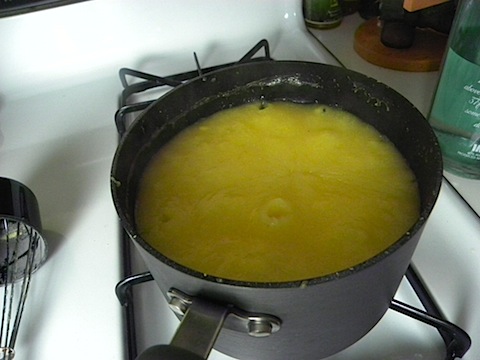 In between stirring, I did some of my chopping. But after 15 minutes, stir the corn into the polenta and let cook for 1 minute. Then remove from heat and stir in cheese, sour cream, and basil. Cover it and set aside.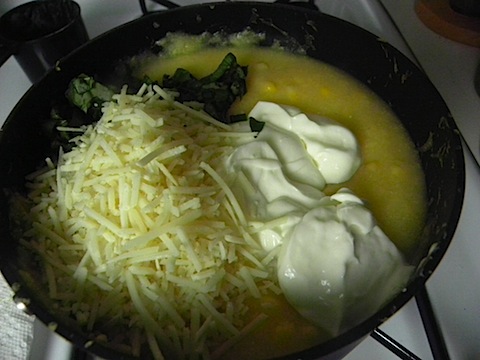 Now, heat your olive oil in a large pan and add the onions. Cook them for about 15 minutes, until they're lightly browned.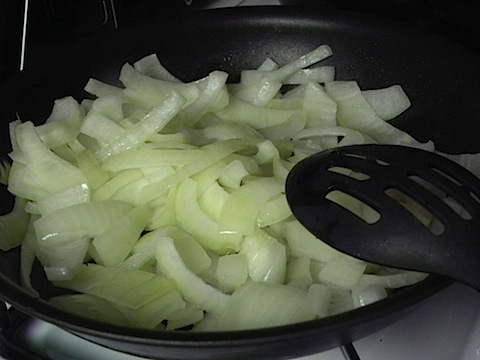 Then add in the pepper and garlic and cook for another 15 minutes, until golden brown, stirring frequently.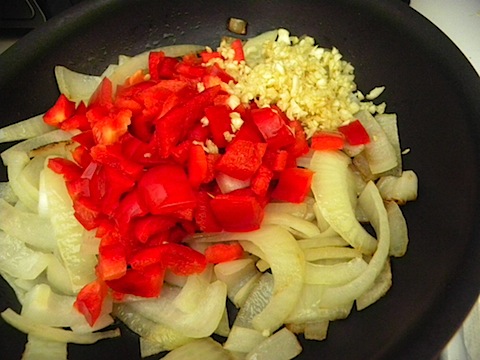 Add in paprika and crushed red pepper. Chop up the sun-dried tomatoes that have been softened in the water. Add the tomatoes, wine, water, and artichokes and stir well. Cover, reduce heat to low, and simmer for about 10 minutes. Then stir in olives.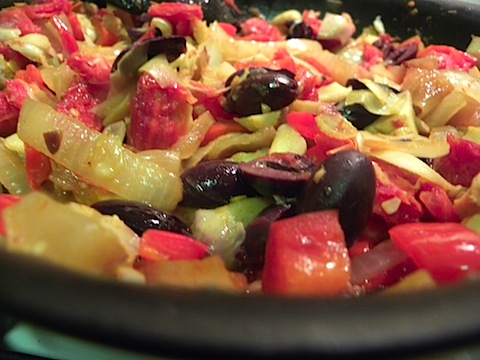 Serve the ragout over the polenta. And dig into the delicious, creamy, veggie filled dish.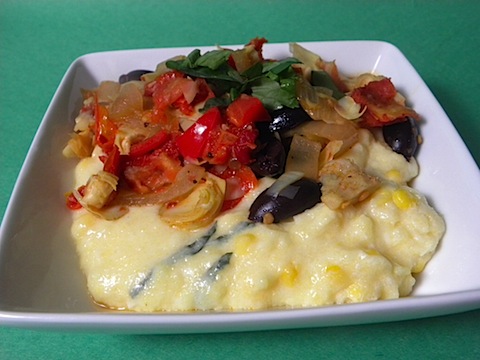 Um, let me just say I have no idea how this recipe was on Health.com because it was the most delicious, creamy, decadent meal I've had in a long time. Actually, as Chris was eating it he said, "This is definitely not a healthy meal."
But really, polenta is relatively low calorie, low fat, and has some protein and fiber. It would have been better to use stone-ground corn meal, but I couldn't find that at my grocery store. Of course, it had some cheese added in, but only 1/2 cup. A little cheese goes a long way, kinda like in risotto.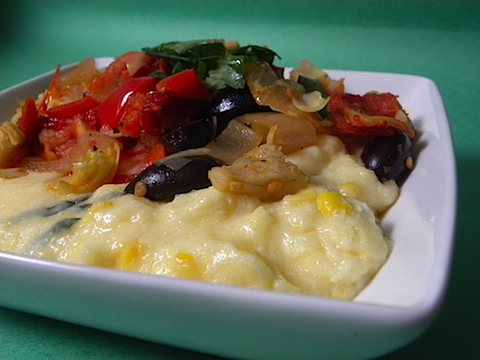 I served 2 HUGE dishes of this and there were still tons of leftovers. Guess what I'm having for lunch today? And seriously, I cannot wait!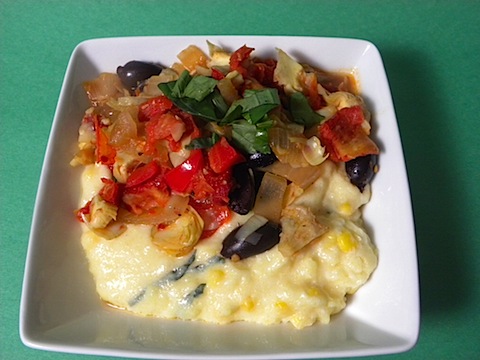 If you've never made polenta, I think this is a great place to start. I'm telling you, it was my first time and I had no problems. You could always just make the polenta to start and serve it as a side dish. But the dish as a whole is wonderful. I would eat this year-round, but think it would be especially delightful on a cool, rainy evening.
OK, I gotta go; it's lunch time!!!
Are you a fan of polenta? What's your favorite way to eat it?
Don't forget to enter our giveaway for an adorable Hip Hostess apron! You still have a couple days 🙂
[Sues]