I feel like you can tell a lot by your neighbors by the types of packages they get shipped to them. Almost every other day there's a package for one of my neighbors from a clothing store, so I just naturally assume she has a shopping addiction. One of my neighbors always has care packages waiting for her in the lobby which makes me think her parents who live in another state really really miss her. I… well, I'm the blogger. The girl who gets bacon shipped monthly, kitchen gadgets shipped weekly, packages that say "refrigerate immediately, shipment contains food". I also wonder if my neighbors ever think about stealing one of my food-related packages. Because I know if one of them had a package waiting for them that had a big ole "Bacon of the Month Club" sticker on it, I'd be tempted to take a little peak… or taste. Just sayin'.
My latest food shipment was from Creminelli Fine Meats. Fine meats, indeed. Along with three variations of salami, I also received Creminelli's delicious book, Meat Salt Time . The book shares everything from the history of Creminelli, the anatomy of a pig, to the entire process behind creating their beautiful meats. In the back you'll find a handful of selected recipes that feature their products. I was immediately drawn to their risotto recipe just because it's that time of year when all you want to do is bundle up in your sweats and only a piping hot bowl of risotto will comfort you.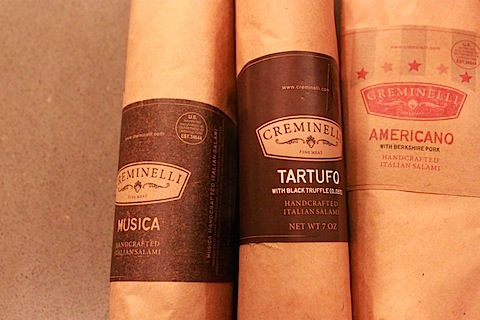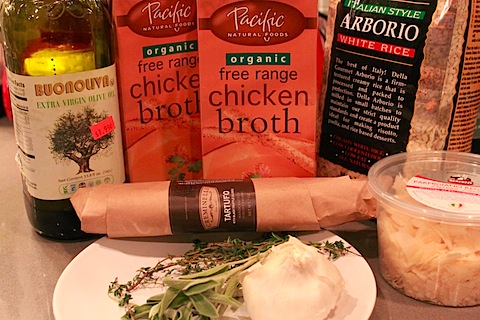 Here's what you need:
• 1/2 cup salami, cubed (the original recipe called for Creminelli's Barolo salami but I used their Tartufo with black truffle since I didn't have the Barolo)
• Extra virgin olive oil
• 1 clove garlic
• 2 sprigs thyme
• 3 cups of Arborio rice
• 2 quarts chicken stock
• 3 sage leaves
• salt and pepper to taste
• 1 cup Parmigiano-Reggiano, freshly grated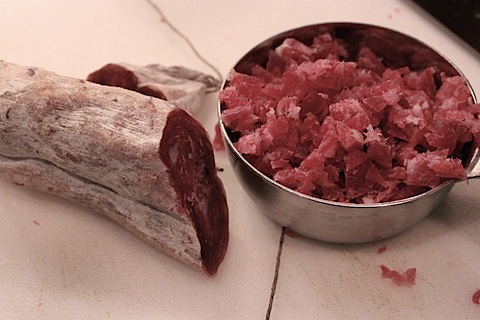 Here's what you do:
• Heat a sauce pot for 2 minutes on medium high heat.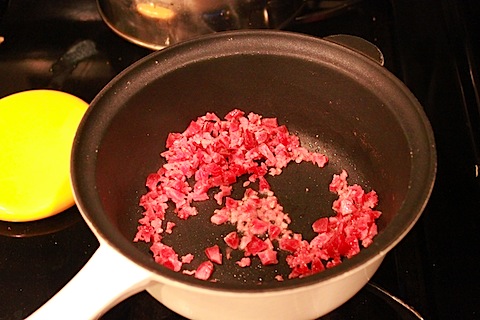 • Add cubed salmi and a drizzle of olive oil. (The recipe suggests using a copper pot but since I didn't have one I used my trusted Le Creuset one that my mom gave me while packing up our old house.) Briefly saute.
• Add the whole clove of garlic and picked thyme and lightly toast.
• Next, you add in the rice and coat all the grains with the rendered salami fat and oils. Ohhh, yum 😉 Toast the rice for 2-3 minutes, making sure to stir constantly.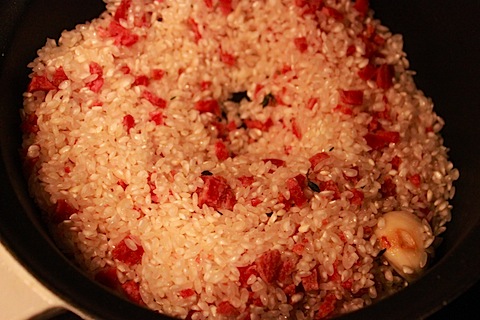 • Now comes the fun part. The labor of love, if you will. Spoonful by spoonful, begin to incorporate the chicken stock, making sure the rice has fully absorbed all of the stock before adding the next spoonful. Really, just think of it as a great arm workout. 😉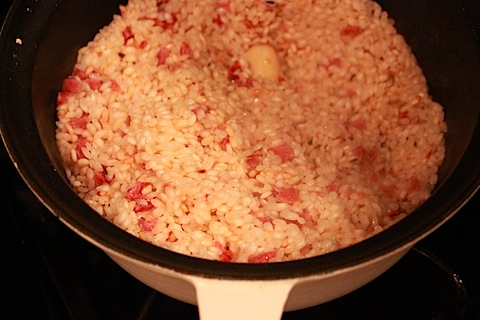 • Continue ladling the stock until the rice reaches the desired bite.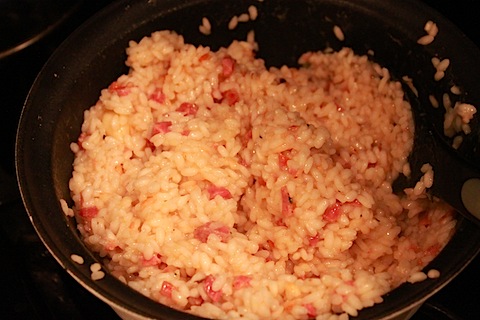 • Season with salt and pepper, add grated Parmigiano-Reggiano and fold through. Garnish with thinly sliced sage and more cheese.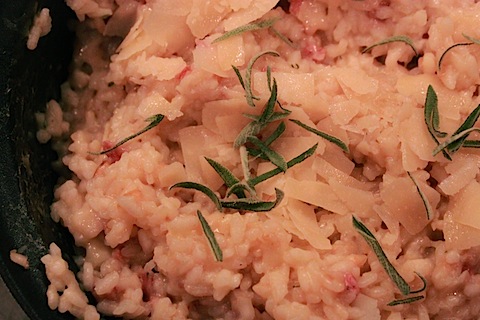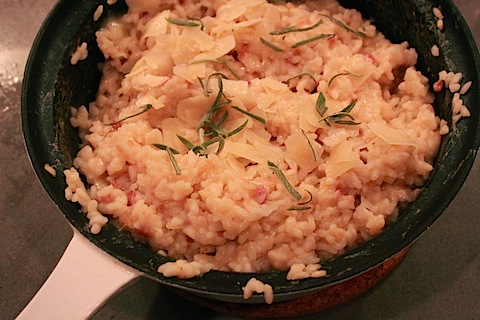 There is not a single thing to dislike about this risotto. Or Creminelli salamis, really. With the first bite it was evident that this salami was special with it's perfect amount of salt and hints of uniqueness throughout. This dish was the only logical solution to remedying a cold and rainy night.
What are your favorite foods to cure a case of the rainy day blues?
Also, be sure to check out my out-of-this-world mushroom tart I made from Tartine's cookbook. Full recipe here; featured on The Mushroom Channel.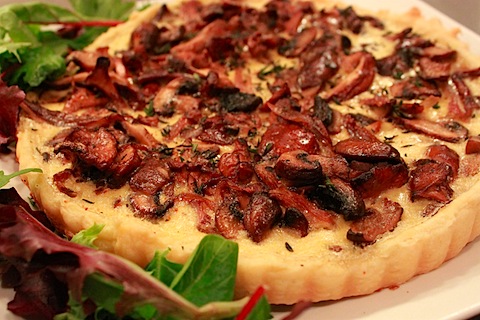 [Chels]