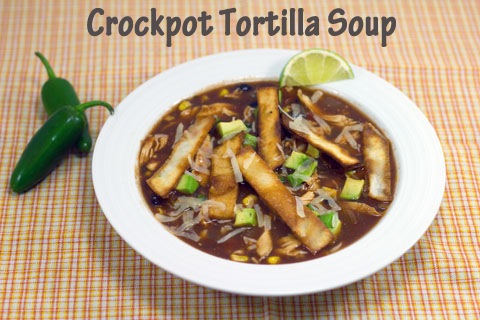 I admit that for a long time I was anti-crockpot. I blame the plethora of recipes featuring cans of "cream of" soups, blocks of cream cheese, and bags of cheese. I'm all for a quick meal and even the occasional semi-homemade meal, but those types of crockpot recipes were just not jiving with my belief system. Yes, I will make fried doughnuts with bacon, but I will not eat a crockpot meal like that. I pick my poison and if it's going to be bad for me, it's going to be awesomely delicious. That's just one of my rules of life.
But lately I've been reconsidering the crockpot. It started when I wanted to make pulled pork and realized how glorious it would be to pop it in the slow cooker and wait. I started wondering why I didn't own a crockpot and why I never ended putting one on our wedding registry. So, it felt lie fate that a couple days after I finally admitted I may want a crockpot, I was contacted by Ninja Cooking Systems. They told me about THEIR crockpot and I was suddenly psyched I never added one to the wedding registry. This one sounded like the best yet.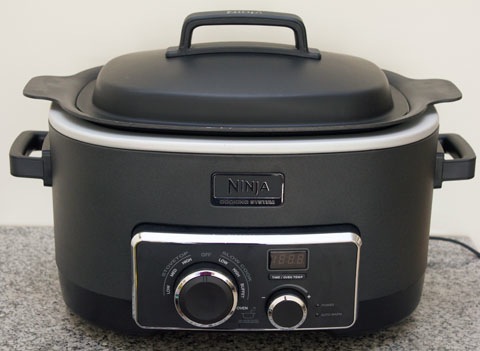 What's so good about this so-called Ninja? Well, it's more than just a slow cooker. Much more! But starting with the whole slow cooking thing, one thing that Ninja does is sear and brown meat and vegetables. Which is basically heaven because you don't have to sear meat and brown onions on the stove before popping them in the slow cooker. You can also deglaze sauces with this option. You can do it all in the Ninja.
Seriously, you can also steam roast and BAKE. Yes, bake. Of course, if you steam roast meat, you'll get an even cook and cut out a whole lot of cooking time while making your meal a bit healthier. But baked goods? I haven't tried yet, but allegedly, you can make all kinds of healthier goodness, including mini cheesecakes to flan to banana lime coconut bread. I will obviously report back when I try. You can make one-pot meals in 30 minutes, even tossing in frozen meatballs and dry pasta. It's like this Ninja is actually… A Ninja.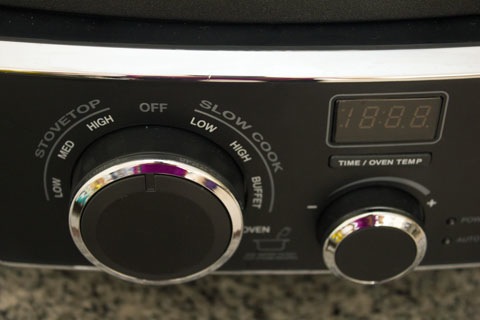 This tortilla soup actually isn't the first recipe I made in my Ninja. I randomly made a batch of mussels the first night I had this beauty in my possession. Why? Well, there was a mussels recipe in the little recipe guide and they looked glorious and I've never made mussels myself before. So I figured if I could find a good deal at the grocery store, I'd whip some up. Well, little did I know mussels are $3.99 for two pounds. Holy best deal on Earth. I snagged them and made mussels right when I got home. Now, I know you don't need a crockpot to make mussels, but I'll post about them soon, so you can see how I used them to break in my new Ninja 🙂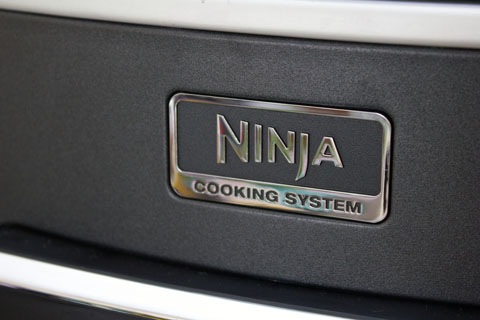 But I've also been wanting to make tortilla soup for a while and when I spotted this recipe in the book, I decided to jump on it… with lots of adaptations, of course, including the addition of fresh jalapeños and elimination of the bottles of enchilada sauce. The result was a soup that I'd definitely make again!
Crock Pot Tortilla Soup (serves about 8)
Print this recipe!
1 T olive oil
1 lb. chicken breasts
1 medium onion, chopped
2 T minced garlic
1 jalapeño, chopped (plus 1 chopped for garnish)
1/4 C fresh cilantro, chopped
2 cans diced tomatoes, drained
2 C low-sodium chicken broth
1 can black beans, undrained
2 C frozen corn, thawed
2 T tomato paste
1 T chili powder
1 T ground cumin
1-2 ripe avocados
Flour tortillas
Canola oil
Shredded cheddar for topping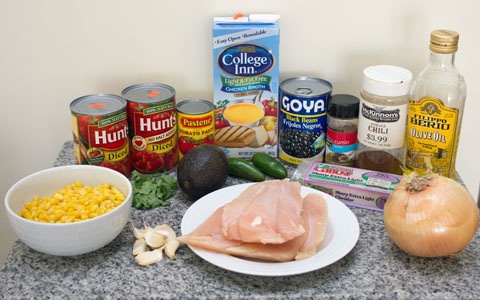 Sear chicken before beginning. I did this in my Ninja with olive oil (if you don't have a Ninja yet, do it in a sauté pan). First, add olive oil to Ninja pot and set to stovetop medium. Heat oil, season chicken with salt and pepper, and place in pot. Cook uncovered for about 5 minutes, until chicken is lightly browned on both sides.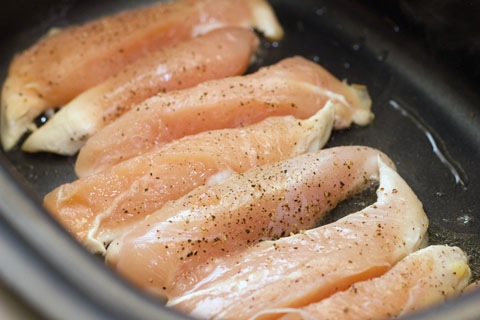 Then you can start adding your other ingredients. This is where things got really easy. I put every ingredient from the onion all the way down to the cumin into the pot.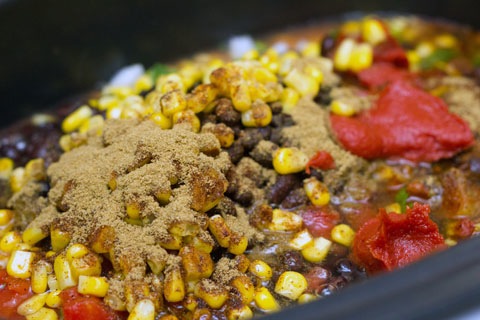 And then I set it to slow cook on high for 2 hours and went away and did my regular Sunday business.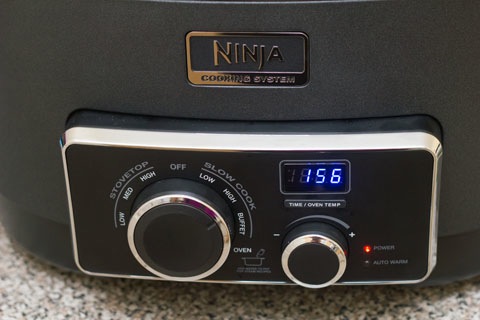 When I returned, my kitchen smelled delightful and this beauty was simmering away.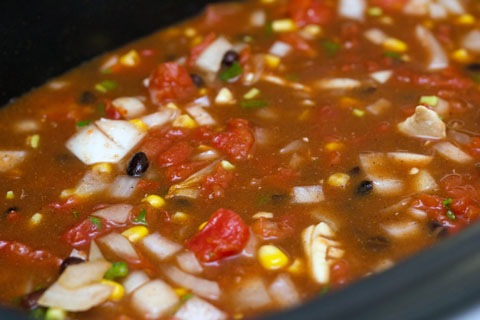 Take the chicken out of the pot and remove to cutting board. Using two forks, shred the chicken and then stir it back into the pot.
When my soup was almost done, I decided to whip up some tortilla strips. I cut flour tortillas into strips.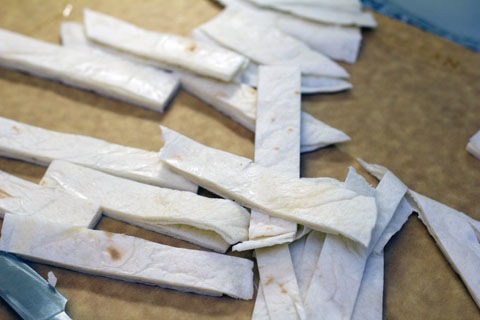 And put them in a pot with about 1/4 inch of canola oil simmering away.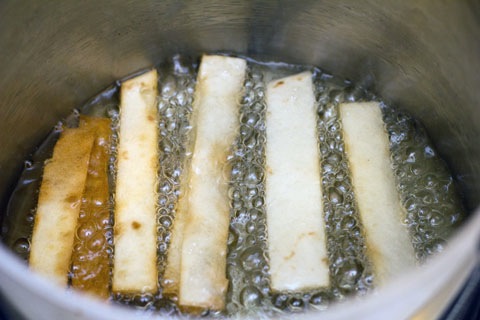 After about a minute, I removed them. And snuck a few bites in. SO awesome. I love my baked tortilla chips, but making these fried ones was so easy and they're so delicious.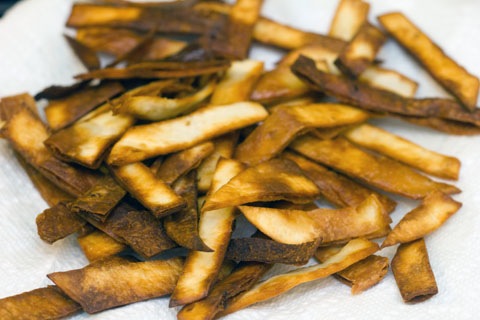 I served up my tortilla soup with the fried tortilla strips on top, along with diced avocado and jalapeño as garnish. Plus I sprinkled in a little Cabot Light Sharp Cheddar on top.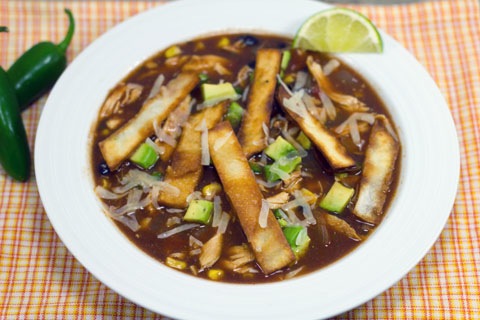 How easy was all of that?? Seriously! Answer me!
A meal that literally took minutes was done and ready to be dug into.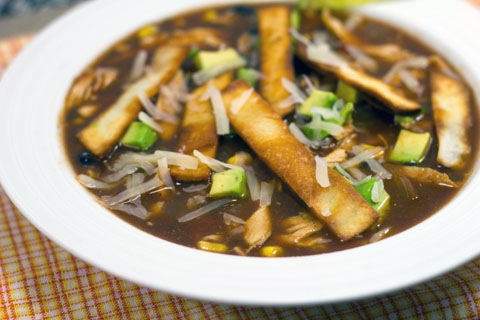 I'd say my first crockpot meal was most definitely deemed a success. And I may officially be a convert. I still won't be caught throwing a bunch of pre-made foods into my slow cooker, but I felt like this recipe was a good variety of some canned and fresh goods.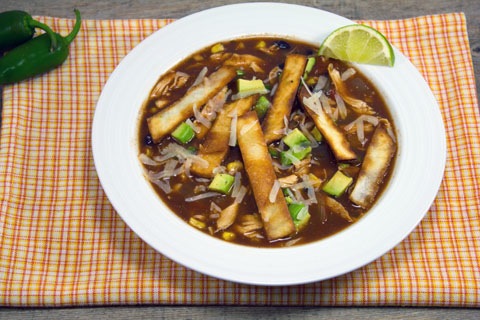 And it was incredibly fast and easy, not requiring a whole lot of stirring or any complicated instructions. When I get a new appliance, I absolutely cannot stand when I need to read the accompanying promotional material 18 times before I can figure out how to turn it on. User friendly is the name of the game.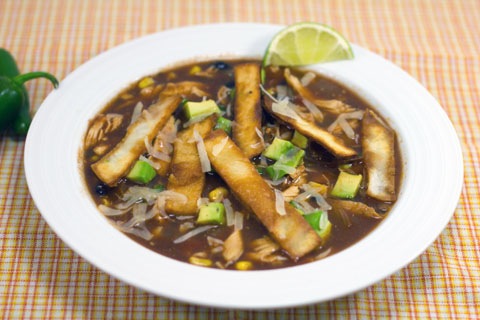 It made for a super rich and flavorful soup with perfectly cooked chicken. I can't get over how little time I put into a meal that packed such flavor. Tortilla soup is the new 10-minute prep meal.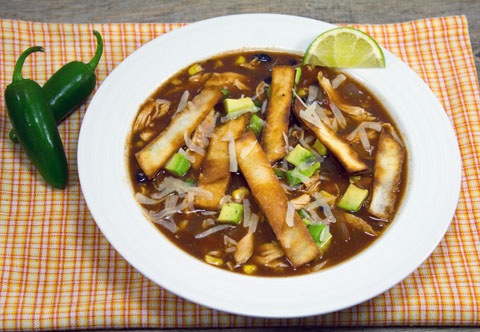 The only criticism I really have about the Ninja is that the timer doesn't buzz or make any noise when it runs out. I don't know about you; but a timer is a bit useless to be if i have to keep checking it. But, of course, I always have my oven timer and my iPhone for that, so I'm not too heartbroken about it.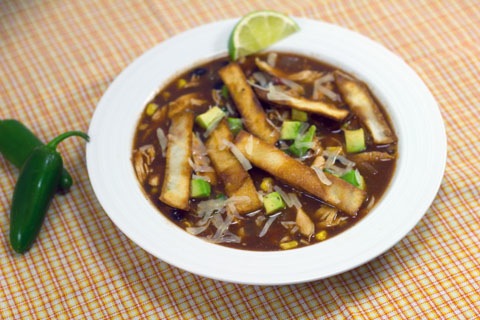 While I don't see myself becoming an every day crockpot cooker (I'm honestly not sure I could deal with ingredients like this first thing in the morning, so I won't likely be whipping up meals in the pot before heading to work), I will most likely be using the Ninja Cooking System quite often. I'm already dreaming up the pulled pork and beef brisket I'm planning to make and will most definitely be reporting back on my findings.
Ninja Cooking System Giveaway!
Now it's your turn! The Ninja retails for $199.99 and you can buy it here. Or you can enter my giveaway for your very own Ninja Slow Cooker! All you have to do is leave a comment on this post telling me the first meal you'd make in your Ninja by Saturday, October 20 at 11:59 p.m. For extra entries into the giveaway, follow us on Twitter and "like" us on Facebook (just be sure to leave a separate comment telling us you followed and liked us… or that you already do).
In the meantime, any and all fabulous gourmet-ish level crockpot ideas you can think of, feel free to send them my way!
Good luck and happy Ninjaing!
[Sues]
Disclaimer: I was given a Ninja Cooking System to sample, but all opinions in this post are absolutely 100% my own!