I trust most anything David Lebovitz does. And during my search for feta salad recipes, I came across his recreation of Joanne Weir's cucumber and feta salad. It looked so beautiful, I just had to try it. It was a wonderful salad, but also makes an awesome party dip. It's also pretty simple, but packed full of flavor!
I did make a few changes to the recipe… I used more cucumber than it called for. And I kept the peel on and seeds in, since a cucumber is not a cucumber without (at least to me). But like David recommended, I served the salad with some baked pita chips.
Enjoy the recipe, but also make sure you read to the end of this post to see a fun, Gap giveaway!
Cucumber and Feta Salad:
2 medium cucumbers, diced into pea-sized pieces
Coarse salt
8 oz. Athenos feta cheese (I used half cracked black pepper and half traditional)
1/4 C olive oil
2-3 T freshly-squeezed lemon juice
1 T water
Freshly ground black pepper
1 small red onion, peeled and finely-diced
1 T fresh mint
1 T fresh parsley
1 T fresh dill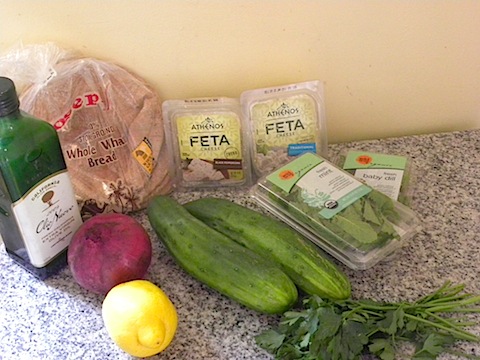 After chopping my cucumbers, I put them in a colander with some salt and let them drain for about 30 minutes, shaking the colander from time to time.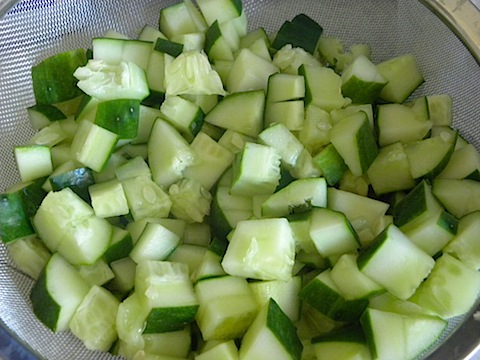 I crumbled the feta in a medium bowl and mixed together with olive oil, lemon juice, water, and some black pepper.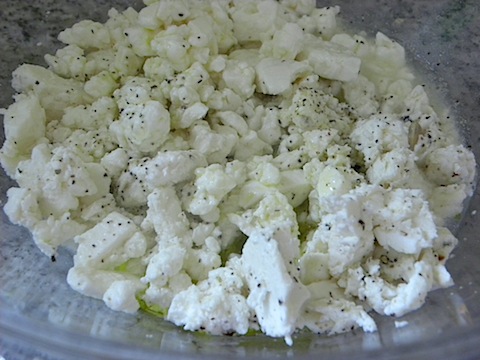 Then mixed in the onion and herbs.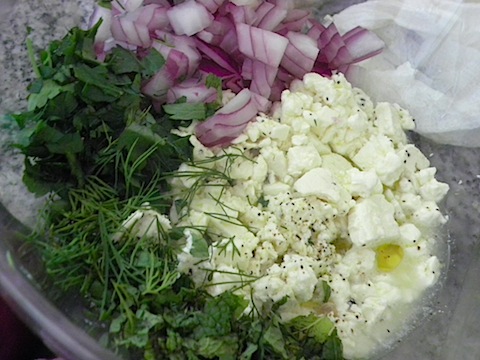 And the cucumber, too!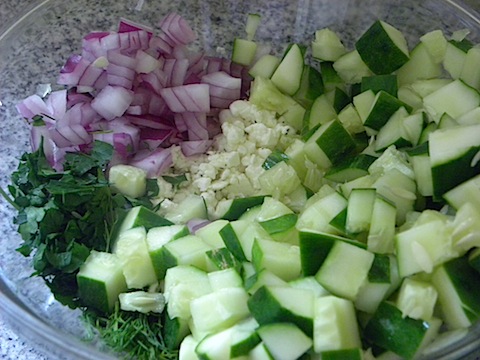 And mixed it all together.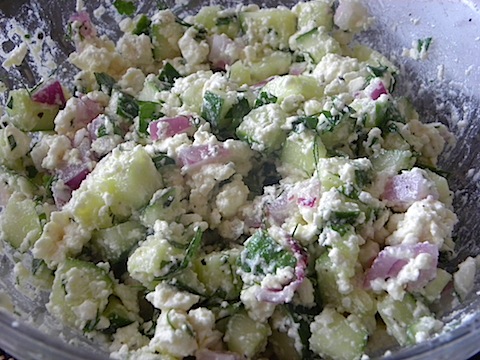 I kept the salad in the fridge, while I baked my pita chips. I simply cut whole wheat pita bread into triangles, brushed some olive oil on them, sprinkled salt on them, and baked them for about 8 minutes at 375 degrees.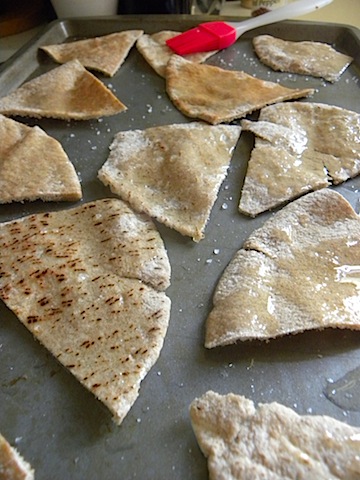 Perfection!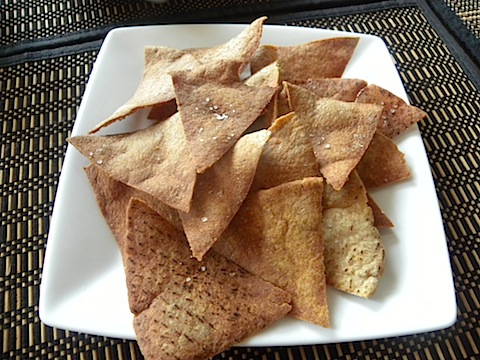 I served the salad in a smaller bowl.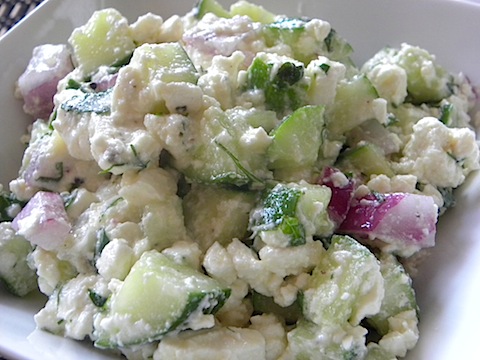 With the pita chips.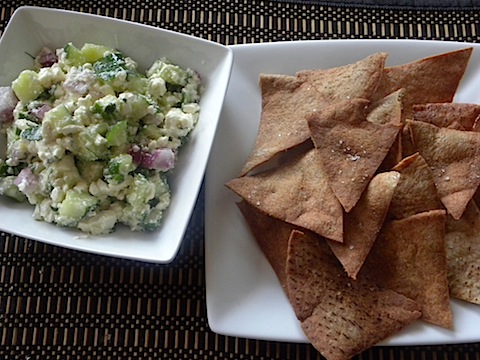 And piled a bit of the cucumber feta salad on some of the pita chips.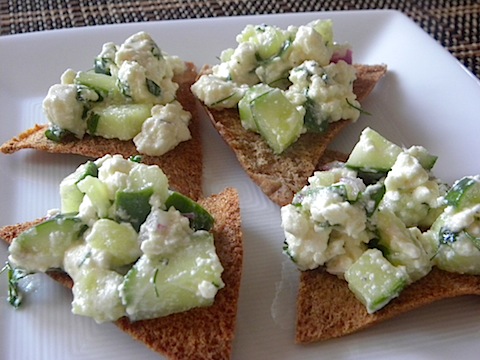 This would be a great little hors d'oeuvres for a party.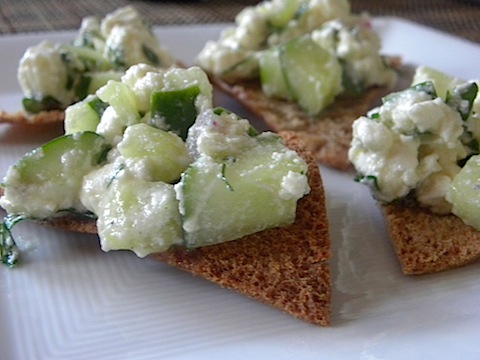 Or you could just serve the salad and pita chips separately and let guests dip the chips themselves.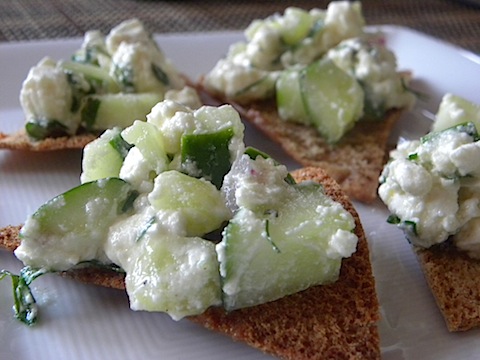 Chels came over to enjoy the salad (she's not sick of feta salads either!). And then we headed out to see our friends' band at the Middle East in Cambridge. They band is called The Timberfakes and they're a Justin Timberlake cover band!
They're pretty awesome and you should definitely check them out at their upcoming shows.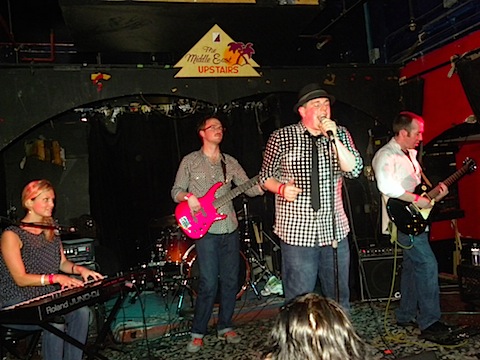 We had a blast… The Timberfakes sold out the Middle East, which is absolutely amazing!!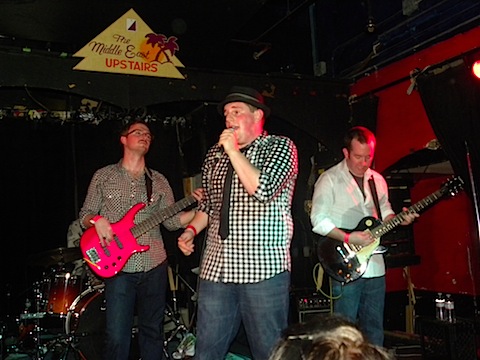 And now for the giveaway! Remember when I had that Gap Born to Fit party last year? Well I'm still a Gap brand enthusiast and I still get lovely presents from them and Brand About Town in the mail every so often. They recently sent me this super cute faded denim jacket. I never ever ever thought I would be a fan of faded denim (especially in jacket form), but I love this!
It's super lightweight and perfect to throw on over a summer outfit. But could also actually be worn as a button-up shirt.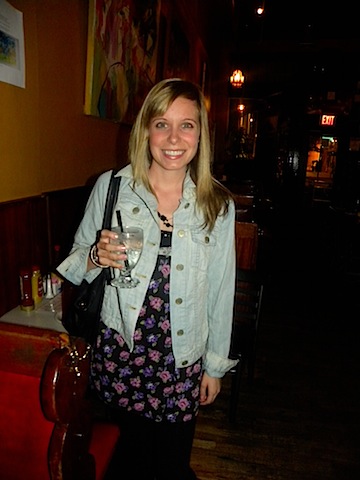 Anyway, since they sent me this cute jacket, I wanted to do something for you guys, too! They also gave me a gift certificate for a free pair of Gap jeans! And I'm, of course, giving it to one of you lucky readers.
Want a chance to win? All you have to do is give me your best moving tip. I'm moving this Friday, for the first time in 5 years, and I'm welcoming all moving advice.
You have until Friday, July 30, at 11:59 p.m. to enter. And you can get extra entries by tweeting about the giveaway and referencing @wearenotmartha and/or blogging about it.
Good luck!! And wish me luck on a super crazy busy week, during which I also have to finish packing my life up!
[Sues]