When your friend suggests something like a cupcake-a-thon, you have little choice but to say, "YES!" After watching the Martha Stewart cupcake show a few weeks ago, my friend Dustin decided a party was in order. Me, Dustin, Sara, and Steven were each assigned a cupcake from the show to bake. We were also assigned a season of the year and had to come up with our own corresponding cupcake. The other party guests were to pair our cupcakes up and a suitable alcohol. The result was Cupcake-a-Thon, an amazing night for everyone involved.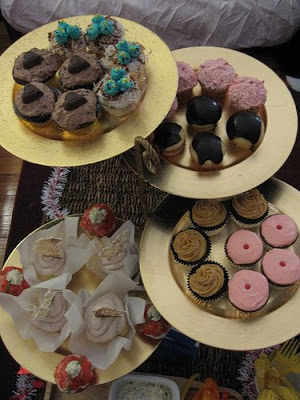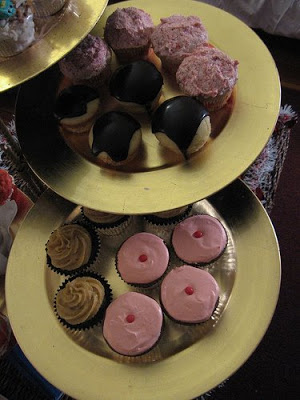 I was assigned the chocolate/chocolate cupcake and made the Mexican chocolate cupcake briefly mentioned on the show. Because my season was spring, I chose to make a blueberry cupcake with little bluebirds on top. The Vosges chocolate I used really did make the Mexican chocolate cake amazing and Vosges makes so many surprisingly delicious flavors (the ginger wasabi one is to die for). My bluebirds in their nests weren't exactly Martha Stewart quality, though for my first time, I was happy with how they came out.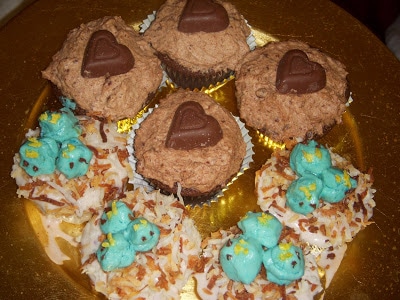 Sara was assigned vanilla/chocolate and made the Boston cream pie cupcake from the show. For one of her first times making cupcakes from scratch, I couldn't believe how beautiful they came out. She made everything from the custard filling to the ganache from scratch and they had the perfect sheen to them. Because Sara's season was summer, she made a strawberry lemonade cupcake, which had the most amazing frosting and will definitely be made again come the warmer weather.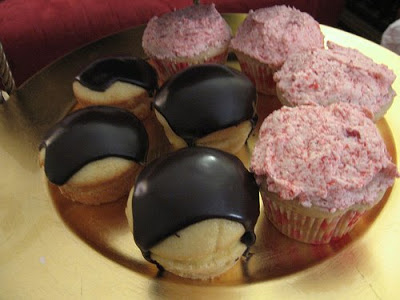 Steven made the chocolate cupcake with vanilla French buttercream from the show and they basically looked like they came straight from a cupcake shop and were obviously one of the party favorites. He also made a chocolate cupcake with pumpkin spice frosting to correspond with his Autumn season. You know how I feel about all things pumpkin, and this cupcake did not disappoint at all. I will be begging for this recipe (or a special delivery) when next Thanksgiving rolls around (OK fine, September. That's when I start my pumpkin spice eating spree).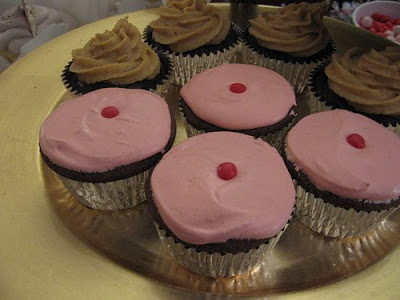 And Dustin made the beautiful Sweet Revenge Mexican vanilla cupcake from the show, right down to the parchment paper finish. This was the party favorite, for obvious reasons (looks+taste, what else could you ask for?) He also made what can only be described as an Italian dinner cupcake for his season of winter. The cupcake was made with tomato sauce and ricotta cheese and had a gorgonzola frosting. Many of the party-goers were a bit wary of having such an obviously savory cupcake, but once we tried it, we were amazed. It would be the perfect accompaniment to a pasta dinner and I could have eaten quite a few if there weren't so many others to be consumed.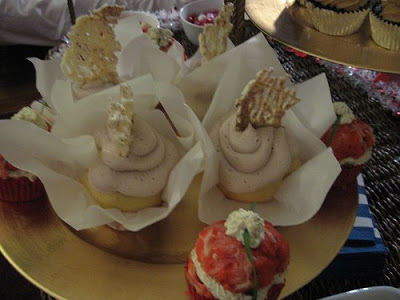 The cupcakes were cut in half and placed on Dustin's amazingly designed and labeled plates.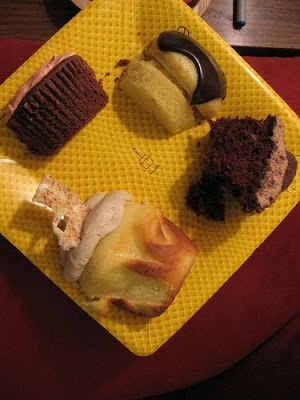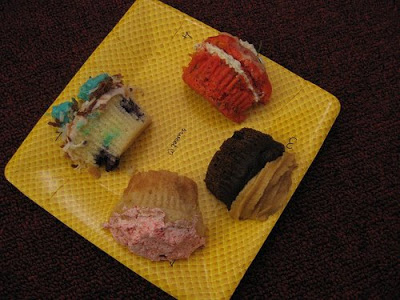 Each of the cupcakes was also expertly paired with a beverage by Chris, Allison, Ryan, and Meg. Everything from wine to tequila to beer to Dom Perignon. The drinks all matched the cupcakes pretty perfectly!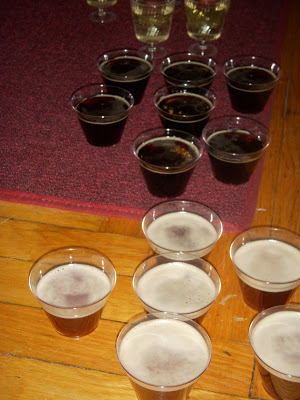 Sara and I wore our awesome Tres Ladies cupcake t-shirts to the party…obviously.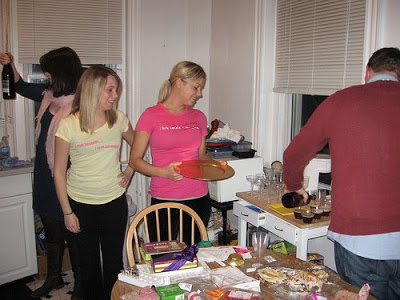 We all had to score each other's cupcakes, which was a lot harder than I thought it would be. Not only was everything delicious, but by the time I got to the last of the cupcakes, I could barely eat another bite.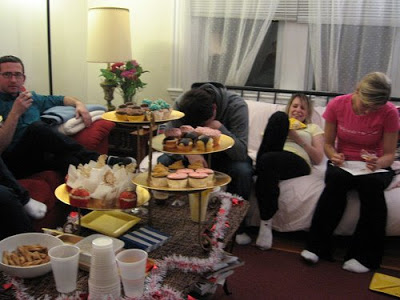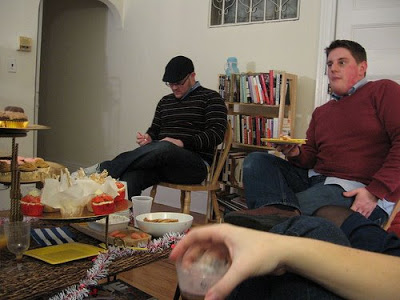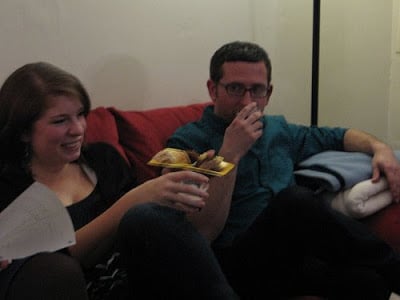 What could be better than cupcakes, perfectly paired drinks, and good friends? This was one of the most fun nights I've had in a while and the group of us are already talking about having similar foodie parties every month.

By the end of the night, I swore I wouldn't be eating cupcakes for a long, long time. But then I brought them home for my family to sample and may have snuck a bite or two (or three? Maybe?). Thanks, Dustin, for such a fabulous party idea and for planning it so well. I can't wait to see what we come up with next!

*Steven took most of the beautiful cupcake photos seen here. He is a far better photographer than I am!