Chels sent me the link to Cupcake Charlie's at Mashpee Commons weeks ago. We knew we were going to be spending the weekend in the Mashpee/Falmouth area of the cape for a high school friend's wedding (congrats Libby and Shaun!) and we wanted to see what there was to do while we weren't wedding partying. Cupcake shop? Obviously on our agenda. From the second we viewed the website, we were psyched to try all the crazy exciting flavors. Mint Chocolate Madness? Peanut Butter Pleasure? Funfetti? As if the wedding wasn't exciting enough; now we had even more to look forward to.
After wandering around Mashpee Commons and having some lunch, we excitedly went to Cupcake Charlie's. The shop is adorable and we especially loved the saying on the wall: "Life is Short…Eat a Cupcake." There's no reason our kitchens shouldn't be decorated with sayings such as these too.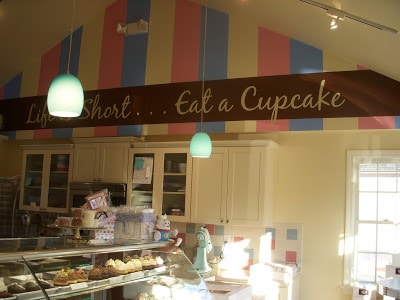 LOVE the matching pastel KitchenAid mixers. There were also lots of friendly employees in the kitchen, bustling away baking the cupcakes.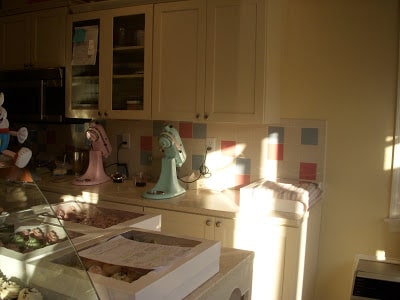 Hi, beautiful cupcakes in the case. How will we ever decide which flavors to try?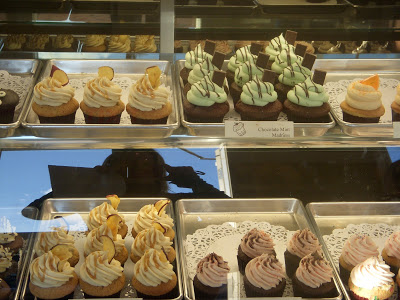 Chels didn't really see the problem. And that's when we decided to get a dozen and hold a cupcake tasting later that night.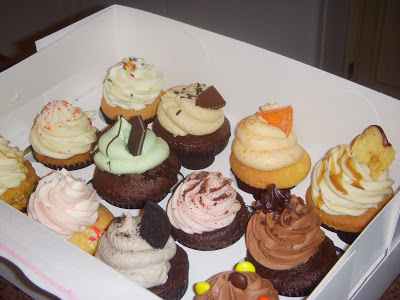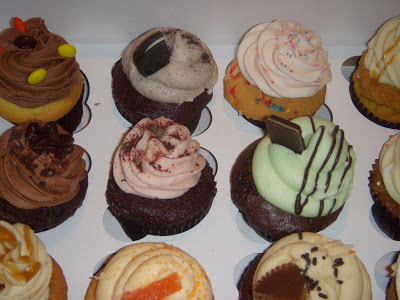 There were 13 of us staying in our awesome house in New Seabury, so we figured we'd find out what everyone thought of the cupcakes. We cut each cupcake into 4 pieces, and placed them by a sheet of paper, on which we required our tasters to write their opinions (yes, we made this serious business).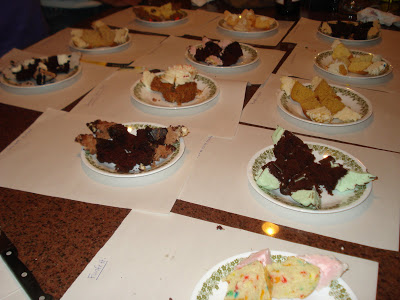 Your hostesses for the evening, of course.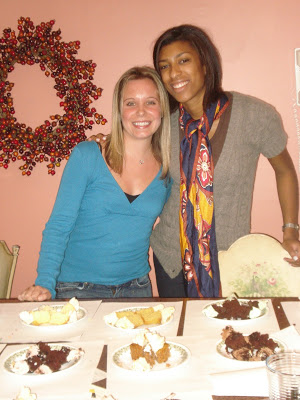 After waiting patiently for us to set up the tasting, everyone is ready to dig in!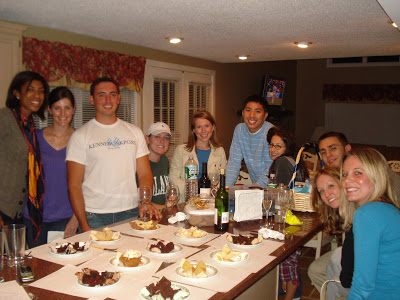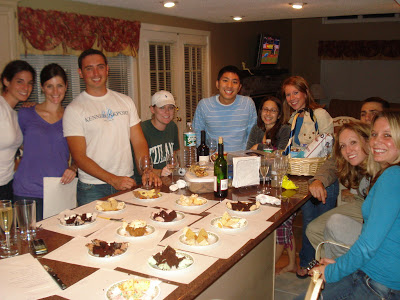 Wine, cupcakes, and old friends. Life honestly doesn't get any better than this.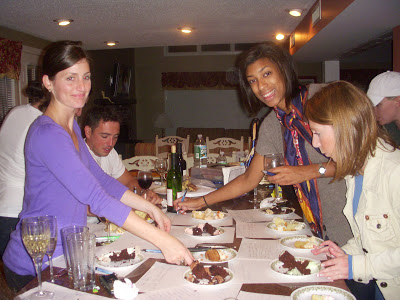 We clearly took our tasting extremely seriously and were thrilled everyone got into it and took notes on everything they tried.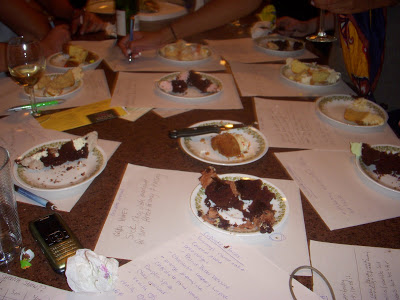 Chels and Nina posing in between bites.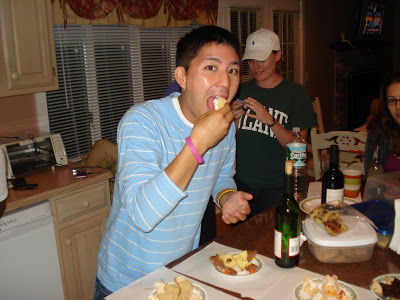 People are starting to get full. But Susie is obviously still eating.
Yum.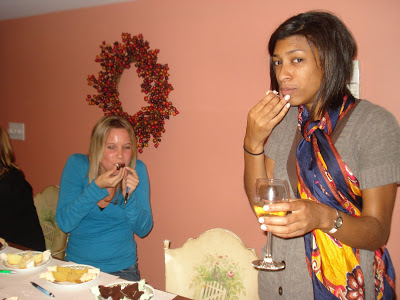 I know we say nice things about cupcakes a lot, but these were definitely some of the best cupcakes we've had. Many of them had some sort of filling in them and each cupcake tasted exactly like the name inferred. All of us were extremely impressed and we all ate way too much.
We liked them so much, that we took Katie into the shop on Sunday (she was performing bridesmaid duties and couldn't attend our tasting). We chatted with the super friendly owner, Dan (who co-owns with wife Penny), for a bit and discovered they may be looking to expand. Please, please Cupcake Charlie's, come to Boston! We need you here, preferably between Coolidge Corner and Cleveland Circle so we will have easy access to your shop! And We are not Martha would be more than happy to spread the word a little more. Especially if it means eating more cupcakes.
Summary of reviews & comments:
Funfetti

:
– "Yum & cute. colorful, moist cake- sweet frosting. Great for a 5 year olds bday"
– "Delicious! Tastes like vanilla/vanilla but more fun. Sort of like Party Favors cupcakes but better because it's lighter"
– Frosting is sweet but not too sweet; cake perfectly moist! I would finish it off if we weren't doing a cupcake tasting!"
Chocolate Mint Madness:
– "minty frosting, cake was a little dry but very flavorful!"
– "love the detail by adding the Andes mint on top!"

– "Amazing!" Peanut butter cup- cake is a bit dry but there's so much peanut buttery goodness it doesn't even matter!"


–
"D-e-l-i-c-i-o-u-s!"
Chocolate Raspberry Surprise:
– "Raspberry frosting is out of this world!"
– "Wow love the soft raspberry tone to the frosting. If it was a little more fudgey I think Zagats would be at your door!"

Caramel Apple:
– "Tastes like a Pillsbury cinnamon bun… which is awesome!"
– "A nice fall cake… more cinnamon than apple. Delicious"
Orange Dreamsicle:
– "Tastes like candy! Very tasty. I like the organginess of it"
– "I feel like I just ordered a creamsicle off the ice cream truck. Fun and good!"
– "Frosting tasted like a creamsicle. Very unique! :)"
– "Very dreamy. You can freeze it and put it on a stick"

Oreo Delight:
– "WICKED good"
– "A perfect oreo blend between the cake and frosting"
Pumpkin Spice:
– "Like the cream cheese frosting, cinnamony flavor was great. I want the whole thing!"
– "Really good! But the pumpkin is subtle and cream cheese frosting is more overpowering. I would up the pumpkin taste and keep the frosting the same"
– "The frosting is amazing!"
Grammy's Carrot Cup:
– "LOVE the frosting!"
– "Flavors were on point. I wish the coconut slices were chopped even finer."
– "I think this is amazing. SO moist. Best carrot cake I've had!"
– "Well balanced. I like the frosting flavor and carrot cake. Coconut is good yet added a different texture that stood out."
Chocolate Overload:
– "Ca$h money!!"
– "Chocolate overload for sure! Perfect for any woman PMSing" (haha our favorite comment)
– "mmmm, so chocolatey!"
Vanilla Loves Chocolate:
– "I enjoyed the Reese's Pieces on top!"
Vanilla Loves Vanilla:
– "Nice and light… better than Party Favors in terms of weight. I really enjoy the lightness"
Cupcake Charlie's
28 North Street
Mashpee, MA 02649
508.477.CAKE

[Chels and Sues]