I was driving home from my parents' new place the other afternoon and decided to take the scenic way back to the city to head home, the roomie came with! So glad I didn't hop on the highway because I found a potential new favorite place to chow down!
On a pretty quiet Route 117 in Weston, Massachusetts between lots of farm stands, houses, and a pretty country like landscape we stumbled across a little Cape Cod looking place called Dairy Joy. I was starving so I pulled into the parking lot to find quite a line for a chilly March afternoon. I figured the place must be good if people were willing to stand outside in the cold. After reviewing the menu for a minute (clamstrips and other seafoods, lots of frappes, onion rings…) I decided to get a burger.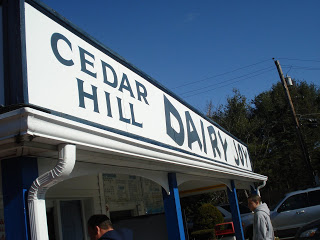 I like a good burger… add some cheese and bacon… and bbq sauce… and I'm likely to love it, which I did! The fries at Dairy Joy were great too. The roomie got a creamsicle frappe which i KNOW for sure I'll get the next time I go… it was the perfect thickness and tasted so good… it reminded me of those little Flinestone's push up pops that I quite possibly was addicted to when I was younger!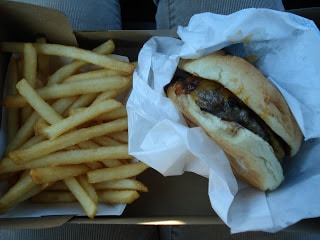 And even though it was only about 40 degrees out, the sun was shining, the customers were happy sitting in their cars eating their burgers, and it reminded me of summer. I can't wait to go back and eat outside on one of the many benches they have set up! Everything down to the packaging of the burger in Dairy Joy newspaper wrap, to the Cape feel of the building, to the friendly employees, everything gave off such a great feeling. It's just simple. I love that.
Dairy Joy
331 North Ave.
Rte 117
Weston, MA 02493
781.894.7144
[Chels]