Whether these Dark Chocolate-Dipped Figs with Gorgonzola Cheese are served as an appetizer or dessert, your guests will fall in love. The ingredients are simple, but they all work so well together.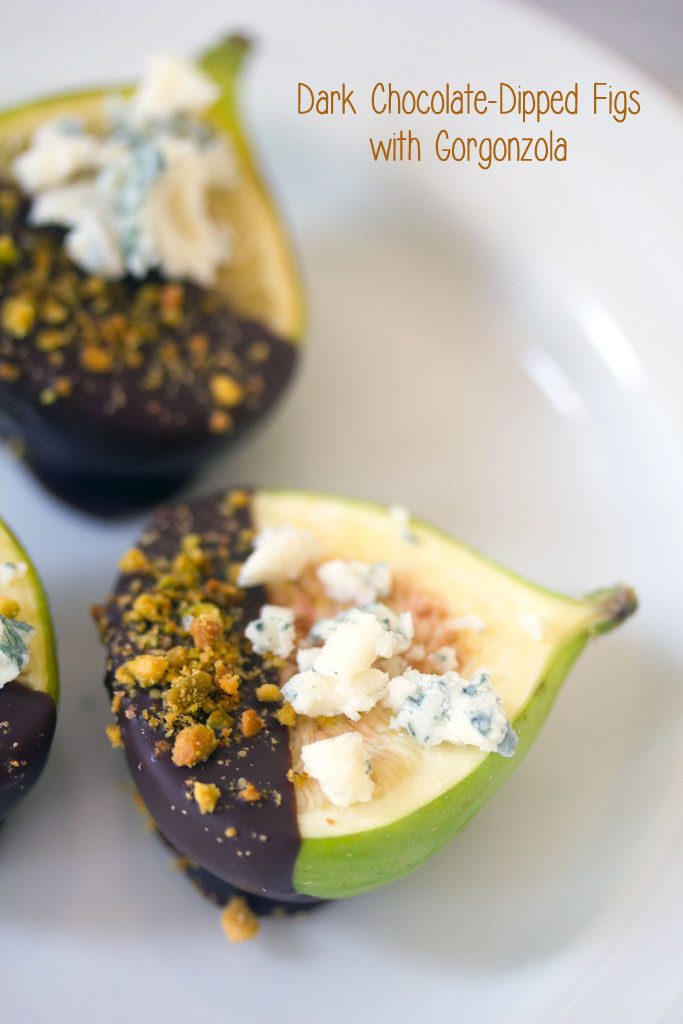 Happy September! I just heard there are only 17 weekends until Christmas, so that's a thing. No, I'm not freaking out or anything. Trying to stay in the moment for now… Which is SUMMER. Come on people, fall doesn't start until the end of September, so let's stop saying it's fall already. Not that I'm not looking forward to it a little bit… While summer is my favorite season weather-wise, I think fall is my favorite season mental-wise. Mental-wise? I just feel as though I'm in a better, more relaxed place mentally. Probably because there's not so much omg pressure to get our and enjoy the summer before it passes. Also, my couch is comfortable and I enjoy cider. And yes, pumpkin spice (sue me).
Butttt I also like figs. And figs are the kind of fruit that go from summer to fall without blinking an eye. You have to respect them for that. And there are soo many things you can do with them. My personal favorite is a fig, prosciutto, arugula, and balsamic flatbread. But I've had chocolate-dipped figs on my mind for quite a while lately. And last week I was craving chocolate and gorgonzola cheese. Together. I have no idea why, but once I got it in my head, I couldn't get it out. So, I dipped  these figs in dark chocolate, sprinkled some crushed pistachios on the chocolate and then topped them with gorgonzola cheese. Yup, chocolate figs with gorgonzola cheese.
DARK CHOCOLATE-DIPPED FIGS WITH GORGONZOLA RECIPE
There's nothing complicated about this recipe and really, the toughest thing about it is that you need to find fresh figs. I get so excited when I see them at my regular grocery store that sometimes I just buy them without a plan in mind. And then when I get home, I want to indulge immediately and have to come up with a quick plan. This recipe makes figs even more delicious AND can be done quickly and easily. Simply dip the figs in melted dark chocolate (though you can certainly use milk chocolate if you want) and sprinkle crushed pistachios on top. Let chill to harden chocolate and then top with crumbled gorgonzola cheese.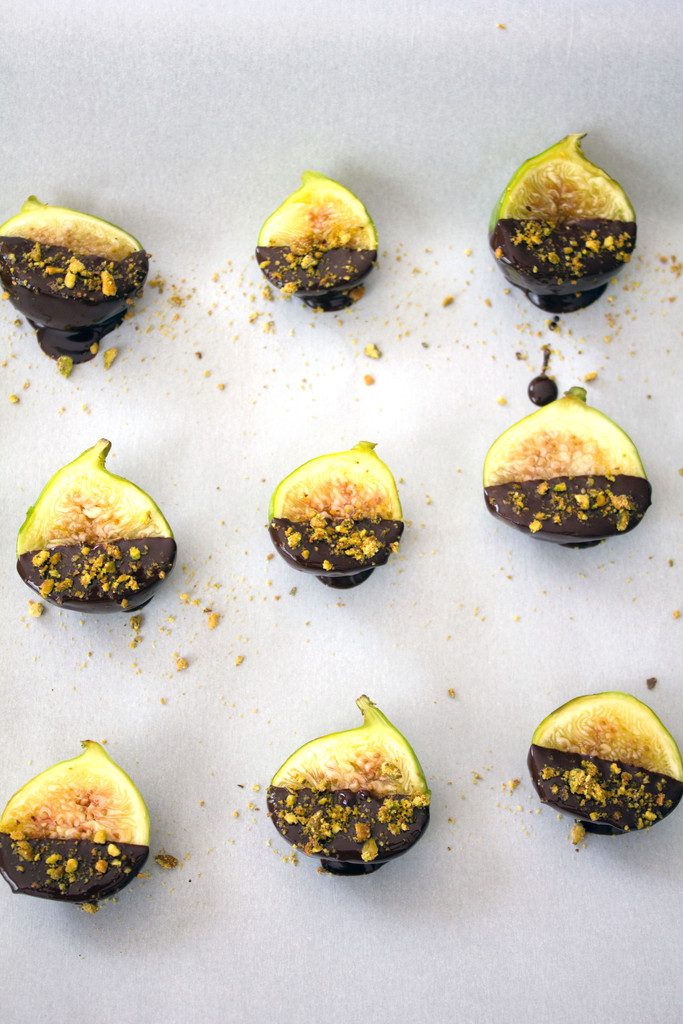 And my dreams came true. These are seriously so simple, but also so, so perfect.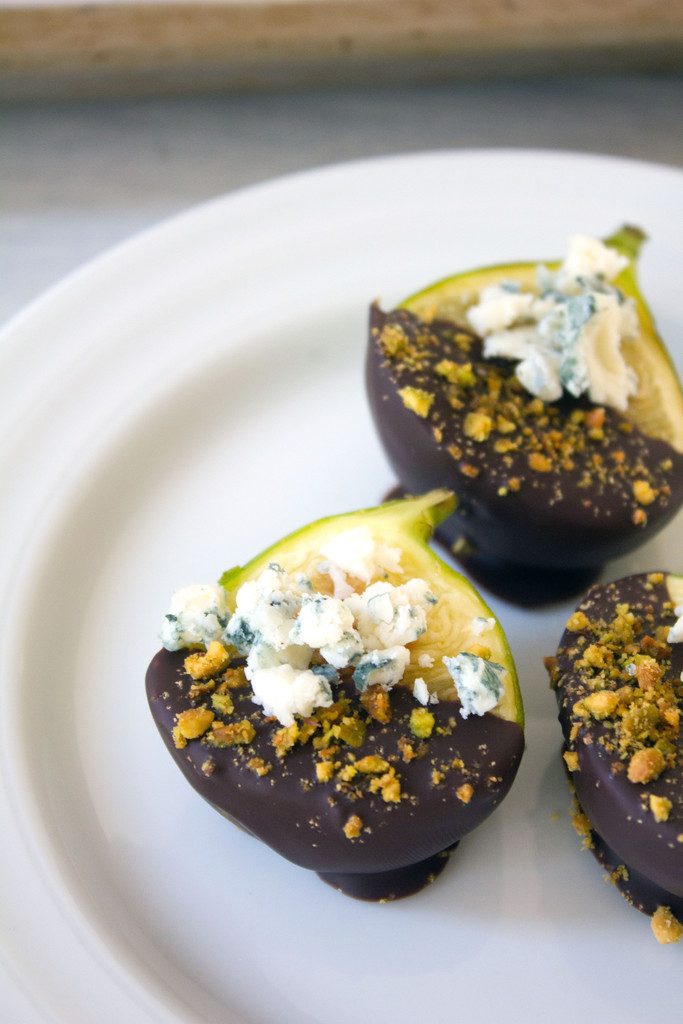 I'm not really sure if I should tell you to make these chocolate-dipped figs as an appetizer or a dessert. I guess it really all depends on what else your meal or party is consisting of. There's really nothing wrong with a little dark chocolate at the start of a meal… And cheese is always an acceptable way to begin or end a meal. Of course, you could just think of these as a meal in themselves if you'd like.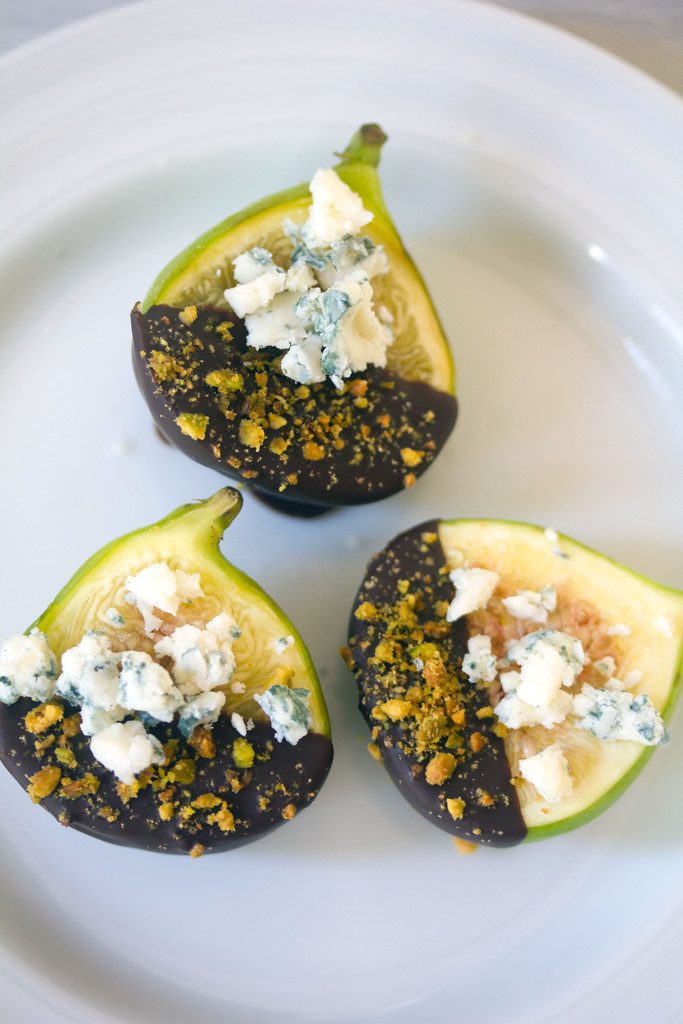 That's pretty much what I did. And I don't regret a thing. Fruit, cheese, chocolate, and nuts. That sounds like a well-rounded meal to me!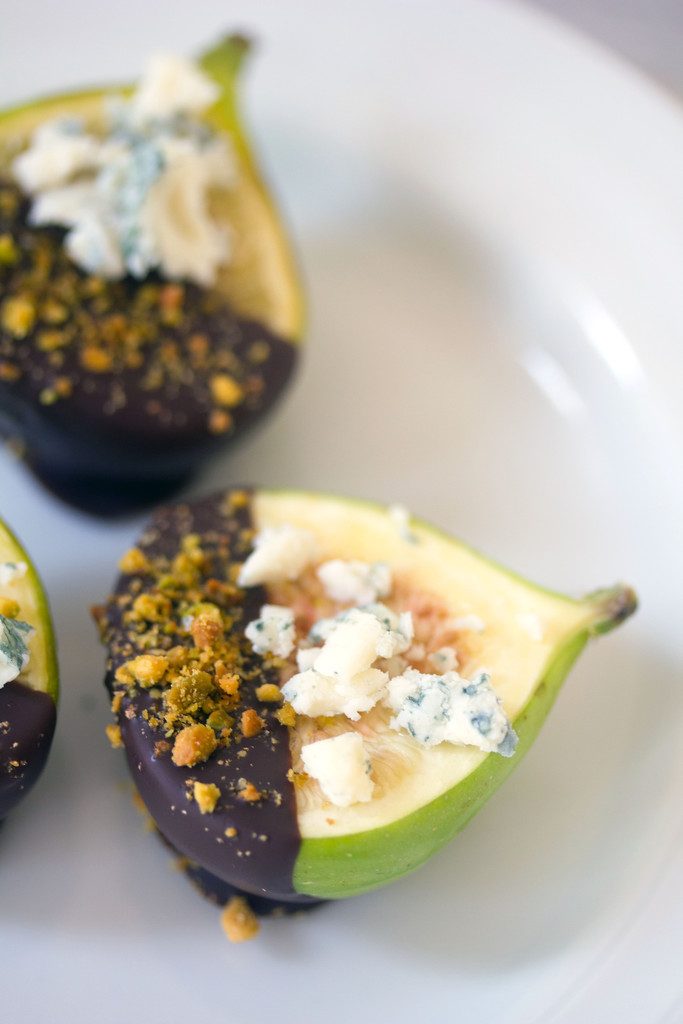 Are you the kind of person who focuses on making goals at the beginning of the year in January the beginning of the school year in September? Orr maybe you're one of those unreasonably smart people who makes goals all year long (if so, congratulations and I hate you). I'm much better at making goals when it's the start of the year and I have my brand new life planner, which I'm aware is really quite sad. But I'm hereby vowing to get down to blogging business now that September is here. More consistent posting and making my way through the backlog or awesome recipes I have ready to go.
Which means that instead of falling asleep on the couch with my computer open on my lap, I'll actually finish posts and hit publish. Which also means I need to get to bed much earlier than I do, so that I'm not falling asleep on the couch immediately after I eat dinner. This is what September goals are all about to me.
And now that I wrote it here, I have to follow it. Right?? Right?? Let's just pretend that's how this works. While we're at it, let's also make a goal to eat chocolate figs with gorgonzola for an appetizer and dessert at least a couple times before fig season is over for good.
What's your favorite way to eat figs?
If you're looking for other awesome fig recipes, check out my recipe for caramelized figs (omg sooo good!) or my fig, prosciutto, and ricotta flatbread. I also really want to make this Fig Bourbon Maple Ice Cream from Spices in my DNA!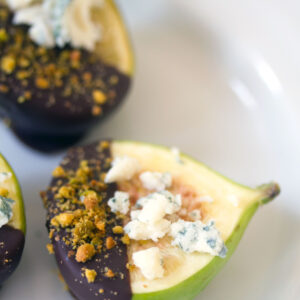 Print Recipe
Dark Chocolate-Dipped Figs with Gorgonzola
Whether these Dark Chocolate-Dipped Figs with Gorgonzola Cheese are served as an appetizer or dessert, your guests will fall in love. The ingredients are simple, but they all work so well together.
Ingredients
1

lb.

fresh figs,

sliced in half (I used Sierra figs)

4

oz.

dark chocolate

1/8

cup

crushed pistachios

2

oz.

gorgonzola cheese
Instructions
Place dark chocolate in a small heat-proof bowl set over a saucepan of simmering water. Stir chocolate occasionally until it is fully melted. Alternatively, you can melt chocolate in the microwave, heating and stirring at intervals.

Dip bottoms of sliced figs into melted chocolate and set on parchment paper-covered baking sheet. Sprinkle crushed pistachios over chocolate.

Place baking sheet in refrigerator for about 30 minutes, until chocolate is hardened.

Top figs with crumbled gorgonzola cheese and serve.