Share our Strength's Taste of the Nation is, by far, one of our favorite food and charity events to attend every year. This year, more than 65 of Boston's top chefs will gather at the Hynes Convention Center to raise funds and awareness to childhood hunger in Boston and around the nation.
Since 1988, Taste of the Nation has raised more than $73 million for organizations in the United States, Canada, and abroad, including more than $1.4 million in Boston alone. Area charities that will benefit from this year's event include The Greater Boston Food Bank; Food for Free Committee; Cooking Matters, formerly known as Operation Frontline – Massachusetts; and Project Bread/The Walk for Hunger.
Along with the media alert for this year's event, we were also sent a potato gnocchi recipe from Rodney Murillo, Executive Chef of Davio's. Sues and I love a challenge, especially a food-related challenge, so we were excited try this one out. Also, we took a pasta making demo at Stir a few years ago and have been saying we were going to make our own ever since, so this seemed like the perfect opportunity!
We were convinced this particular recipe was for the restaurant, meaning the serving size was HUGE, but we decided to make the entire batch since we knew we'd be able to freeze the leftover gnocchi. And let's be honest, there is not a single thing wrong with leftover gnocchi in the freezer.
Here's what you need: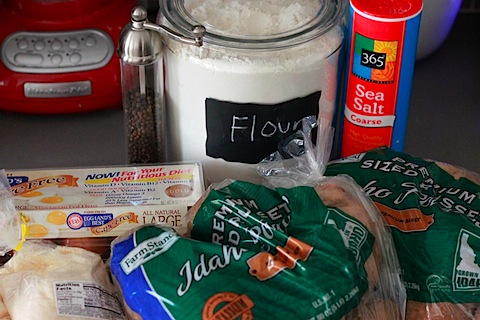 • 10 lbs Russet potatoes
• 7 whole eggs
• 10 cups sifted flour
• 7 cups Parmesan Cheese
• Salt
• Pepper
All such simple ingredients for such an outstanding result!
Here's what you do:
• Boil your potatoes until tender.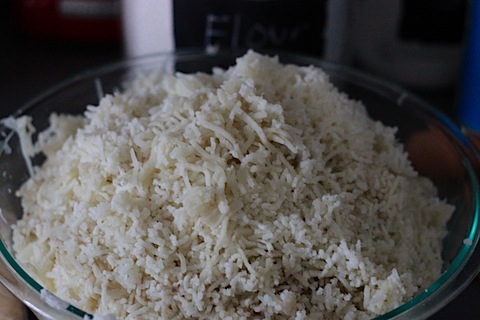 • While the potatoes are still hot, strain, peel, and put them through a potato ricer. Set aside and let the "riced" potatoes cool.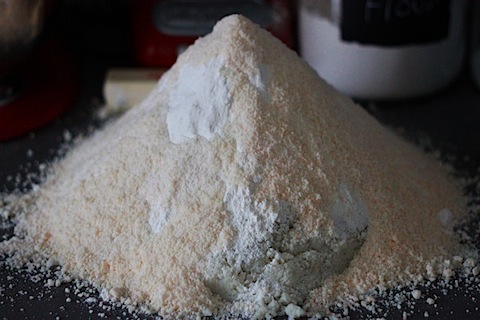 • On a cutting board (or a very clean countertop, which is what we did!), form a mountain out of the cooled "riced" potatoes. Add the flour, cheese, salt, and pepper to the top of the mountain.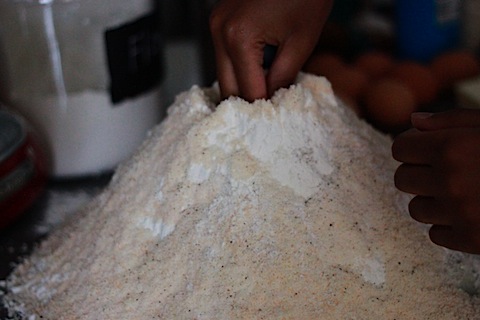 • With your hand, gently form a hole at the top of the mountain.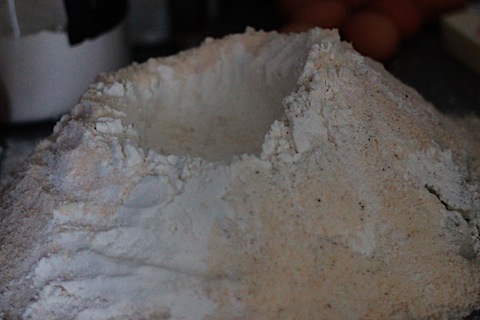 Voila!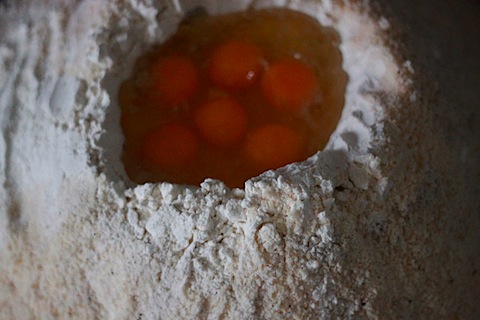 • And add your eggs to the hole.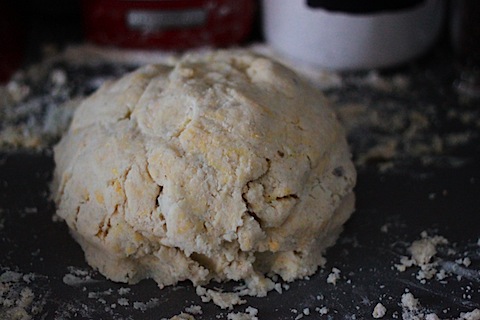 • Working from the eggs out, with your hands, mix the eggs into the flour until everything is well-blended.
• Cover with a slightly damp dish towel or with a bowl and let sit for about 30-minutes. Also, take the time to admire the mess you made. It's the most fun part 🙂 Kind of. We do recommend cleaning the counters off immediately. Because we got to talking for a long time, forgot about the mess, and it took a good while for us to remove the stuck-on potato/flour mixture from my counters... Woops!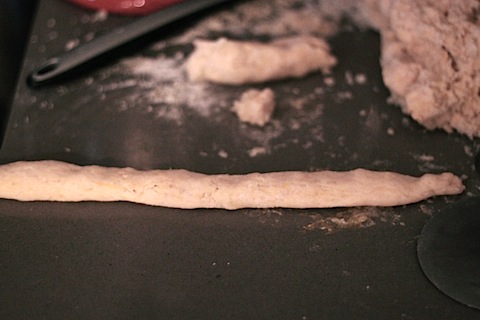 • Once the dough has rested, form it into long rolls, about the size of a quarter in diameter.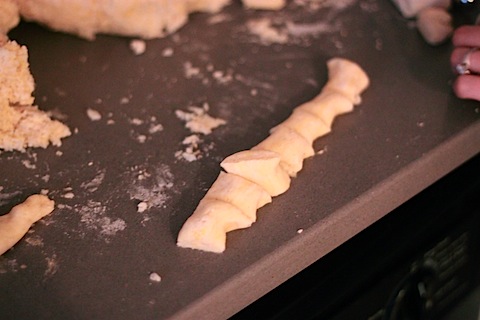 • Cut into ½ inch pieces. Using a pizza wheel definitely moves things along quickly!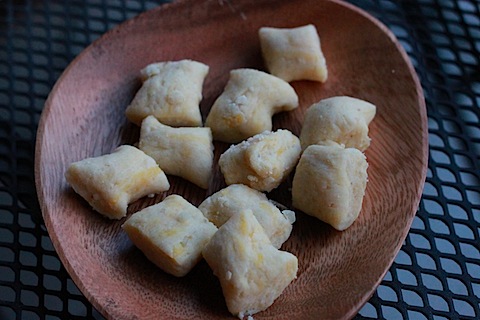 Cute little gnocchi, right?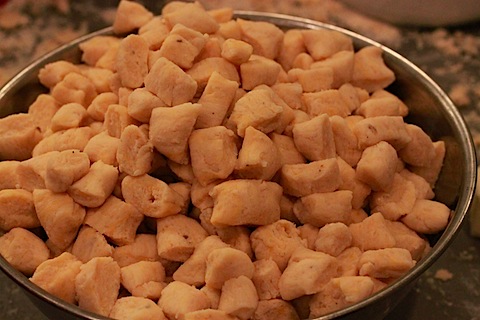 Gnocchi for about the next month! This is also a good opportunity to point out that once the gnocchi is formed, if you don't want to boil them, you can store them in a freezer safe plastic container and sprinkle flour between each layer. They should last for about a month in the freezer.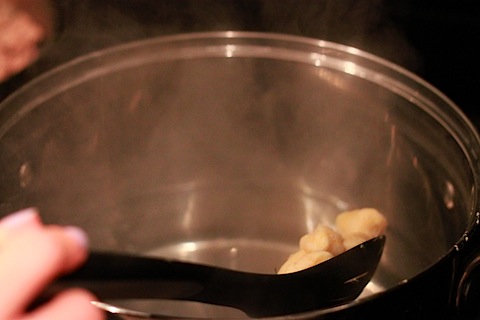 • Once all of the gnocchi is formed, you can begin to slowly drop them into a pot of boiling water. They only take minutes to cook, so once they float to the top of the pot, you can remove them.
We decided that the gnocchi needed a sauce, of course, so we created a simple Brown-Butter Sage sauce, too!
For that, we just used:
• 6 tablespoons unsalted butter
• 2-3 tablespoons fresh minced sage
• ½ cup grated Parmesan cheese
• pepper, to taste
• fresh lemon juice, as needed
We heated our butter over medium-high heat.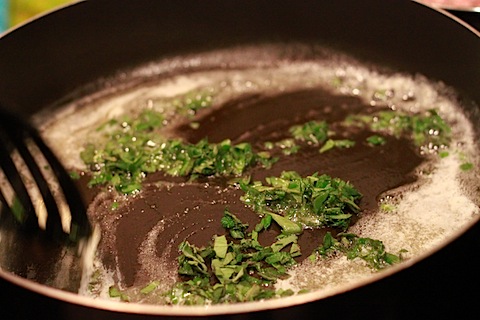 Once it was melted and started to bubble up a bit, we added our fresh sage, until it started to crisp.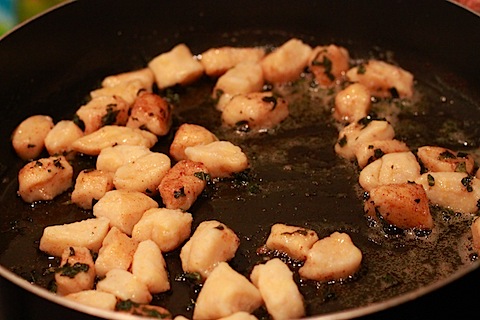 Once the gnocchi finished cooking we immediately transfered it into the sauce, making sure to coat nicely with the brown-butter sauce. For a finishing touch we squeezed a generous amount of fresh lemon juice on top. It is spring, after all.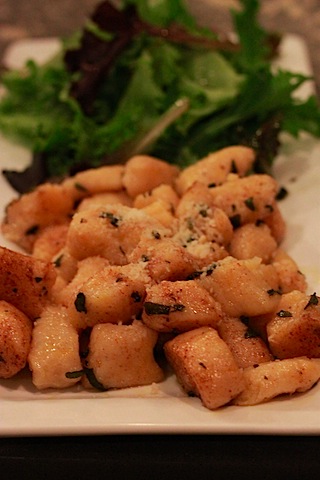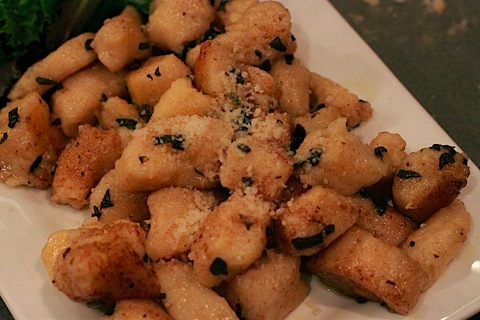 Though this dish was beyond simple to actually make, it definitely takes some time to prepare, mostly because of the waiting periods in the recipe. Which is one of the reasons we decided to just make the whole batch. We figured if we were going to make our own gnocchi... make 10 pounds of it so we can enjoy it for a while! But it's one of those meals that makes you proud. A labor of love, if you will. It's always more special when you take your time with a recipe and develop something absolutely fantastic. Something that tastes just like a dish at your favorite restaurant, even!
If you're attending Thursday's event, we will see you there! 🙂
[Chels]