This post has been sponsored by Humankind, but as usual, all opinions are my own. Thank you so much for supporting my blog!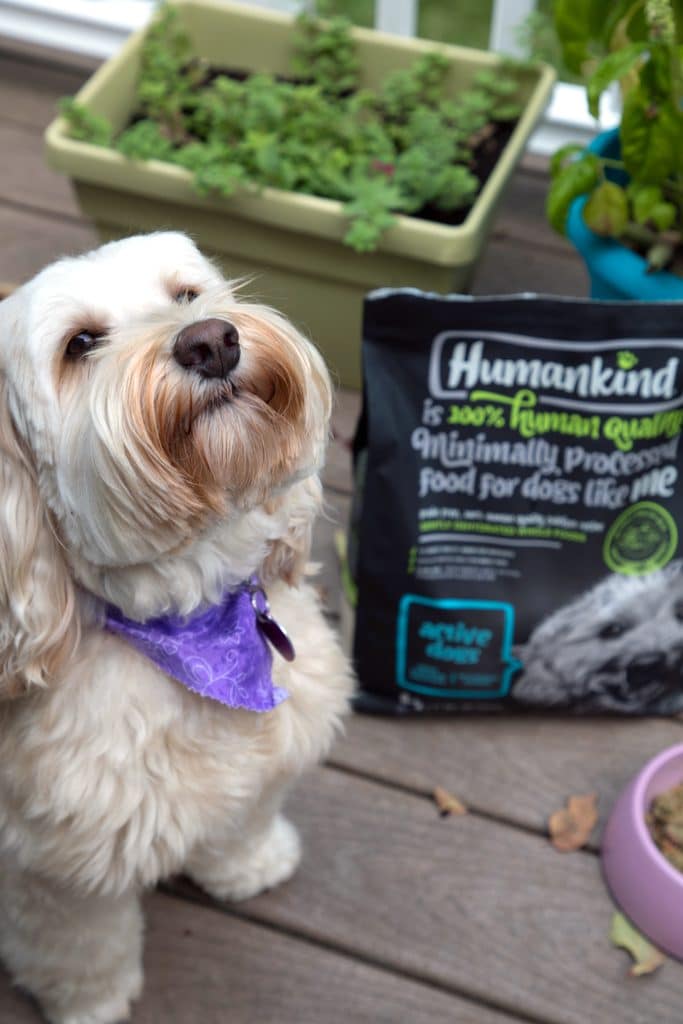 Anyone who knows me even a little bit knows that my dog is my baby. I always say that while I knew I'd love her, I had no idea how absolutely ridiculously crazy I'd be about her. The thing is, she's so much more human-like than I ever could have imagined. Part of that is probably due to her issues with anxiety (terrified of everything and everyone, with a touch of what we think is OCD), which makes her extra needy and has her wanting to be with me and Chris 100% of the time.
Other ways Winnie seems like a real actual human to me:
She has a favorite toy and won't go to sleep without it (if you're wondering, said toy is an extremely ratty candy corn that she has to perform an evening ritual with that involves doing laps around our bedroom and walking in and out of the bathroom before burying it carefully somewhere safe).
Though she has her favorite toys, she loves all toys in general. Every time we get her a new toy, she spends the rest of the day/night playing with it, which obviously makes me extremely happy. And also means I buy her way too many toys.
She's a quick learner and is a great listener. As she gets older and is losing some of her puppy energy, she's been so good at listening to us and chilling out when we tell her to. She is great with her commands and learning new ones all the time.
She's a pretty picky eater and turns down so many treats and food. We've learned her favorites, which are mostly "human" foods (eggs, chicken, turkey, roast beef, cheese) and I make her a ton of homemade treats, but when it comes to purchasing, we only buy her a couple brands that we know she'll eat.
She's a late night eater. We leave her kibble out all day, but she really only eats it when we're in bed and the lights are out. My theory is that she doesn't love it and chooses to wait until she knows no more treats are coming for the day before she eats it.
I always think it's crazy that some people put their dog's food bowl down and the dog gobbles the food up right away. Like I said, we leave Winnie's out all day and she barely touches it. But now I definitely know why. Despite trying a ton of different foods, we just weren't finding one that she loved enough to gobble up. Enter Humankind.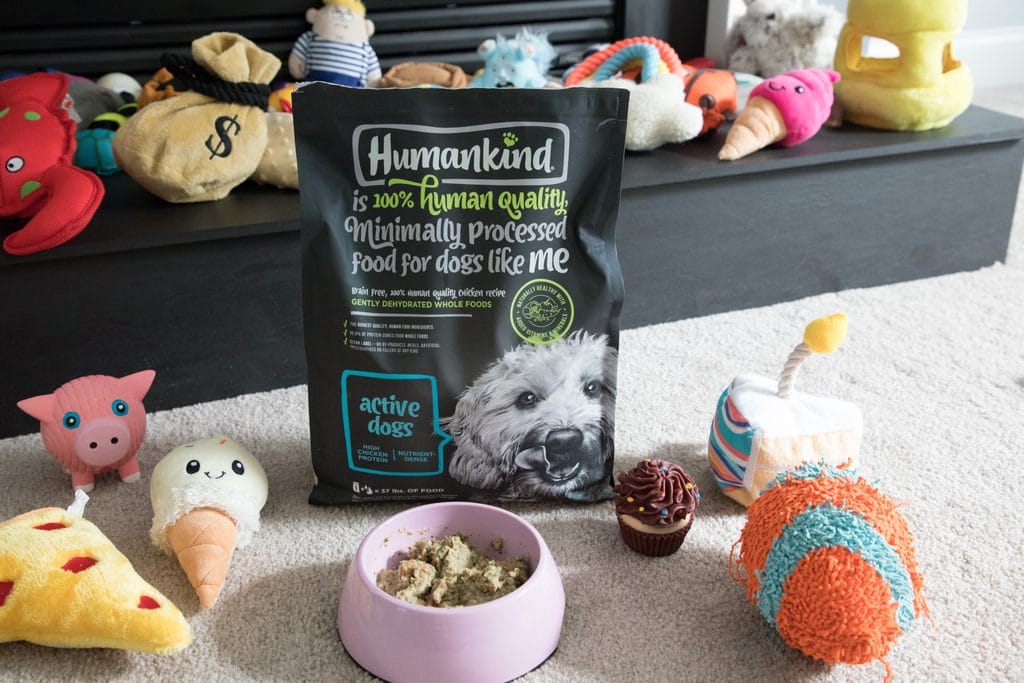 I love it because I always say Winnie is a little human, so the name of the food is just perfect for her. I also love it because it's a natural, grain-free 100% human quality food for dogs. You may not realize that the ingredients and production processes in a majority of pet foods don't comply with FDA regulations for human edible food set by the US government (yikes, right??). But this one does! 99.8% of its protein comes from whole foods and it's the same food you would find in a grocery store or restaurant. The bottom line is, if it's not fit for human consumption, it is not allowed in Humankind.
I thought the food was going to be just like a powder that you'd add water into, but was pleasantly surprised that it's actually chock full of good stuff. The recipe includes things like dehydrated chicken, sweet potato, organic potato, chicken broth, chicken breast, carrots, organic flaxseed, apples, eggs, broccoli, spinach, cranberries, cod liver oil, blueberries, and more!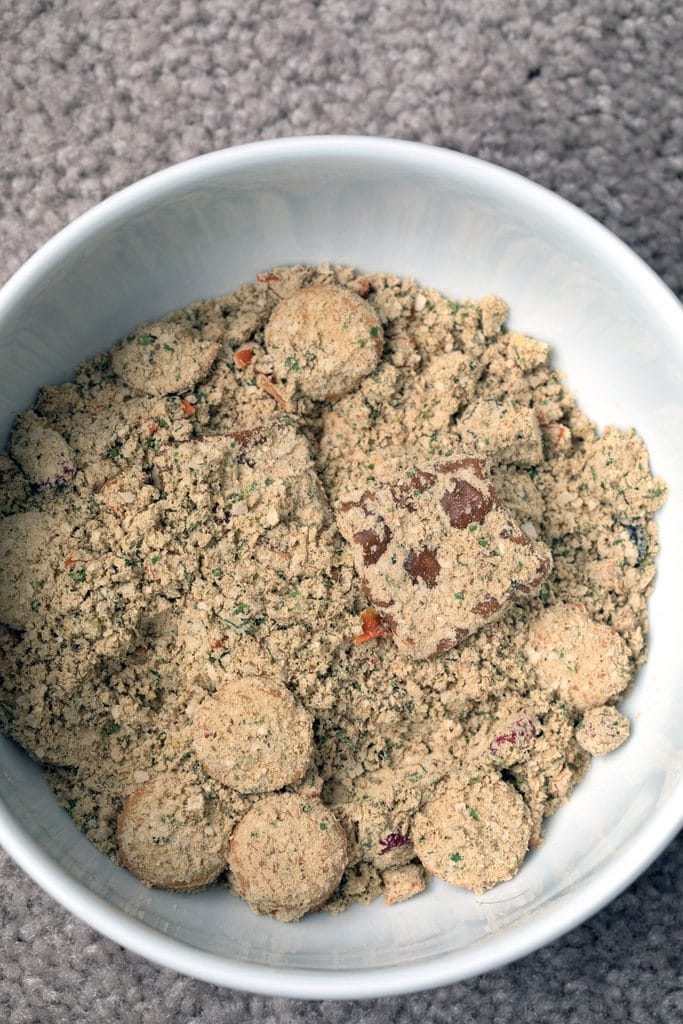 Since Winnie definitely has a sensitive stomach (which likely contributes to her pickiness), I was also happy to learn that studies actually show that significantly more nutrients are digested, retained, and absorbed from Humankind's chicken protein compared to the highly processed chicken meat, by-product meal, or corn meal that is often found in traditionally manufactured pet foods.
We chose the active formula of Humankind for Winnie since she has a regular activity level and is a healthy weight. However, if your pup isn't, there's a "less active" variety, which Humankind says is for "couch potatoes or dogs with lots to love" (so cute!). There's also a formula for "highly active" dog if your dog happens to be "sporty" or thin.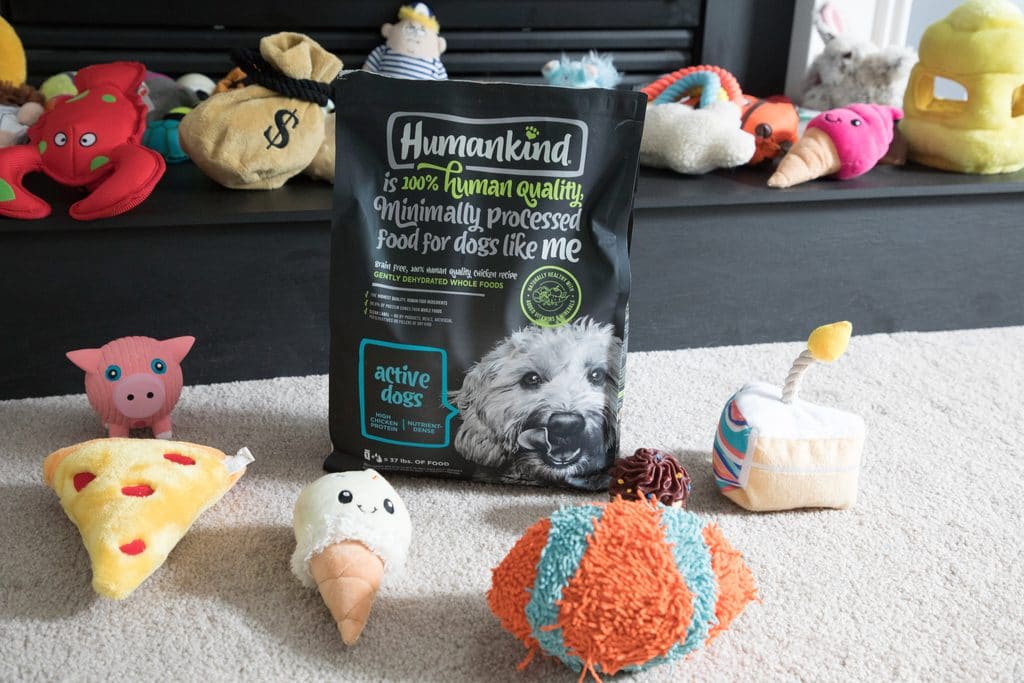 Finally, Winnie is going to town on her food bowl! When I put her bowl down she eats it all. While this might be totally normal for other dog owners, this sight makes me so happy to see.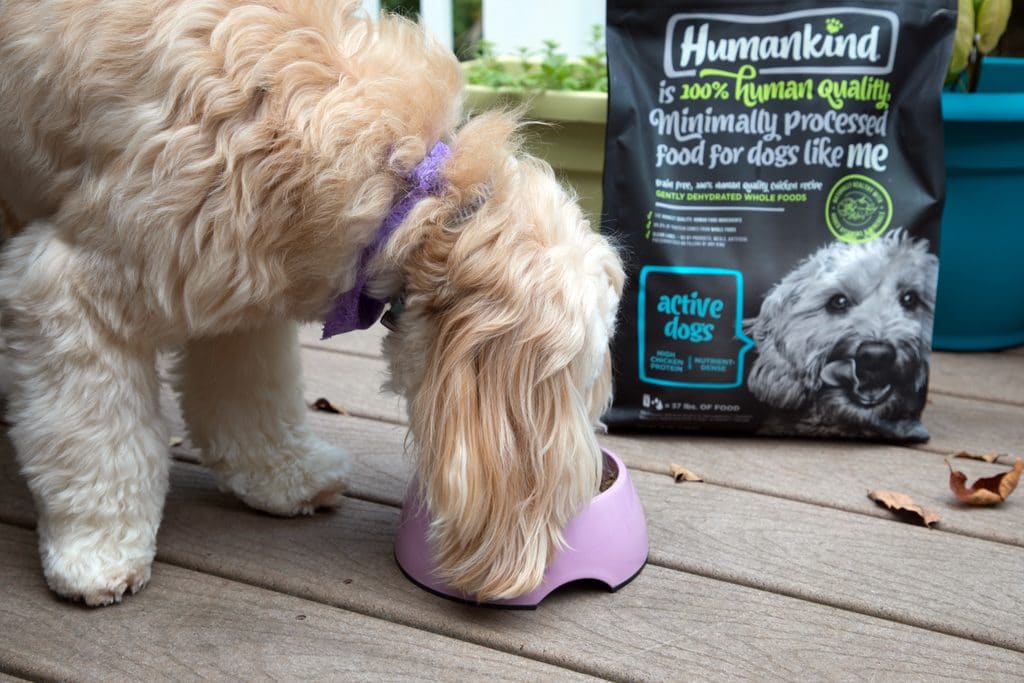 Also, doesn't that look a little like her on the bag?? Maybe someday she'll be a dog model.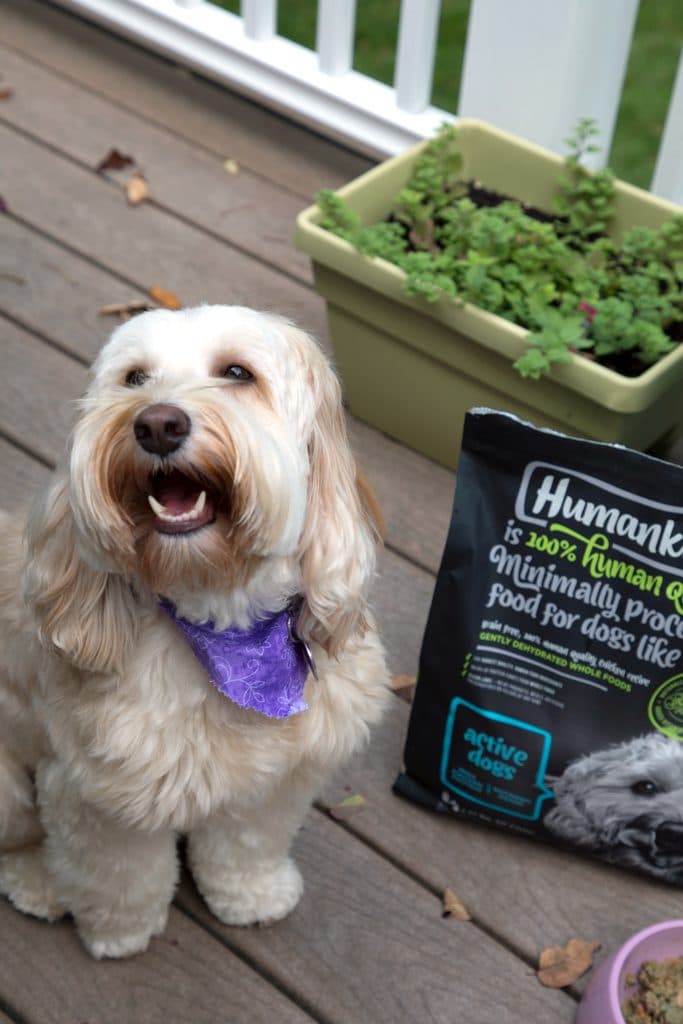 Keep the junk food to the toys (come on, there are WAY too many fun toys for dogs these days! And yes, we have ALL of them) and feed your dog human quality food, with no GMO ingredients, no animal digest, no irradiated ingredients and no ingredients from China.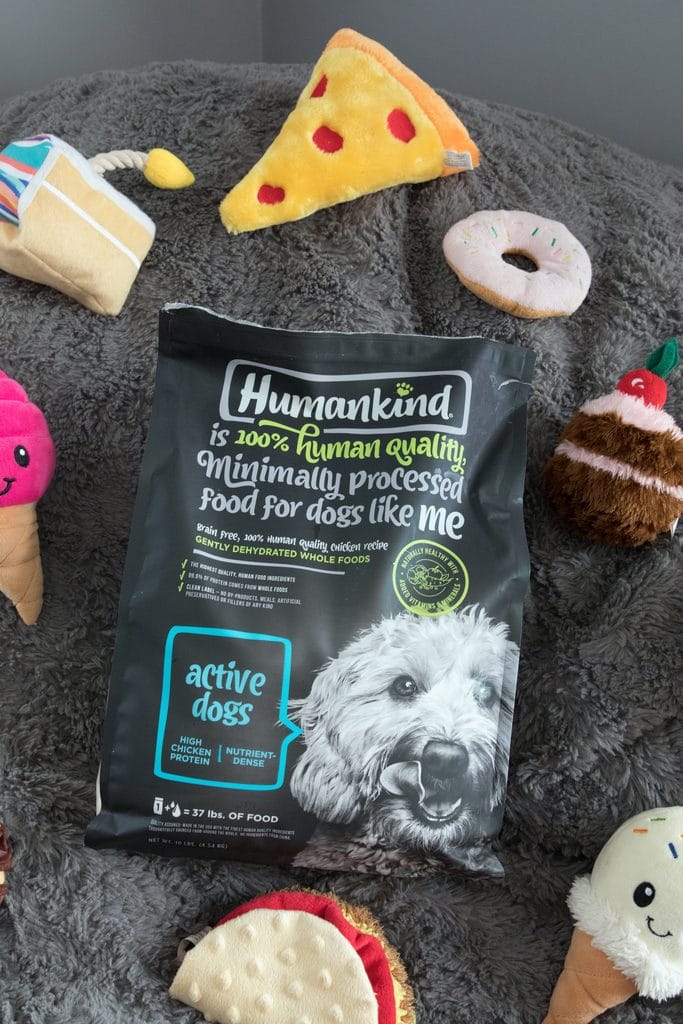 Your pup will be licking his or her lips, just like Winnie.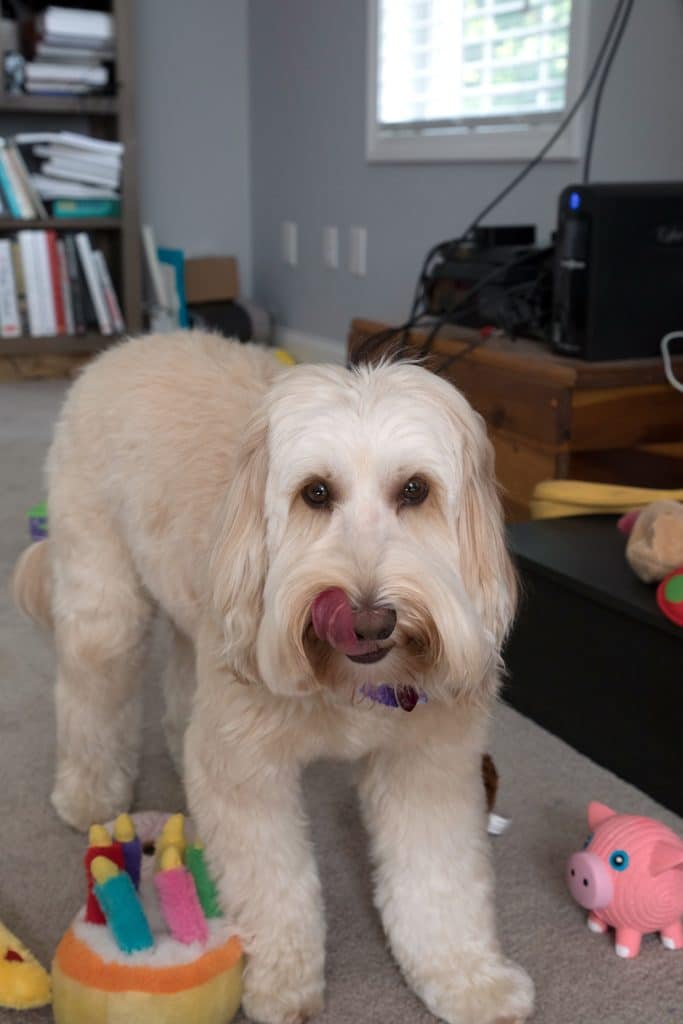 If you're looking for a new food for your dog, you can purchase Humankind online at humankindpet.com and have it delivered right to your door. A 5 lb. bag (makes 18 lbs. of food when rehydrated) is $59.99 and a 10 lb. bag of food (makes 37 lbs. when rehydrated) is $99.
Click here to order and use coupon code wearenotmartha10 to save $10 on your first order.
You can count on the fact that I'll be continuing to come up with new dog-friendly treat recipes for Winnie (and you guys!) and we will obviously be celebrating with our homemade pupcakes for all upcoming holidays, but I'm also thrilled to find a nutritious everyday food that she actually enjoys.
Is your dog like a little human to you?
This is a sponsored post written by me on behalf of Humankind.