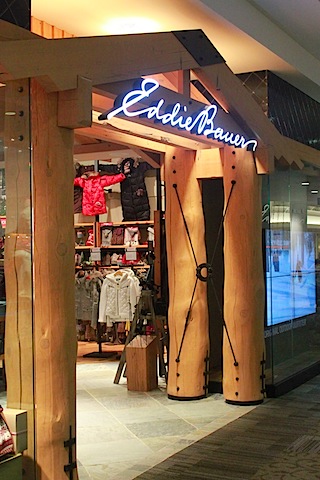 It's no secret at all that I love shopping. And clothes. And dressing other people. So when Eddie Bauer contacted me recently and asked if I, along with some other local bloggers, wanted to participate in their grand opening event last week at the South Shore Plaza, you know I wrote back in a heartbeat to say "YES!". But as the day got closer, I realized there wasn't any way I'd be able to swing driving down to the South Shore during a crazy work week. Plus, the night the event was held, bridesmaid duties called. I, along with Kate, went to preview Sues' wedding venue, so that obviously came first!
I was a little bummed to have missed the event, mainly because I had never stepped foot into one of their stores before and was excited to learn more about the brand and what they've been up to. I guess I always just associated the store with a more rugged lifestyle, which I, the girl who fears camping, clearly do not know a thing about 😉
Now, in comes Mario, my roommate's friend. Mario's around our place quite a bit. And at one point I may or may not have told my roommate, Liza, that I thought it would be fun if I could take Mario shopping and give him a lil' makeover. You see, he's tall, funny, and super nice. But his wardrobe didn't really speak for all of the positives that he possesses. With such good qualities, why not help spruce up the man's wardrobe a bit?! Liza ended up telling Mario about my idea, and to my surprise, he was actually all about it. Yay!
After spending some time thinking about where we'd go shopping, I decided to email the PR girls who invited me to the grand opening event. The short version of the email I sent went something like this: "Hi, Lainee! I want to give my roommate's guy friend a wardrobe makeover and I think Eddie Bauer would be the perfect place to bring him! Thoughts?". The girls got back to me and said Eddie Bauer LOVED the idea, so Mario, myself, and Liza hopped in the car yesterday after work, pouring rain and all, and drove down to the South Shore to do some shopping.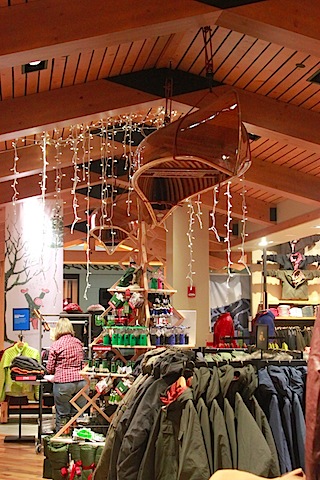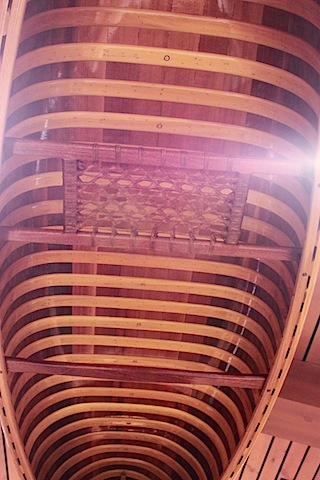 When we arrived at the store, we were greeted by the friendly Shelly, who gave us a quick tour, told us about the product lines, and set us free to roam the store. The company is actually running a 12 Days of Christmas promotion where each day, they give a different gift to their customers. Yesterday's gift was 50% off all sweaters. WOO! I kind of want to go back every day to see what the other gifts will be 😉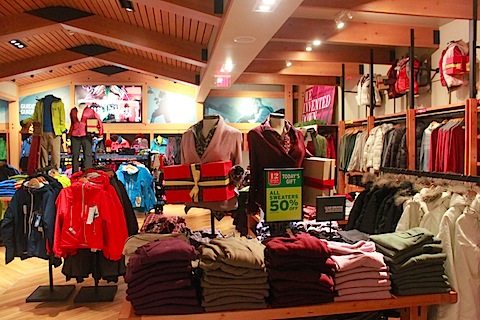 After browsing for a while, I got busy pulling armfuls of clothes of the shelves for Mario. But, before we get into that, here are a couple "before" snaps of Mario.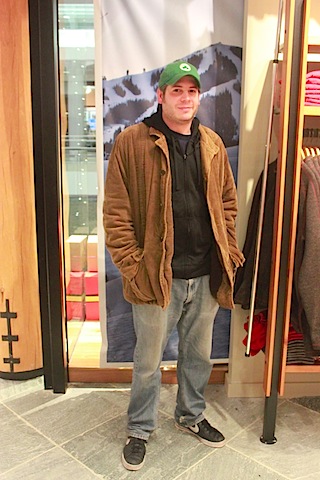 It makes me sad when people don't wear COLOR so I was set on bringing some brightness into this man's life!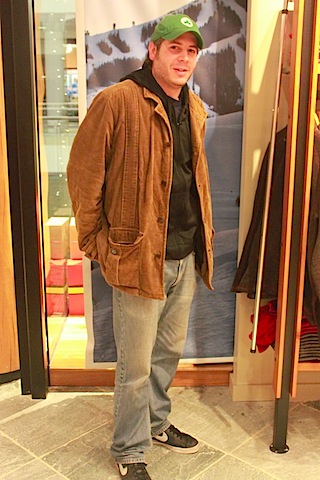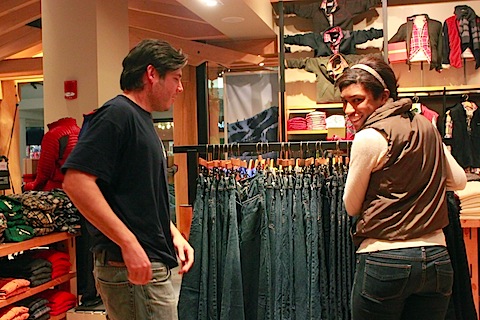 And I definitely wanted to see him in a nice wash of some nice dark jeans. My, I look a bit mischievous in the above photo, tee hee!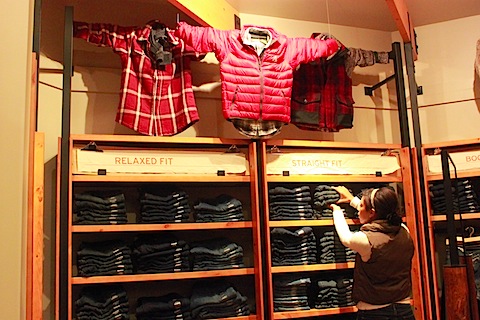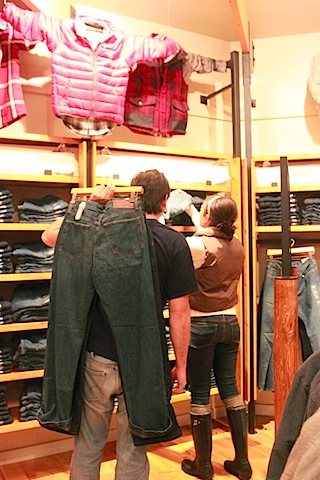 "I am clay – you shall mold me." -Mario. Yes, he really said that. You don't have to tell me twice!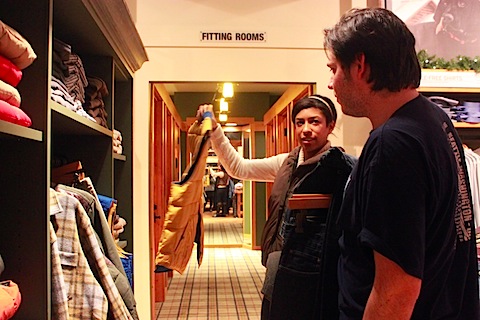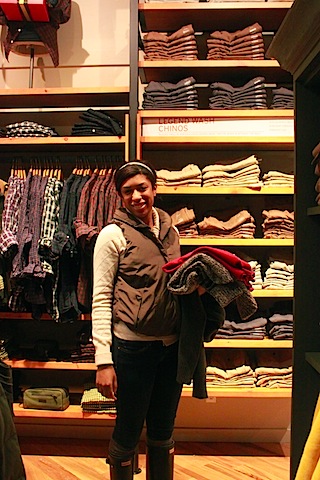 To make the process run as smoothly as possible, we organized countless amounts of sweaters, shirts, and pants into a dressing room and I made them into outfits, so Mario would know what belonged with what.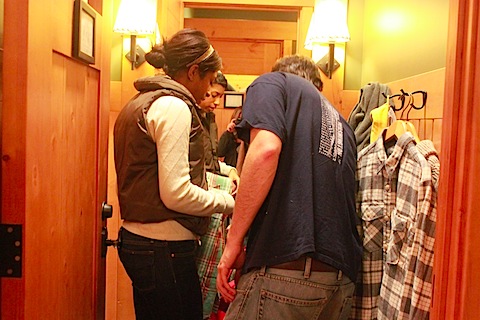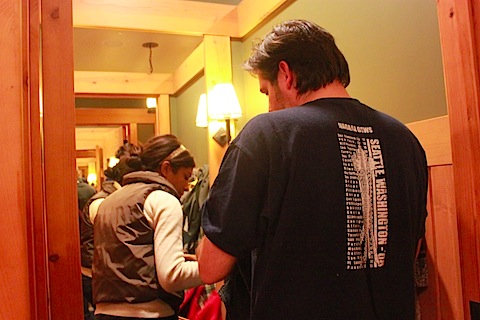 And then played peak-a-boo.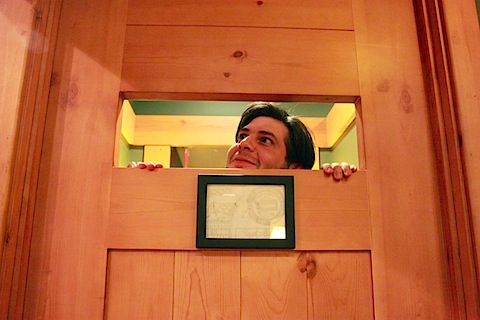 Look One: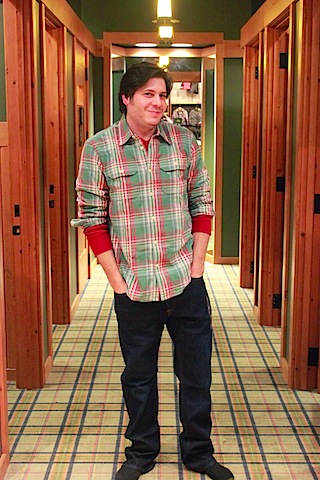 I paired the Classic Fit Rugged Twill Shirt with one of Eddie's thermal long sleeved shirts. I always love layering (and Eddie loves it, too!) and I especially love having pops of color show through the layers, so we rolled the sleeves up on the flannel to show a bit more of the red thermal.
And tossed on the 1942 Yukon Classic Model Down Wool Vest. While striking Blue Steel, of course.
Look Two: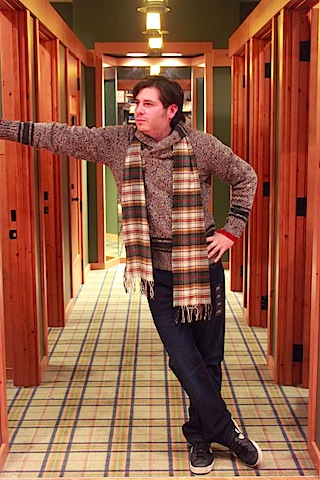 When Mario first put this sweater on, he said "This is a Tom Brady sweater!", which I clearly agreed with. It should be called the "Tom Brady post-game sweater" as TB often wears warm cozies like this during press conferences. The scarf collection at Eddie Bauer was also quite impressive.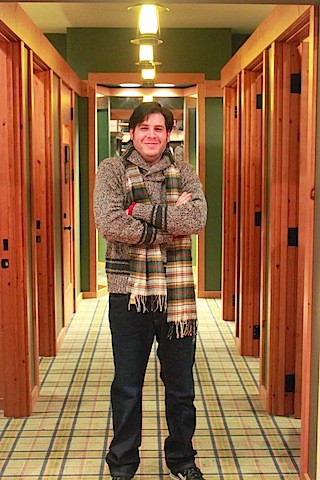 Look Three: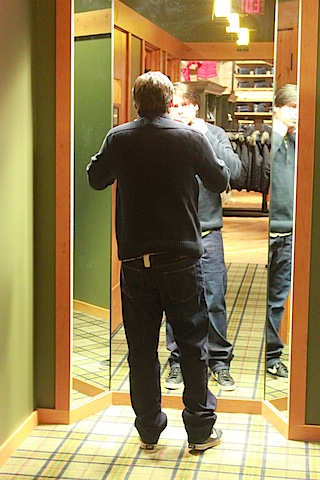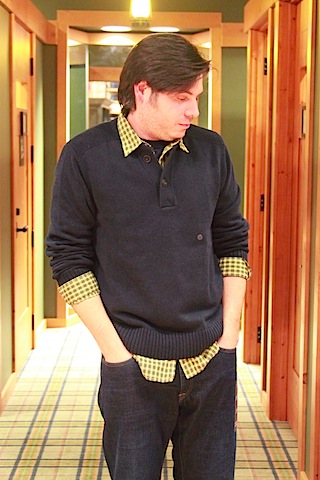 Next up was the Classic Fit Marl Fatigue Sweater, in navy layered over the Classic Fit Legend Wash Poplin Shirt in Reed Yellow. Classic and casual, while still looking crisp and put together.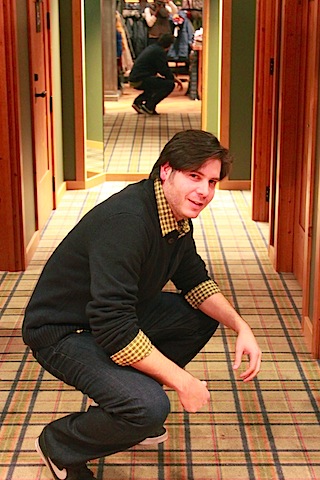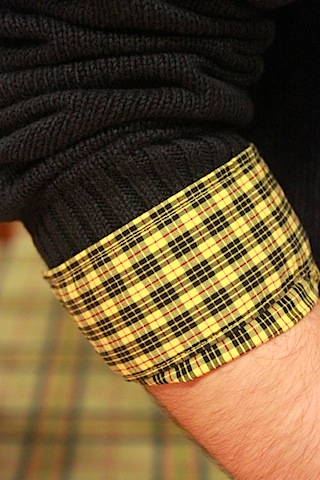 Look Four: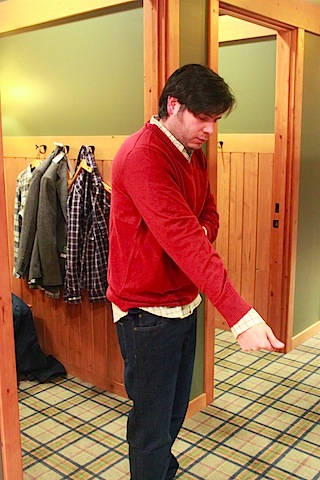 The Classic Fit Cotton/Cashmere V-Neck Sweater, in Chill over the Relaxed Fit Patterned Signature Twill Shirt, in Cloud.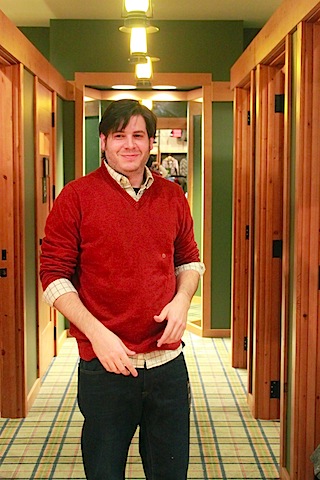 In between Mario's outfit changes, I roamed the store for things that I liked for myself. Hello, did you really think I could be in a store for 2.5 hours and not look for anything for myself? 😉
I was pleasantly surprised at the creative collections I found! There were so many classic pieces from sweaters, to belts (sparkly ones, too!), to basic button down shirts, and outerwear. But there were also some fun pieces that can be used to make a more dressy version of an outfit by layering. But the best part? The company stands by their brand. You can return any item and get a full refund if you're not fully satisfied. Brilliant.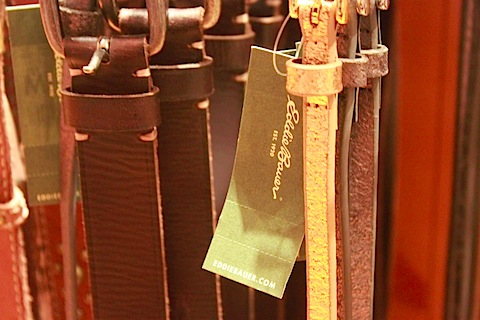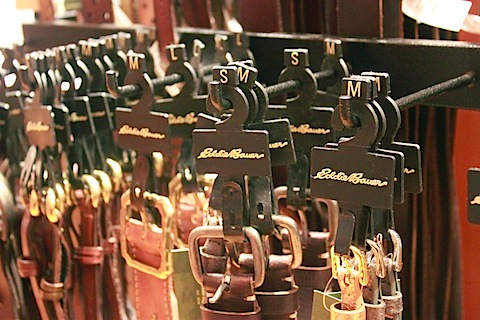 And newsflash, Eddie Bauer has jewelry. Who knew? I certainly did not. But now that I do, I will most definitely look here the next time I'm on the market for some fun bling. Which is always.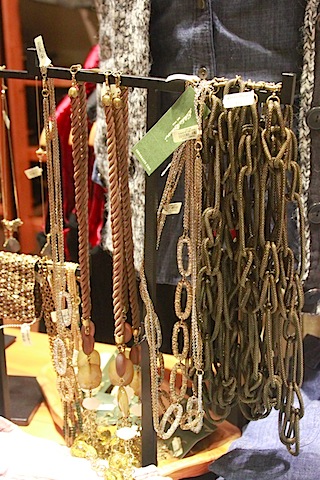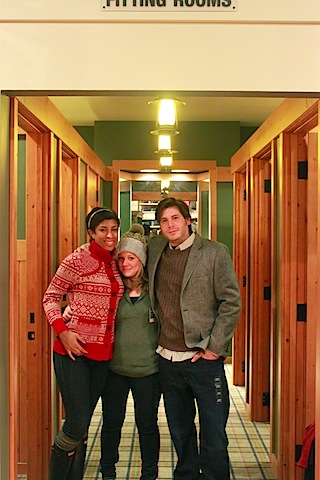 Oftentimes I like to pretend I'm outdoorsy and rugged, and I do love a Fair Isle sweater, so I bought the one I'm modeling in the photos. I also snagged this Flannel Cargo Shirt, in Sugar Plum. It was love at first sight and I can't wait to dress it up with some fun colored denim! Plus, I haven't owned a flannel shirt since middle school. Liza is wearing the Cloud Shawl Collar Sweater, in the pretty shade of Cloud. And Mario is modeling a tweed blazer he found (and refused to take off). Didn't he clean up well?! It always amazes me how clothes can transform people. Per my "request", he's going try and start incorporating some more color and dark denim washes into his wardrobe 🙂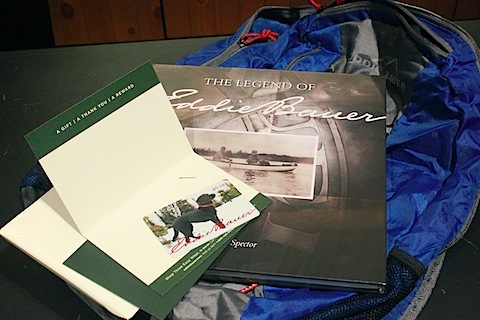 Shelly graced us EACH with an Eddie Bauer RipPac backpack, The Legend of Eddie Bauer book, and $50 gift cards, which we all obviously used to shop last night 😉
Thank you so much to Eddie Bauer and Shelly at the South Shore Plaza store, for all of your help! It was a fantastic night and I'm excited to have another store to visit. And I'm positive I'll be back soon to buy people some cozy sweaters and scarves to give as Christmas gifts! And a special thank you to Mario for being such a great sport and letting me drag him around for the sake of a fun blog post 😉
[Chels]