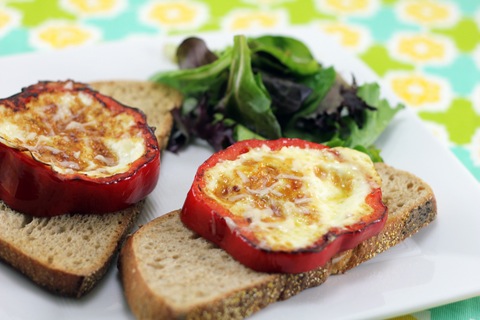 When I saw this recipe from Martha Stewart, I immediately knew I'd be making it. Sure, it makes the perfect brunch. But it also makes an incredibly speedy and easy weeknight dinner. Plus, I'll never say no to eggs for dinner. Never ever. I've had a crazy busy week, packed with teaching, work events, and wedding-related activities. No free nights mean not much cooking and a lack of blogging going on. But I didn't get home too late last night and decided a home-cooked meal was just what I needed. Home cooked doesn't mean hours slaving over the stove… This was done in 10 minutes! Which is grand because I've seriously only been home for 10 minutes this week. So, that worked out quite well.
Egg in a Red Pepper is a take off of egg in a hole, but it's a bit healthier and (I think) more fun with the red pepper. This is the kind of meal I thank the heavens for during weeks like this one. Feed me. But don't make me work too hard for it. I'm not Super Woman, after all.
Egg in a Red Pepper (serves 2):
Adapted from Martha Stewart
Print this recipe!
1 red bell pepper
1 T olive oil
4 large eggs
Ground salt and pepper
1 T freshly grated parmesan
4 slices nice crusty bread, toasted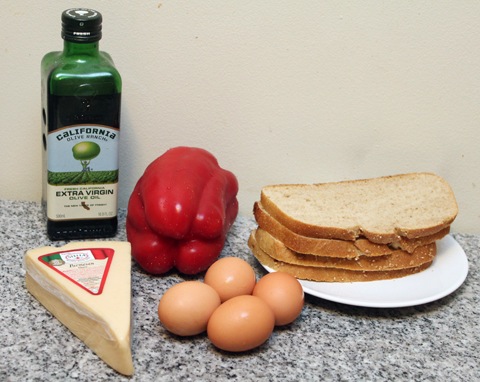 Remove seeds from pepper and 1/2-inch thick rings. It's not totally important that all the rings be the same thickness. Mine clearly were not.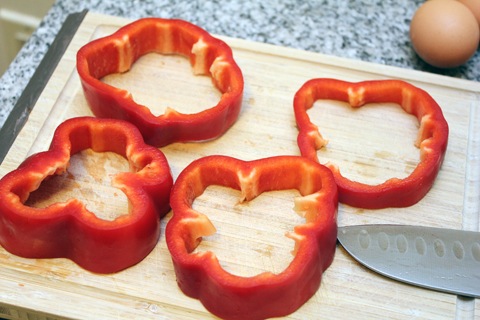 Heat olive oil over medium heat in a frying pan or skillet.
Place peppers in olive oil.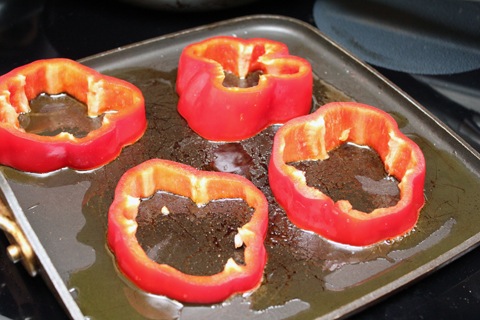 Then one-by-one, crack an egg into a small dish and pour it into the pepper.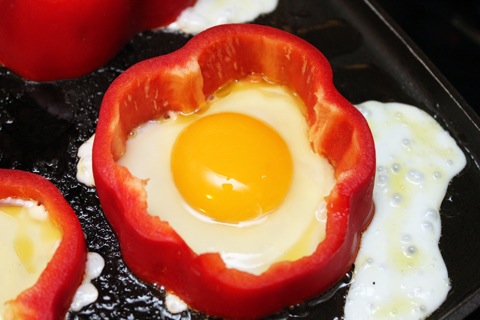 Sprinkle with salt and pepper and let fry for about 3 minutes.
Some of the egg may leak out from under the pepper, but for the most part, you should be OK.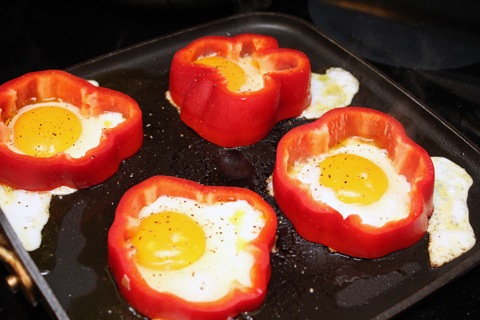 Once eggs are mostly set, flip the entire pepper over. This has to be a quick movement, or else you risk the egg/pepper falling apart.
After you flip all of the peppers, sprinkle parmesan cheese on top. Cook for one minute.
And place pepper egg on a piece of toast. My bread was a little larger than the pepper, so it didn't fit perfectly. Obviously, Martha's pepper fit on her bread and looked fabulous.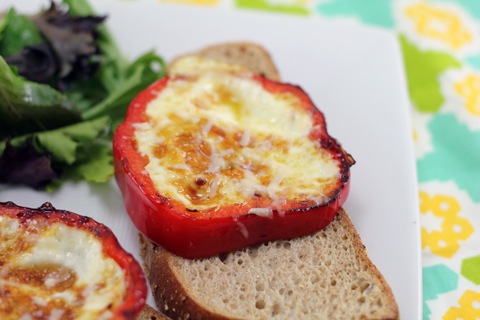 I also took Martha's advice and served my eggs in peppers with a side salad. Some simple mixed greens, sprinkled with olive oil, lemon, salt, and pepper. It was the perfect side!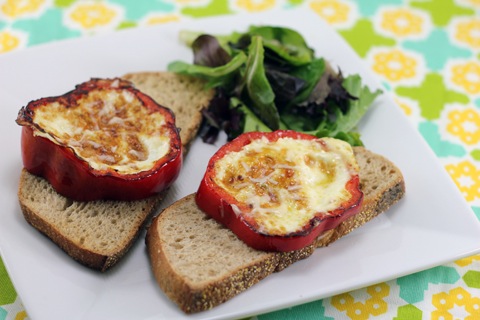 This was the perfect, "I have no time, but still need to eat" dinner. And one that I can definitely see myself making again. But really, it would make the perfect brunch, as well. It's super easy to make multiple ones at the same time. And once they're made, they're pretty easy to transport. You could literally layer a platter up with them and have everyone serve themselves.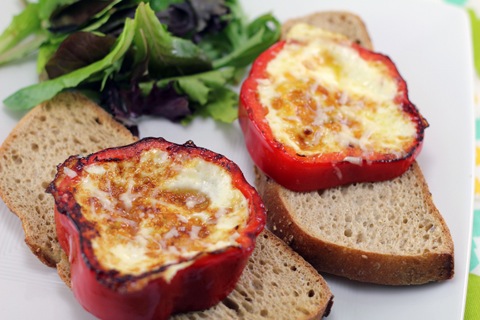 The only thing that could have made this dish better? Next time, I may need to layer the bread with bacon before placing the egg on top. Seriously, not sure why this didn't cross my mind before making it. I guess I was too busy thinking about bacon in cookies.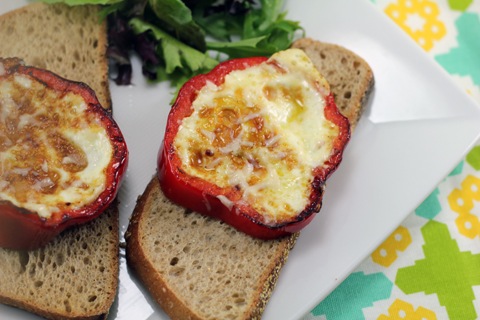 And that, my friends, is a deliciously simple meal. And now I need to get some sleep, so I can gear up for the rest of my super busy week (thank goodness tomorrow is Thursday!). Today marks the official 1 month mark until my wedding and there is SO much to be done. Being busy is good, but I need to take a deep breath and try to enjoy it, too.
What do you do when a busy schedule leaves you with little time in the kitchen?
[Sues]