Last night, we had the fabulous honor of heading to KitchenBelle's dinner with Eggland's Best at Stella in the South End. We were excited for about a million reasons. 1) We love KitcheBelle! 2) Hello, a dinner filled with eggs, 3) Neither of us had been to Stella yet, and 4) The event was seriously filled with lots of our favorite bloggers. It ended up being an awesome evening. We ate a lot, chatted a lot, and ended up learning a whole lot about eggs. Which happen to already be one of our favorite foods.
First of all, we had NO idea Stella was so huge. There's a really cute, decent-size private space in the back of the restaurant where the event was held. Everything was decorated so nicely, with lots and lots of eggs, of course.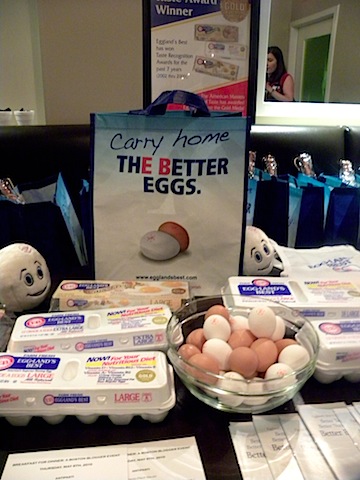 We all got a filled swag bag, which included this little stuffed egg. So cute! It also contained the hugest umbrella I've ever seen in my life. AND a bag full of hardboiled eggs. AKA the perfect snack.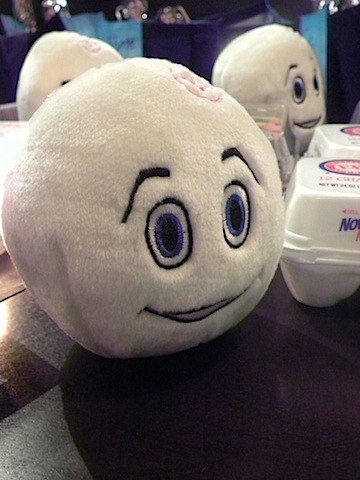 The private room in Stella had a bar where they served us bloody mary's and mimosas. Why? Because this evening was all about breakfast for dinner! As you're probably already well aware, I am a HUGE fan of breakfast for dinner (especially where bloody mary's are involved) and this party only made me more passionate about it.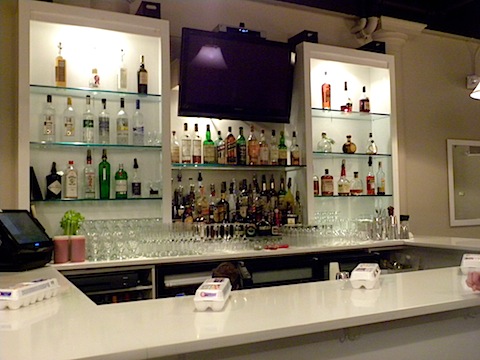 More "egg-celent" table decorations (sorry for my bad egg jokes).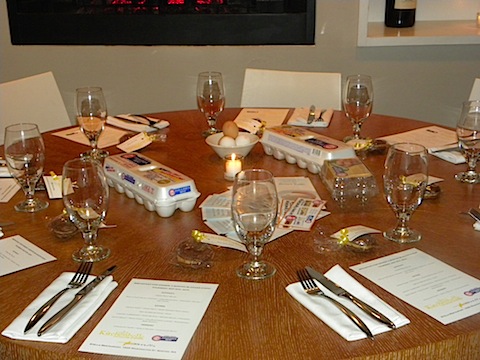 And our table full of bloggers!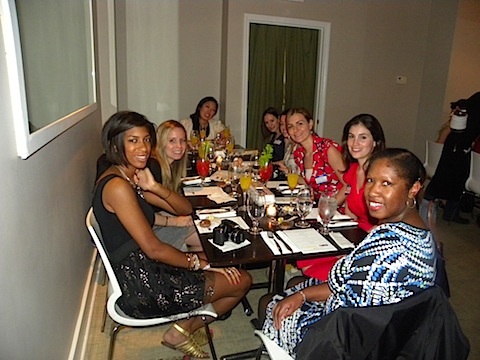 We started with a couple salads, including a fruit salad… And Stella's chop salad with hard boiled egg, of course. Honestly, I could have eaten a huge bowl of this and been totally fine. And I promise I'm not simply saying this, but the hard boiled eggs were SO fresh and delicious. Aren't they pretty, too?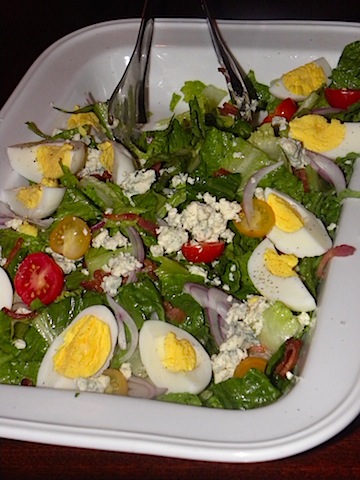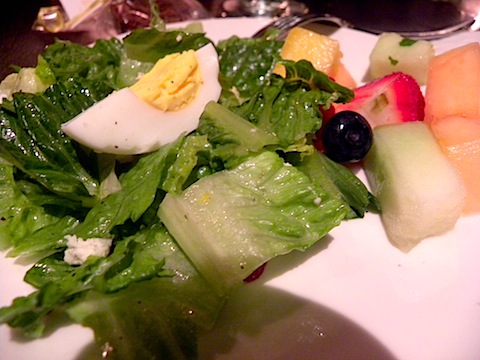 Then Stella and Eggland's Best inundated us with egg-filled entrees! My personal favorite was the duck omelet with duck confit, crumbled goat cheese, mushrooms, and baby spinach. I never cook with duck in the home, but I seriously want to try to recreate this dish now.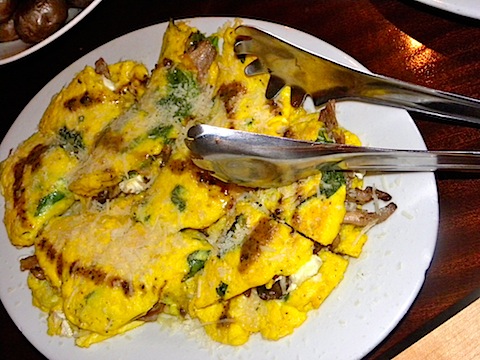 But the french toast was also delightfully eggy and delicious.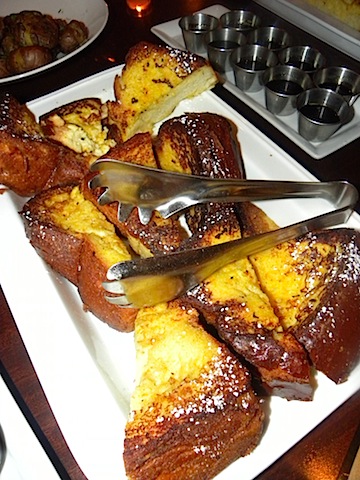 And then we had the most amazing linguini "carbonara" with poached egg, smoked bacon, and parmesan. Another dish I could have eaten an entire bowl of.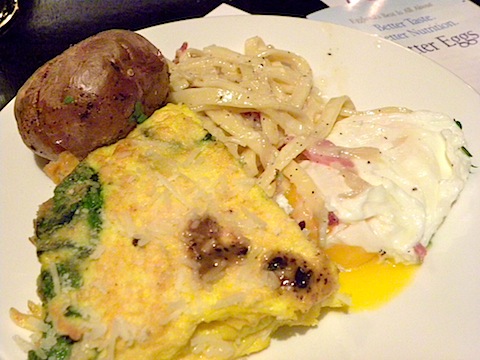 And then they brought out even more food! Grilled sirloin steak and eggs. Wow. I wish this hadn't come out last because I would have loved to eat a platter full of it, but I was already getting stuffed. The sirloin was perfectly cooked, as was the egg.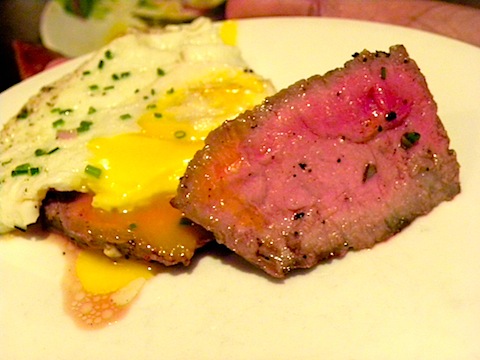 And then dessert came. Sadly, Chels and I could barely take a couple bites of the chocolate torte with vanilla gelato and chocolate sauce. But this is definitely my kind of dessert.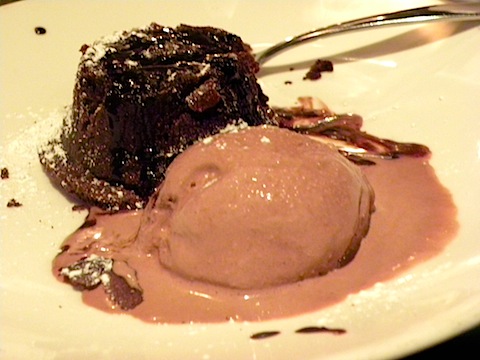 While we were eating, we learned a ton about Eggland's Best eggs… Like the fact that they're fed all-natural, all-vegetarian feed because, you know, what goes in, goes out. Eggland's Best eggs have more vitamin E, 100 mg Omega 3, 25% less saturated fat, and more goodness that makes them superior to other eggs. They also only have 175 mg of cholesterol, compared to the 215 mg in a regular egg. Those reasons are most definitely enough for me to start buying Eggland's Best!
This was one of the best events I've been to in a long time because so many of our favorite people were there and it was just so fun to have everyone gathered in one place. Here we are with Will from Boston Foodie. It took so long for us to actually meet Will at an event, but now that we have, we see him everywhere!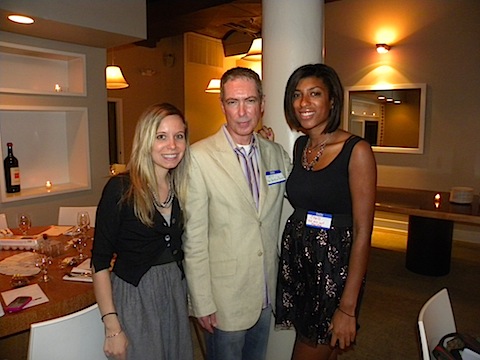 We had no idea our friends Susan (Transient Travels) and Petey (Petey Pumpkin) were coming to the event, so we were pleasantly surprised!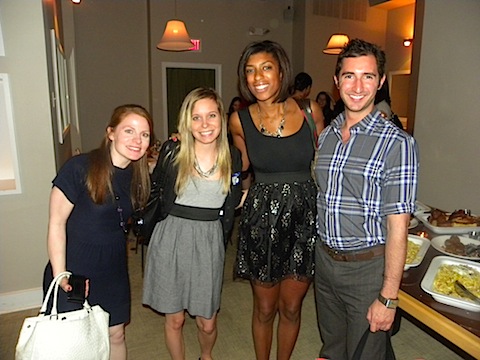 We posed with our stuffed Eggland's Best eggs with Petey, Susan, Megan (Delicious Dishings), and Alicia (The Clean Plate Club).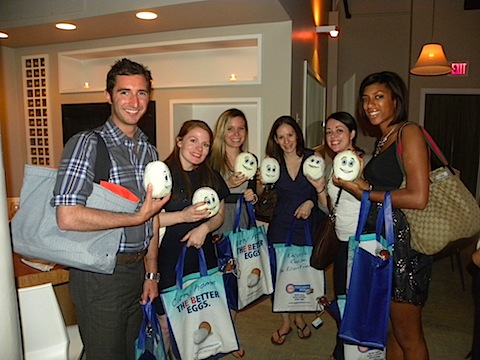 And with the lady of the night, Mary Kate from Kitchen Belle! She has a little one on the way and we're soo happy for her! And we think she should name the baby Martha if it's a girl since she had her last sip of wine before finding out she was pregnant at our WANM party 🙂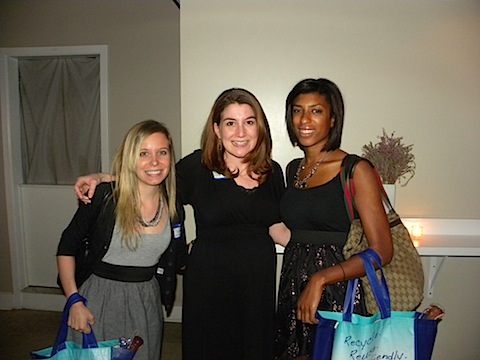 Thank you so much for inviting us, Mary Kate. And a huge thank you to Eggland's Best for throwing a wonderfully successful event and teaching us all about your beautiful and tasty eggs. And Stella, we'll definitely be back to try some of your regular menu!
Don't forget to follow Eggland's Best on Twitter!
Stella
1525 Washington Street
[Sues]