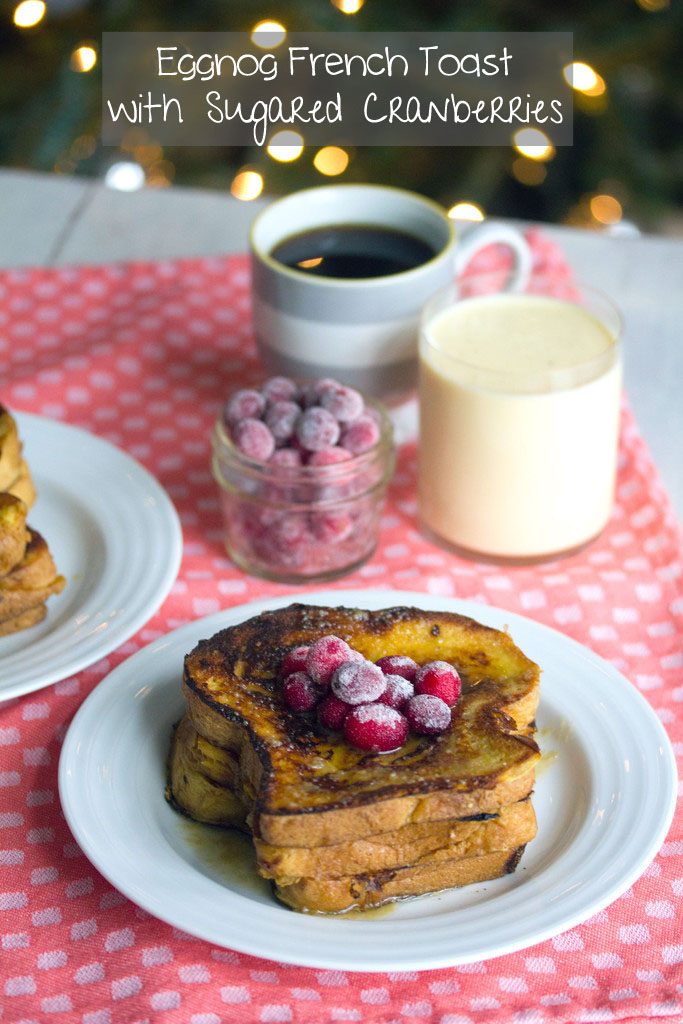 I really, really wish this holiday season would last a little bit longer. If only for the fact that I haven't drank nearly enough eggnog. And really, this is the only time of year where it's at all appropriate to be drinking eggnog (some would even say there's no time of year!). Imagine if you walked in on me drinking a large glass of eggnog in the middle of June? You'd think I was a crazy person! Not to mention, I'd have to make it myself because I highly doubt my grocery store would take my special off-season request.
Because there are only a few days until Christmas (!!), I'm getting in my eggnog any way possible. I came reallyyy close to putting it in my cereal in place of milk the other day. I resisted. But in eggnog? Perfectly reasonable and acceptable. I say it every year, but even if you don't like actual eggnog, you probably enjoy the flavor (just not the consistency). This french toast has all the holiday flavor… Plus sugared cranberries for extra appeal.
There's nothing too complicated about whipping this up. If you have a nice big skillet or griddle, it's also the perfect breakfast to serve to company. It's a regular french toast batter with eggnog and some spices involved.
Sugared cranberries are easy and an holiday essential. Oh, and I couldn't serve the french toast with regular maple syrup, so I made a quick and easy eggnog syrup instead.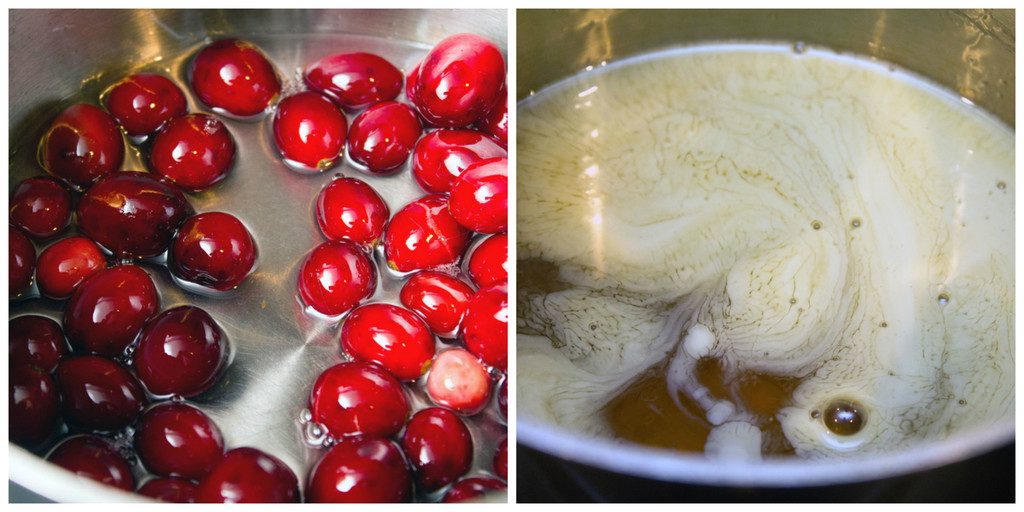 Serve the french toast with a healthy dose of eggnog syrup and top with sugared cranberries. If you're not in the holiday spirit just yet (I don't blame you… this warm weather is not conducive to holly jolly fun).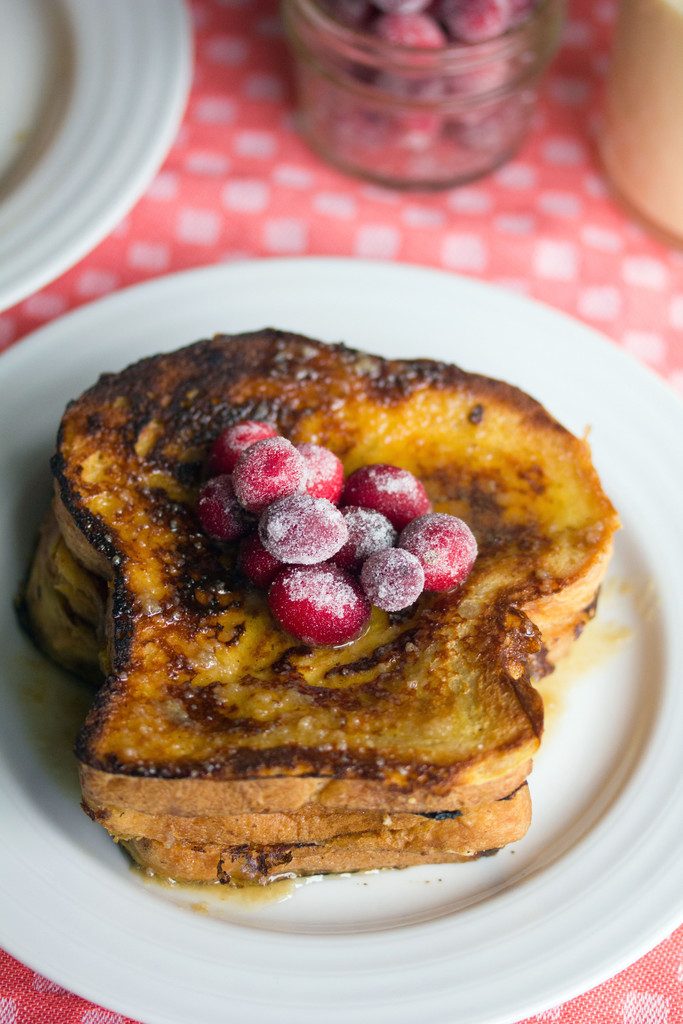 But this french toast will certainly help get you there. Which is why I recommend making it, like, NOW. It would certainly be an ideal Christmas morning brunch, but I really think you need that holiday boost ahead of time.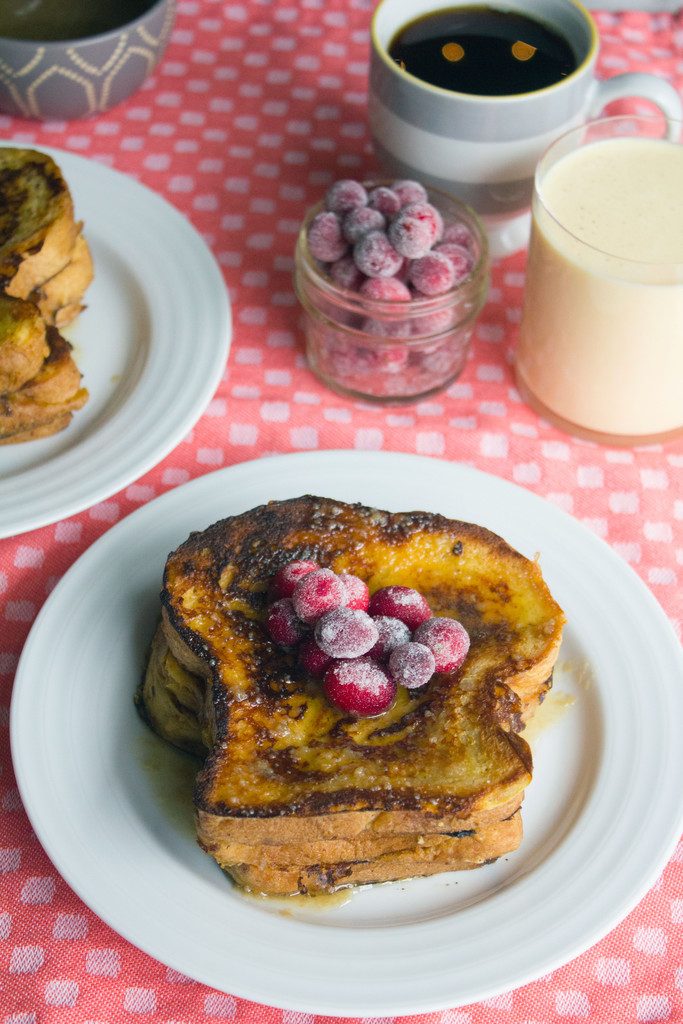 I wish sugared cranberries were a year-round thing, too. Though I have to admit that I've been seriously stockpiling this year… My freezer is filled with cranberries because I can't survive without them until next holiday season.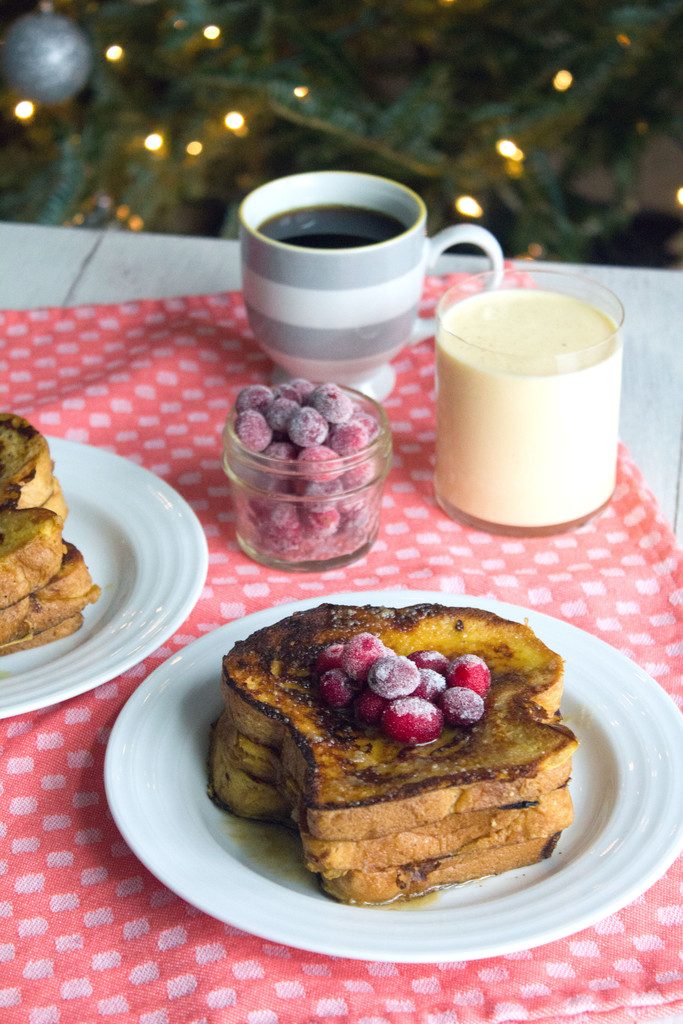 Frozen eggnog probably isn't the best idea. But would there be any harm in trying??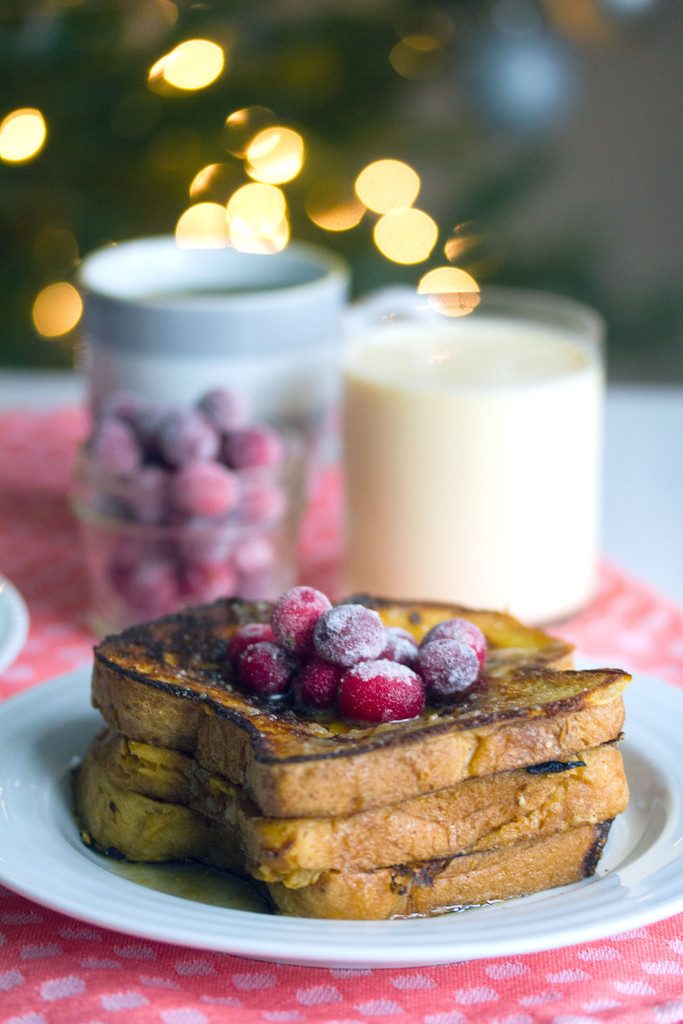 Yes, what you see in this picture is, in fact, my idea of a dream breakfast. A full stack of french toast with an extra-large glass of eggnog and cup of coffee. With the lights from the Christmas tree in the background. So cozy and perfect.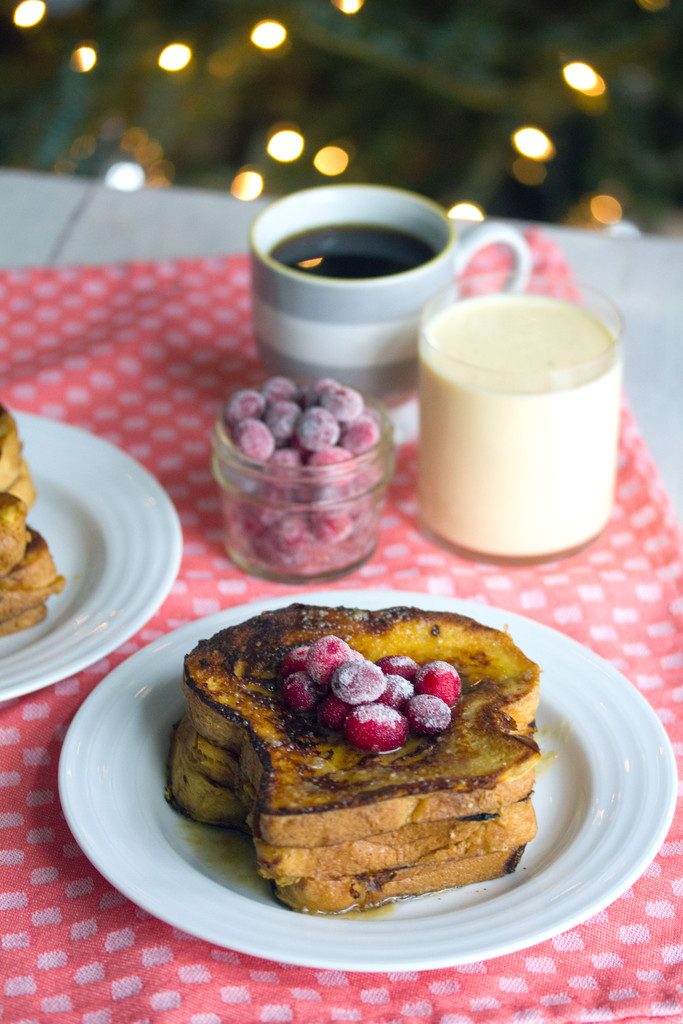 Also, I'd most definitely be wearing pajamas. Who wants to eat a plate full of eggnog french toast in their tight skinny jeans and sweater? Not me.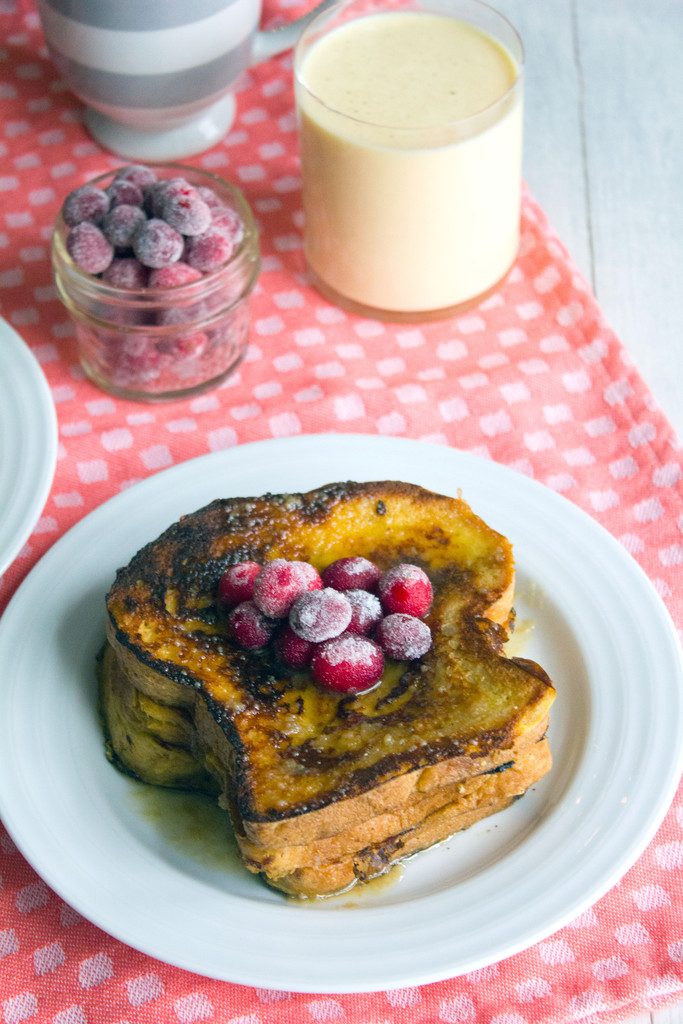 But, I mean, if that was my only option, it would be OK. I guess that's why leggings as pants were invented (and yes, I do believe in leggings as pants, within reason).
Happy holidays and merry almost Christmas! I hope you're having a spectacular week.
What are you having for Christmas morning breakfast?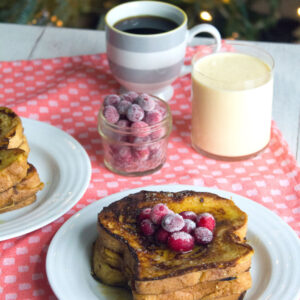 Eggnog French Toast with Sugared Cranberries
This breakfast is sure to get you in the holiday spirit! Eggnog french toast is topped with eggnog syrup and sugared cranberries... Best enjoyed with loved ones in your pajamas.
Ingredients
Eggnog French Toast:
8

slices

challah bread or brioche

2

eggs

1 1/2

cups

eggnog

1

tsp

cinnamon

1/8

tsp

nutmeg

Unsalted butter for pan
Sugared Cranberries:
3/4

cup

sugar

1/4

cup

water

1

cup

cranberries
Eggnog Syrup:
1/2

cup

maple syrup

2

Tbsp

eggnog
Instructions
Eggnog French Toast:
In a large shallow bowl, whisk together eggs, eggnog, cinnamon, and nutmeg.

Heat large skillet or griddle over medium heat and melt about 1/2 Tbsp butter.

Dredge each slice of bread into the eggnog mixture, making sure bread is fully coated.

Place bread slices on pan and cook about 3 minutes on each side, until golden brown. Add more butter to pan as needed.
Sugared Cranberries:
In a small saucepan over medium heat, combine 1/4 cup sugar and water.

Stir to dissolve sugar and add cranberries to saucepan to coat in mixture.

With a slotted spoon, remove cranberries to wire rack and let dry for about an hour.

Roll cranberries in remaining 1/2 cup sugar until well coated. Let dry for another 30 minutes.
Eggnog Syrup:
In a small saucepan over medium heat, combine maple syrup and eggnog.

Let simmer for about 2-3 minutes before removing to a heat-proof bowl or mason jar.

Serve either hot or cold.