These Eggnog Linzer Cookies will be the hit of the holiday cookie platter! With a delicious eggnog icing sandwiched between two eggnog cookies, these make a delightful holiday treat.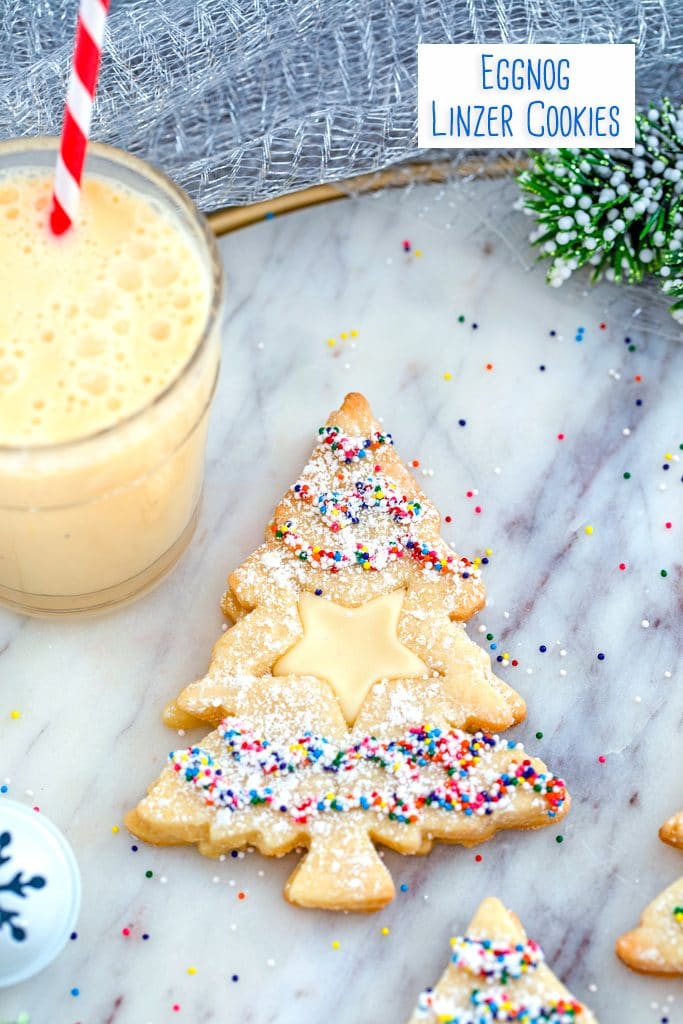 Eggnog is one of the last sacred delicacies that actually stays in the holiday season in which it belongs. I mean, you can buy Halloween Peeps and Christmas Peeps now. And I even saw those delicious Cadbury Mini Eggs being sold in Halloween and Christmas colors. Like, whyyyy?
Seasonal treats become a whole lot less exciting when you can indulge in them at any old time of year. But eggnog? Eggnog screams Christmas holidays through and through and I just don't see it trying to break through into the Easter season.
It knows its place and it also knows that I am very likely to overdo it if I can access it at any time of year. Thank you for keeping me in check, eggnog.
I've been loving linzer cookies lately because they're super fun to make, visually appealing, and always delicious. When I was working on my holiday cookie platter post, I decided to add these Christmas tree eggnog cookies to the mix and they turned out so delicious that I decided they needed a post of their own. And here they are!
What Are Linzer Cookies?
You may be wondering what exactly linzer cookies are. Simply put, they're classic shortbread sandwich cookies made in part with almond flour.
Linzer cookies traditionally have a layer of jam between them and are lightly dusted with confectioners' sugar.
For this eggnog cookie version, instead of using jam I used an eggnog icing. I still topped the cookies with confectioners' sugar, but added some sprinkles, too!
How to Make Eggnog Linzer Cookies
Of course, I also added a splash of eggnog to the actual cookie itself. Other than the fact that they're made with a mixture of all-purpose flour and almond flour, the cookie batter is a pretty typical cookie batter.
Oh, and as you know, I only ever buy Hood Eggnog (they're not sponsoring this post, but have sponsored me on other posts this year).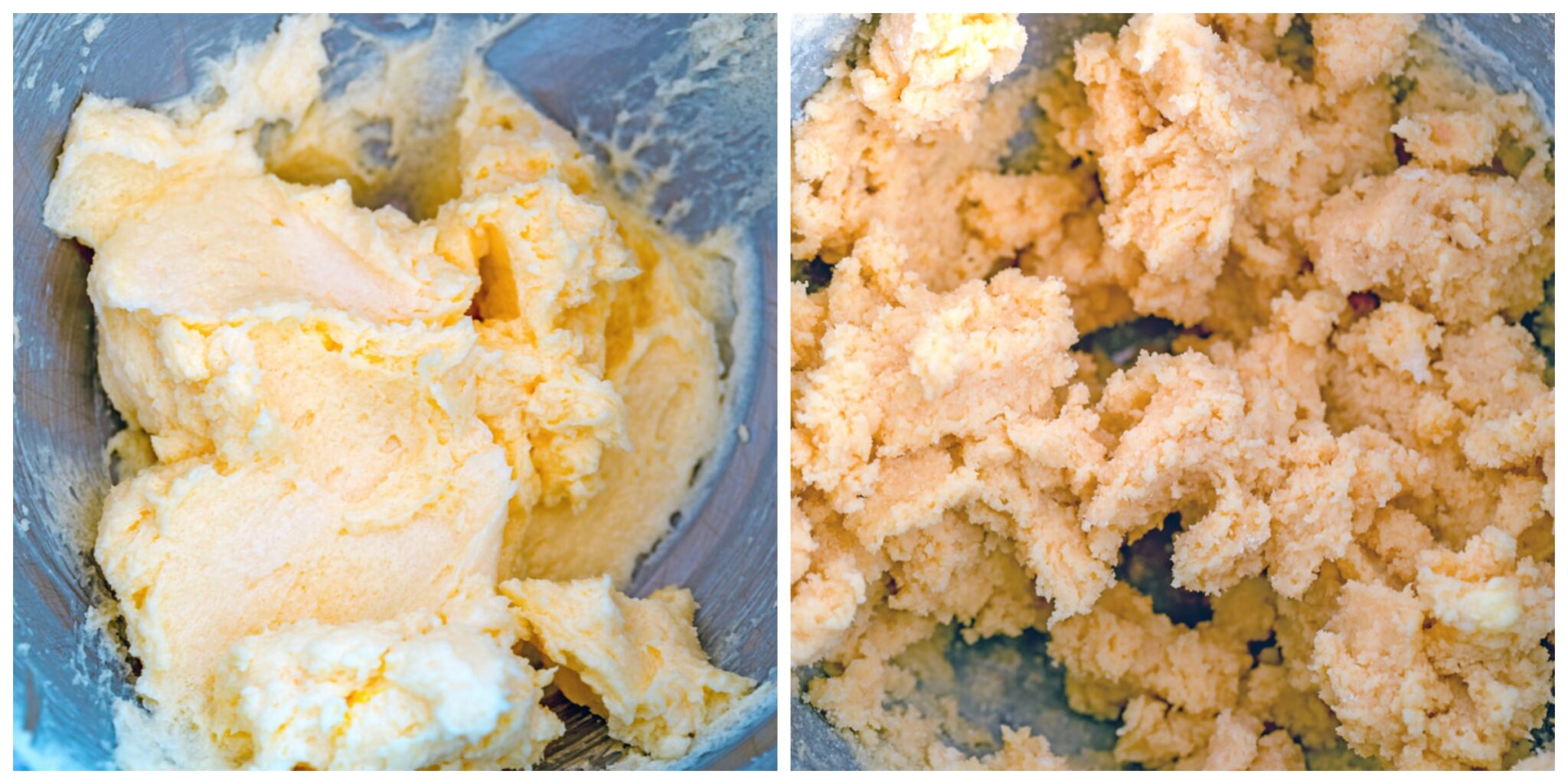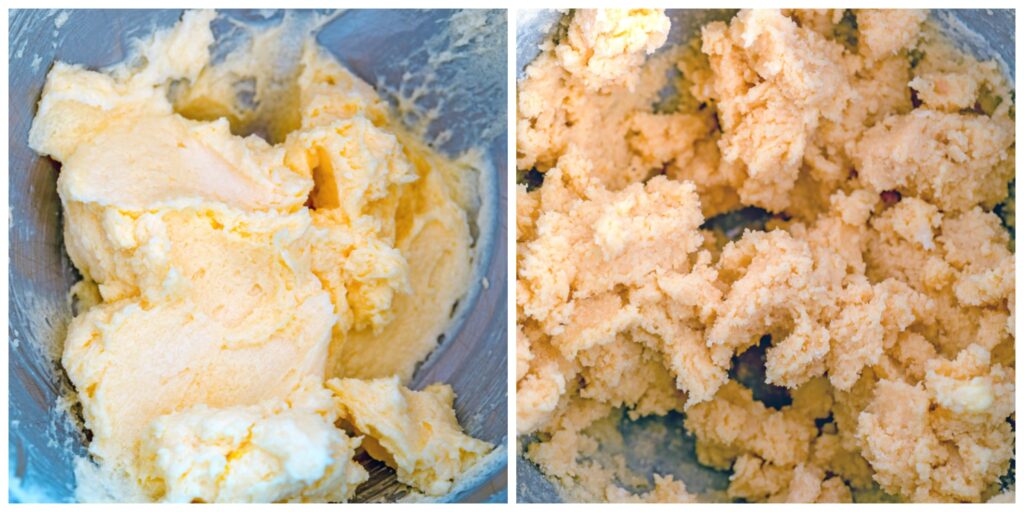 The dough does need to chill for about an hour and then you'll roll it out and cut it into whatever shapes you desire. Typically, for linzer cookies, you'd have two cookie cutters of the same shape in different sizes and use the smaller cookie cutter to cut out the shape in the middle of the bigger cookie.
But I didn't have a small Christmas tree cookie cutter that was exactly the right size, so I used a star instead. Once all the trees were cut, I used the star cutter on half of them. These will be the cookies that go on top of the sandwiches.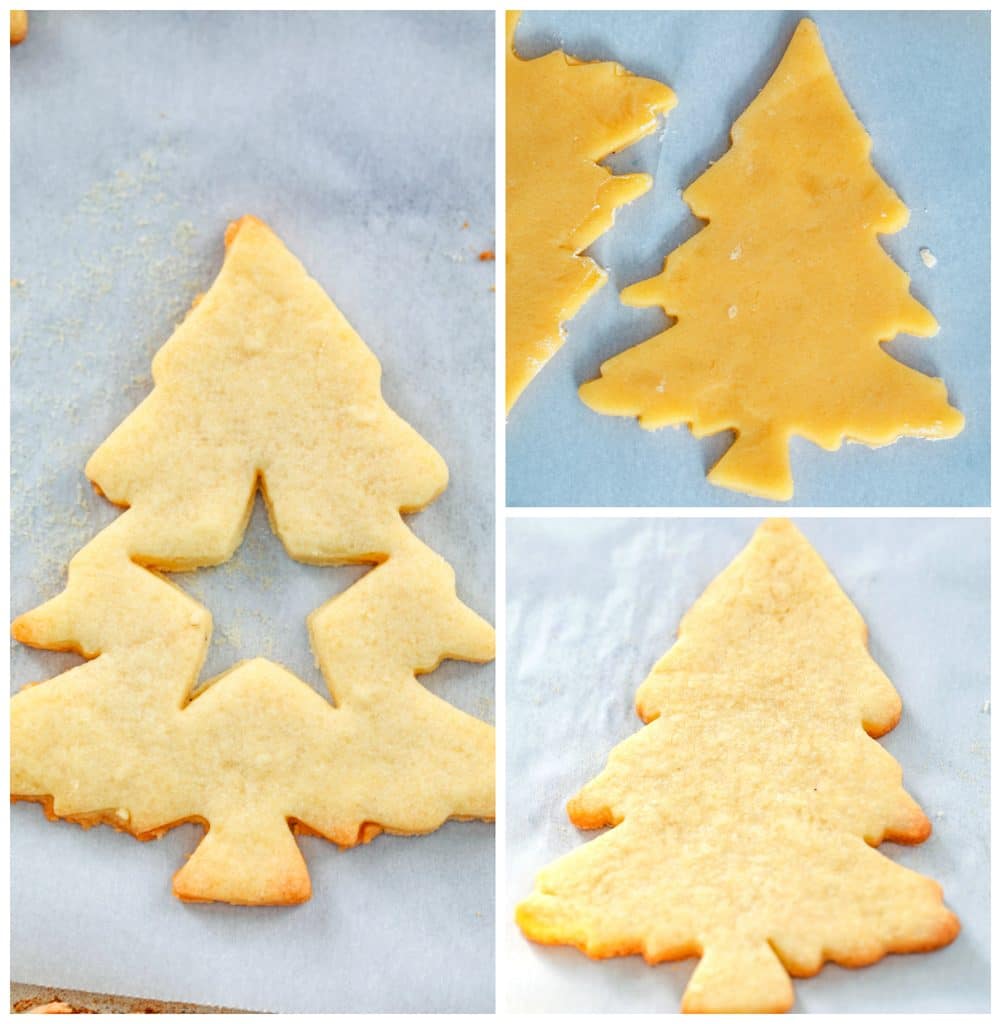 Once the eggnog cookies were cooled, I decorated them!
You can do this however you want, but I drizzled some of the eggnog icing on top of the cut-out trees and then dunked them in sprinkles.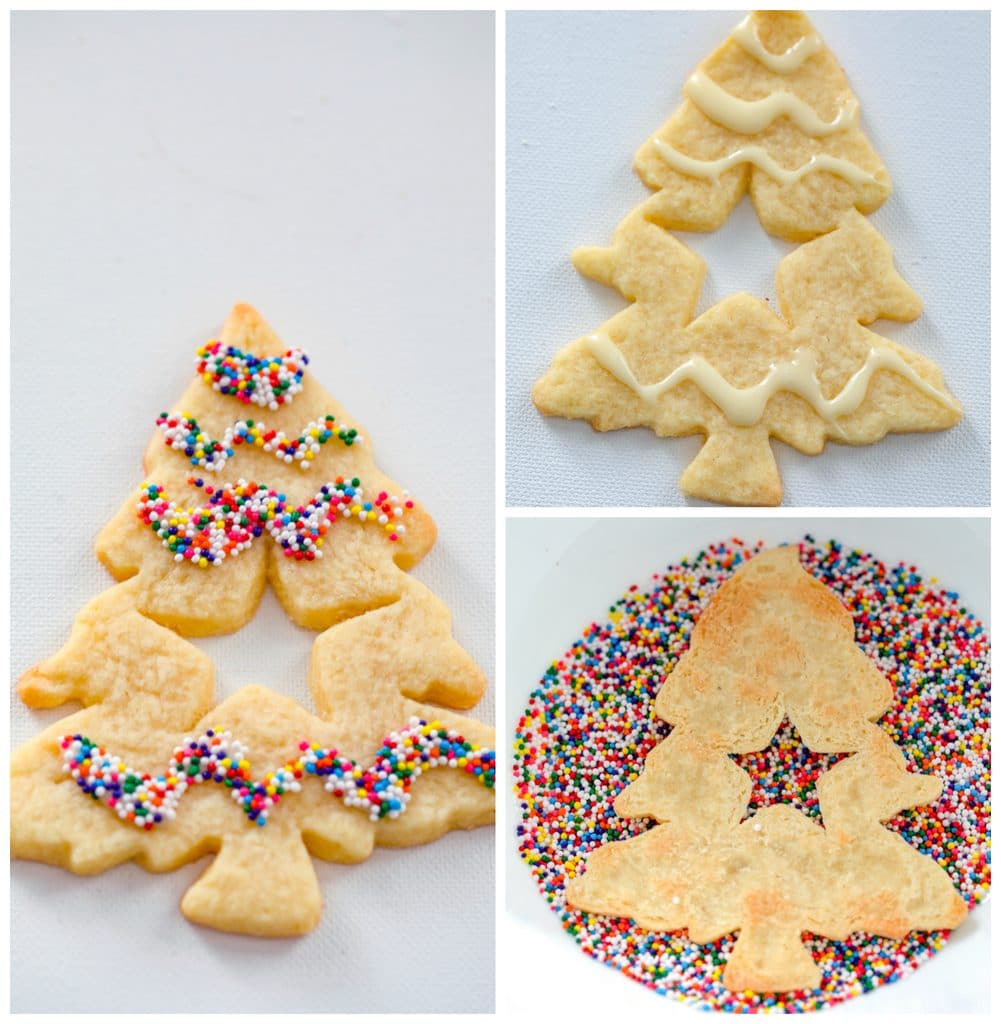 Once the sprinkles were on, I dusted the decorated cookies with a little powdered sugar. Then I spread eggnog icing on the cookies that didn't have star cut-outs and sandwiched the decorated trees on top.
And the Christmas tree eggnog cookies were complete!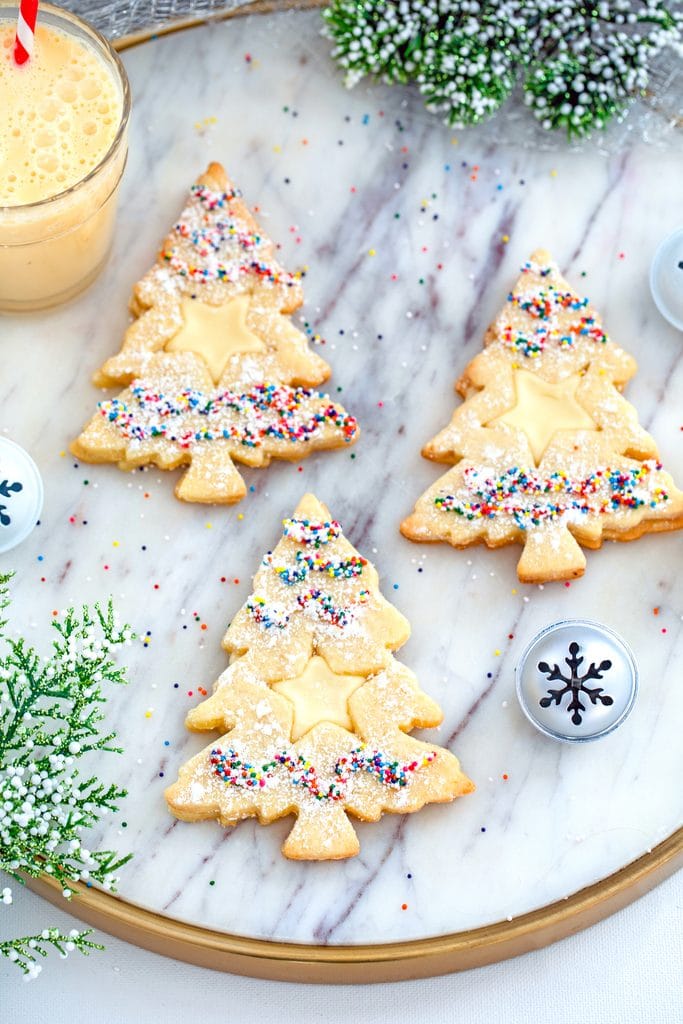 Obviously you need to serve them with a nice cold glass of eggnog. Remember, eggnog season is short and only comes once a year, so you really need to enjoy it while you can!
I use it to replace milk in so much of my holiday baking (pancakes, anyone??), plus we always have a carton in our fridge because my husband is a serious addict.
He is actually the prime example of why eggnog should stick to just the holiday season. He would go WAY overboard if it were available all year long.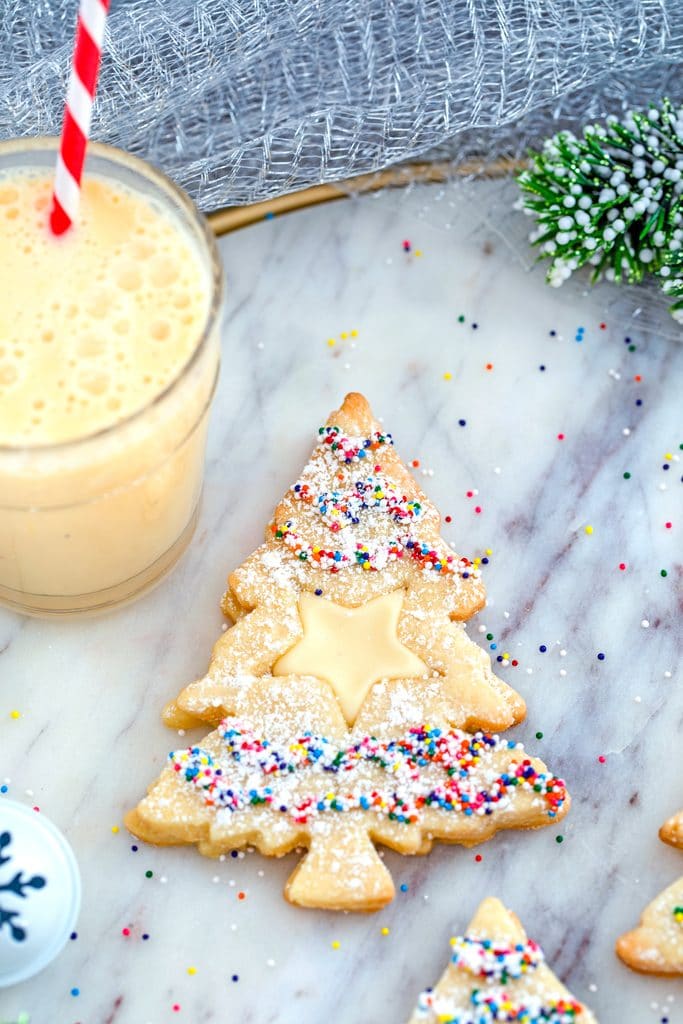 But back to the eggnog linzer cookies! These are the perfect alternative to a holiday sugar cookie. The almond flour and subtle decoration make them a little more sophisticated than the typical sugar cookie... And the fact that the eggnog cookies are sandwiched together with a delicious eggnog filling makes them doubly delicious.
When you grab a cookie from the holiday cookie platter, you'll feel like you hit the jackpot with this one!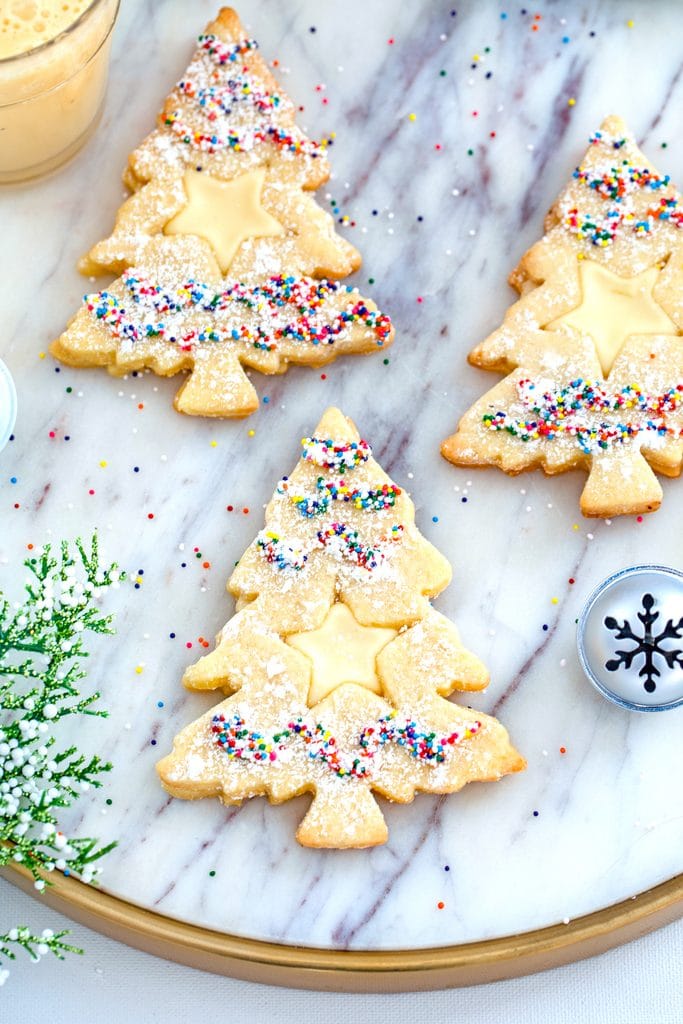 Now, excuse me while I go freak out about how much I still have to do before Christmas in less than one week (ahhh!).
In between baking more cookies, making more toffee, and sitting by the door waiting for UPS to deliver my gifts so I can wrap them, I'll be sipping on eggnog, eating eggnog cookies, and trying to enjoy the moment.
Do you ever bake with eggnog?
I also have linzer cookies for the spring and fall! Check out my Lavender Lemon Linzer Cookies and my Pumpkin Spice Linzer Cookies. And for more eggnog in cookies, check out my Eggnog Peppermint Sandwich Cookies. I also can't wait to make these Rosemary Linzer Cookies from Hangry White Male!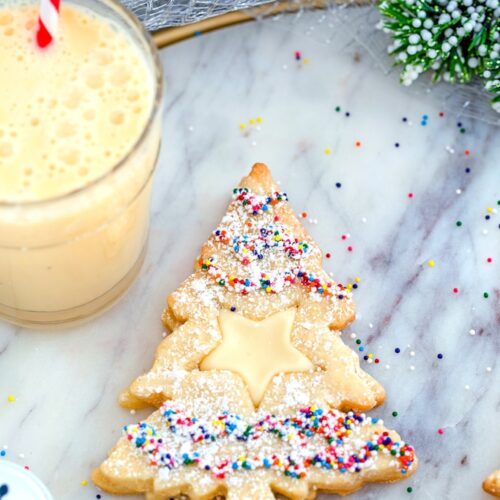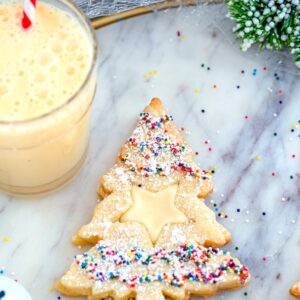 Eggnog Linzer Cookies
These Eggnog Linzer Cookies will be the hit of the holiday cookie platter! The cookies are made with a splash of eggnog and a delicious eggnog icing is sandwiched between the two eggnog cookies for a delightful holiday treat.
Print
Pin
Rate
Ingredients
¾

cup (12 Tbsp)

unsalted butter,

room temperature

½

cup

granulated sugar

1

large egg yolk

3

Tbsp

eggnog

1

cup + 2 Tbsp

all-purpose flour

¾

cup

almond flour

¼

tsp

salt

Eggnog Icing

(recipe below)

Sprinkles,

for decorating (optional)

Confectioners' sugar,

for dusting
Eggnog Icing
3

cups

confectioners' sugar

6

Tbsp

eggnog
Instructions
In the bowl of a stand mixer or in a large bowl with a hand mixer, beat together butter and sugar until light and fluffy, about 3 minutes. Beat in egg yolk and eggnog.


In a separate large bowl, whisk together flour, almond flour, and salt. Add flour mixture to the wet mixture and mix until just combined, taking care not to over-mix.

Divide dough in half and pat each half into a disc. Wrap dough in plastic wrap and place in fridge until firm, about 1 hour

On a lightly floured surface, roll one disc of dough out to be about ¼"-thick (leave second disc of dough in fridge). Cut out cookies with a medium or large cookie cutter and transfer to a parchment paper-lined baking sheet. Be sure to re-roll and dough scraps to cut out as many cookies as you can. Place cookie sheet in fridge for about 30 minutes and take second dough disc out.

On lightly floured surface, roll second dough disk out to be about ¼"-thick and cut shapes with same cookie cutter. Transfer these to a second parchment paper-lined baking sheet and use a smaller cookie cutter (can either be a small version of the large one or something totally different. I did large trees with a small star cut out in the middle) to make a cutout in the center of each. Place this cookie sheet in fridge for 30 minutes to chill.

Preheat the oven to 350°F.

Bake both sheets of cookies for 8 to 10 minutes, or until the edges are just beginning to turn golden. Let them cool for 5 minutes on the pan, before transferring to a wire rack to cool completely.

Optional: Using eggnog icing, drizzle designs over the cookies with the cutouts. Dip in a bowl of sprinkles, icing side-down to decorate.

Place the cookies with the cutouts in them on a cookie sheet and sift confectioners' sugar over the top. Turn the remaining cookies flat side up and spread about ½ teaspoon of eggnog icing into the center. Top with the sugar-dusted cookies.
Eggnog Icing
In a medium bowl, whisk together confectioners' sugar and icing until smooth.
Share a Photo of Your Finished Recipe!
Mention @wearenotmartha and share a photo if you've made the recipe!