First of all, I'm super happy to announce that we made it to round 2 of Foodbuzz's Project Food Blog!! 🙂 YAY!!! Thank you sooo much to everyone who voted for us-- We really, really appreciate it. Now it's super crunch time since the second assignment is due in just 3 days! We'll be working hard this weekend and hope you like what we come up with 🙂
It's not secret that we love flatbread here at We are not Martha. And it's probably even less of a secret that I love anything involving making my own dough. So, for our last video on the BCAE series, we're showing you how to make a beautiful, rustic eggplant flatbread. Starting with making your own dough!
We had the awesome opportunity to use the BCAE's pizza oven, but you can obviously make it in your own at-home oven (if you're not so lucky to have your own pizza oven. I wish I was!!). I'll share the recipe with you here, too, so you can get down all the details. You might notice me threatening to not be Chels's friend anymore if she doesn't make her own pizza dough. I didn't reallyyyy mean it. But, after this lovely experience, I think she will be making her own dough next time. It's fun!!
Also, please refrain from shouting "That's what she said!" a million times at your computer screen while watching the video. I know. OK. I know. And I can't cut them out because they're all important to the pizza-making process. Also? Don't ask why I wore so many dangly bracelets while rolling out dough. I didn't even notice them until I watched the video. Oh and one more thing-- The intro music to this video makes me feel like we're on Chris Kimball's Cook's Country 🙂
Hope you enjoy!
Boston Center for Adult Education | BCAE| Eggplant Flatbread from Chels and Sues on Vimeo.
Here are all the details 🙂
No-Knead Flatbread Dough (makes about 4 medium flatbreads):
2 ¾ C lukewarm water
1 ½ T granulated yeast
1 ½ T salt
1 T sugar
¼ C extra virgin olive oil
6 ½ C unbleached all-purpose flour
Eggplant Flatbread (makes 1 medium flatbread):
1 large eggplant
Olive oil
3 oz. grated mozzarella (¾ C)
1 oz. grated parmesan
2 cloves minced garlic
½ t dried red pepper flakes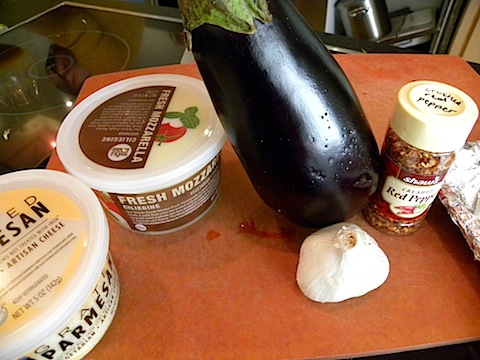 To make the dough:
Mix yeast, salt, sugar, and olive oil with the water in a 5 quart bowl. Mix in flour without kneading, with a wooden spoon. Cover the bowl (with a kitchen towel, or whatever) and let sit and rise for two hours. You can refrigerate it for, covered, for up to 12 days.
For the flatbread:
Cut eggplant into ⅓-inch rounds and arrange in 1 layer on foil-lined baking sheet. Brush both sides with a little bit of olive oil and season with salt and pepper. Now, Broil the eggplant about 2-3 inches from the heat until golden brown. You'll probably want to do about 4 minutes on one side, then flip eggplant over and do another 4 minutes on the other side.
Roll out dough into a flatbread shape on a lightly floured surface. It can be circular, long, heart, whatever you want!
Brush some olive oil over your dough and sprinkle about ½ the cheeses over the dough. Place the eggplant on the dough, overlapping it and sprinkle with the remaining cheese.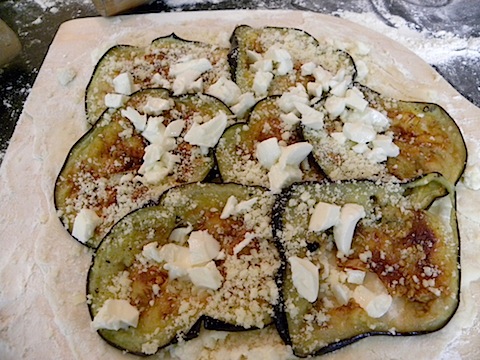 Now, heat some oil in a small skillet over medium heat and get it hot but not smoking. Cook garlic and red pepper, stirring for about 40 seconds. Put the garlic/red pepper flake mixture over the eggplant.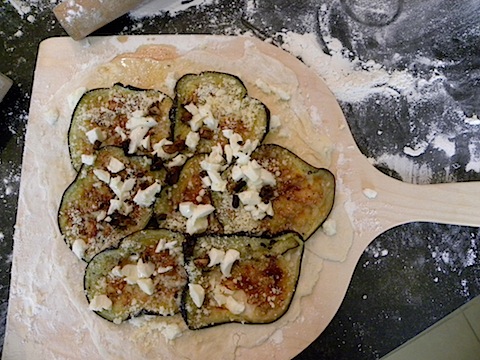 Put flatbread in 500 degree oven for about 10-12 minutes, until dough is nice and crispy!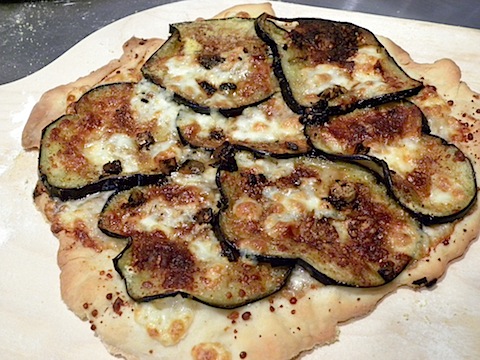 Can you tell I'm obsessed with making my own dough? Try it!! You'll fall in love, too 🙂
Now it's Friday evening and I'm totally craving this again! This is one of the most delightful flatbreads I've had in a long time and I actually kind of felt like it could be served in a restaurant. Using the BCAE's kitchen was awesome, but I know we could have made this in our own home kitchens, too. I'm having a serious want for a pizza oven, but I fear I'd make flatbread every night!
Check out the rest of our BCAE Series:
BCAE State of the Art Kitchen Tour
Mango Ginger Smoothie
Happy weekend! What are you up to? Any big food plans??
[Sues]