I went to my parents' house for a couple days this weekend and pretty much did nothing. Well, that's not true; I actually got a lot of work done and about 8 loads of laundry. I also did some relaxing and ate a lot. When I go to my parents, I don't cook at all, because they are both amazing cooks and they spoil me like crazy. And not only do I sit around and eat gourmet food, I get tons of leftovers to bring back to my apartment with me. Life is good.
Tonight they made Lighter Eggplant Parmesan and Tomato Sauce from the January/February 2004 issue of Cook's Illustrated and Meatballs from the January/February 1998 issue of Cook's Illustrated (yes, they are long-time subscribers!). Instead of being thin and soggy like eggplant parm so often is, this was thick, dryer (in a good way), and just pretty much the best eggplant parmesan I've ever had. If you don't know Cook's Illustrated, definitely check them out. Basically they probably made 100 different versions of eggplant parm in their test kitchen until they came up with the best recipe. And yup, this is it. Since when is the "lighter" version of something better?? Since now. I promise.
Of course, pasta would have gone fabulously with this meal, but honestly, we had more than enough food as it was, and pasta would have been a bit overkill.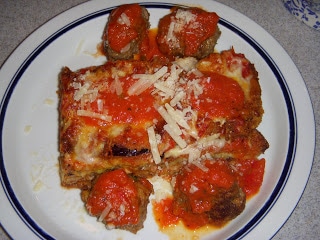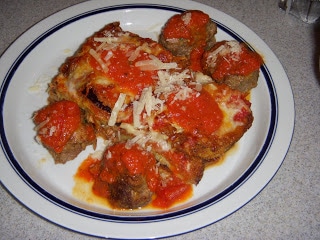 FYI: None of us actually ate that much food. But it looked pretty on the plate. And I wish I could have. But legit, this recipe made 15 servings. Talk about leftovers!
And yes, I'm bringing plenty back with me so I can in enjoy it a couple more times. In the meantime, I'm checking out my calendar to figure out when I can get back home for more of Mom and Dad's cooking!
[Sues]