The other day I was eating lunch with my sister at Dorado, a new-ish Mexican restaurant in Coolidge Corner. Once we ordered our food and began eating I saw a plate of delicious looking, cheesy elote (Mexican corn on the cob) go by to another table. I'd never even had elote before but I, for some reason, had been craving it for well over a year. No clue how that happens? Seeing it at Dorado inspired me to finally attempt to make it on my own. I did a quick round of research and found a recipe from the blog Our Best Bites for elote. Also, discovering Our Best Bites was serious fate as it's officially my newest favorite blog.
I'm currently at my grandmother's house in NYC so I knew I could walk about 2 feet and find all of the ingredients since almost every grocery store, convenient store, and "hole-in-the-wall" shop has loads of international ingredients. 😉
Here's what you need: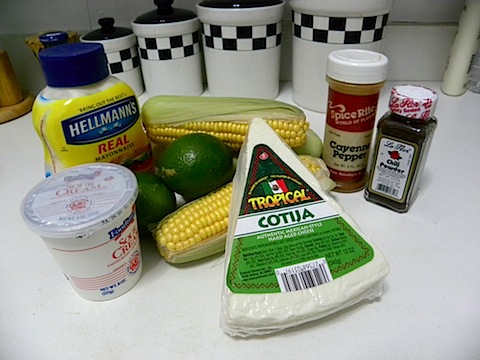 • 4 ears of corn
• 3 tablespoons mayo
• 2 tablespoons sour cream
• 1/4-1/2 teaspoon lime zest
• 1/2 teaspoon fresh lime juice
• 1/4 teaspoon cayenne pepper
• 1/4 teaspoon chili powder
• pinch of salt
• 1 cup crumbled or grated Cotija cheese (found near the cream cheese at most grocery stores). They actually had a grated version at the store I went to but I opted for the block… figured I'd save a couple dollars and throw an arm workout into my day 😉
Here's what you do:
• You can grill your corn, but since I didn't have a grill I just tossed it into a pot of boiling water. I then rolled the corn around in a skillet after it was boiled just to brown it a tad. Definitely not as good as a grill, since it didn't create that smokey flavor like grills do, but it did the trick.
• While your corn is cooking, use a cheese grater to grate the Cotija. Make sure to grate the cheese over a large plate since you'll eventually be rolling your corn in it.
• To create the spread, mix together the sour cream, mayo, lime zest, lime juice, chili powder, cayenne, and salt. You can definitely make this ahead of time, cover it, and store it in the fridge, so all the flavors can get to know each other 😉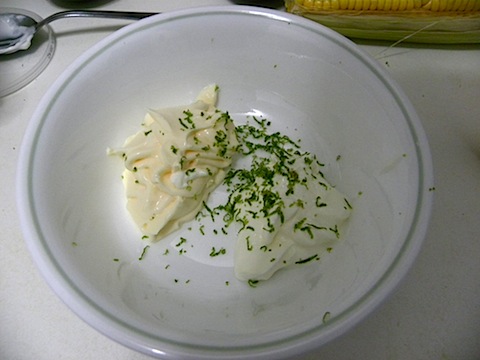 • Once the corn is done and hot, hot, hot, with the back of a spoon, rub the mayo/cream cheese spread over each ear of corn. The photo below doesn't exactly showcase the spread going on the corn, but I just like the photo… so there 😉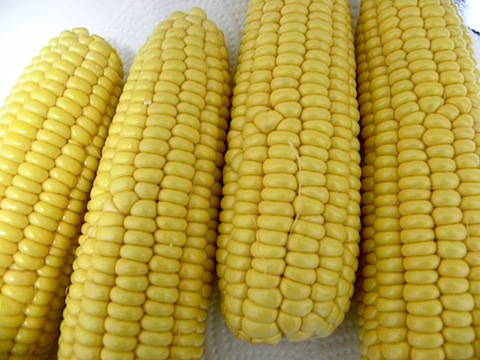 • Then roll the corn in the grated cheese. My brother took this action photo 😉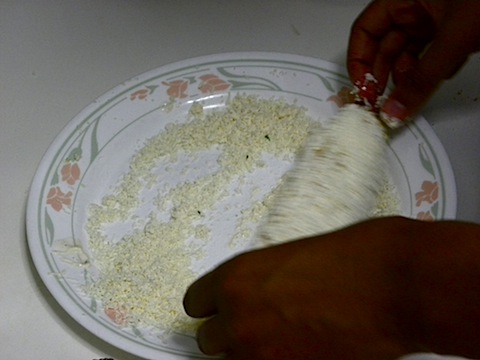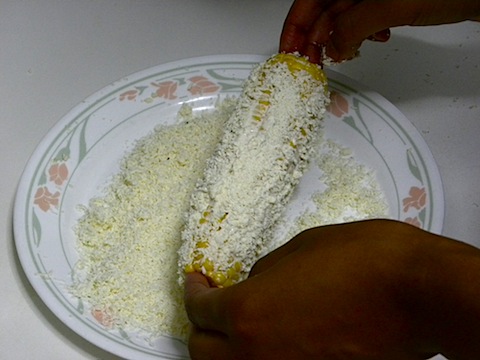 • Once each ear of corn is rolled in the grated cheese, feel free to sprinkle another dash of chili powder or splash of lime juice!
This is a serious ear of corn. And the flavors most definitely remind me of being on a tropical vacation. The lime, the spice, and the crunch of the summer kernels definitely made me want to hop on a plane and hit the streets of Mexico to get the real thing.
What foods take you to another place or remind you of a really good vacation?
[Chels]