Every Fall I tell myself I'm going to either carve or decorate a pumpkin. It's just something that I always want to do but can never find the time to sit down and actually get it done. About a month ago my new roommate, Liza, and I were randomly talking about carving pumpkins and our favorite Fall foods. We immediately decided we were going to host a "Fall Soiree" where our guests could carve their own pumpkins and enjoy some Fall-like foods. We sent the invite out on the spot (using Paperless Post!!!!) so we knew we had to follow through. Another season without decorating a pumpkin was just not acceptable.
We decided to host it this past Friday evening since we thought it would be a nice way for all of us to relax and wind down from the week and still be able to enjoy the rest of our weekends. After work yesterday I went to Allandale Farm in Brookline and loaded up a cart with a plethora of pumpkins for our guests. We figured since some of our guests might be coming straight from work we'd make things easier on them so they wouldn't have to lug a pumpkin around. If you're hosting your own pumpkin carving party you can make it BYOP (bring your own pumpkin) if that works best for you!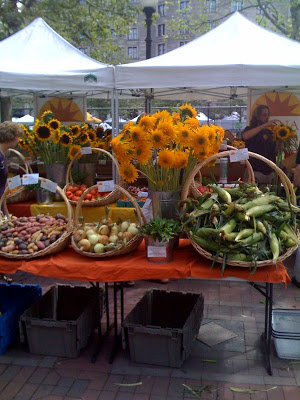 As with any party, there has to be good food! It started at 7pm so I knew most people would have already eaten something so I had some small bites and some desserts. I made cauliflower "caviar" with frizzled prosciutto from the November issue of Cooking Light. I also made my favorite barbeque chicken meatballs and vanilla cupcakes with buttercream frosting and candy corn centers! Kate made pumpkin swirl brownies which were YUM!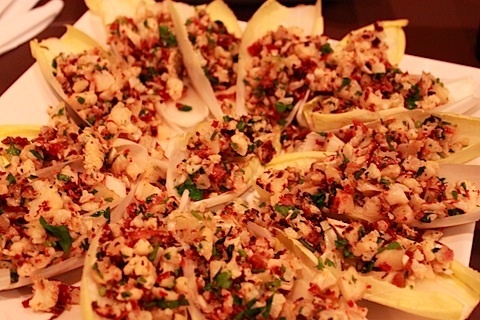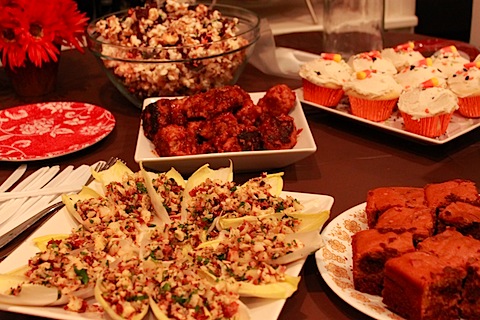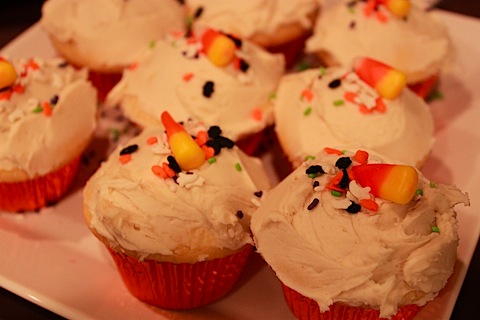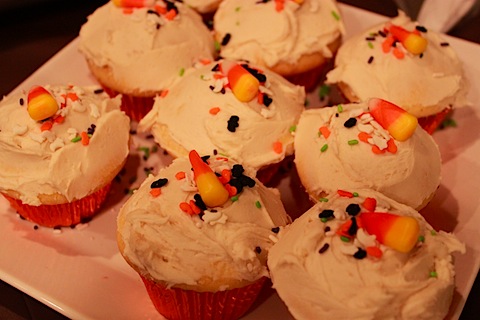 Sues made delicious popcorn with chocolate and carmel drizzle and candy corn ice cream. Yes. You read that right and I just about fainted when I took my first bite. Thankfully she left some in my freezer 😉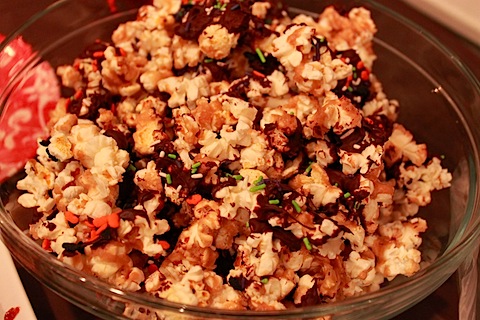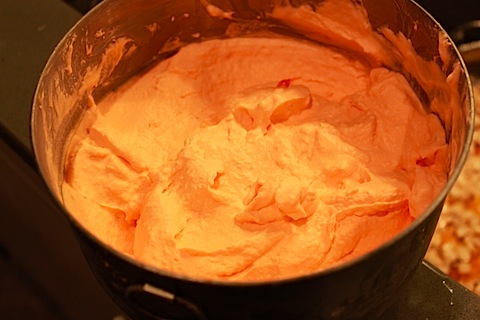 We also had a lovely cheese platter: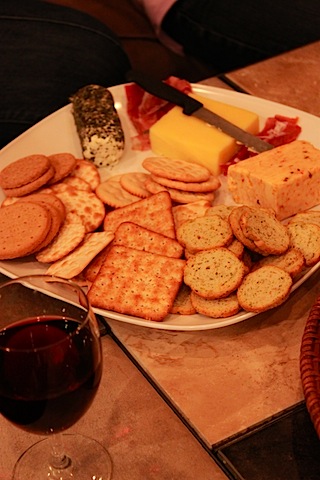 And I lit a pumpkin scented candle for the lantern and filled the votives I have on my coffee table with acorns. Using nature to decorate is quite economical 🙂 I also love these particular votives from Crate and Barrel because you can fill them with whatever you'd like to switch things up seasonally!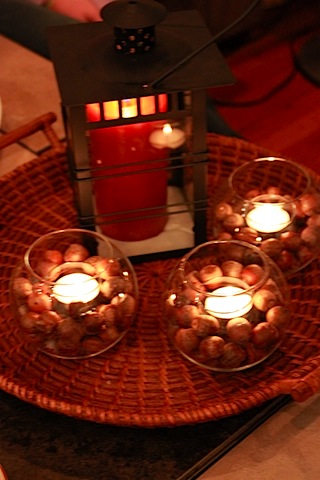 After we all ate we got to the main event: decorating and carving the pumpkins! We set up two stations so everyone wouldn't have to crowd around one table. Liza purchased some pumpkin carving sets at a local party store which included the actual knives and a slew of fun patterns. She also bought two painting sets. Thankfully. Because my carving job was atrocious and I needed a back-up plan! I ended up destroying my pumpkin by carving it entirely wrong and I decided it was best for me to just paint… haha!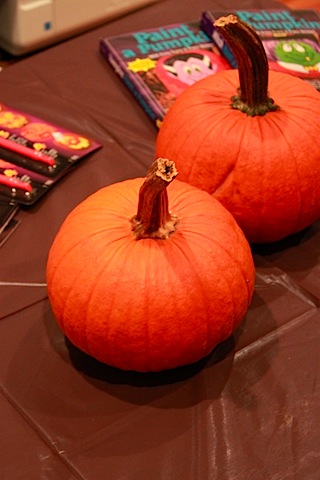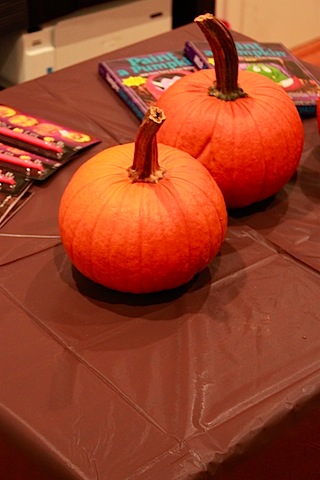 It was so much fun once everyone got to work on their masterpieces!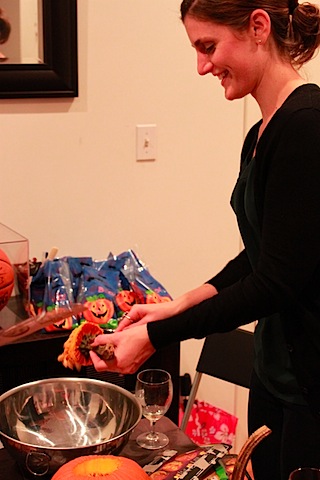 I, of course, chowed down on a cupcake while I worked 🙂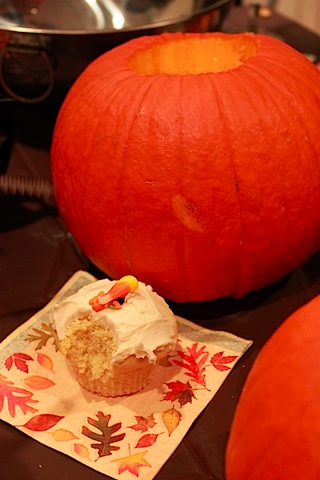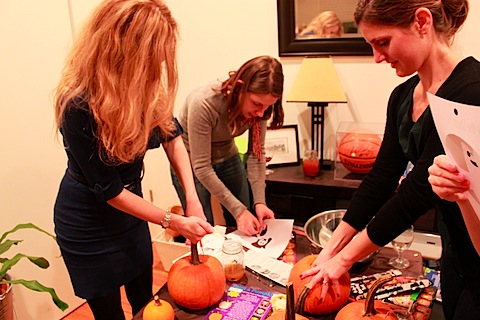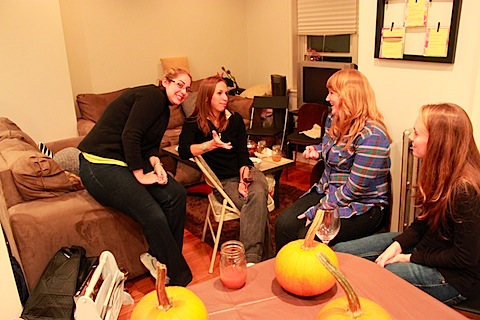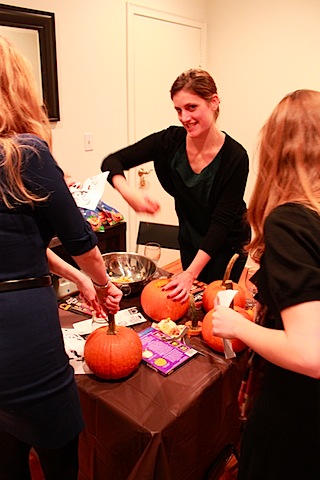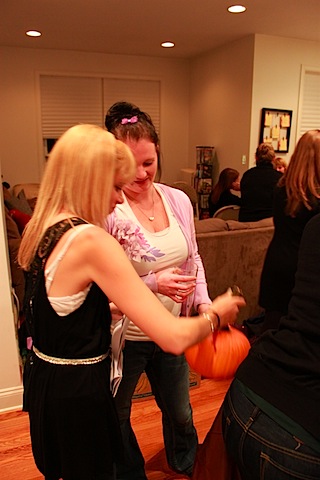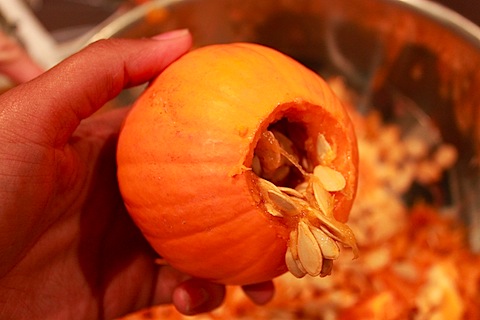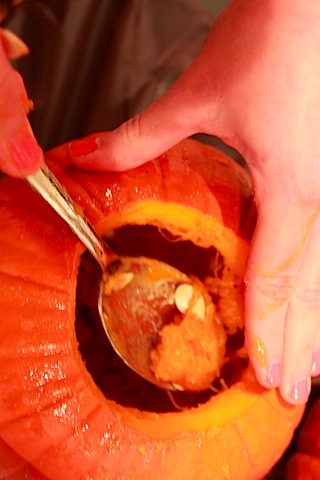 We were all quite serious about the task at hand 😉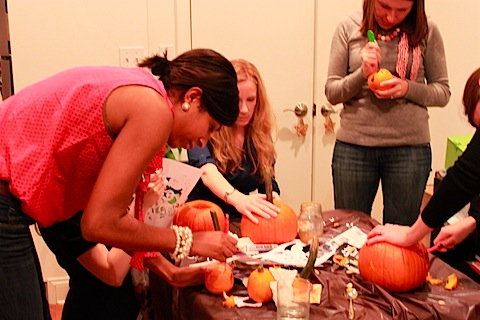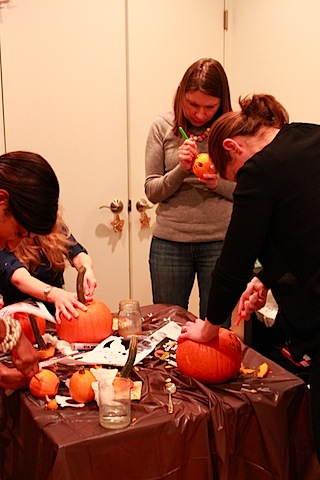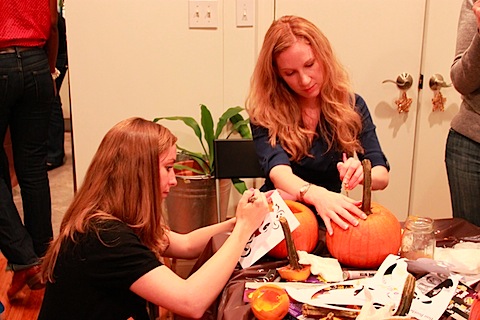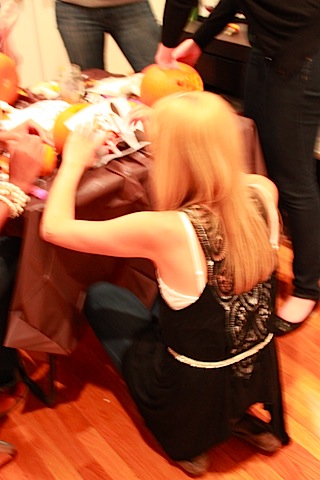 Painting a ghost!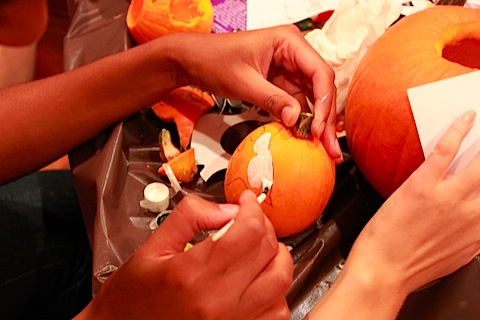 The pumpkins I purchased were a bit too small for the patterns we had but everyone made it work!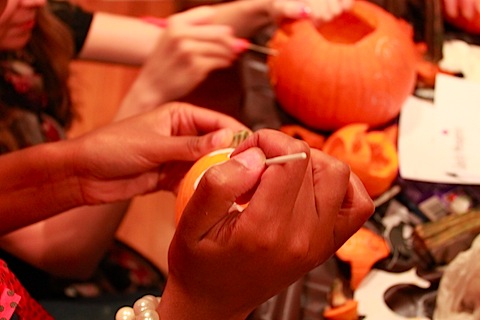 Boo!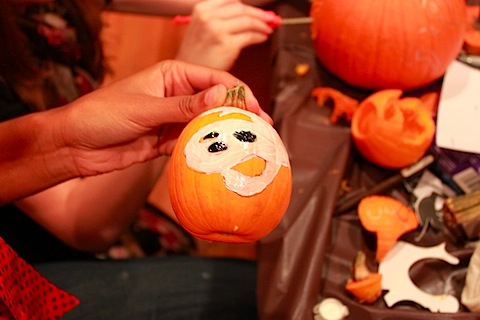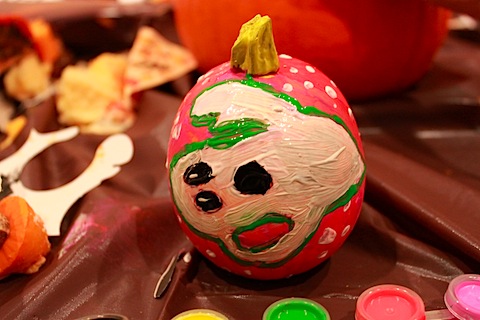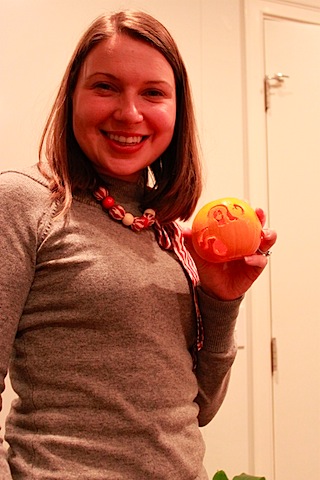 Liza furiously carving!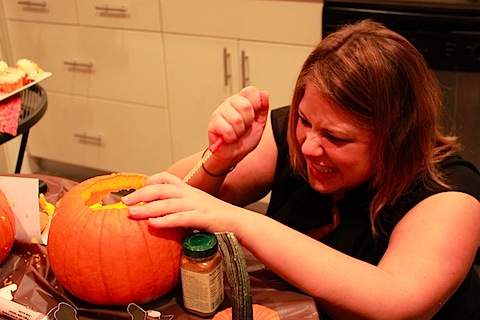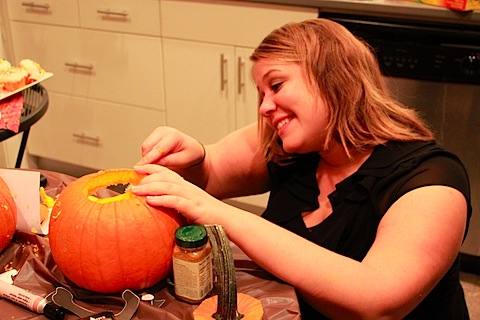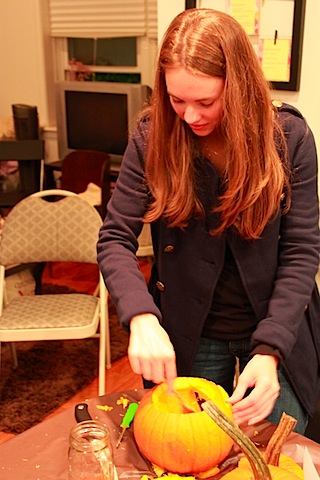 Sues and her grim reaper pumpkin!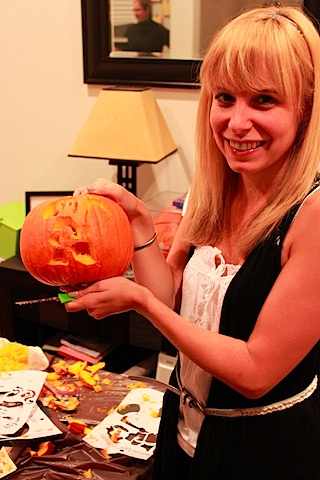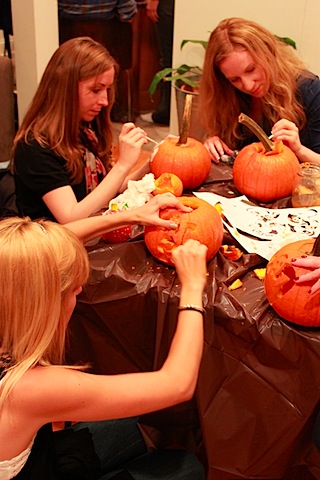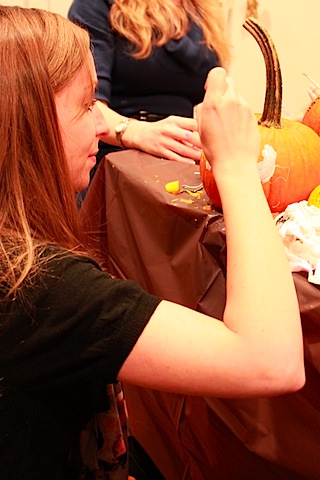 Once everyone was finished with their pumpkins we decided to have a little photo shoot with them. I was soooo impressed with how cool they all looked lit up on the kitchen table!!! And how professional they all looked, too! I was trying to convince Kate to quit her day job and become a professional pumpkin carver but I don't think she's going to 😉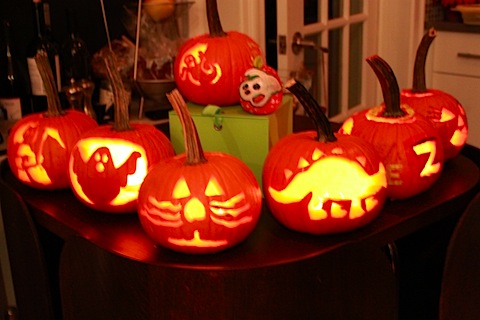 Some of the ladies with their pumpkins!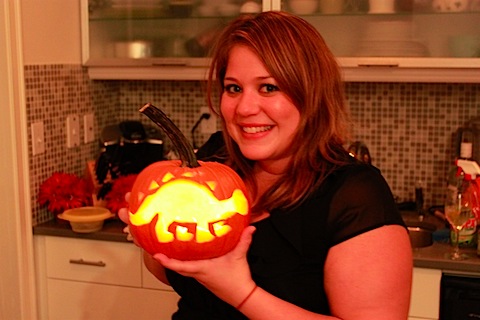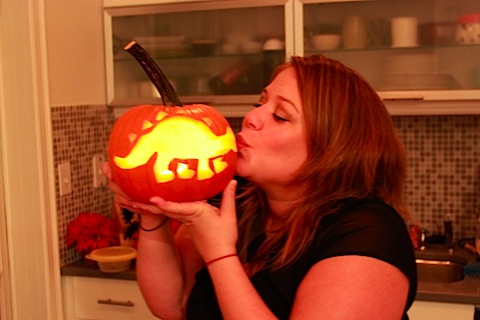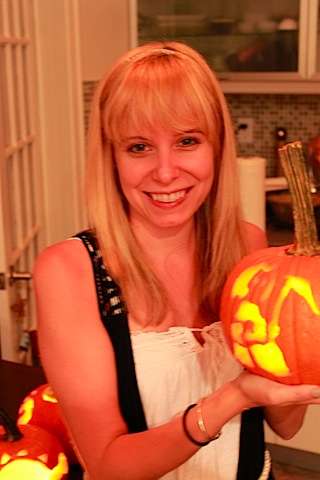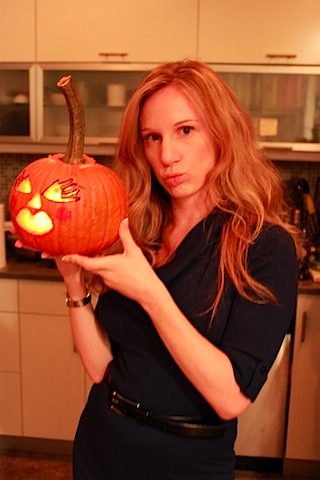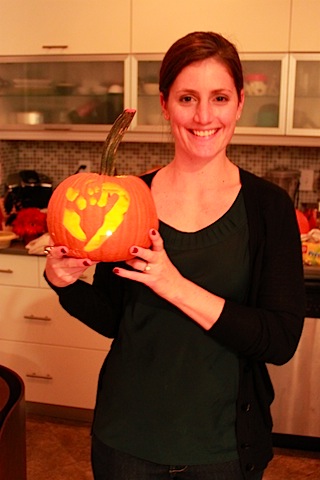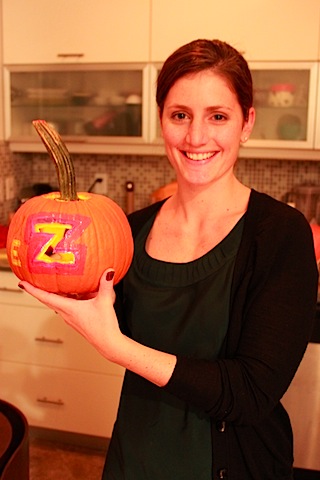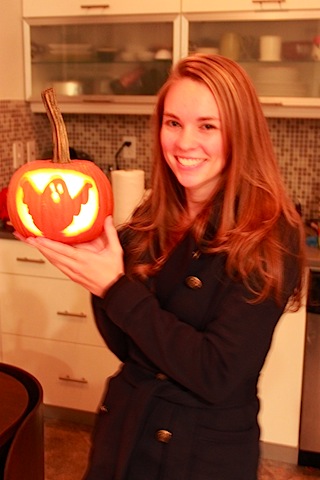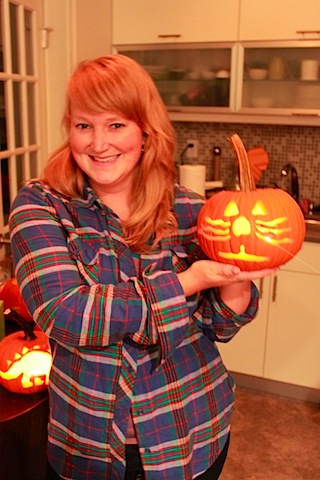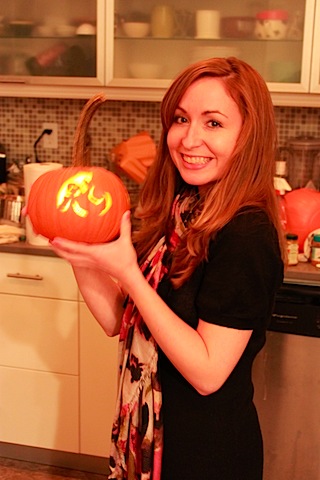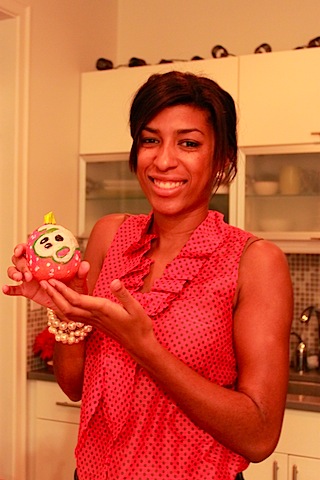 The best part about hosting a pumpkin carving party? Well, the seeds of course! We roasted three batches: one with sea salt, one with cinnamon, and the other with curry! Soooo good. Someone at my gym that afternoon told me that pumpkin seeds help fight belly fat too so we were all stuffing our faces with them 😉 Is this true?!?! Anyone??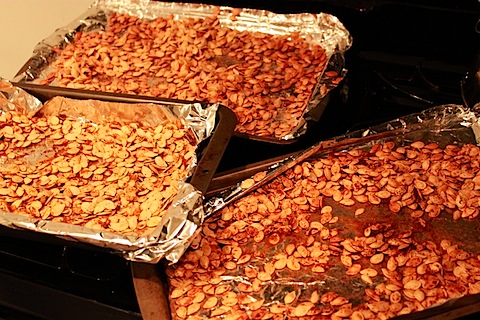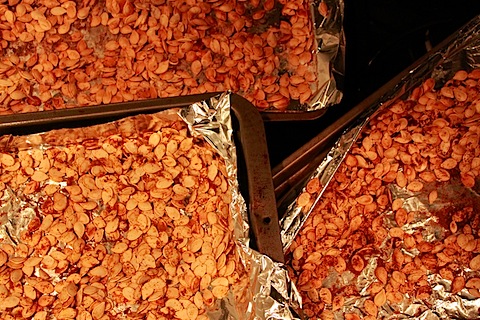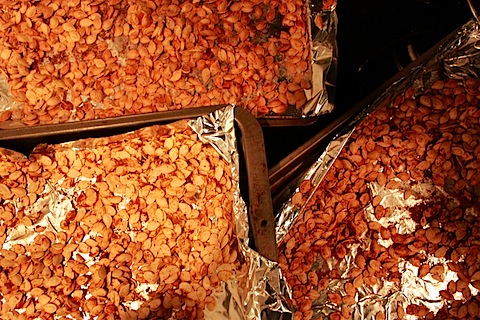 And because it's nice to send your guests home with a little something, we made goody bags filled with Halloween candy 😉
It was so much fun being able to get our closest girl friends together, be creative, and just act like kids again. I highly recommend throwing a little shindig like this for you and your friends! I'm already thinking about the next one… perhaps an Easter egg dying/decorating party?! Because every Spring I tell myself I'm going to do that, too!
What's your favorite kind of party to host? I definitely think this was one of my favorites!
[chels]