Hello! I've been back in Boston for a few days now and have already managed to pack so much in that it feels like I've been back for a month. On Sunday, Chels and I attended TechMunch and Monday we taught our intro. to blogging class at the BCAE. Not to mention, I had a whole bunch of work to catch up on, and let's just say, I haven't even unpacked yet. I'm still a bit in denial that I'm home.
But my last few days at the lake were pretty wonderful (just like my first!) and the weather was perfect (if by perfect, you mean ridiculously hot, which I do). We knew how to cool off. In the middle of the week, we rented a pontoon boat and took to the water.
I didn't opt to go tubing, but Chris, Adam, and Cherylann did. What can I say? I'm both a huge wuss and an old lady and feel like I've passed my prime tubing age. OK fine, I've always been afraid of it. There was no prime tubing age for me.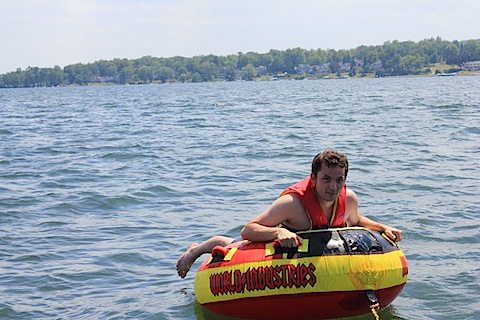 I mean, that scares me. But Chris definitely wasn't afraid.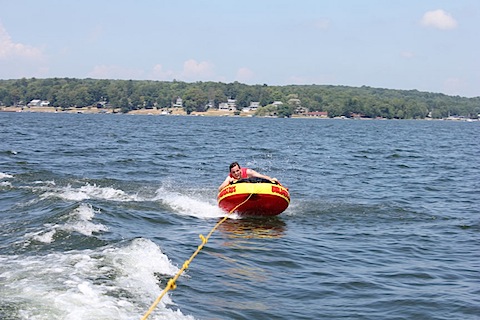 Neither was Adam.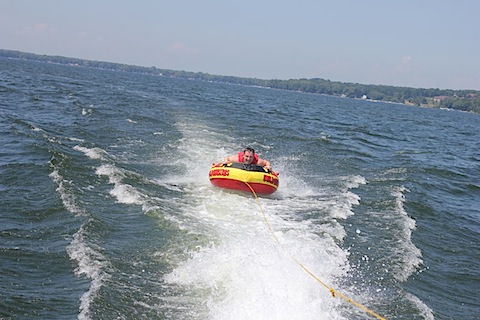 My cousin, Cherylann, also hit the waves 🙂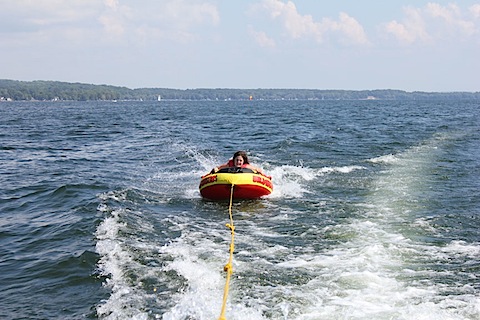 I preferred to sit on the boat and catch some rays.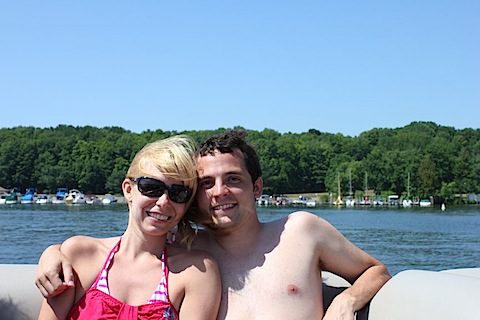 Until I was forced to drive the boat. My entire family insisted my blog readers would want to see me driving. So, there you go. Happy now?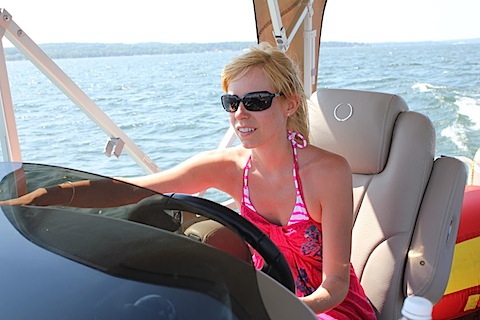 I swear, my dad belongs on the water in the sun. It's his natural habitat.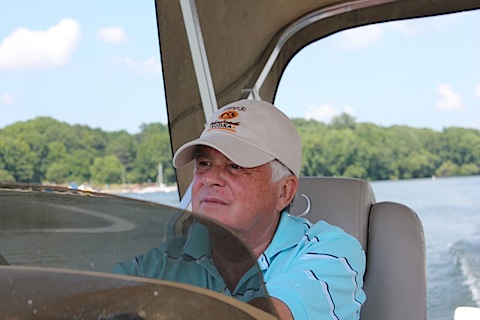 My sister just looks like she's going to get us into an accident. Just kidding, she was a fabulous boat driver.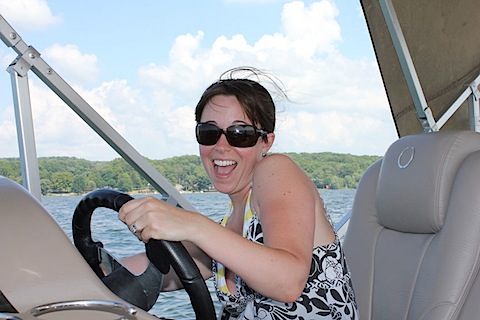 After spending the day on the water, we hit up the Seneca Allegany Casino. Can you believe I've never been in a casino?? Despite the fact that I live so close to Foxwoods and Mohegan Sun, I've never had the chance to visit. And Vegas is still just a distant dream for me. Thank goodness we had dinner at the casino first where I was told I wasn't allowed to take photos in the actual casino.
You know I would have. And I would have been forcibly removed, I'm sure. At least we got this dinner shot.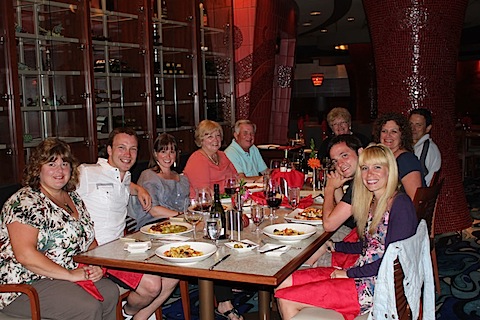 But we didn't get any photos of me in the casino winning $120 on the slot machine within my first 6 spins. I have to say I had no clue what I was doing and my sister and I basically wandered the casino trying to find our "lucky" machine. When I sat down and spun a few times, I saw my credits going way up and immediately printed my receipt.
I'm not a good gambler and only spent the other $20 that I had gone in with before deciding to call it quits. Beginner's luck!
The next evening, we headed down the street to a little restaurant called Guppy's. It's good inexpensive food, but I probably wouldn't be writing about it if not for the fact that Chris and Adam ordered this drink called the Fish Bowl.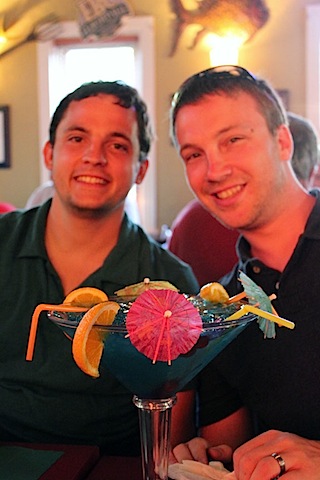 And I thought this photo was pretty hilarious. Clearly they don't even behave when they're with my family.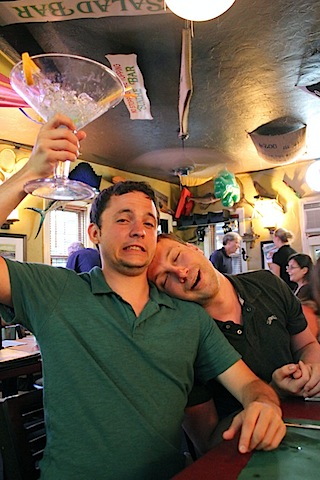 I can't believe I didn't snap any photos of the amazing sunsets that took place every night over the lake. We got home just as dusk was fading.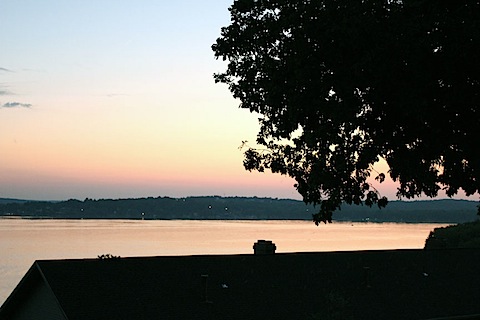 Can you tell we're on full-on vacation mode right here?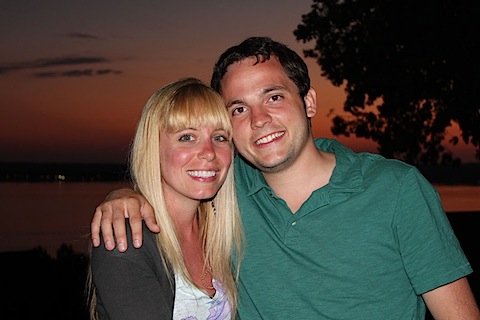 SO relaxed and happy!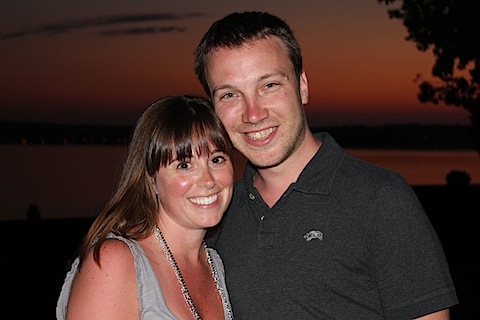 The next day, Chris and I headed to Jamestown to visit a place I reallyyyy wanted to go. To the Lucy-Desi Museum!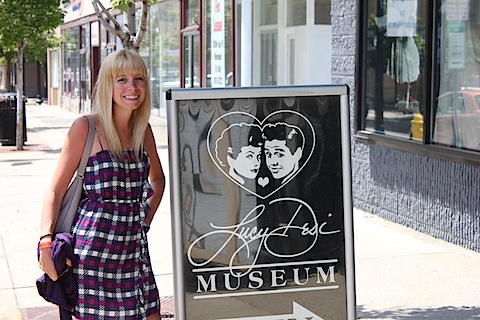 I was made fun of non-stop for my strong desire to visit the museum on my trip, but I didn't let it stop me. When I was a kid, I was OBSESSED with Lucy. I had a huge book of every I Love Lucy, The Lucy Desi Comedy Hour, and The Lucy Show episode and I checked them off as I watched them. I even wrote a paper on I Love Lucy in college. There will never be a better actress or television show.
I had visited the Lucy-Desi Museum about 15 years ago (omg I feel old), but knew they had renovated since then so was excited to head back.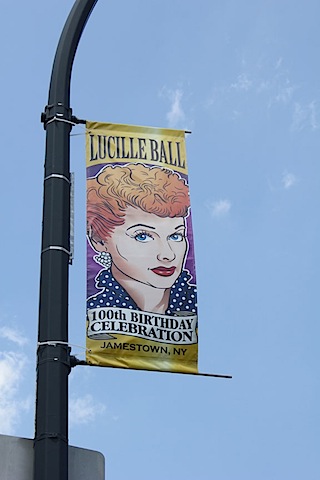 There's the museum, which features lots of memorabilia from Lucy and Desi and then there's the Desilu Playhouse, which actually has parts of the old television sets. So cool!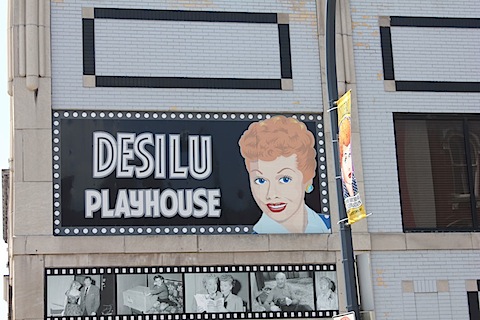 Sadly, photos within the museums weren't allowed.
But Chris may have sneaked one of me pretending to be in the Vitameatavegamin commercial.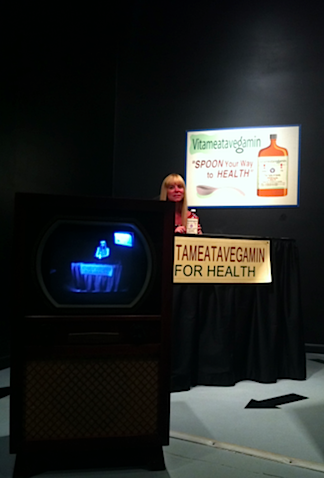 I also struck a pose with Lucy in the commercial 🙂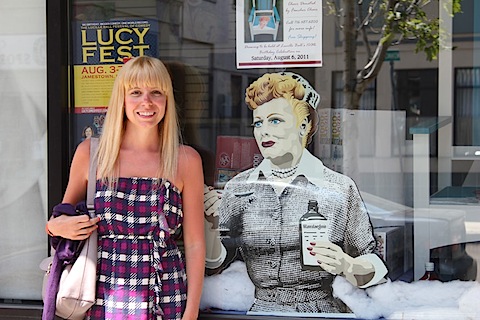 I'm obsessed.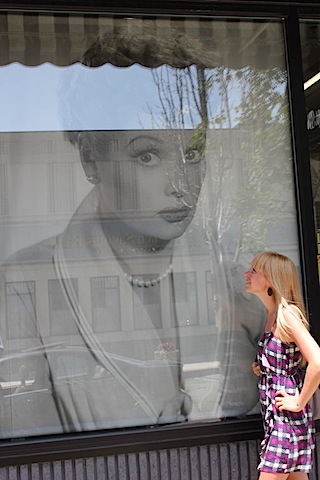 So is the town of Jamestown. This adorable huge stamp was on the side of their post office.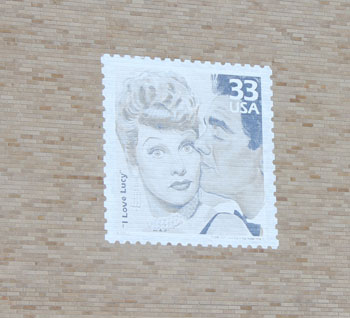 And then it was the final day of our trip. Instead of hanging out at the pool, we decided to head into Buffalo. Chris had never seen Niagara Falls and we needed to fix that. Sadly, we couldn't make it to the Canadian side, which is allegedly 100 times prettier than the American side.
But still. I think Chris got the point.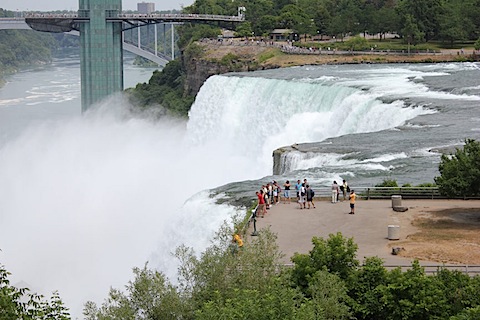 And while the grass around the falls was basically DEAD (in all fairness, it hadn't rained at all. But come on, America), there were a few pretty flowers.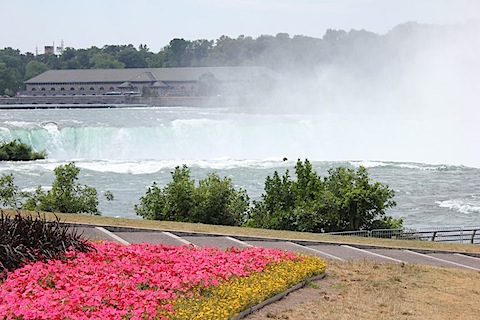 The mist coming from the falls was SO nice on this ridiculously sweltering day.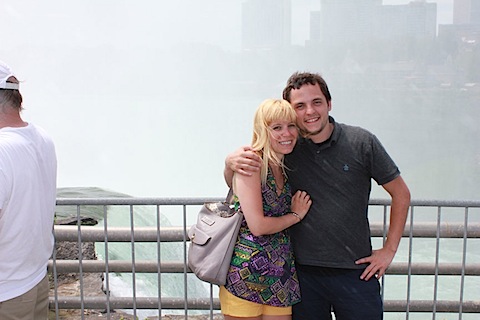 It was so hot, I wanted to dive right in!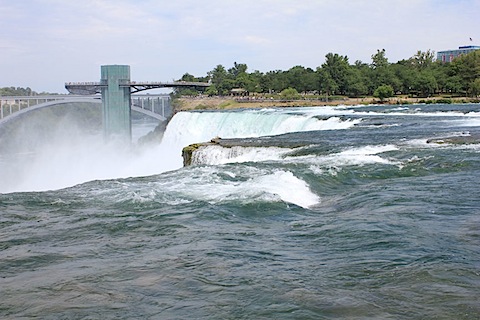 Bad idea? Probably. But seriously, it was so hot out, we couldn't stick around long.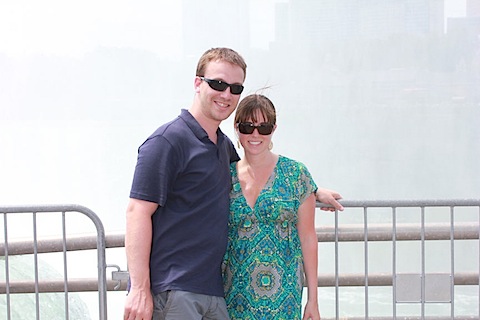 Anyway, we had somewhere else to be. Chris's life-long dream was about to come true… visiting the Anchor Bar!!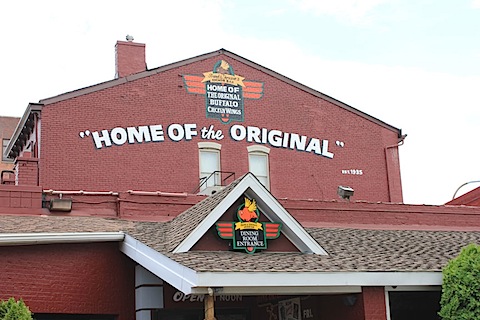 In case you don't know, the Anchor Bar is where buffalo wings were invented. I grew up hearing the story from my dad, but hadn't had the opportunity to visit.
Beth was so excited, she did a chicken dance in the parking lot.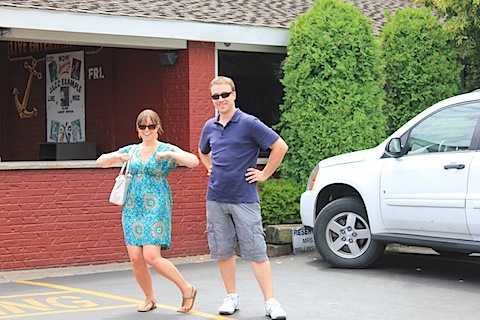 I love buffalo wings, but am generally only a fan of my parents' buffalo wings or boneless wings. It was still really cool to be at the place that started it all.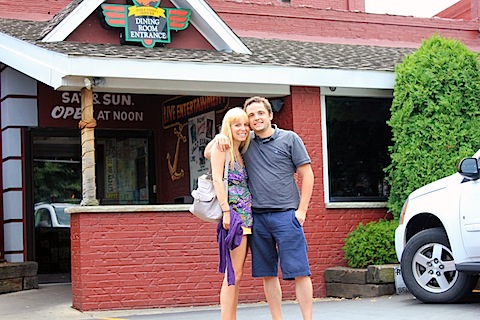 Chris got an order of the suicidal buffalo wings. Obviously. The hotter the better for him.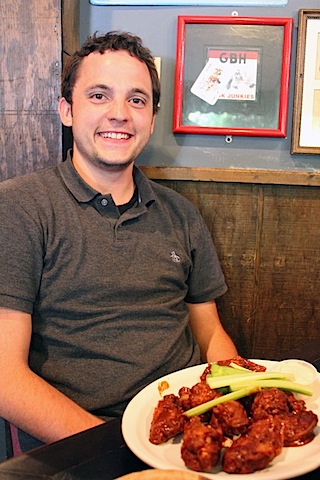 He ate them all and was happy with how spicy they were. But he said they weren't his favorite buffalo wings by a long shot. Eh, oh well; he got to try a little piece of history!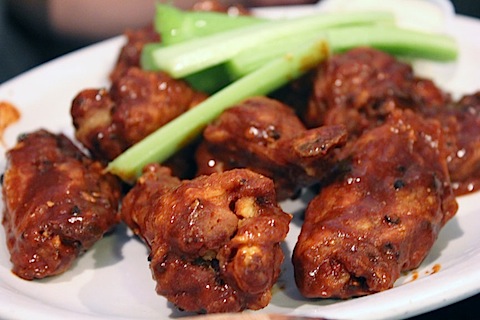 We stopped by my Uncle Hal's house to say hi to him (Handsome Hal, if you will) and then rushed back to the lake for our final vacation dinner at The Watermark.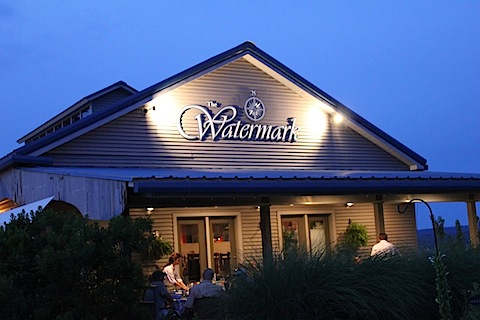 I loved it here!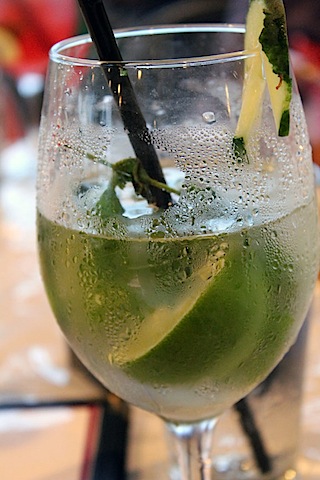 Mainly for the awesome drinks.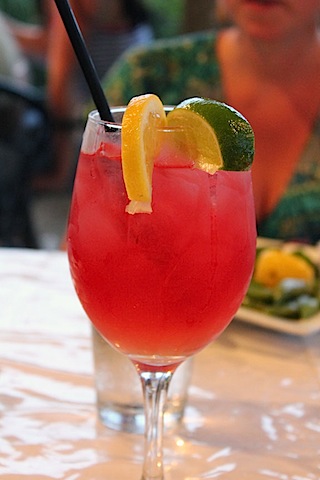 And the ahi tuna salad, which was the perfect goodbye Chautauqua meal.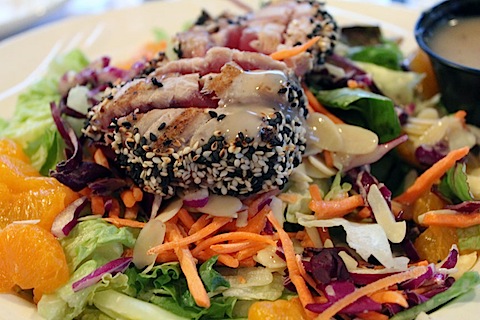 My mom enjoyed a half Maine lobster 🙂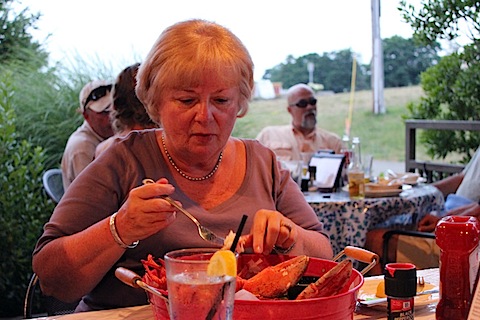 And it's clear that vacation suits my dad very well. I love this photo of him!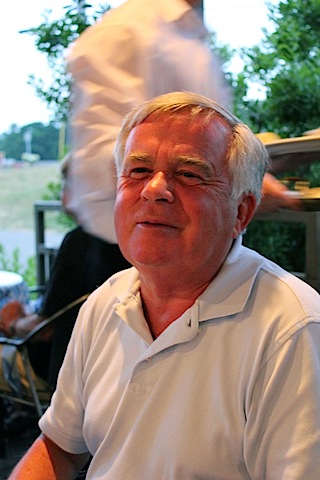 After dinner, I made like a duck and headed back to Boston. Really, I just thought it was funny my sister and I both imitated birds on the same day. Must be some weird sister thing!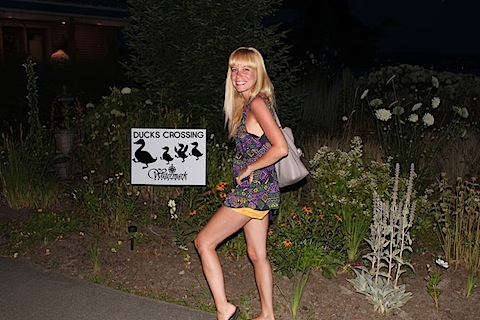 I'm actually pretty impressed by how much we packed in on our vacation. I didn't get a whole lot of reading done (though I did finish One Day and get most of the way through Maine) and I could have spent 39023 in the sun by the pool; but I'm glad we got to hit up so many spots and do so many activities.
Until next time, Lake Chautauqua. I'm guessing we won't be visiting next summer since Chris and I will be getting married (!!!) and honeymooning somewhere (no idea where yet… ideas?! Preferably somewhere with a Starwoods Hotel), but perhaps we'll meet again in 2013.
Are you taking any vacations this summer? Where to?
[Sues]