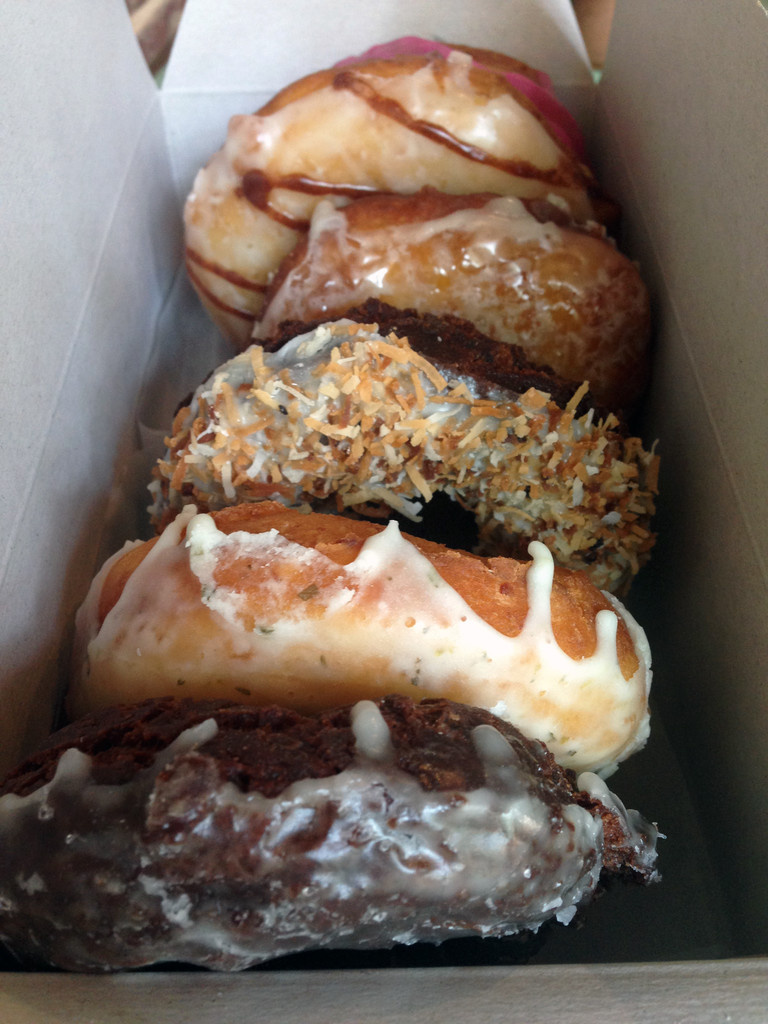 I tried searching for my last Favorite Things post and discovered it was back in November. NOVEMBER. Honestly, I must be going crazy because I could have sworn I was doing a really good job of posting them every month. I knew I missed the last two, but otherwise, I was on a roll. Nope. Time flies, I guess? Or else something is wrong with my brain. Perhaps both.
In any event, happy Monday! Now let's start the week off on a super positive note with lots of happy things, OK?
The Holy Donut-
A couple weeks ago, Chris and I spent the night in Portland, Maine, for a little mini getaway. One of our favorite musicians, Ryan Adams, was playing at State Theatre Portland, so we headed up for the show and spent the night. Something I hope we'll do a little more often now that a Westin Hotel just opened in Portland… We try to stay at Starwoods Hotels everywhere we go since we have the Starwoods credit card and get points for free stays (the credit card is basically the best thing we've ever done, and no, I'm not being paid to say that.  Highly recommended. It basically paid for our entire 10 day honeymoon stay in Mexico).
Anyway, the show was awesome, but so was the next day, which we spent just wandering around Portland. One of my must-stops was The Holy Donut.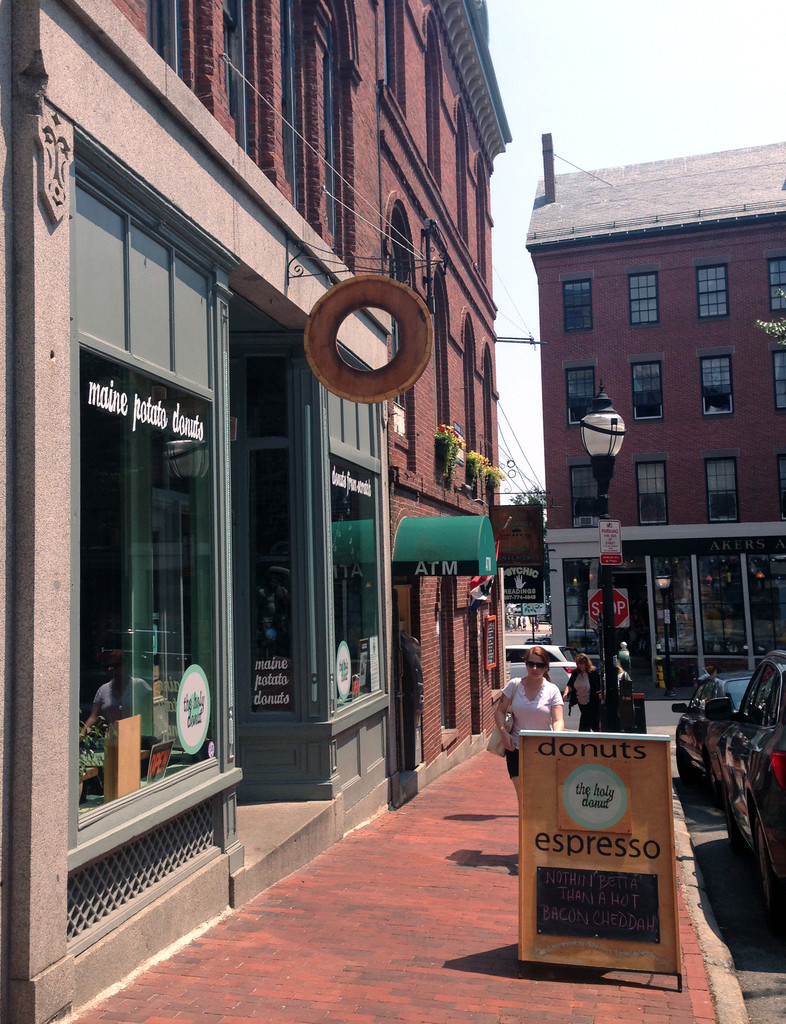 What's so special about these donuts? They're made with Maine potatoes!! Which might sound a little weird, but I promise it isn't. The donut flavors at this place are out of control. I obviously had to get a half dozen of them.  And that included the Dark Chocolate Sea Salt, Dark Chocolate Coconut, Mojito, Pomegranate, Sweet Potato Ginger, and Cinnamon Bun.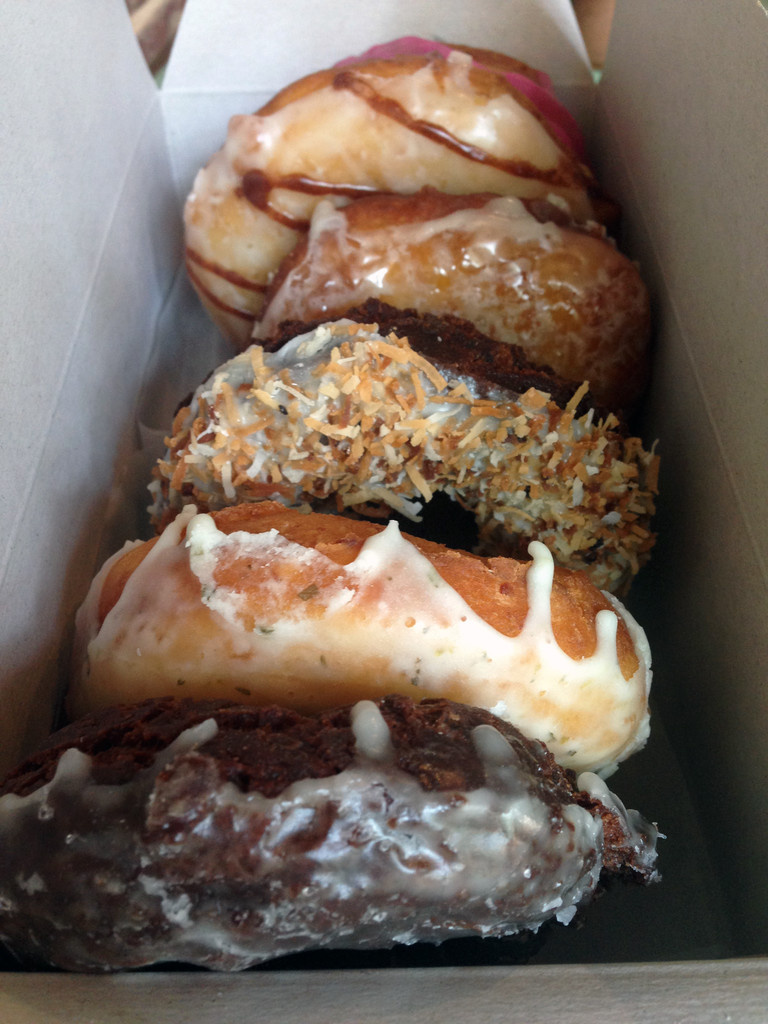 And then the remaining evenings of my week were spent, like this: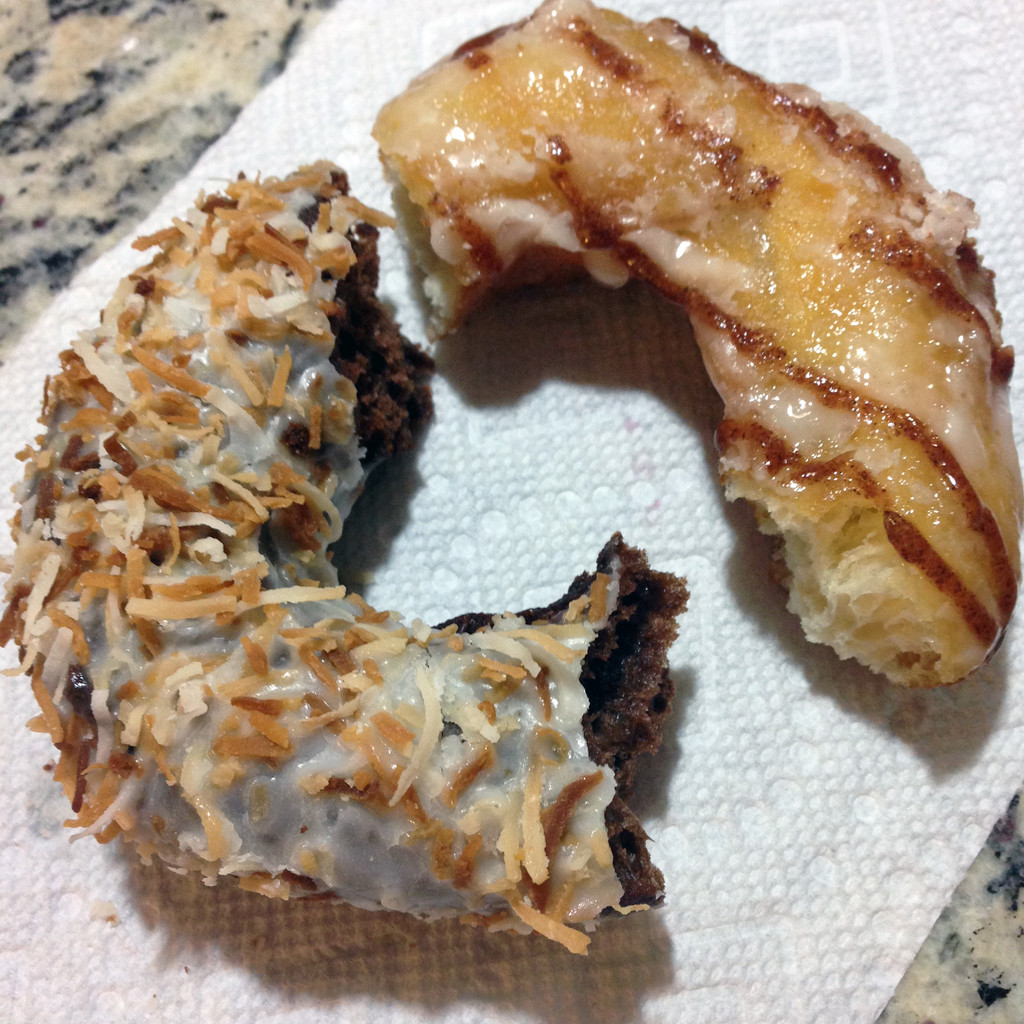 I can't even tell you how perfect these donuts were. Definitely the best donuts I've ever had from a shop. My favorites were definitely the Sweet Potato Ginger and Dark Chocolate Coconut.
Portland is so ridiculously close to Boston and is SUCH an awesome city filled with good food, drinks, and music, and I really want to try to trek out more often.
Oh, and before the donuts, this happened at The Portland Lobster Company. Best day.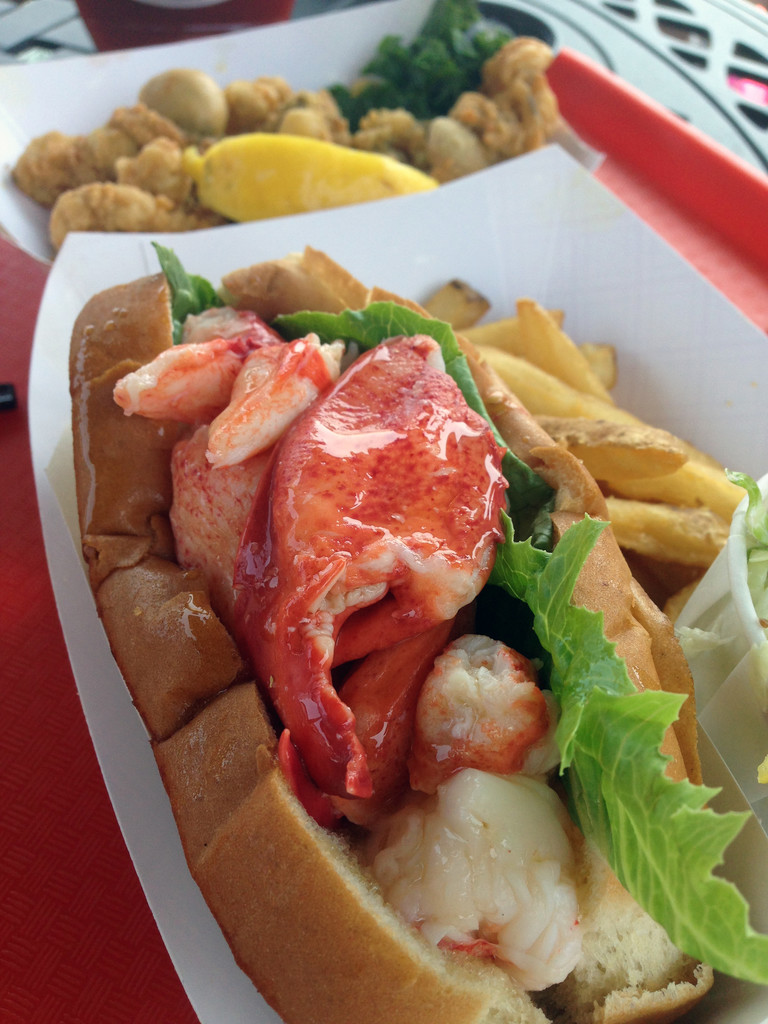 Nespresso VertuoLine Machine-
Sometimes you need a little something extra to get you out of bed in the morning. I love coffee so much that sometimes I think about it as I'm falling asleep and how maybe the morning won't be so bad because… coffee. That feeling basically quadrupled when Nespresso sent me their new VertuoLine machine. I ended up bringing it to work with me and putting it right on my office desk.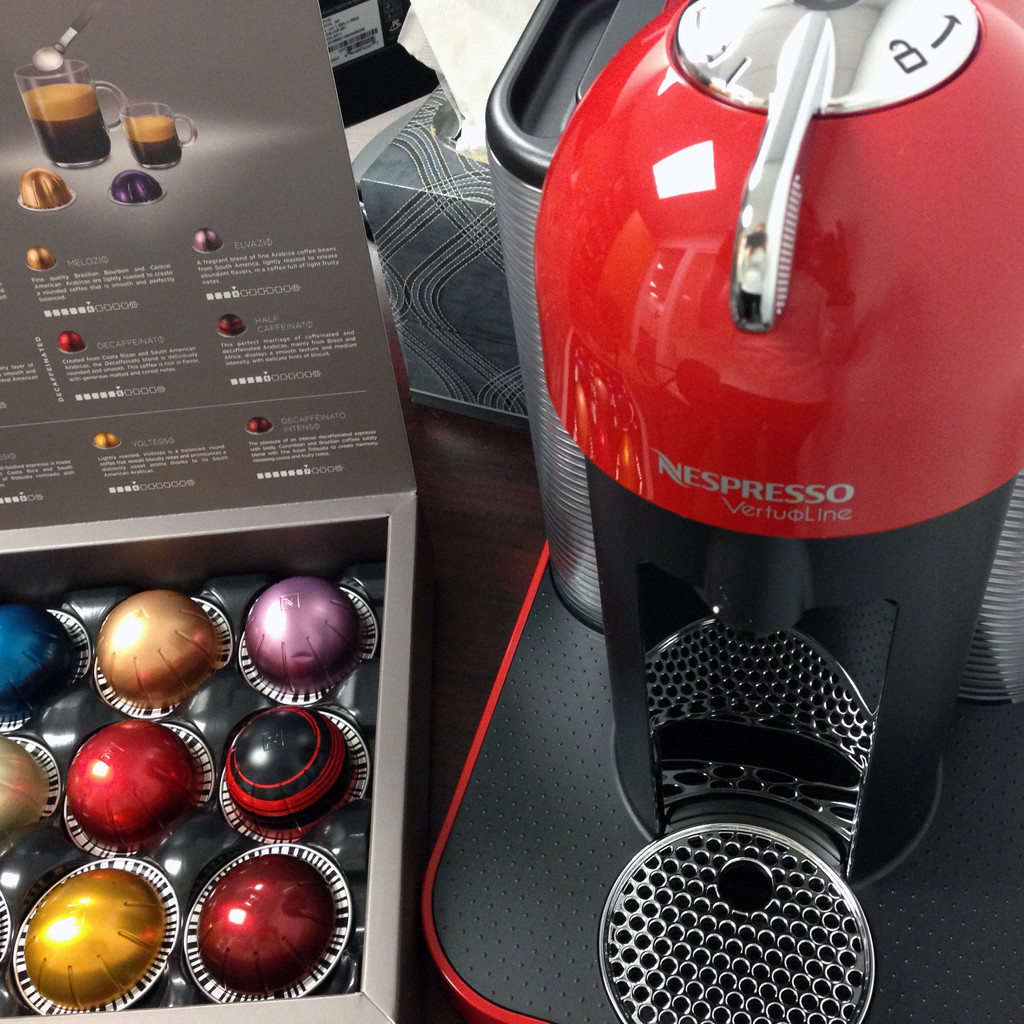 Now it greets me there every morning. Why is the VertuoLine so cool? Well, it brews espresso… but it also brews "regular" coffee. I generally like to start my day with a cup (or three) of coffee and wait until the afternoon for my espresso. The VertuoLine does it all and is a dream machine for me.
Plus, the pods are super, super cute. Almost too pretty to not have sitting out on your desk on display for all to see.
A bright spot in my morning is picking out the Grand Cru I want to enjoy as I first open up my work emails.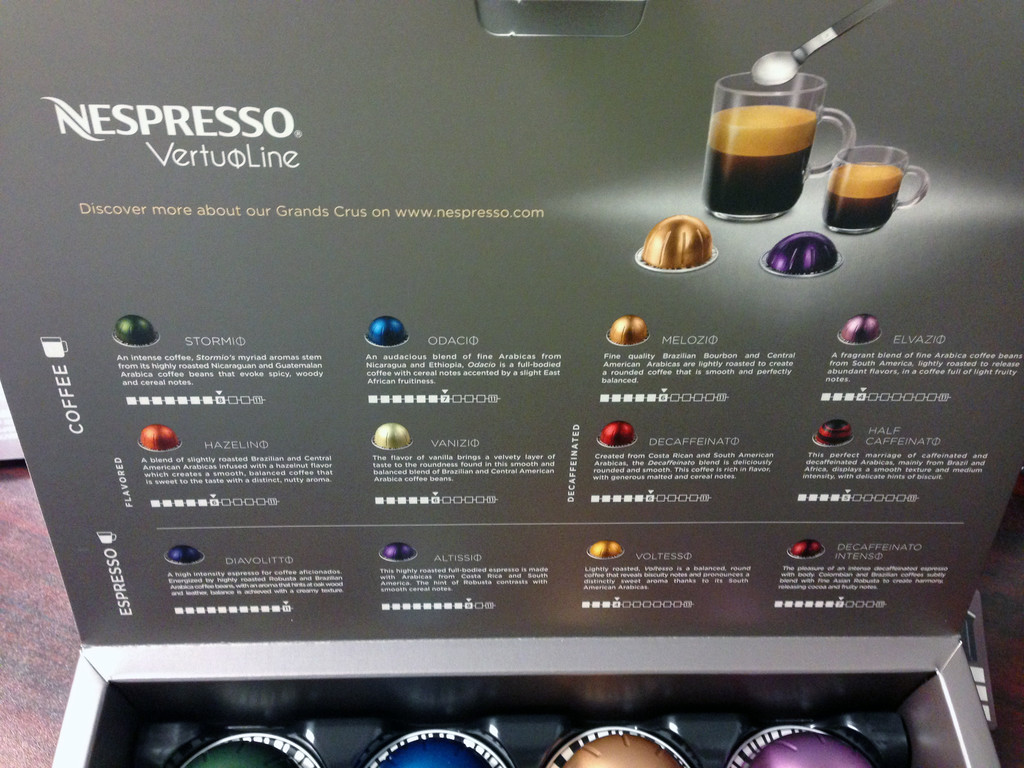 The machine makes coffee incredibly quickly. All you do is put the pod in the machine and close it. Perfect for the level of brain function I have going on when I get to the office at 7:00 a.m.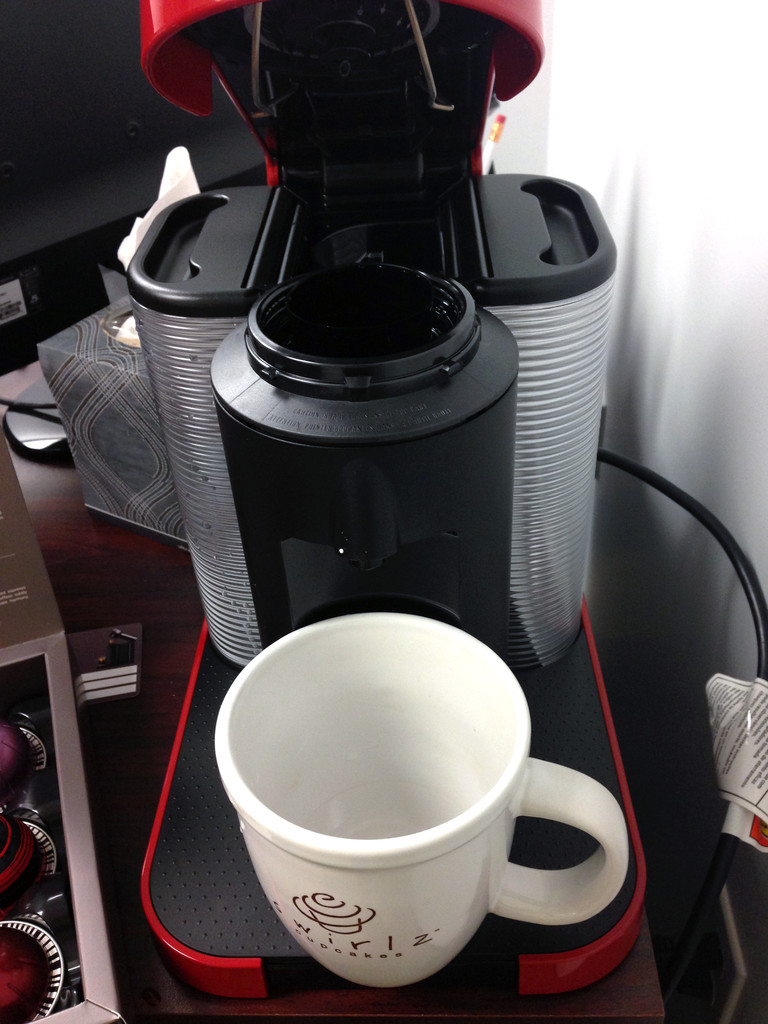 The best part? Even the coffee has the perfect crema on it. Way better than any coffee I make at home or can get at any coffee shop near my office.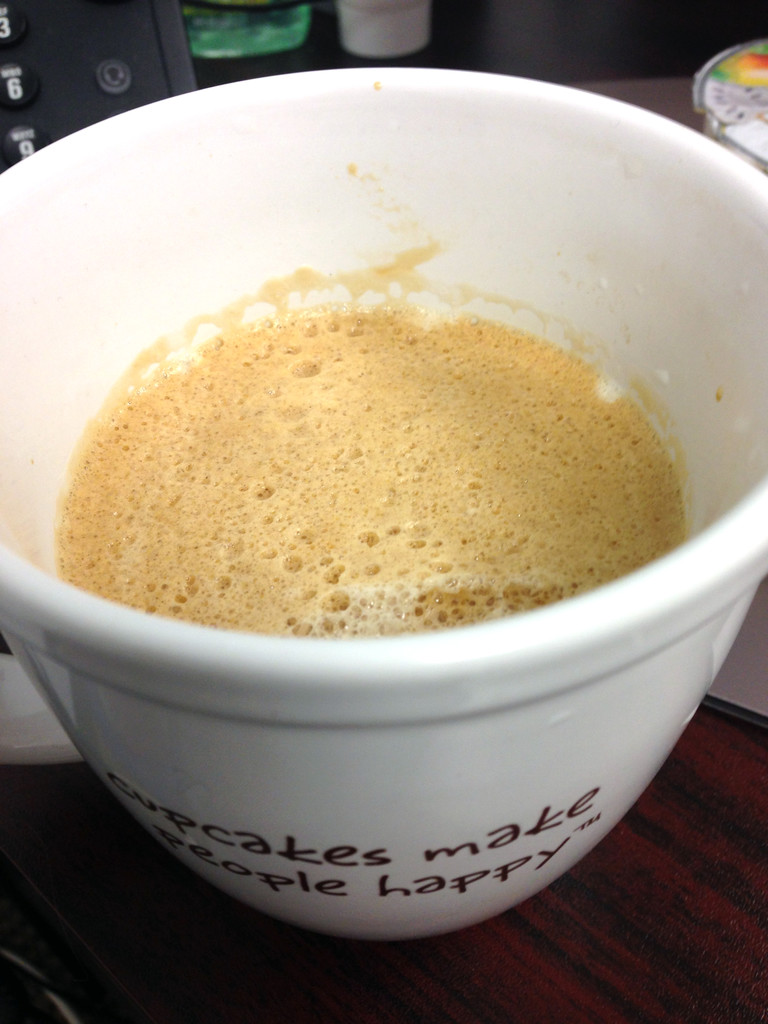 Electrolux Washer and Dryer-
At what point in my life did I consider a washer and dryer a favorite thing?? Well, now I guess. OK, so I was thrilled that my last apartment actually had a washer and dryer in my unit (this is Boston people and having in-unit laundry is a serious blessing). But it wasn't until we moved into our house and got our own washer and dryer that I realized how much having a good one makes a difference. We got the Electrolux front load washer and dryer because not only does my sister have and love them, but also because they have basically the best reviews.
Yes, I am in love with my washer and dryer.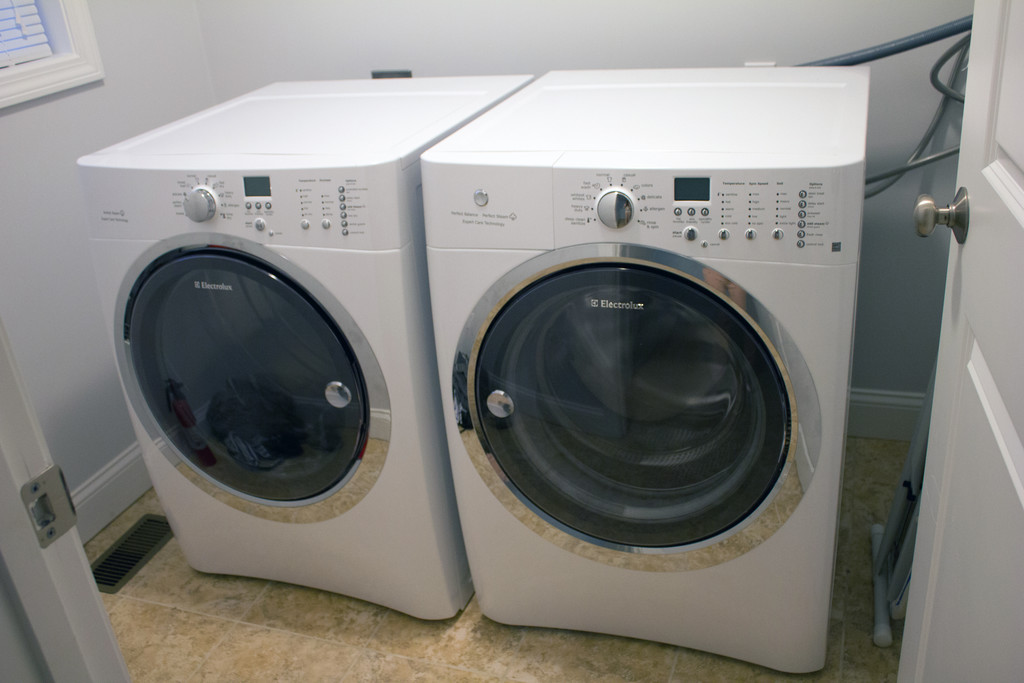 They are SO big; I can literally do as much laundry as it would have taken my old washer and dryer four loads to do. They're also super fast and extremely customizable with so many options for washing and drying my clothes perfectly. Dare I say it, but I actually kind of love doing laundry now. Who am I?? I haven't even experimented with the Perfect Steam option; saving that for a rainy day I guess!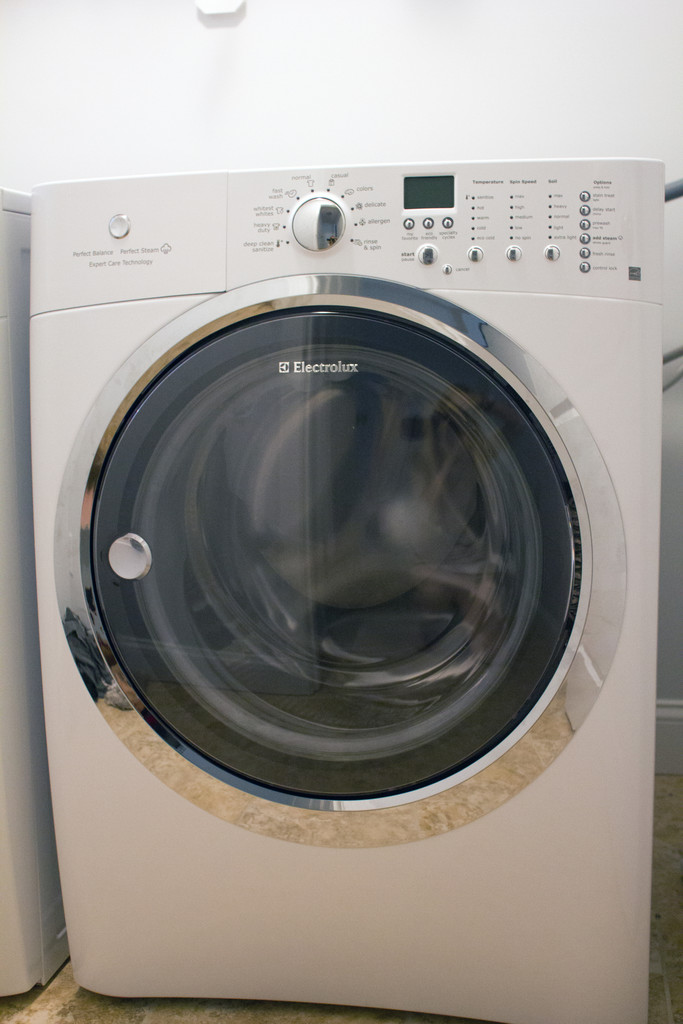 OK, I'll stop now. Moving on…
Boston Interiors-
Chris and I have been spending a ton of time in furniture stores since we bought our house and neither of us have been able to find very much we love. We're both pretty picky and don't really have the same taste when it comes to decorating. Sigh. However, once we discovered Boston Interiors, everything became easier. As in, we suddenly agreed on everything (well, most things… And compromising became easier) and so far, every single piece of furniture we've bought is from Boston Interiors.
I'm especially obsessed with our new dining room table and chairs because they're two-toned with a dark top (Chris's want) and light gray bottom and chairs (my want). The chairs have an ikat-like print on them and if the fabric becomes dirty over the years or we get sick of it, we can easily switch it up. Please ignore the ugly chandelier above the table… that will be one of the next things we replace.
We had our first dinner on it this weekend, too. It fits a lot of people and a lot of food. Which makes me very, very happy.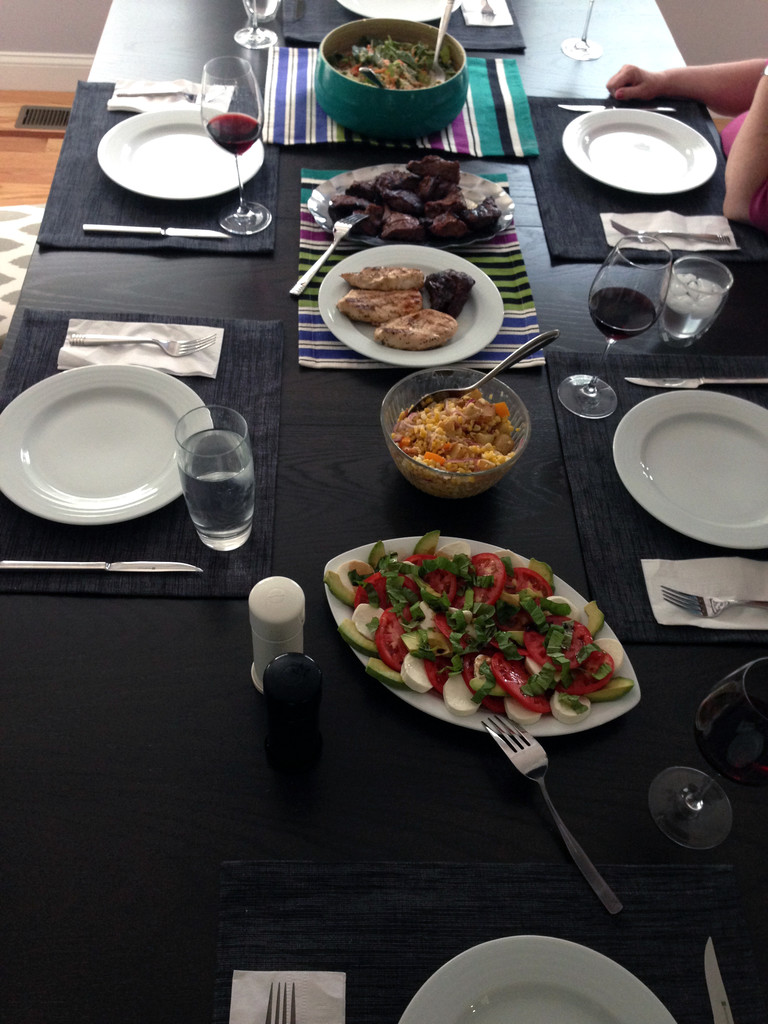 My plate:
Obviously Boston Interiors is a local Massachusetts thing, but if you're in the area and in the market for furniture, I highly recommend it. We still have a billion things left to purchase (only exaggerating a little) and I'm sure we'll be back to Boston Interiors many times over the coming months and years.
Smith & Wollensky Steaks at Home-
My friend Danielle works with Smith & Wollensky, which in case you don't know, is one of the best, most well-known steak houses in the country. When she saw that Chris and I bought a new grill, she offered to send some steaks to us. I was pretty excited when I got home from work one day and there were two rib eye steaks sitting in my kitchen!
First of all, I didn't even know that Smith & Wollensky had an online shop where you could order and have meat delivered. I just figured if you wanted a Smith and Wollensky steak, you had to go to a restaurant.
Second of all, how beautiful is this steak?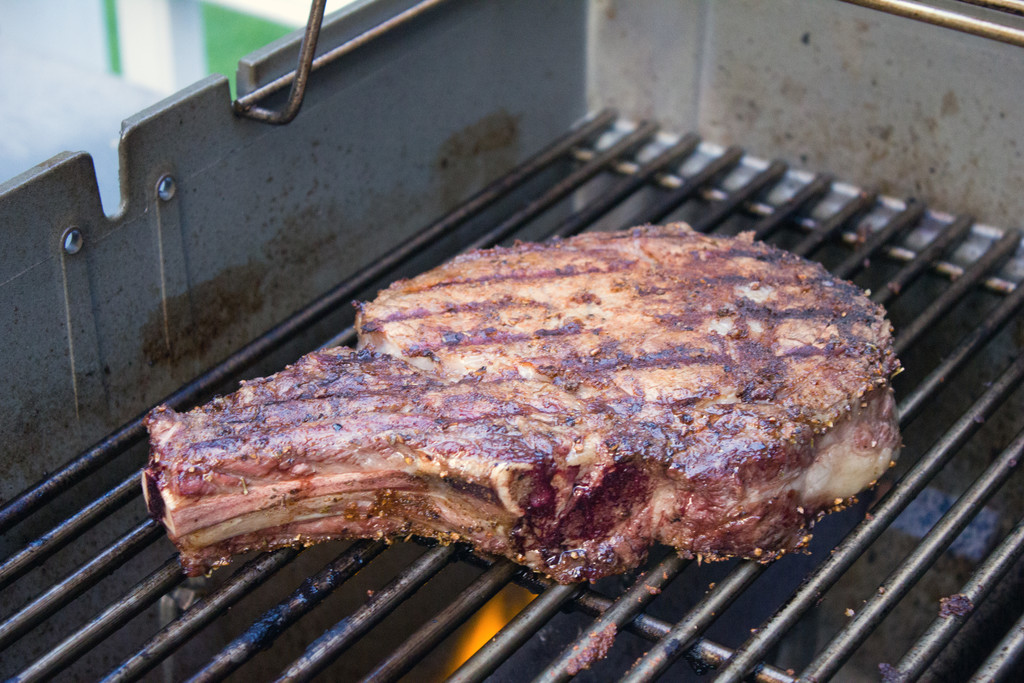 I honestly want to get that photo blown up and hang it in my living room.
We loosely followed Smith & Wollensky's recipe for Cajun Rib Eye.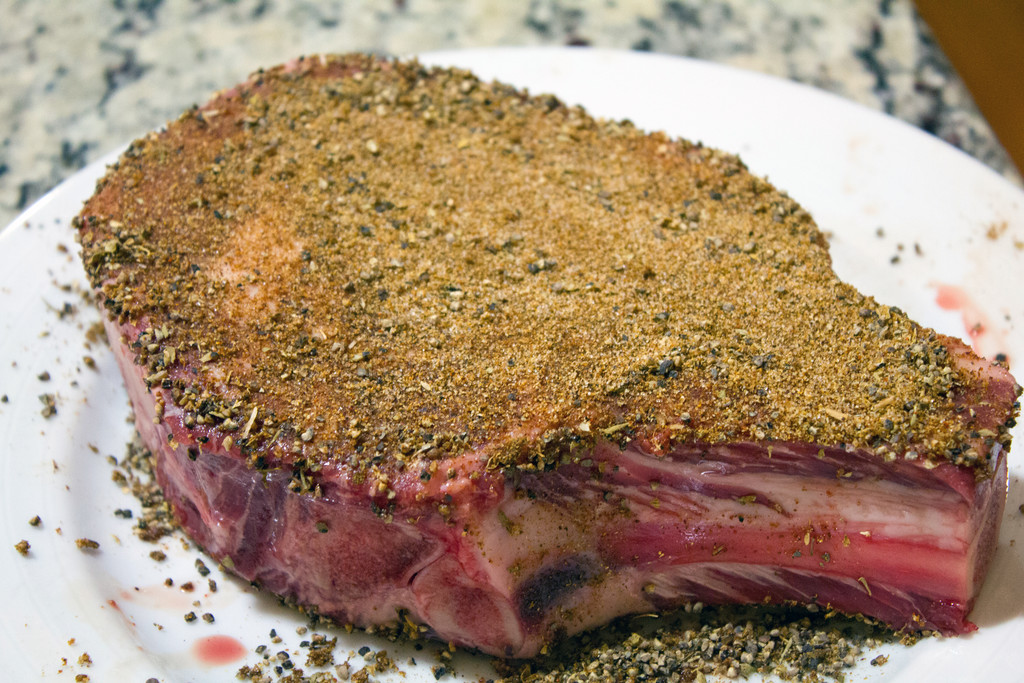 And I also loosely followed their recipe for Creamy Corn with Manchego. Which is pretty much the creamiest most decadent corn I could ever even imagine in my wildest dreams.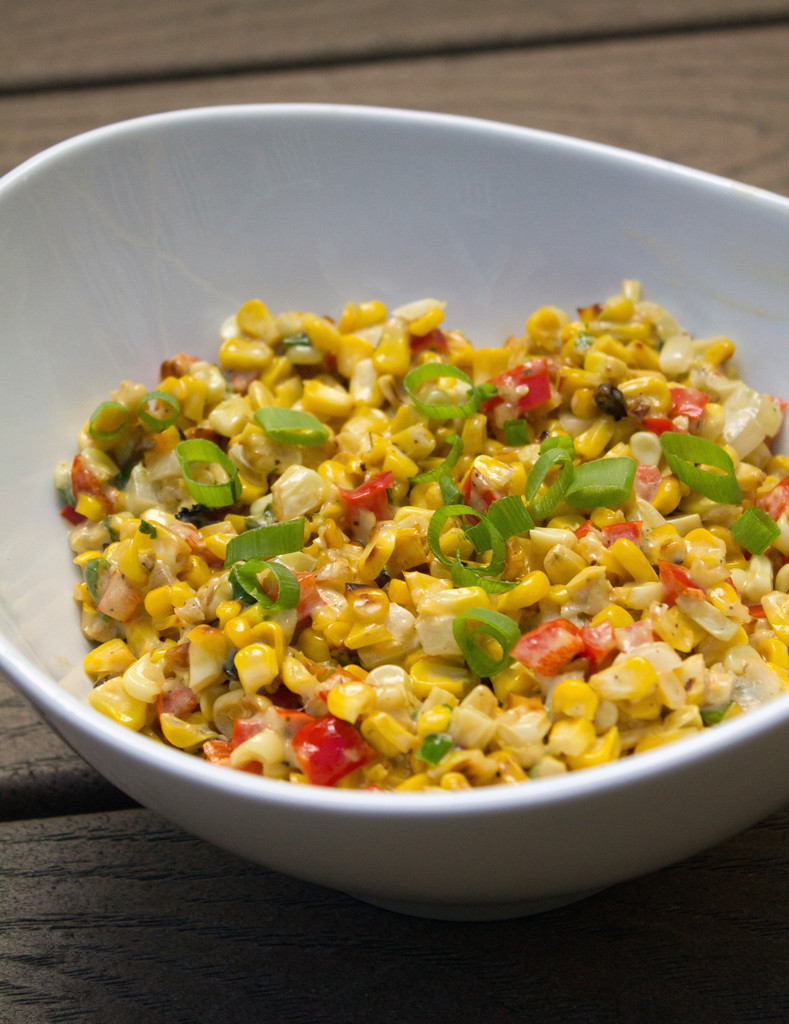 A boy and his grill!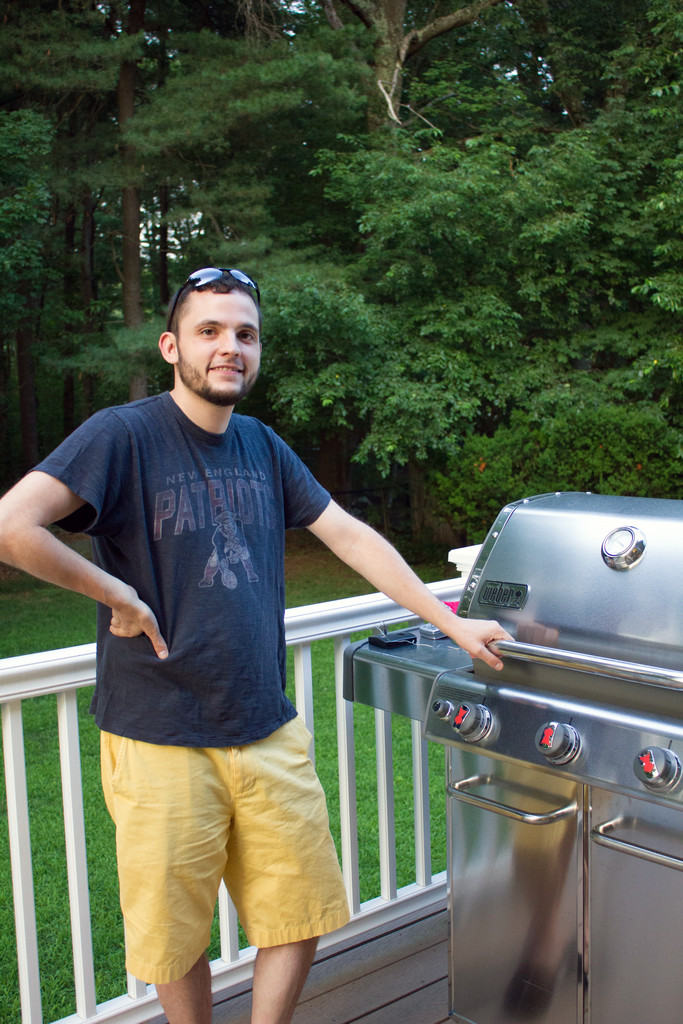 Seriously though, our Weber Grill is also on my list of favorite things for the sole fact that it's allowed Chris to discover a love of cooking (well, grilling, really). Lots of nights when I get home from work, he offers to cook dinner, which makes my life so much easier!
I'm not much of a griller yet, but am hoping to learn some more skills this summer.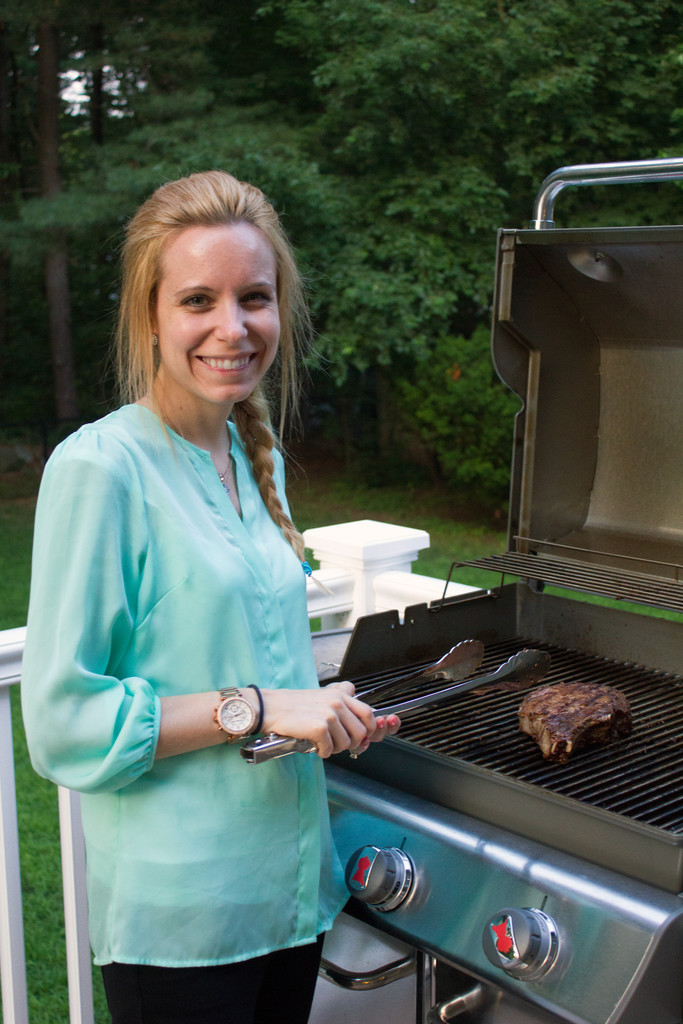 Chris did a really good job of grilling the steak perfectly. And I don't feel like the photo properly reflects the fact that it was the most melt-in-your-mouth flavorful steak ever. I'm totally tempted to click my mouse a couple times and place an order for more of these steaks… And am also glad to know that I now have the perfect gift idea for the special meat-lovers in my life.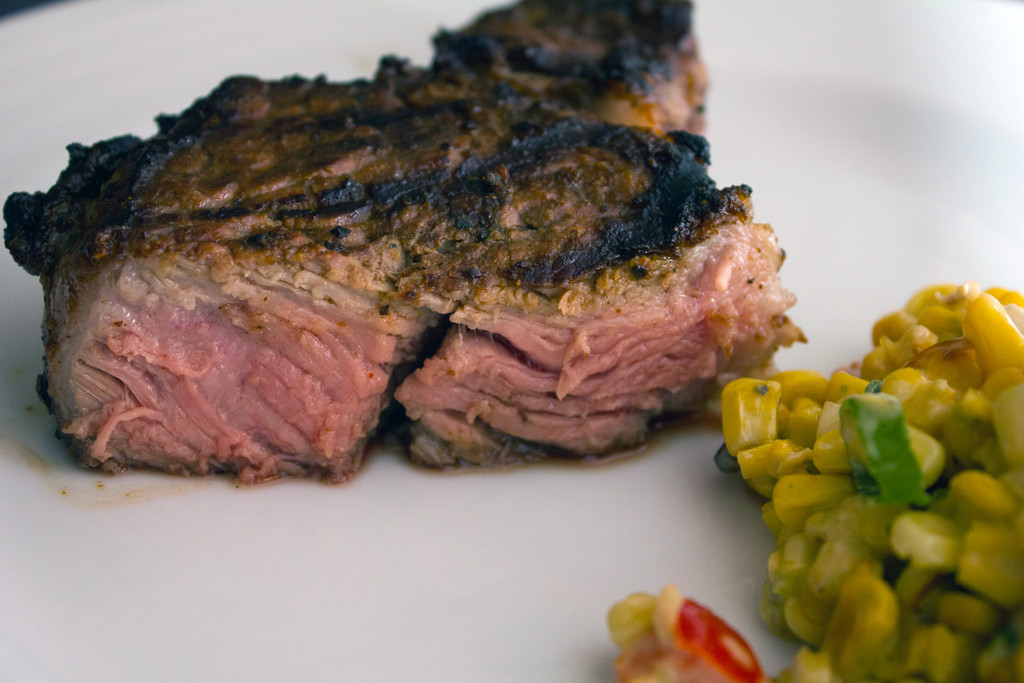 Happy!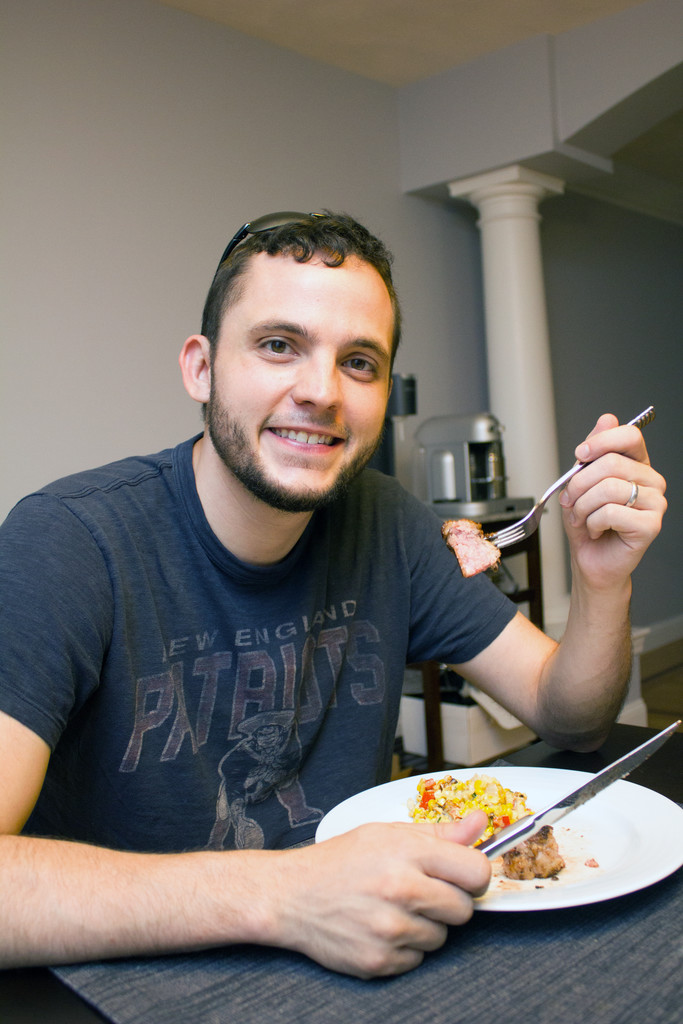 And tired. Yes, this is me after a long day at work. But I've got steak, corn, and a large glass of wine, so I cannot complain.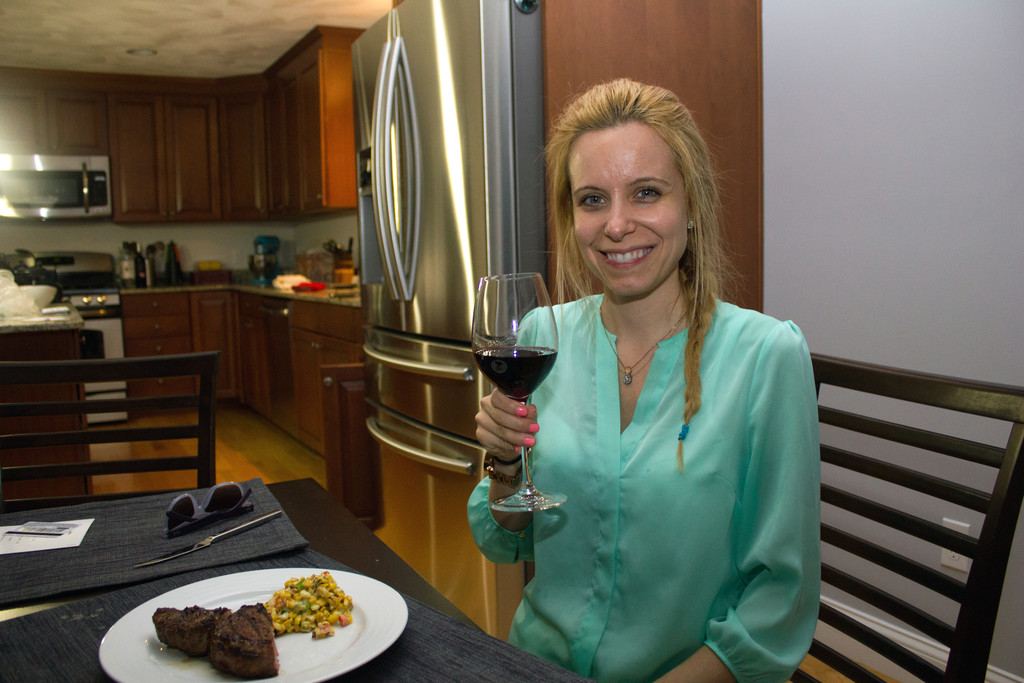 Another favorite? Wusthof steak knives. My sister got these knives for her wedding and my mom loved them so much that she asked for a set for Christmas. When Chris and I made our wedding registry, we put them on there, too… They're the best looking steak knives I've seen and are obviously super sharp. Wusthof is always a fave!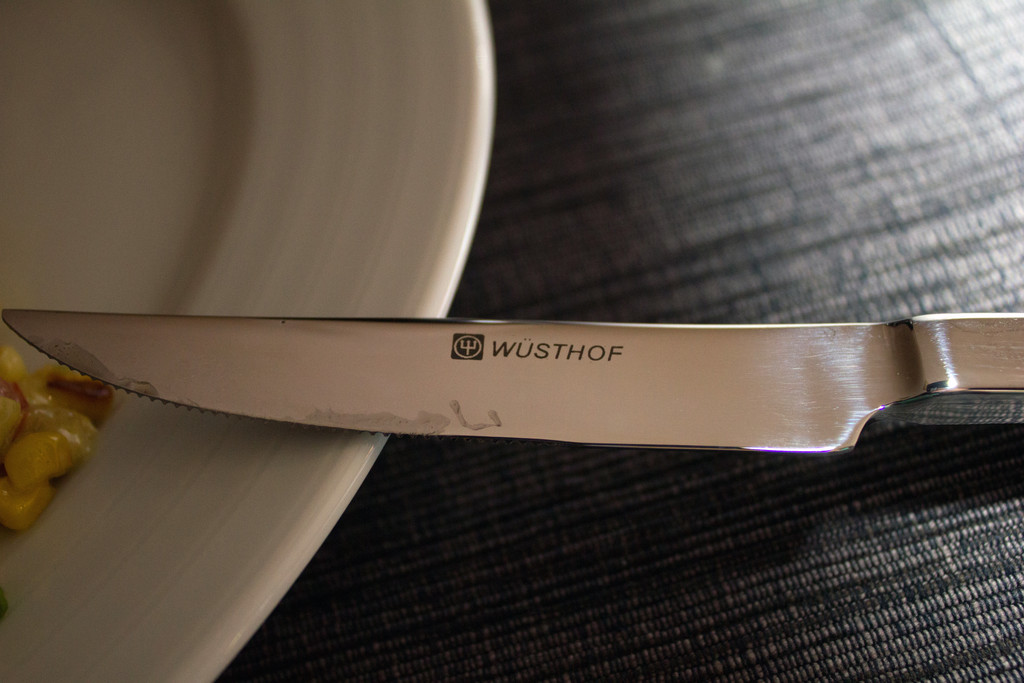 It probably goes without saying, but my nephews will be on my list of favorite things forever and ever and ever. I both love and hate that they're growing up so fast. Hate it because time is going by too quickly and love it because they're totally developing the most adorable personalities.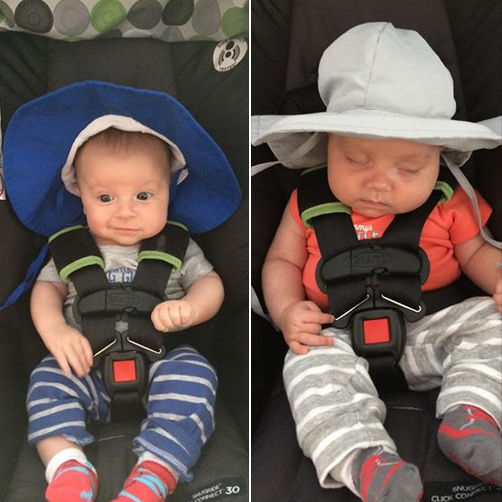 And my first favorite things list in about a billion years is now complete. And I feel like there's no better way to start a Monday!
How are you starting this week off on a positive note?
[Sues]