For some reason I really like bringing my lunch to work. It could be that I work in the Back Bay and so close to some of Boston's best restaurants and it saves me tons of money by not eating out, or it could be that the food I bring distracts me from... actually doing work... and wakes me up if I start to space out. hehe. Either way, having food at my desk from 9-5 offers some sort of entertainment value for me, gives me something to look forward to, and it makes me happy when I know I have something to snack on to get me through the day. And I love when it's really organized in nice little containers 🙂
Several months ago I bought a "Lunch on the Go" by Fit N Fresh (from Target obviously), and I literally fell in love with it. I'd marry it if I could. There are containers within containers with ice packs to keep your food chilled for up to 6 hours.
After that I decided I obviously needed the "Fresh Start Breakfast Chiller"... [I really had no reason to buy it since I never ate anything that required a bowl while I was at work]... naturally I had to start eating "liquidy" breakfast foods since now I had a really cool bowl. So I started bringing oatmeal and blueberries to work every morning 🙂 Yes, I am fully aware that my train of thought is totally backwards. Here's the bowl: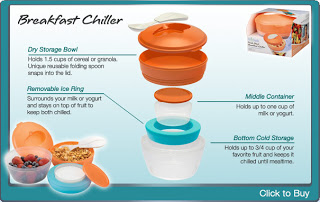 (image www.fit-fresh.com)
Last week I was hanging out with my sister... at Target... and I saw the Fit N Fresh "Salad Shaker." Had to have it... obviously bought it. There were also little snack stackers too (they were only $3.99 and it would have been silly of me not to buy them... so I did). I also convinced my sister to buy the "Salad Shaker"... she loves it! There's a little compartment on the lid to store salad dressing and when you're ready to eat, you turn the yellow knob on the lid and it releases your dressing into the salad! Here's my lunch for tomorrow: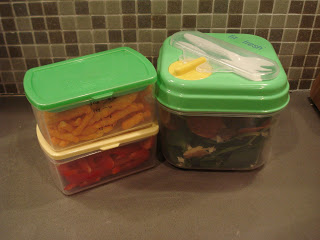 Aaaand here's the rest: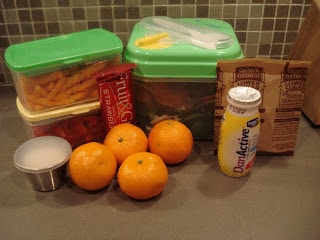 Haha... love it.

All of the Fit N Fresh containers have units of measure on them so it's perfect if you're trying to watch serving sizes... clearly I'm not since everything is filled to the brim 😛
These containers are also quit a hit in the office. I'm pretty sure there have been times when I've had all of my Fit N Fresh containers on my desk... at one time. Some of my co-workers have even asked for "demos" of them.
It's a great way to break up the hectic work day! 🙂
[Chels]