This first week back in the real world was tough. With a capital T. It felt like three work weeks all in one and I can't even tell you how happy I am that the weekend is here. I have a pretty packed January, which is both good and not-so-good, if you know what I mean. Sometimes down time is the best kind of time, but constant plans mean lots to look forward to.
Anyway, how did you do on your first week of keeping up with New Year's resolutions? I did pretty well. Here are a few of the resolutions I'm working on this year:
Cook weekday dinners more: Pretty sure I mention this like every other day, but this year I'm making a truly concerted effort. And since January 1, I've cooked six real dinners, which is not too shabby considering there have only been eight nights (one night we went out and another I got home late from a hair appointment). We have Chris's mother living with us for a bit and since she's on a special diet, it definitely gives me a little more motivation to cook. It also helps that I've been getting home from work around 6:15... Not quite sure how I'll do if work gets crazy again.
Here's a sampling of the dinners I've been enjoying lately: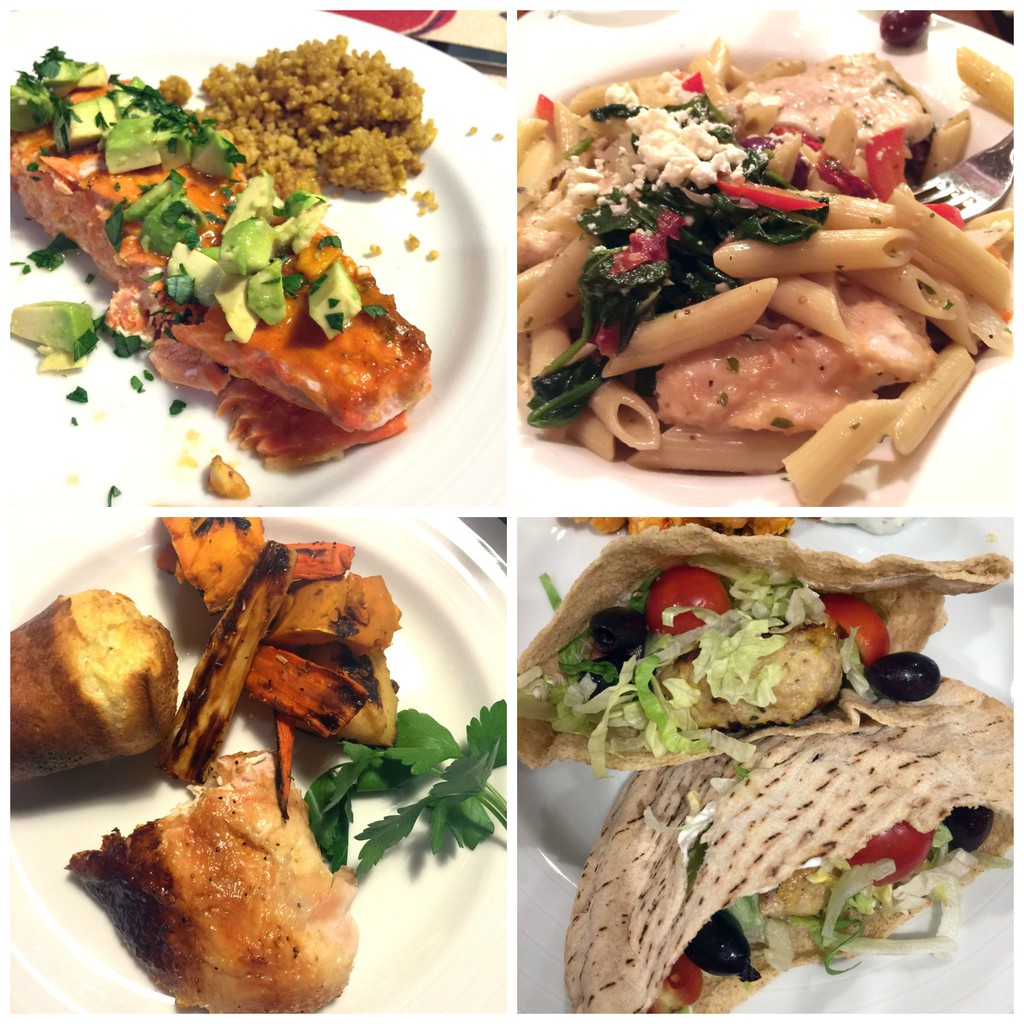 Bring lunch to work more: On that note, I want to be more cognizant about where I'm spending money and lunches during the workday are a great place to cut down. I work in the North End of Boston, which makes it reallyyy difficult (so much pizza, pasta, and eggplant parmesan!), but health-wise and money-wise, I want to resist as much as possible. Cooking more dinners means more leftovers to bring! I bought lunch once last week, but brought it from home every other day.
Read and write more: I'm going for 100 books this year, but am not holding myself to it too closely because I'd rather read high quality books than just a high quantity. The one good thing about my commute is the time I have to read, but I'm also going to try to put away my computer and read a bit before bed. I may start doing a book roundup where I review some of my fave recent reads. I'm also trying to write more outside the blog and work... Which is really the last thing I have time for, but also something I've been missing a lot.
Go to bed earlier!: I do not get enough sleep. Ever. I make this resolution every year and I fail miserably every year. What can I do to convince myself to turn off the light by 11:00 every night? I wake up at 5:00 a.m. on weekdays and am always ridiculously tired, but seriously struggle to call it a night. I think it's because I have so little free time, I love evenings of productivity and relaxation and don't want it to end!
I have a couple other resolutions (and a whole lot of goals) for 2016, but those are the big ones. What about you?
In other things I'm obsessed with... I've always loved grapefruit, but I'm on a major kick right now. One of my favorite things about winter is winter citrus. I attempted to make a monkey bread with grapefruit last weekend and it was a recipe fail (first of 2016... Only took 3 days), but I wasn't too upset because it left me with plenty of grapefruit to enjoy: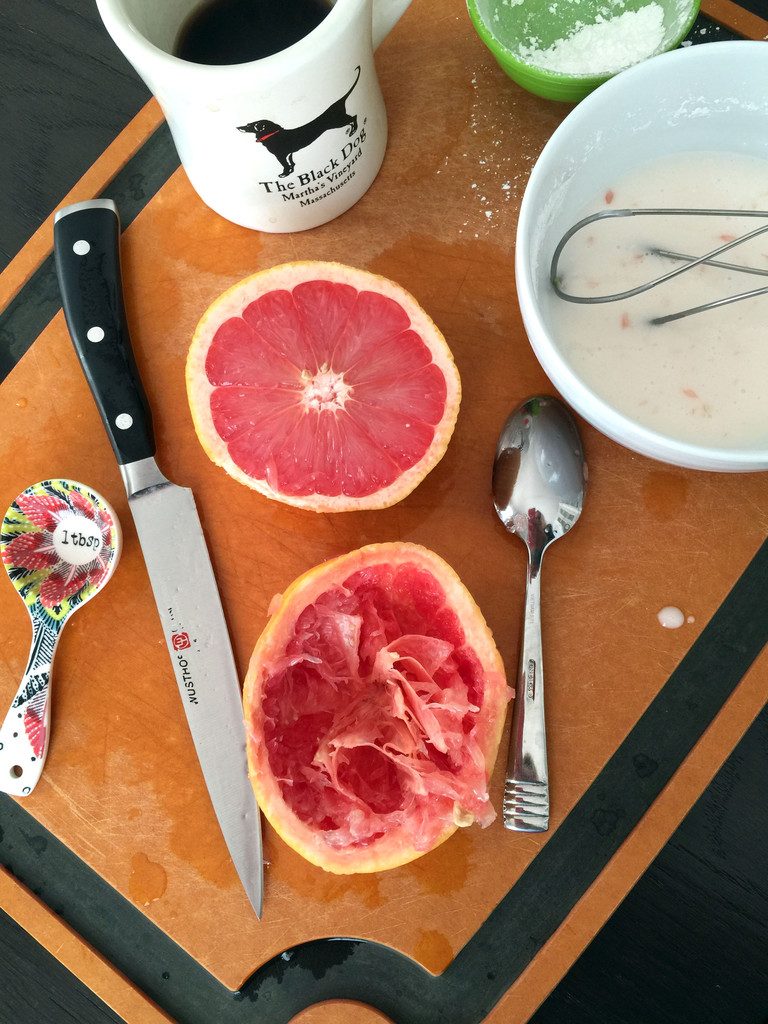 And now... You've obviously been waiting for a gratuitous Winnie picture, right? Here you go!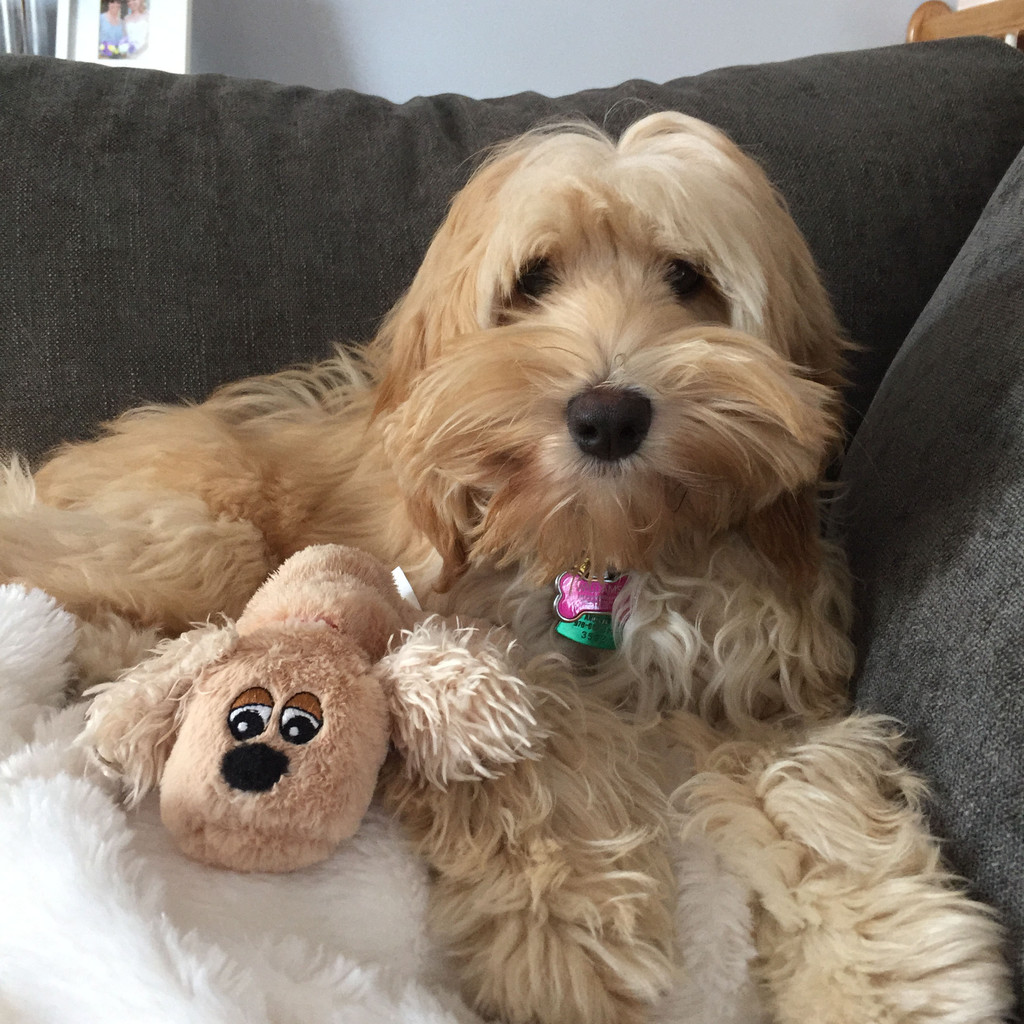 Did you know Pound Puppies are back? We found Winnie her twin at PetSmart!
My Favorite Links of the Week:
So, That's Why We Should Be Eating Chia Seeds: I'm a chia seed lover and this is a super handy dandy guide to why they're so awesome.
At This Dinner Party, Talking About Death With Strangers Isn't Taboo: This is a really cool concept and a way to connect with others who are grieving. I love how food can help heal.
Why Do American Work So Much?: Because we're crazy. That's why. I mean, ugh.
Do Different Kinds of Alcohol Give Us a Different Buzz?: Basically, you're going to get as drunk as you think you're going to get. I believe it!
Pantone's Colors of the Year Have Us Dreaming in Pastels: I'm so excited about these two colors of the year. Ive always been pastel crazy.
My Favorite Recipes Around the Blogosphere:
Key Lime Smoothie Bowl from Forest and Fauna: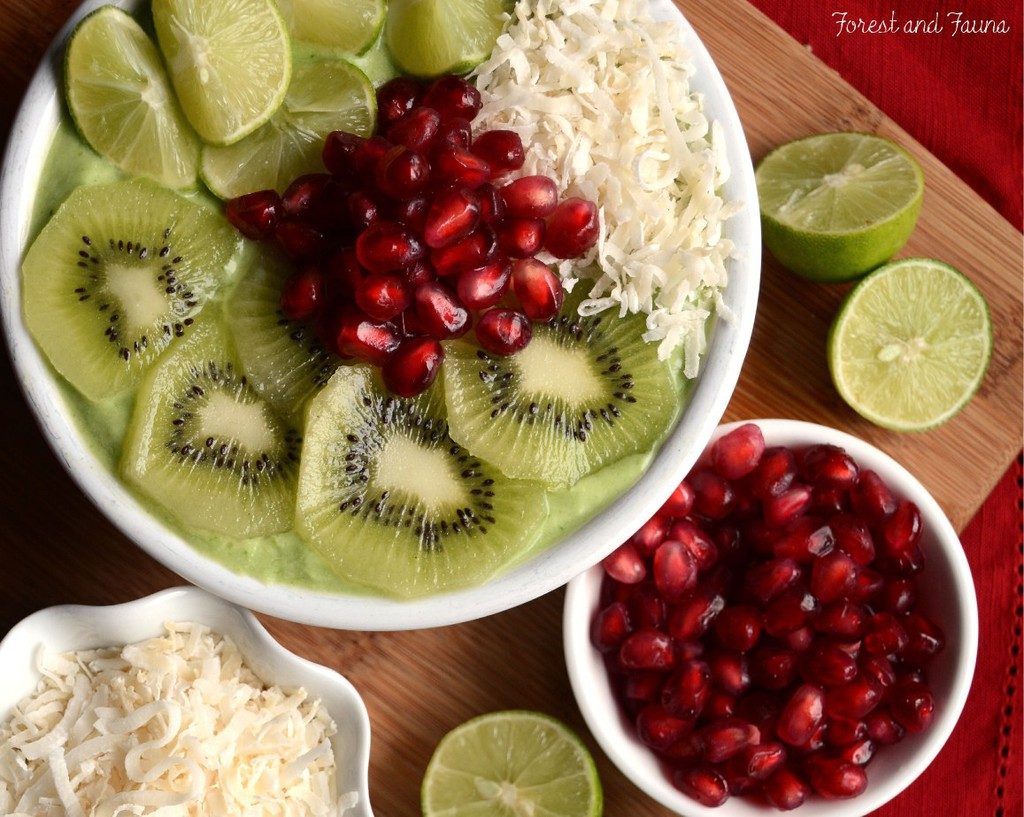 You know I've been on a serious breakfast kick lately. This would help me make that kick a little bit healthier.
Healthy Vanilla Cake Batter Oatmeal from A Big Man's World: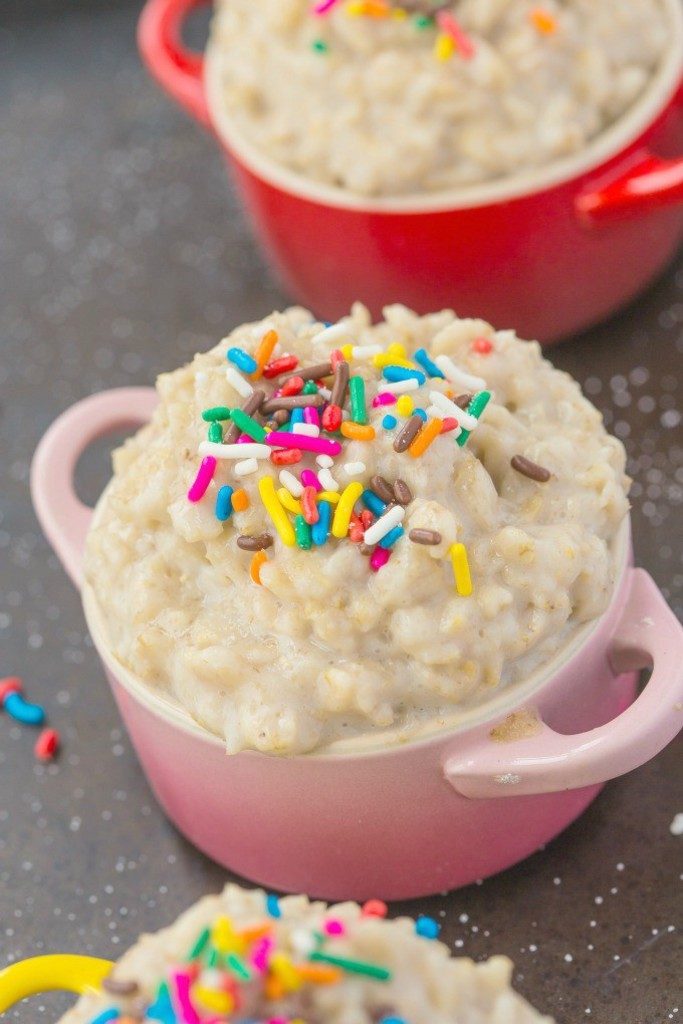 Maybe my breakfast kick really is turning healthy? I'm swooning over this oatmeal. And I never swoon over oatmeal (eggs and pancakes, yes. Oatmeal, no).
Homemade Gold Cotton Candy from Cooking Books: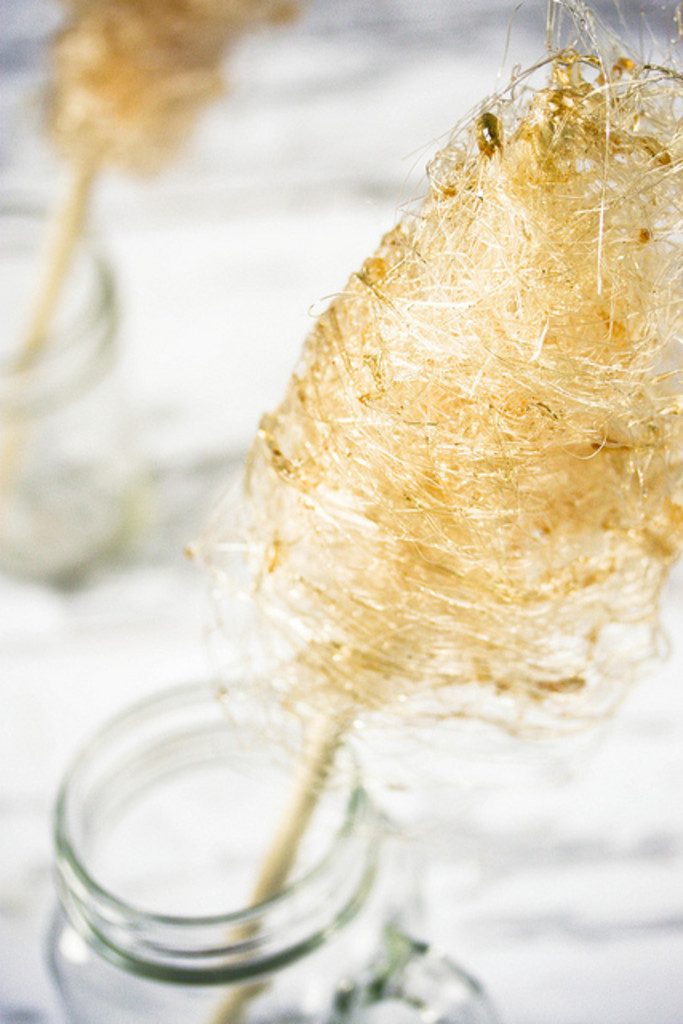 I'm really not sure how I got so far in life without making my own cotton candy. But when I do, I know it has to be gold.
Neapolitan Extreme Milkshakes from Poppytalk: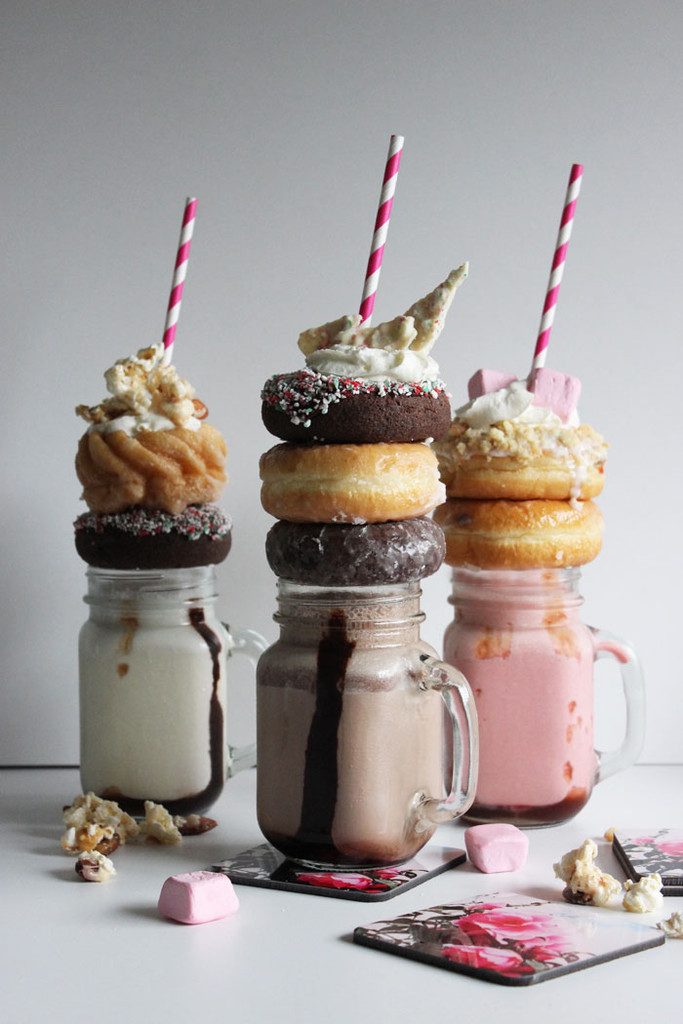 I will be seeing these milkshakes in my dreams. Guaranteed.
I hope you had a great first week of 2016 and have a happy, happy weekend! I'll catch you on Monday 🙂