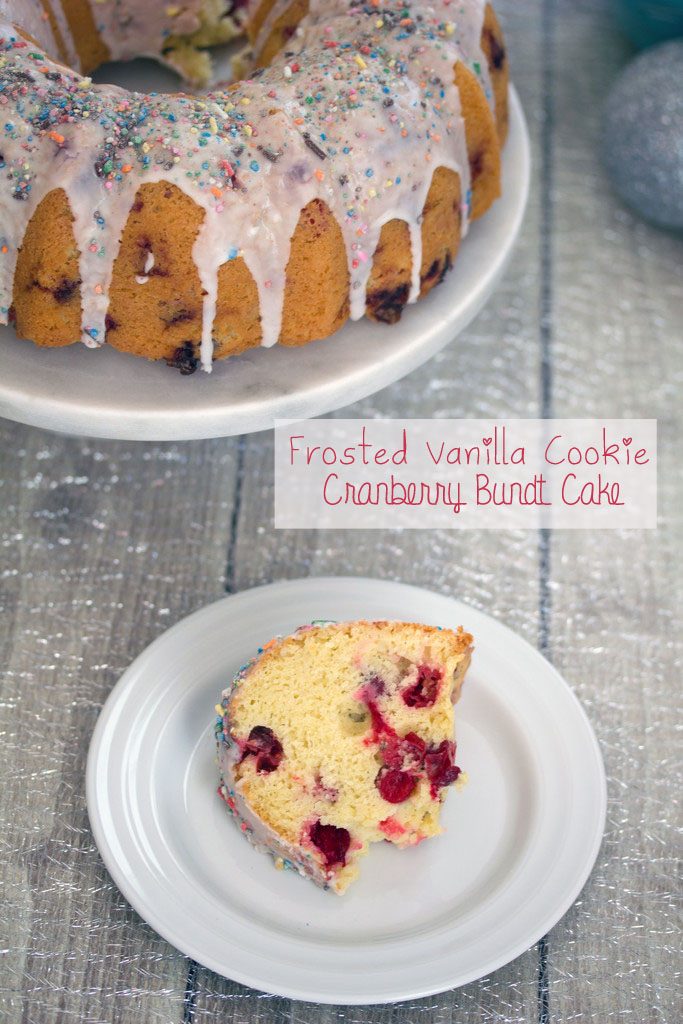 Thank you to BAILEYS™ Coffee Creamers for sponsoring this post. As always, all opinions are my own!
If I were to play that game "Never Have I Ever," I'd be the most boring player ever. Instead of posing scandalous situations, I'd be all like "Never have I ever made a Bundt cake." Everyone would probably just look at me funny, but I bet you that most of them have never made a Bundt cake either. I wouldn't judge anyone over this fact, but for some reason, I'm judging myself over it hardcore. I've had a pan sitting in my cabinet for at least 4 years, but no Bundt cake has ever been made. Until now.
It's baby's first Bundt cake and it's the perfect way to kick off the holiday season. No, it's not too early- Thanksgiving is just about four weeks away… Menu planning starts now!
I've practically been camping out outside my grocery store 24/7, desperately waiting for them to stock fresh cranberries. The moment has now arrived and I packed up my tent and went home with multiple bags both for cooking and baking and to store away in the freezer. Another thing it's worth waiting outside the grocery store for? The seasonal flavors of BAILEYS™ Coffee Creamers. My personal favorite of the moment is Frosted Vanilla Cookie: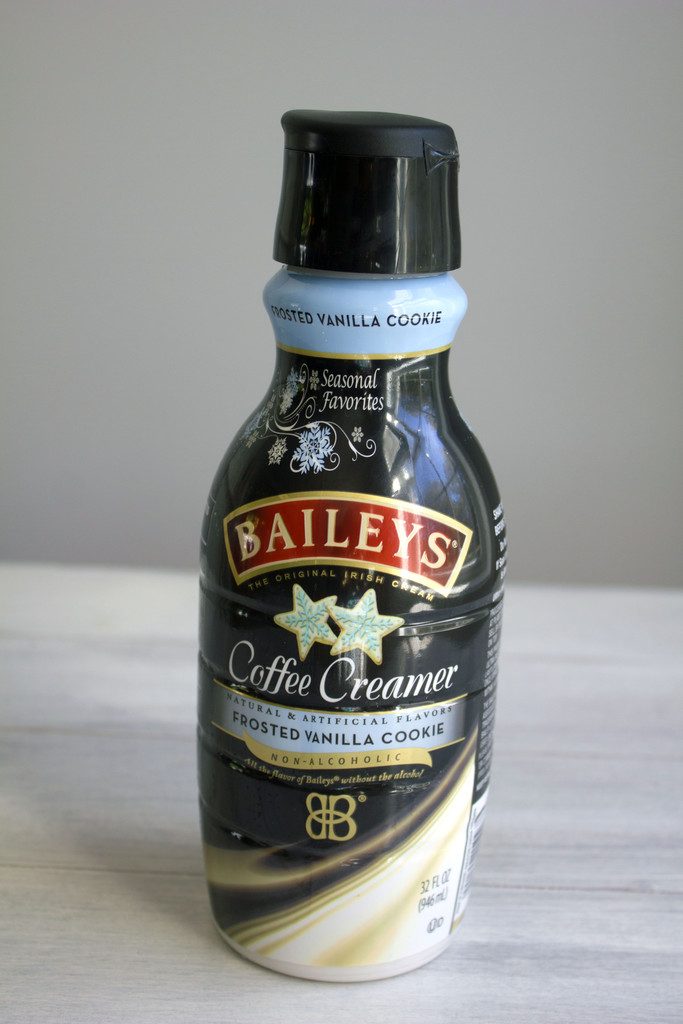 I decided to break out both seasonal delights for my first Bundt cake experience. Really, a Bundt cake is a million times easier than a layer cake, so I'm really not sure why I waited so long. The most important thing is to grease the Bundt pan well.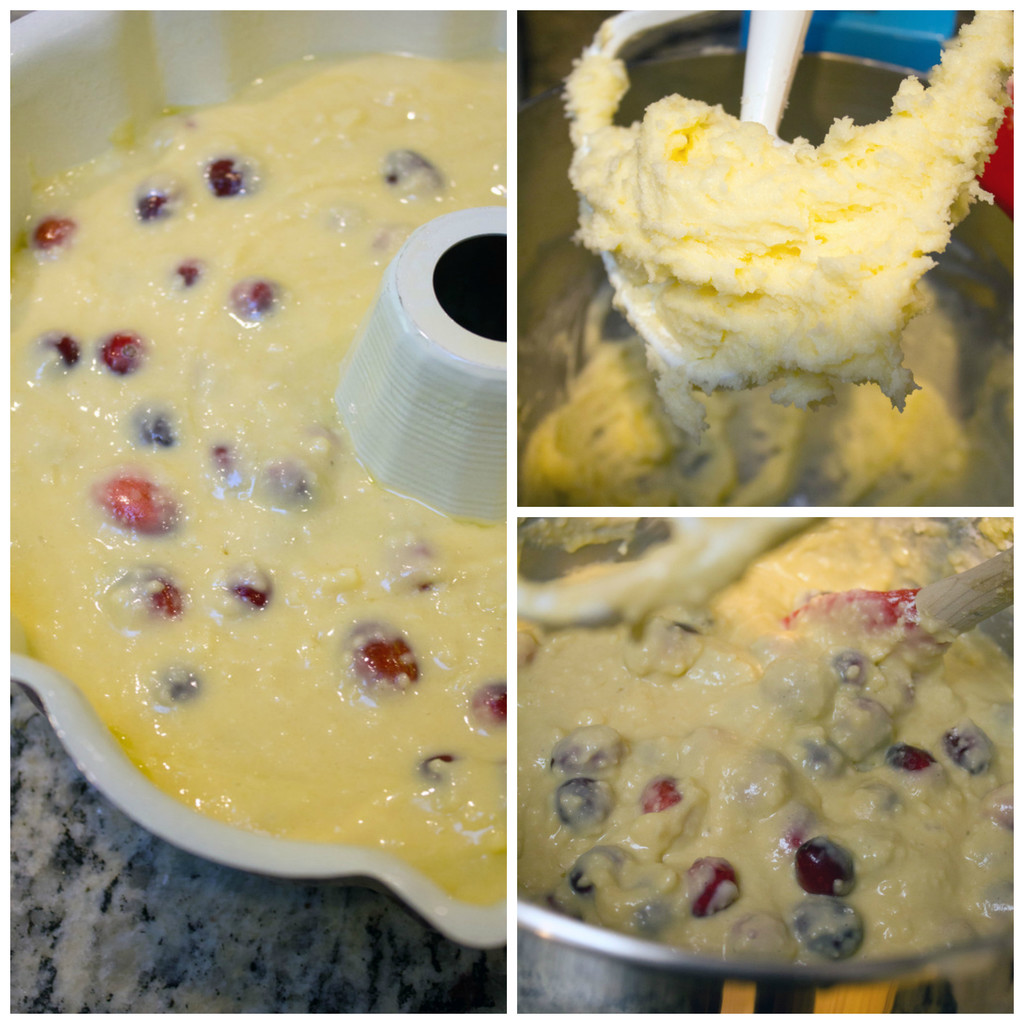 And to top it with something delicious, like a glaze.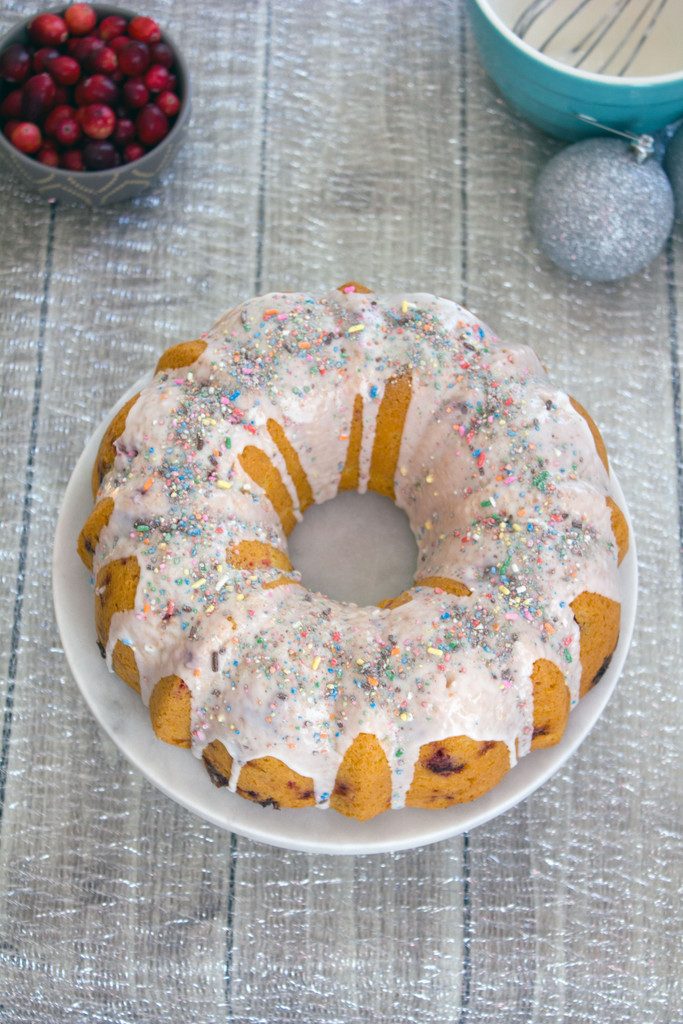 And really, it's a shame not to glaze a Bundt cake because the way the glaze cascades down the side is just too beautiful to resist.
Topping with sprinkles is also not essential, but really kind of is, if you know what I mean. Instead of going with a traditional holiday color scheme, I decided to go with rainbow colors for a generally festive feel. 'Tis the season for celebrating!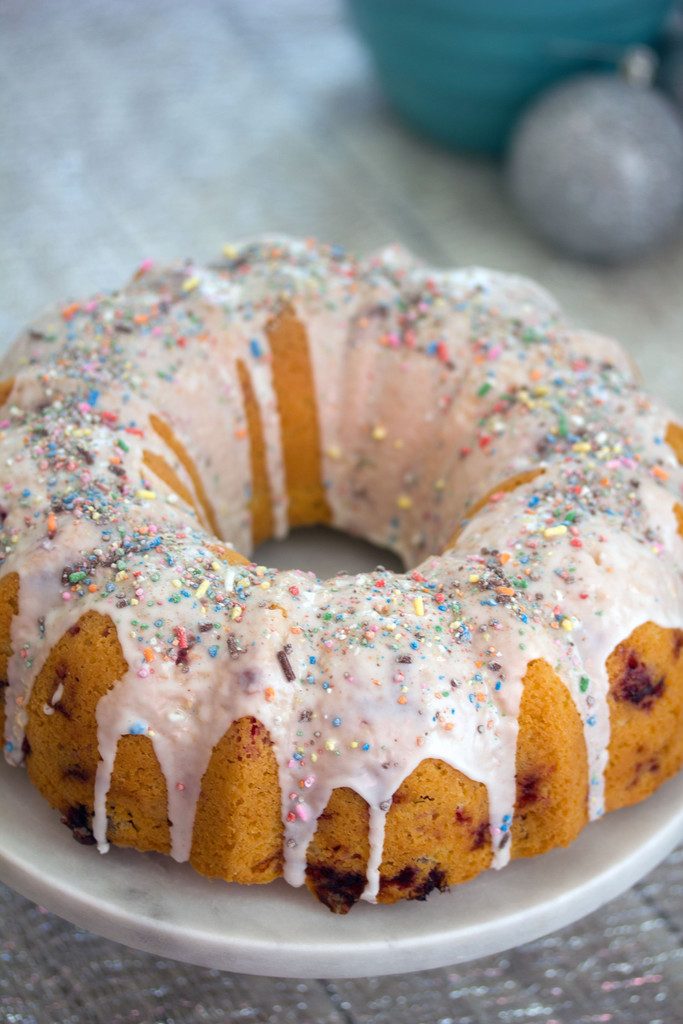 Cranberries certainly help that celebratory feel, as well. In case you can't tell, cranberries are most definitely my 2016 holiday food and ingredient of choice.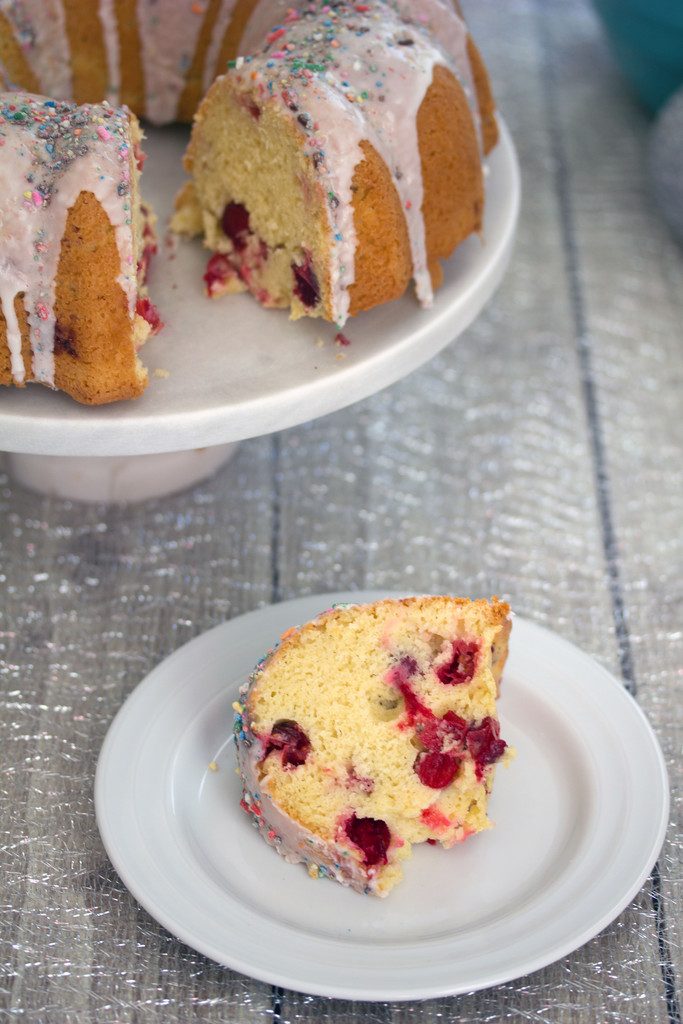 I've mentioned it before, but I'm pretty sure cranberry is soon going become the new pumpkin. I think pumpkin will always be loved, but let's face it, the market has become ridiculously saturated and the world needs something new to become obsessed with. Here comes cranberry!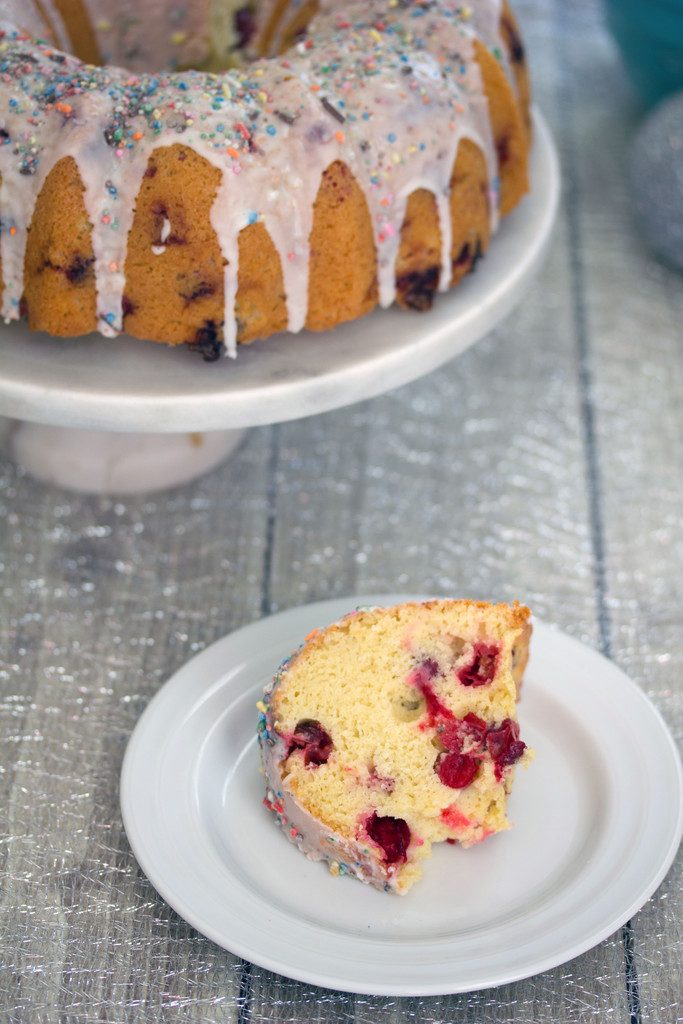 And frosted vanilla cookie? Can that become a flavor trend, too? I don't really think it has to be relegated to a season either. I would be all about frosted vanilla cookie all year round. But because everyone loves sugar cookies for the holidays, it will definitely help you get in the holiday spirit.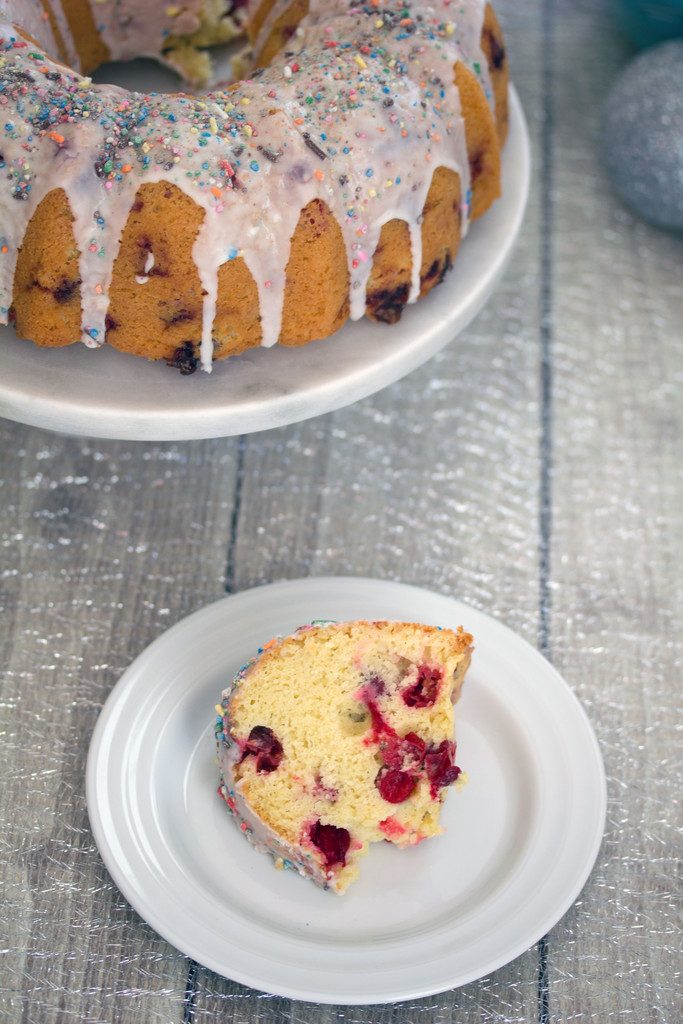 I give credit to the BAILEYS™ Coffee Creamers Frosted Vanilla Cookie for making this cake so incredibly moist. The creamer also adds some extra sweetness, which is very much needed in light of the major tartness the cranberries bring. Perfectly balanced!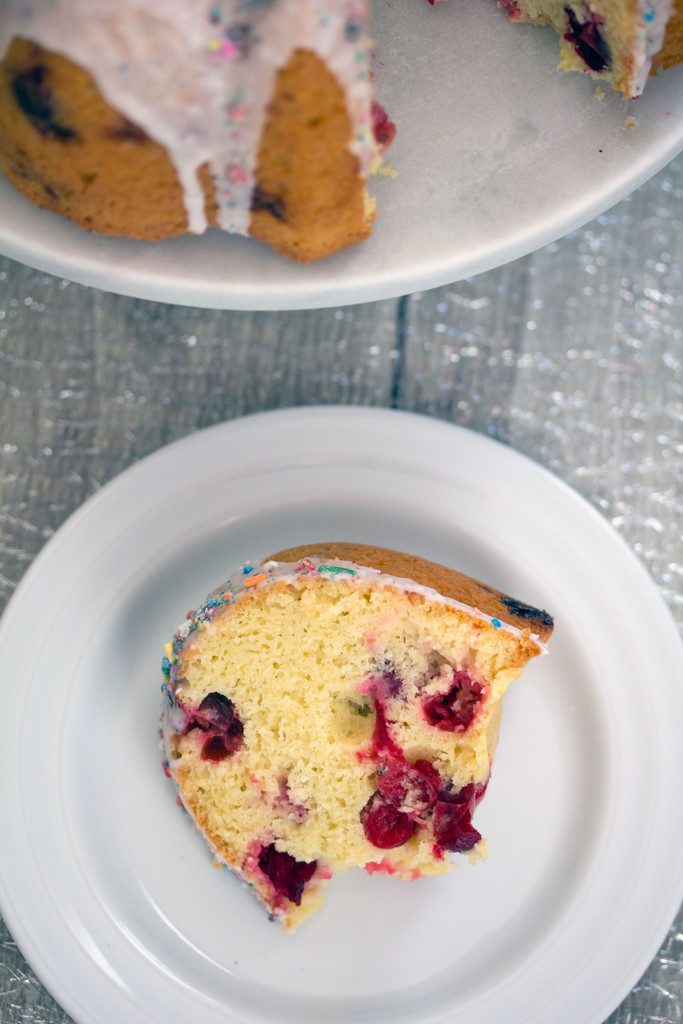 Don't you dare tell me it's too early for all of these holiday favorites. I've had eggnog sitting in my fridge for three weeks now. THREE WEEKS. I don't condone this type of behavior, but that's what happens when you're married to an eggnog addict. I don't even try to fight it anymore.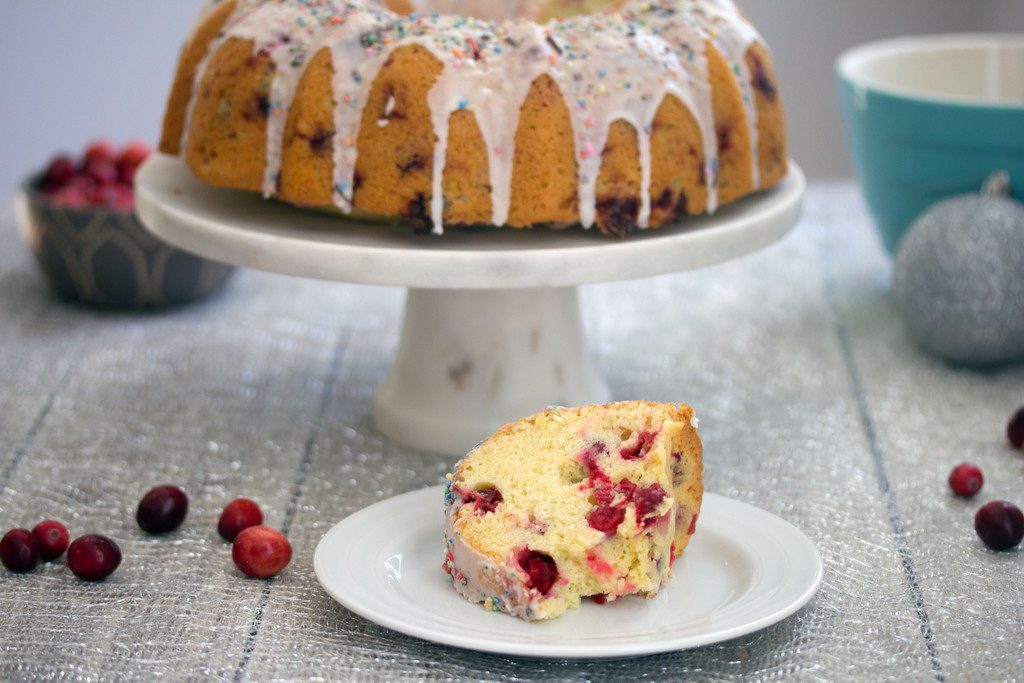 This is it; I'm full-on in holiday cooking and baking mode. It's going to be a veryyy fun next few months. I hope you're ready! No, I'm still not planning on drinking any of that eggnog just yet; I'll leave that to my husband for now. But cranberries and holiday creamers are totally welcome in my life any time at all.
What ingredients and flavors are you most excited for this holiday season?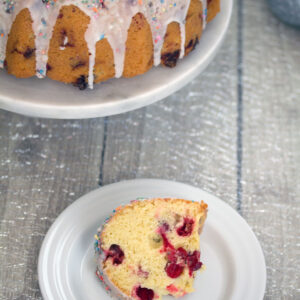 Print Recipe
Frosted Vanilla Cookie Cranberry Bundt Cake
Perfect for the holiday season, this Frosted Vanilla Cookie Cranberry Bundt Cake is simple to make, gorgeous to look at, and delicious to eat!
Ingredients
1

cup

2 sticks butter, room temperature

1 1/2

cups

sugar

5

eggs

2 3/4

cups

all-purpose flour

1 1/2

tsp

baking powder

1/4

tsp

salt

1

cup

BAILEYS ™ Coffee Creamers Frosted Vanilla Cookie

1 1/2

cup

fresh cranberries

Frosted Vanilla Cookie glaze

see recipe below

Multicolor sprinkles

optional
Frosted Vanilla Cookie Glaze:
2

cup

confectioners' sugar

1/4

cup

BAILEYS ™ Coffee Creamers Frosted Vanilla Cookie
Instructions
In the bowl of a stand mixer or in a large bowl with a hand mixer, cream butter and sugar together until light and fluffy.

Add eggs, one at a time, mixing well after each addition.

In a separate medium bowl, whisk together flour, baking powder, and salt.

Add flour mixture to mixing bowl, alternating with BAILEYS ™ Coffee Creamers Frosted Vanilla Cookie. Mix well.

Fold in cranberries.

Pour batter into a greased and floured 10-inch (12 cup) Bundt pan.

Bake at 325° for 55-60 minutes, until a toothpick inserted near the center of the cake comes out clean.

Cool in the pan for about 10 minutes before removing to a wire rack to cool completely.

Once cake is cool, pour glaze over the top and add sprinkles if desired.
Frosted Vanilla Cookie Glaze:
In a medium bowl, whisk together the confectioners' sugar and BAILEYS ™ Coffee Creamers Frosted Vanilla Cookie until smooth glaze is formed.
Thank you to BAILEYS™ Coffee Creamers for sponsoring this post! As always, all opinions are 100% my own.