It's no secret I love baking desserts. Cupcakes! Cakes! Chocolate everything! This weekend, my family celebrated a late Father's Day and I was planning on bringing the dessert. Shockingly, I put all thoughts of chocolate aside and focused on fruit. My dad isn't the biggest chocolate person, especially in the evening, and I know he's a fan of fruit tarts. And while we've had some glorious ones from Whole Foods and Party Favors in the past, I've never attempted my own. After looking at tons and tons of recipes, I settled on Martha Stewart's. Of course. Because a) I totally trust her and b) While involving lots of steps, the recipe was extremely straightforward. It wasn't tough, but it was a bit time-consuming (you have to spend time waiting for things to cool, bake, cool, etc.).
The recipe has 3 separate parts, so I'm breaking them down for you in the order I did them. First you need the tart crust, then you want to make the pastry cream (so it can cool), and then assemble the tart. Ready? If it means a fruit tart at the end, you better be!
Pate Sucree (tart dough):
2 1/2 C all-purpose flour
3 T sugar
1 C (2 sticks) unsalted butter, chilled and cut into small pieces
2 large egg yolks
1/4 C ice water
Note: You can cut the above recipe in half to make enough dough for one fruit tart. I made the whole thing and put half the dough in the freezer for the future (it can stay in there a month). You never know when you're going to want some pate sucree!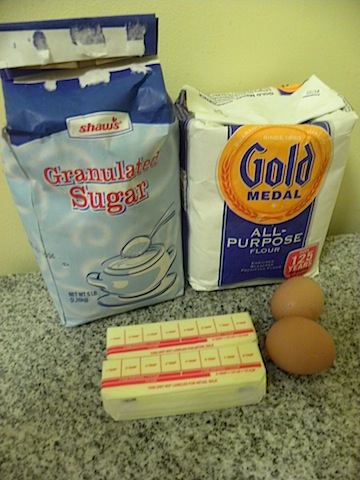 The more I make dough for crust, the better I get at it. I'm by no means a pro, but I have found Martha Stewart's pie crust recipes to be the best and easiest to handle. Pate brisee for pie and pate sucree for this tart. I made this crust the night before since it needed to sit in the fridge for an hour and I wasn't going to have enough time to wait the next day.
In the bowl of a food processor, combine flour and sugar. Add the butter.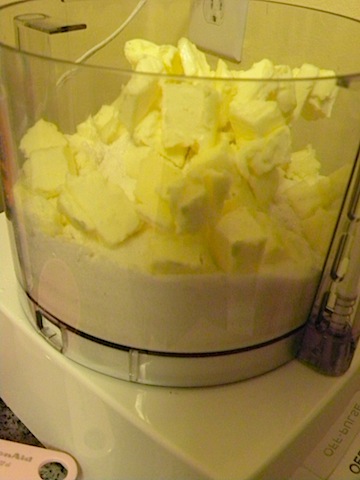 And process until mixture resembles coarse meal, 10-20 seconds.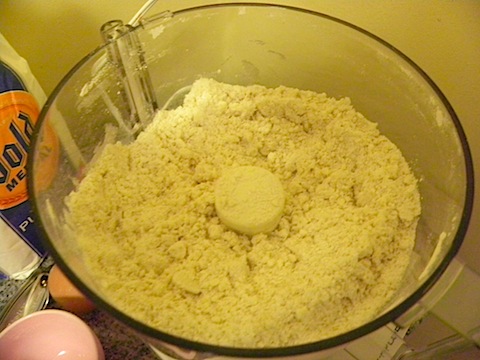 Lightly beat egg yolks and add ice water in a small bowl. I used my BEAUTIFUL bowl that Kyle gave me at HER wedding shower (yes, she gave US gifts at her shower). She chose words that represent what we mean to her and my word was "Inspiration." The funny thing is, I would most definitely say Kyle has been completely inspiring to me throughout our entire friendship.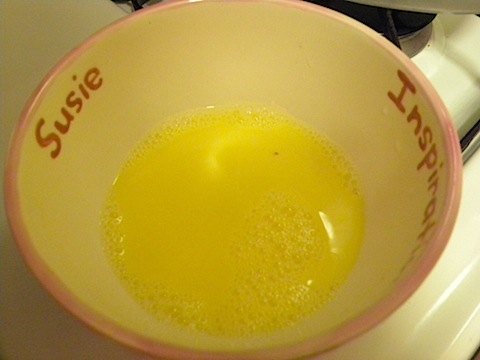 With the food processor running, add the egg mixture in a slow, steady stream through the feed tube. Pulse until dough holds together without being wet or sticky. Make sure you don't process it for more than 20 seconds. (Sorry for my photos. It was dark and late and I was tired).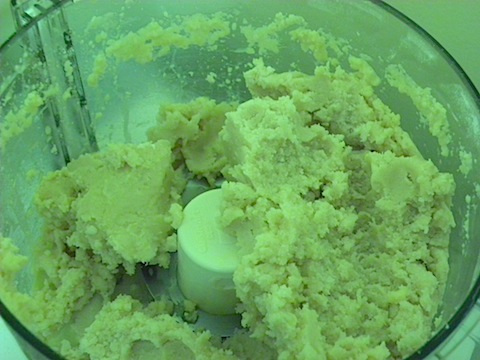 Divide the dough into two equal balls. Flatten each ball into a disk and wrap in plastic. Transfer to the refrigerator and chill at least one hour. I ran out of plastic wrap, so I used plastic Ziploc bags instead.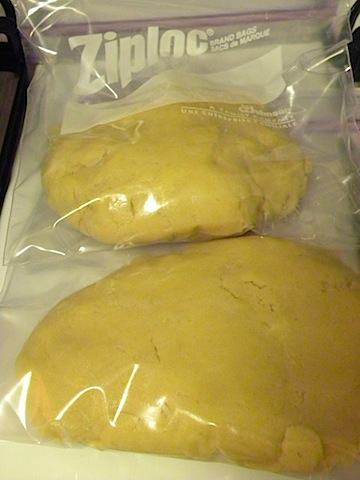 Here's the part where I went to bed. But I got up the next morning, took my dough out of the fridge, and let it soften a bit. Then I floured the counter and rolled the dough out and put it into my dish. Sadly, I don't have a tart pan (MUST get one!), so I used a pie plate instead.
As you can see, I didn't do the prettiest job, but I knew I'd be filling it up anyway. AND later that day, my mom gave me an awesome tip. She said when I'm wrapping the dough in plastic before putting it in the fridge, I should flatten it more and have it pretty much rolled out. That way, it will be much easier for me to deal with after it's chilled. Next time. Thanks, Mom!
After my dough was in the dish, I trimmed the edges flush with the dish. And popped it back into the fridge to chill for 30 more minutes.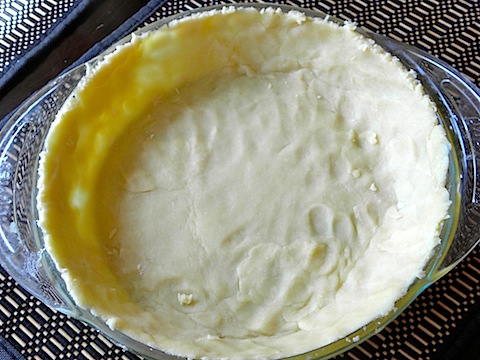 Pastry Cream:
1 C whole milk
1/2 vanilla bean, split (I used 1 T vanilla extract instead)
5 T sugar
3 large egg yolks
1 T cornstarch
1 T flour (preferably rice flour… But I used regular)
1 T unsalted butter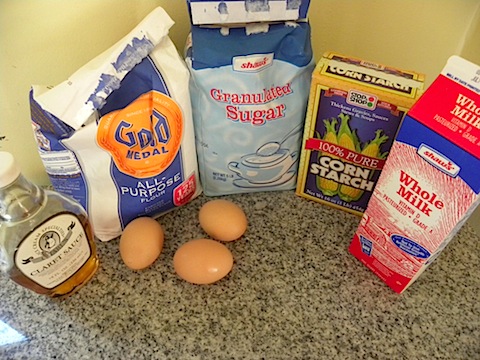 Now it's time for the pastry cream!
Put the milk, vanilla bean (or vanilla extract), and 1/4 C sugar in a medium saucepan over high heat until almost boiling.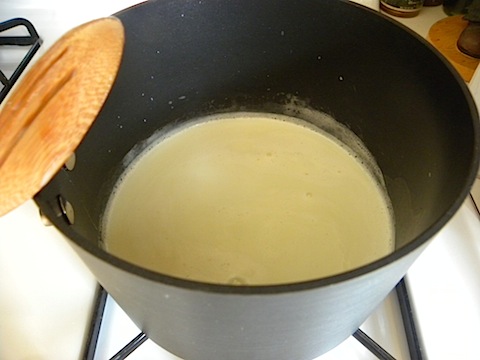 In a medium bowl, whisk together egg yolks with remaining 1 T sugar until thickened. Sprinkle in cornstarch and flour and continue beating until well combined.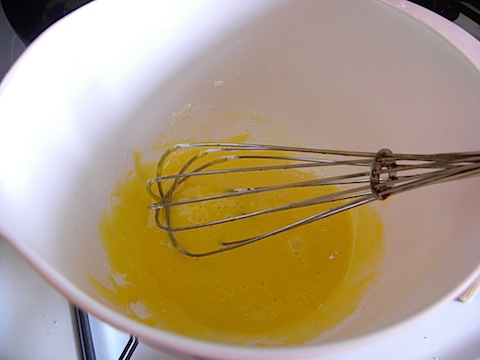 If you used vanilla bean, remove it from milk now. And while whisking constantly, slowly pour the heated-milk mixture into egg-yolk mixture.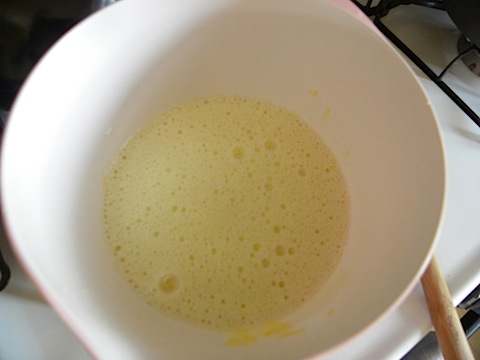 Then pour the mixture through a fine sieve back into the saucepan.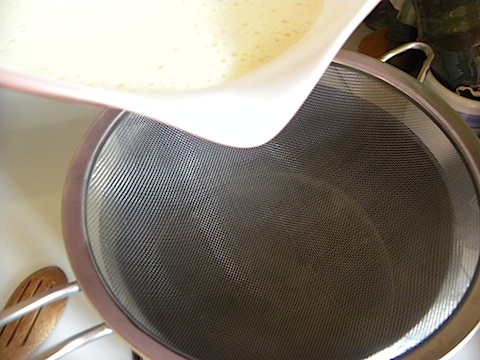 And cook, whisking constantly, over medium-high heat until it thickens (like custard!) and registers 160 degrees on an instant-read thermometer, about 2 minutes.
Transfer to a large bowl and whisk in butter until melted. Cover with plastic wrap, making sure to press it directly on the surface of the pastry cream. And pop it in the fridge to cool.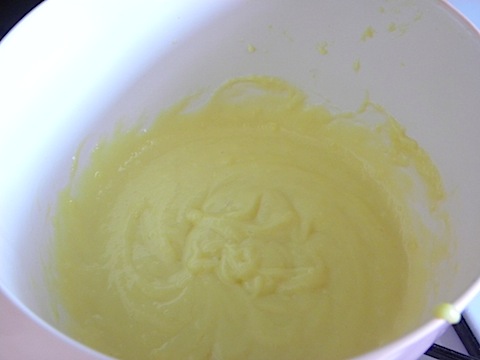 The rest of the fruit tart:
All-purpose flour, for work surface
1/2 C heavy cream
1 t sugar
1/4 C red currant jelly, seedless raspberry jam, quince jelly, or apricot jam
4 C mixed berries, preferably blueberries, blackberries, raspberries, strawberries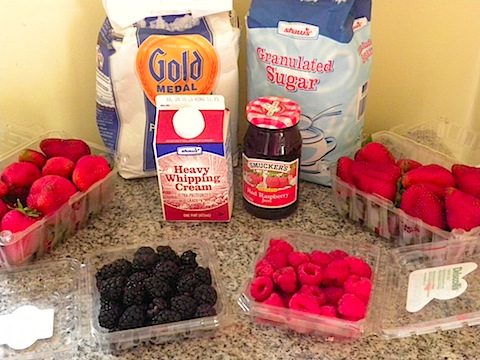 While the pastry cream was cooling, I heated my oven to 375 degrees. Then I pricked the bottom of my dough all over with a fork and covered it in parchment paper (leaving at least 1-inch of overhang). I didn't have pie weights (again, need!), so I filled with lentils to hold the parchment down. And I put my dough in the oven for about 40 minutes (edges were starting to turn golden). Then I took the parchment paper off the dough and baked for another 10 minutes.
Then the crust needed to cool completely. You're supposed to take it out of the pan and let it cool on a rack. But since I wasn't using a tart pan, I just kept mine in the pie plate.
Once it was sufficiently cool, I got started on the rest of the recipe. I  took my 1/4 C seedless raspberry jam and put it in a small saucepan over medium-low heat, stirring until melted and smooth. And set it aside to cool a bit.
Then I put the heavy cream and sugar in a medium bowl and used my hand mixer to beat it until soft peaks formed.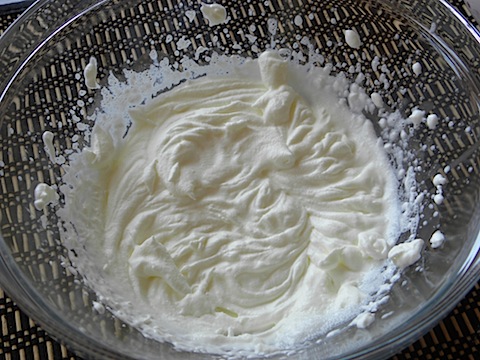 Then I folded this whipped cream into the cooled pastry cream in batches.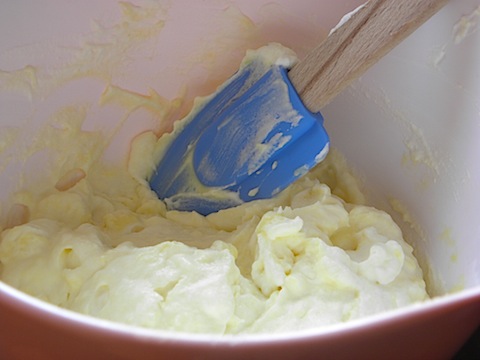 I spooned the pastry cream mixture into my cooled tart shell and spread evenly.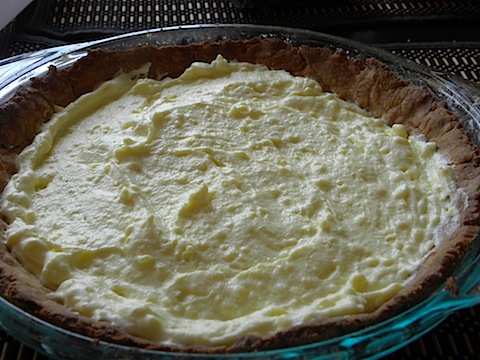 Then I topped with berries and spread the jam glaze over the top.
I loved my nice little selection of berries! I would have used blueberries too, but after buying them 3/$5, I couldn't justify this week's 1/$4. I also bought kiwi, but then totally forgot about it. I think these berries worked perfectly, though.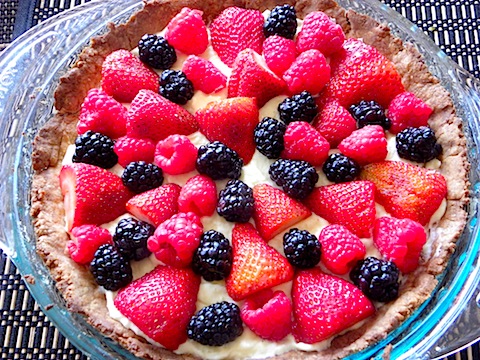 After a wonderful dinner featuring a glorious cheese course (more on this later!), filet, onion rings, and panzanella salad, we dug into the fruit tart.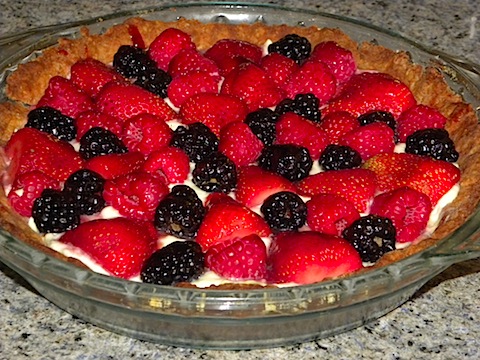 It turned out pretty much just how I wanted it to!! My crust wasn't as pretty as it could have been, but this is definitely one of those things that takes practice (and patience).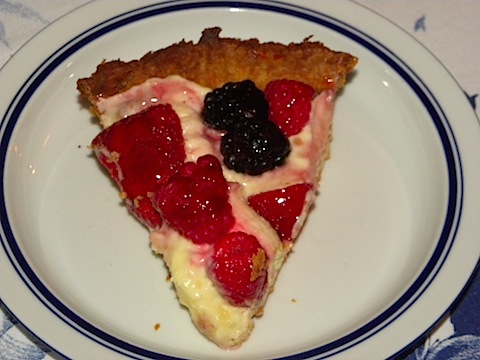 My dad enjoyed it and we managed to finish off the entire plate (it wasn't that big. And there were 6 of us). This is one dessert I'll definitely be adding to my repertoire and I can see myself making it over and over again (probably for the rest of my life!), especially for the summer months.
There's not much better than summer berries after a delicious meal.
Happy late Father's Day again, Dad!
What's your favorite non-chocolate dessert?
Sues
Don't forget about our Tupperware giveaway!! You have until Wednesday to enter!!