Ever since our burger cooking class at the Four Seasons a few weeks ago, I've been craaaaving sweet potato fries. The fries we had that night weren't just any ordinary sweet potato fries. The seasoning used on them and the dipping sauces they were served with were almost life-changing. And, of course, because I was so enamored by them (read: I most likely blacked out from the deliciousness), I forgot to ask the chef how they were prepared.
So, I decided to make my own unique sweet potato fries. Which, in no way, resemble the kind we had at the Four Seasons, but my goal was to just make something a little different than a standard sweet potato fry 😉
I first found a recipe from Bobby Flay for Grilled Garlic and Herb Sweet Potato Fries, but instead of grilling them I decided to bake them. And I changed the measurements because his served six. And although I'm not shy to admit I could have inhaled six servings of sweet potato fries, I decided to take it down a notch.
Garlic and Herb Sweet Potato Fries (serves 2):
Adapted from Bobby Flay
• 2 large sweet potatoes, cut into fries
• salt
• 1 large egg white (not pictured)
• 2 tablespoons olive oil
• 2 cloves garlic, finely chopped
• 1 teaspoon finely chopped fresh thyme leaves
• 1/4 teaspoon red chili flakes (or to your liking)
• 1 tablespoon finely chopped fresh flat-leaf parsley (more on the contraption my parsley is stored in at the end of the post!)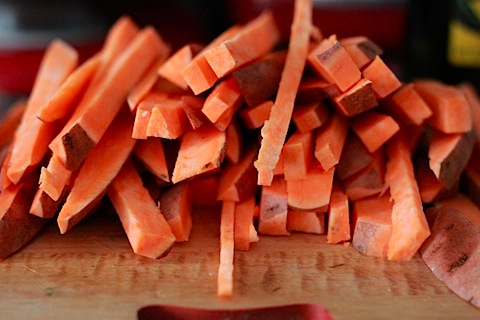 Preheat oven to 400 degrees.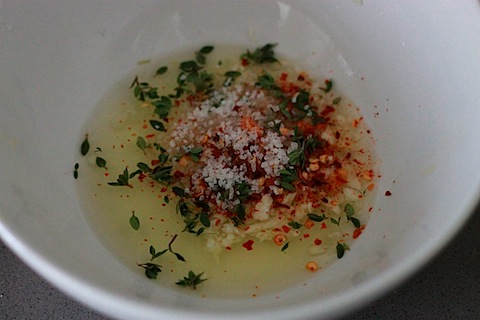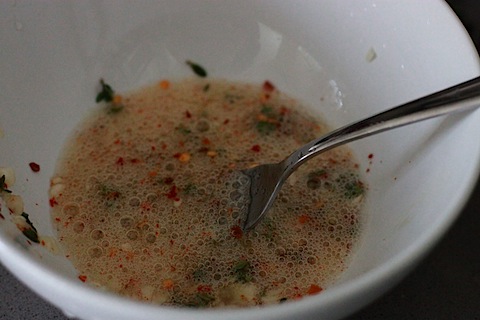 In a small mixing bowl, combine the egg white, salt, garlic, thyme, and red chili flakes and lightly whisk.
Place sweet potato fries on a baking sheet and lightly toss with olive oil.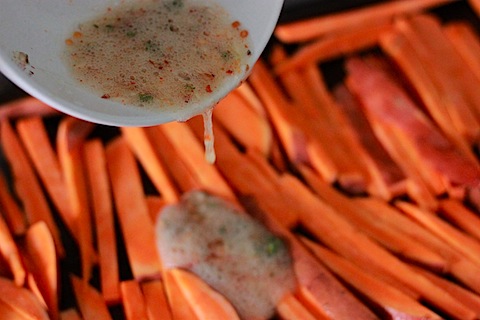 Pour the egg white mixture over the fries and with your hands, gently toss until all fries are coated with egg mixture.
Bake for about 35-40 minutes, or until crispy. Sprinkle with parsley and a tad more salt.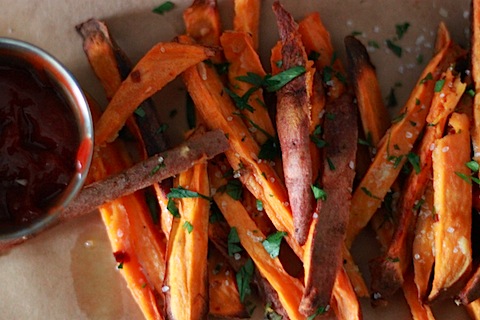 I would have liked mine to be a bit more crispy but they started sticking to the baking pan so I took them out a little earlier. However, this didn't compromise the flavor at all, as I still ate the entire pan a healthy serving size.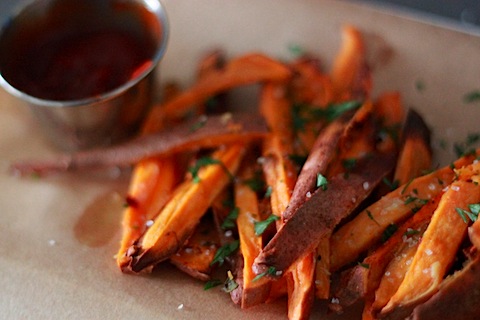 ————————————————————————————————————————
So now, a little about Prepara's Herb-Savor.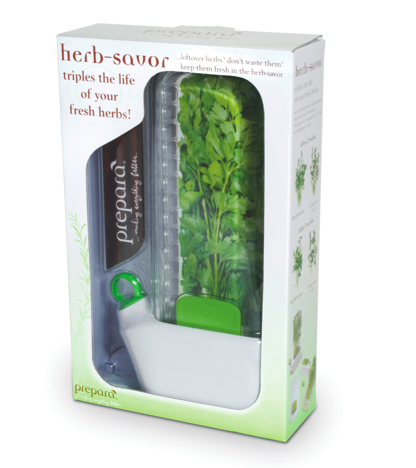 My roommate bought me this for Christmas last year and it's one of my newest favorite things. You see, it was also one of Oprah's favorite things last winter, and my roommate, who had only moved in a few months before the holidays, already knew me well enough to know I will gladly accept anything Oprah recommends 😉
The Herb-Savor ($29.95) is a contraption that preserves your herbs in the refrigerator for about three weeks. I'd always buy herbs and within a few days they'd be shriveled up in the bottom of the fridge which, overtime, equals a huge waste of money. With the Herb-Savor, all you do is add some water in the base, add your herbs in so the stems are just touching the water, and voila, all done! The contraption also fits beautifully on the door of the fridge or on any shelf.
I'm in l.o.v.e.
And as I'm typing this, I just decided to do an impromptu giveaway. Basically because I hate being like "Oooh, look at this cool thing I have. It's the best and I can't live without it! The end." I want you guys to be able to enjoy what I love, too! So, leave a comment on this post and tell me either why you need an Herb-Savor or what you do to prolong the life of your herbs (keep it clean, kids!). 😉 Tweet about the giveaway for and extra vote. Become a fan of us We are not Martha on Facbeook and I'll add in another vote, too… just be sure to let me know in the comments of this post that you're a new FB fan!
Leave your comment by Friday, April 29th at 11:59 EST and I'll announce the randomly selected winner at the beginning of next week! Good Luck!
[Chels]