Whenever I cook salmon, I make sure to say "sal-mon" at some point during the cooking process. Remember American Idol season 5 contestant Kellie Pickler? She really pronounced that "l" in salmon and it's stuck with me ever since, in a kind of ridiculous, I would never say it in public, but giggle about it in private, kind of way. Just when I'm cooking salmon in my own kitchen. And I try to cook the fish often. Basically, salmon is the most excellent go-to fish ever (and healthiest, too!). There is SO much you can do with it and it's incredibly versatile.
When I was visiting my parents last weekend, I started leafing through a Food & Wine magazine and was immediately attracted to this recipe for gingered salmon with grilled corn and watercress (from Hatfield's head chef and owner). Ginger is my one true love and I'll eat it any way I can. While Chris will eat ginger, it's not his favorite, so I was excited that this recipe also had a prosciutto option. His and hers salmon? A dream come true!
I changed a few aspects of the original recipe, like shrinking it down for two, but making just as much salad, since I knew we'd eat it. Also, my grocery store didn't have pickled ginger, so I used fresh instead. I'm sure it wasn't that much different, but fresh ginger was awesome and I'd totally recommend it for this recipe.
Gingered Salmon with Corn and Watercress (serves 2):
Adapted from Food & Wine
Print this recipe!
• 1/2 C plus 2 T balsamic vinegar
• 1/4 C plus 2 T canola oil
• 1 1/2 C corn (fresh or frozen; if frozen, thawed)
• 3/4 lb. salmon, skin on
• 10 slices of ginger (about 2 T) *
• 2 t dijon mustard
• 1/2 t honey
• 1 bunch watercress, thick stems removed
* If you don't like ginger, swap this out for an equal amount (small pieces) of prosciutto. Both are delicious!
(Pre-heat oven to 375 degrees)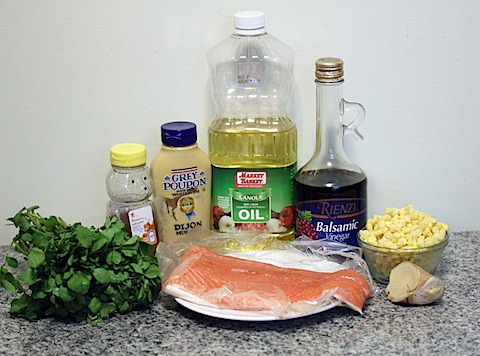 Boil 1/2 C balsamic vinegar in a small saucepan until it's reduced to about 3 T. This will take about 5 minutes.
Set aside and let the mixture cool before stirring in 1 T canola oil.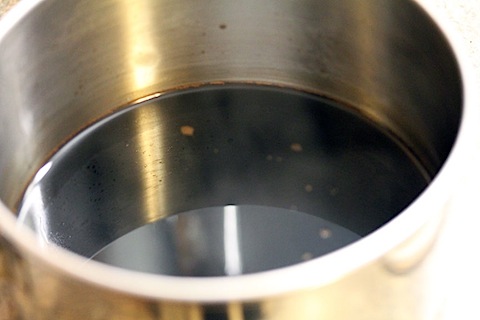 Heat grill pan and grill corn over high heat, until nice and charred, about 5 minutes.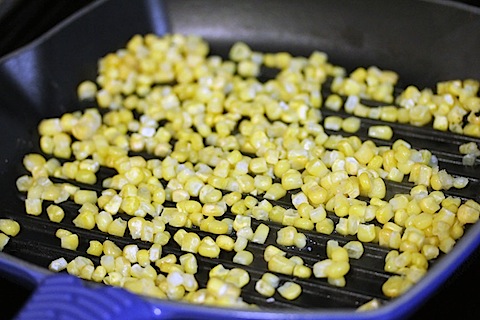 Set aside and let cool.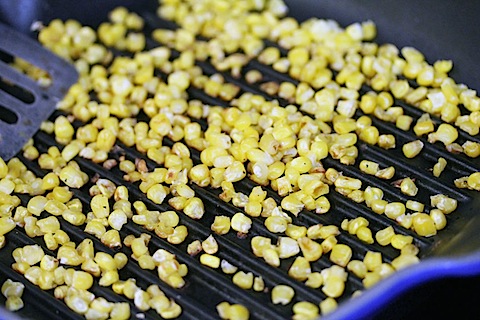 Cut your salmon filet into two pieces. On a cutting board, place salmon skin-side down and make 5 1/2-inch-deep slits crosswise in each fillet.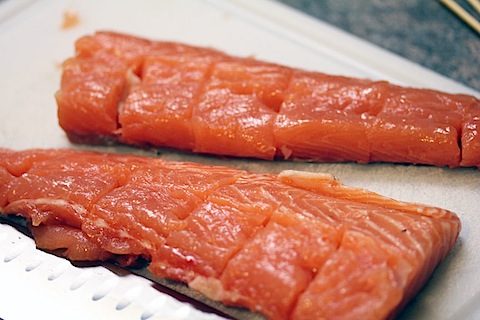 Slice your ginger.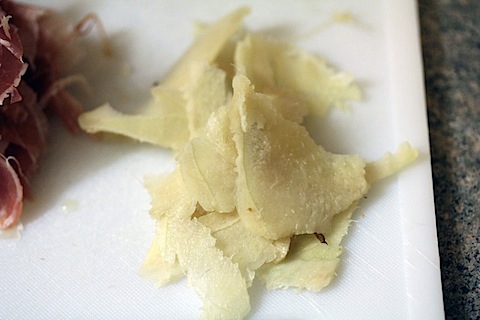 And if you have a non ginger-lover in your household, prosciutto, too.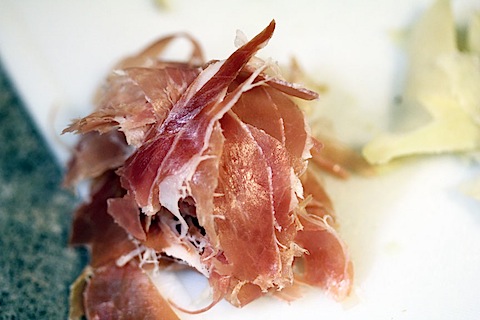 And stuff one slice of ginger or prosciutto into each slit.
Then, thread each fillet lengthwise with a skewer. And salt and pepper them to your liking.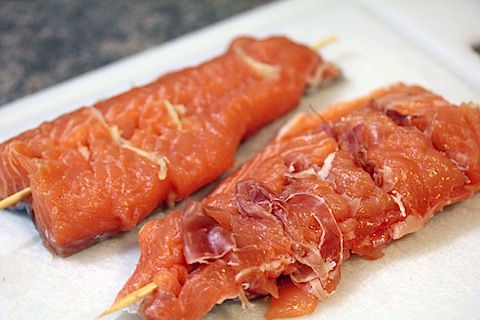 I'm drooling just thinking about the scent of the ginger. I might have to go run into the kitchen and cut some more now. You might think I'm crazy, but I totally snack on raw ginger.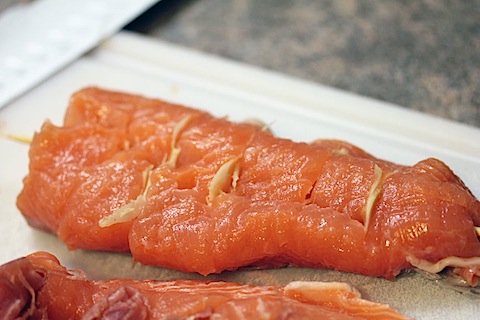 OK, but prosciutto is pretty awesome, too.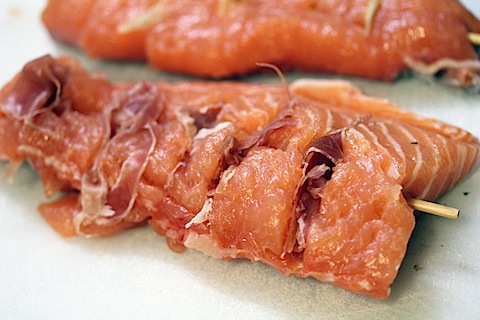 In a large ovenproof, non-stick skillet add 1 T canola oil over moderately high heat. Put the fillets in the skillet skin-down and cook for about 3 minutes, until skin is lightly golden.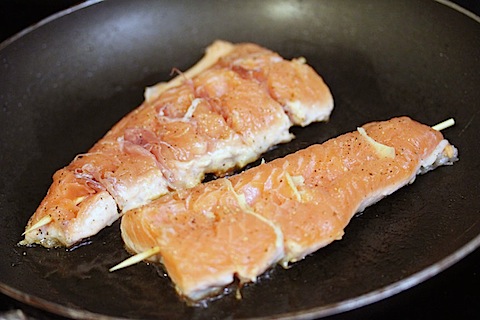 Then, put the skillet in the oven and roast it at 375 degrees for about 6 minutes, turning once halfway through. The salmon should be just cooked through.
While the salmon is cooking, make your dressing. Whisk the 2 remaining tablespoons of balsamic with mustard and honey in a large bowl. Then gradually whisk in the 1/4 C canola oil.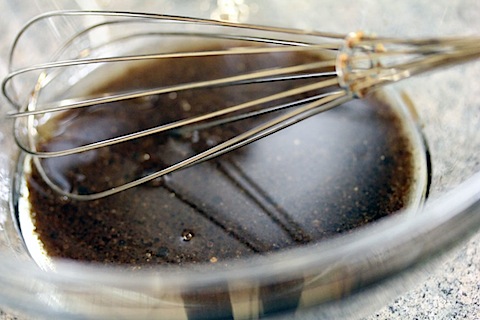 Add the corn and the watercress and toss to coat with dressing.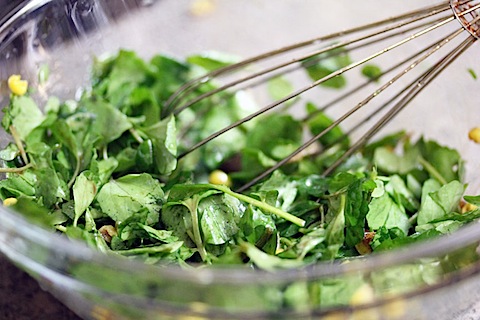 Arrange the salad on two plates and top with the skewered salmon.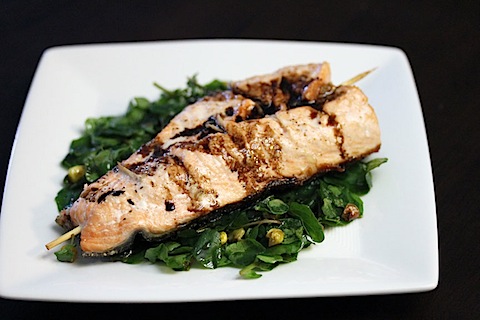 And dig in! Everything about this was perfect. The salmon fell apart as I bit into it and the contrast of the ginger and balsamic was like the most fantastic flavor explosion ever.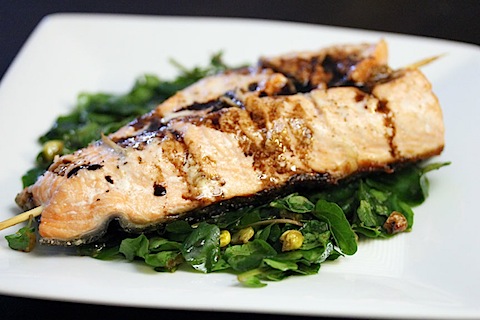 I've always loved the peppery bite of watercress and the grilled corn made it taste just like summer. And when I say this dish was easy, that's no lie. All you do is cut some slits into salmon, pop it in a pan, and then toss it in the oven. Throw together a quick dressing and simple salad and dinner is on!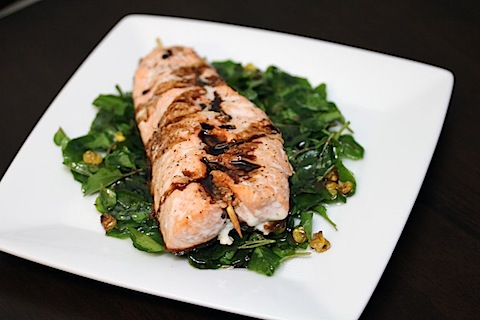 Of course, I stole a few bites of Chris's prosciutto salmon, too, and while it was different than the ginger, it was equally as good. The prosciutto gave the salmon a meatier, saltier taste that equalled perfection.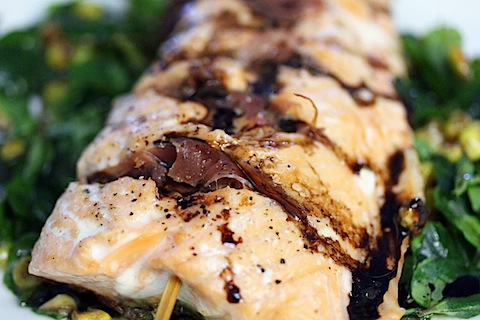 By the way, Food & Wine marks this recipe as fast, healthy, and a staff-favorite, so it's basically a slam dunk home run. Or should I say hat trick?
I mean, while we're making sports references, I'll take this opportunity to congratulate the Bruins once again. Chris and I took a walk on Saturday to see what the Bruins parade action was all about. We didn't think we'd see much since there were a million (!!!) of people in Boston to see the parade, but we wanted to check out the action. Somehow we ended up right at the end of the parade line and all of the sudden the duck boats were driving by us. It was pretty cool to be a part of the excitement!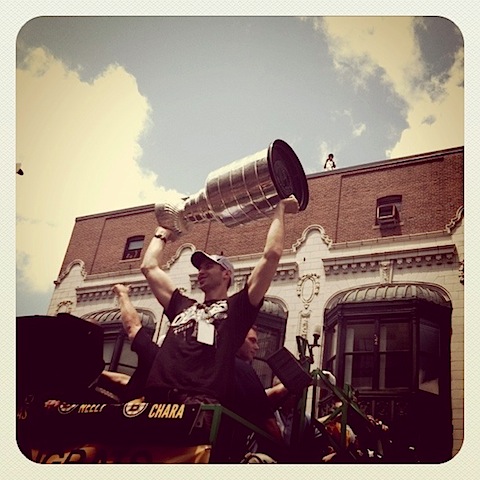 Do you love ginger? Or would you prefer prosciutto? In a perfect world, I would opt for both!
[Sues]